MLB Free Agency: Predicting Final Landing Spots for Remaining Impact Players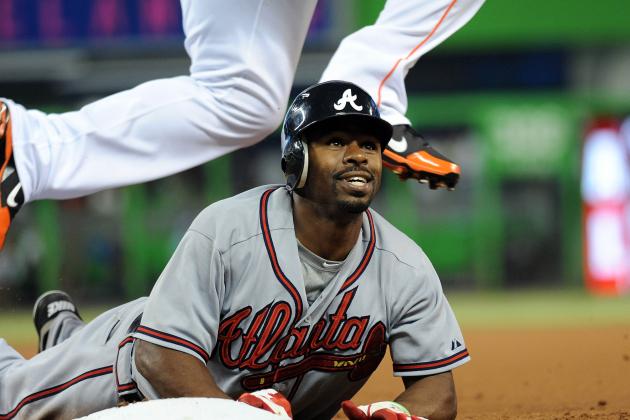 Steve Mitchell-USA TODAY Sports
Where will Michael Bourn end up signing?
This year's class of free agents was never super-strong to begin with, and now it's perilously short of impact players.
The impact players who remain don't have a ton of leverage in negotiations with many teams having already filled up their rosters, but they'll find deals to their liking eventually. There are still clubs with glaring needs out there, and the fabled "mystery team" doesn't take breaks after the new year.
Exactly where the remaining impact players will end up is anybody's guess. It just so happens that I'm anybody, and that I have a few educated guesses.
Here are some predictions for where the 10 most notable free agents still on the market will end up.
Note: Stats courtesy of Baseball-Reference.com unless otherwise noted. Salary and payroll information courtesy of Cot's Baseball Contracts.
Begin Slideshow

»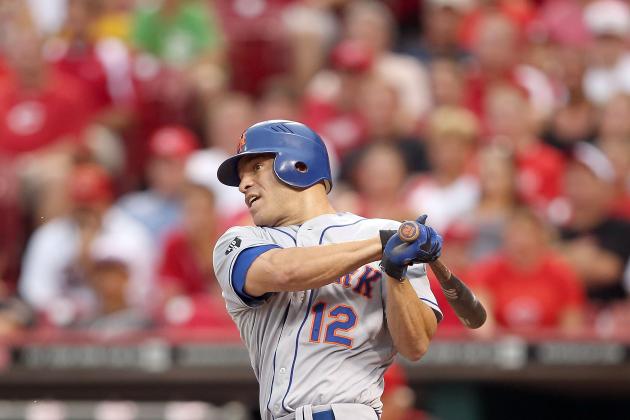 Andy Lyons/Getty Images

Prediction: New York Mets
The fact that Scott Hairston, a man who has spent his career as a fourth outfielder, qualifies as an "impact free agent" says a lot about how dry the market is.
Regardless, I have Hairston returning to the very place from whence he came: the New York Mets. Not very creative, perhaps, but logical in more ways than one.
Jon Heyman of CBSSports.com reported in late December that Hairston has a fair number of suitors, but the tricky part is how many of his suitors view him as an everyday player. Teams may be looking at him as a part-timer, whereas Hairston seems to see himself as a starter after posting an .803 OPS and hitting 20 homers in 2012.
Wallace Matthews of ESPNNewYork.com wrote in December that Hairston surely would be an everyday player if he were to return to the Mets, as their roster is very, very thin on outfielders. That's a not-insignificant reason that his personal preference is to re-sign with the Mets.
The Mets will have to commit multiple years to Hairston in order to bring him back, but it's not like we're talking about a long-term deal worth an absurd amount of money. A two-year pact similar to the $10 million deal Jonny Gomes signed with the Boston Red Sox is in order.
Even the Mets can afford a deal like that.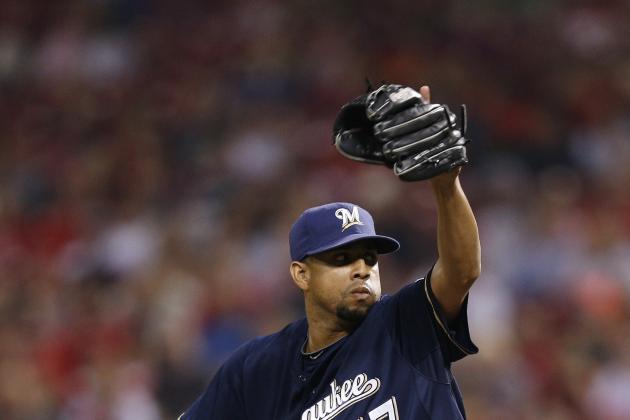 Joe Robbins/Getty Images

Prediction: Tampa Bay Rays
Francisco Rodriguez doesn't have his old velocity and his control can be atrocious, but he still has it in him to be an impact reliever. He just has to end up on the right team.
The Tampa Bay Rays would be the absolute perfect team for K-Rod, and a union between the two may be in the cards.
According to Joe Smith of the Tampa Bay Times, the Rays are on the lookout for "one or two" relievers, which sounds about right with J.P. Howell and Kyle Farnsworth still floating around on the free-agent waters.
After the rough year he just had with the Milwaukee Brewers, K-Rod looks like the kind of bargain buy the Rays specialize in (see past deals with Joaquin Benoit and Fernando Rodney). He could be willing to join the Rays on a one-year deal, set up for Rodney for a year and then try his luck on the free-agent market again next year.
Having a chance to work with Rays pitching coach Jim Hickey may be the attraction for K-Rod. Hickey has a well-deserved reputation for being one of the top pitching coaches in the game, and in 2012 he oversaw a bullpen that was the best in the American League. That wouldn't have been possible without Hickey's wizardry.
Under him, K-Rod could become K-Rod again.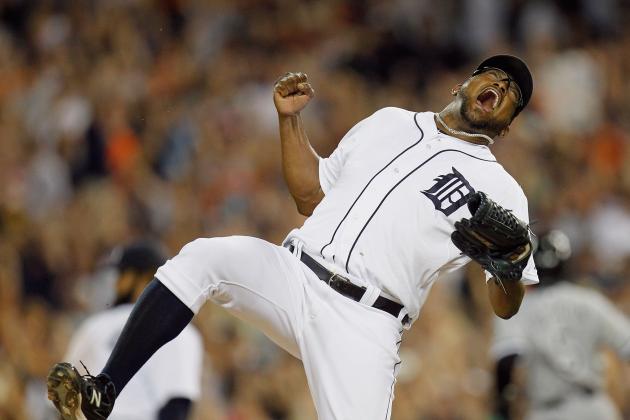 Gregory Shamus/Getty Images

Prediction: New York Mets
There hasn't been a peep of interest in Jose Valverde ever since the Detroit Tigers cut him loose earlier this offseason. It would seem that clubs think Valverde is done.
But eventually somebody is going to gamble on the notion that Valverde just had a really bad year in 2012, and my (strictly theoretical) money is on that team being the Mets.
The Mets' bullpen was horrid in 2012, posting the second-worst ERA in baseball and combining to lose more games than all but three other teams. Mets relievers had a 4.95 ERA in save situations.
Frank Francisco was very much a part of the problem, as the veteran closer had a 5.53 ERA and was knocked around by opponents to the tune of a .791 OPS. He's still penciled in as the club's closer for now, but his situation is hardly stable after having elbow surgery in December.
Jon Heyman has said that the Mets are looking for bullpen help, and Valverde's a good option for them because he can close in the event that Francisco proves incapable of getting the job done in 2012. If Valverde were to rediscover his fastball command and his solid splitter, he would enjoy a nice bounce-back season.
Seeing as how he could likely be had on a one-year deal for a reasonable base salary, taking a chance on Valverde wouldn't be the dumbest thing the Mets have ever done in free agency.
At least a few Mets fans are nodding their heads right now. I can feel it.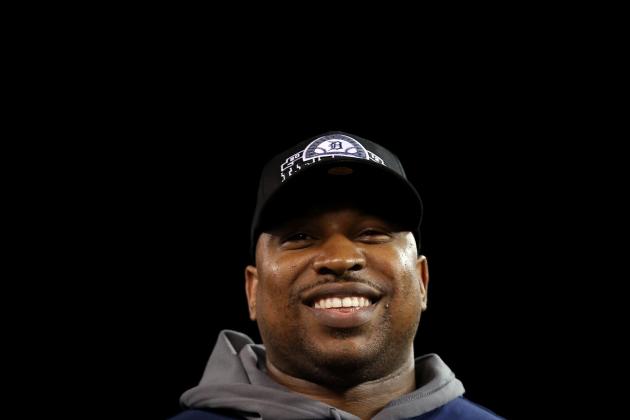 Jonathan Daniel/Getty Images

Prediction: Baltimore Orioles
Two years ago, Delmon Young posted an .826 OPS and drove in more than 100 runs. Over the past two seasons, however, he's accumulated just a .702 OPS that comes complete with a .299 OBP.
The good news for Young is that he's still only 27 years old, so he can afford to take a one-year "prove it" deal and then try to have a big year. One team that could take such a gamble is the Baltimore Orioles.
With the door open for Chris Davis to play first base on a full-time basis, the Orioles find themselves with something of a need at the DH spot. That's a need Young can fill.
The one-year aspect of a potential union with Young is what makes the idea of signing him "low risk." What makes it "high reward" are the numbers Young could put up with regular action at Oriole Park at Camden Yards, and he could also respond well to Buck Showalter's leadership.
Young plays (and has been known to act) like a player who could use a good kick in the pants, and Showalter is just the guy to deliver it. He walks a fine line that few other managers walk in that he manages to be both stern and inspiring.
If Young were to catch the same fever playing under Showalter that all Orioles players caught in 2012, he could have a special year. If so, his production would more than replace the production the O's lost when Mark Reynolds bolted for Cleveland.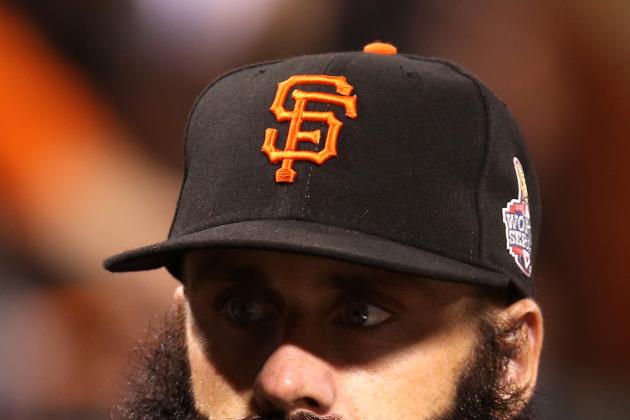 Christian Petersen/Getty Images

Prediction: Detroit Tigers
Thanks to the deals signed by Joakim Soria and Ryan Madson this winter, Brian Wilson knows that there are good deals and good opportunities to be had for closers coming off Tommy John surgery.
It just depends on who wants to take a chance on him. And the way things are looking now, Wilson and the Detroit Tigers look like a perfect fit for each other.
Publicly, the Tigers are grooming flame-throwing right-hander Bruce Rondon to be their closer in 2013. However, that may just be a show to hide their desperation for somebody with more experience.
Rafael Soriano once looked like an obvious solution to Detroit's closer dilemma, but he's probably way too expensive for the Tigers now after the Anibal Sanchez signing. They have about $120 million in salaries committed for 2013, and their total payroll is projected to be right around $150 million. It's hard to see them signing Soriano to a multi-year deal worth eight figures per year.
Wilson, on the other hand, is a candidate for a one- or two-year deal worth a much more reasonable base (i.e. $6 or $7 million per) and incentives. For that, the Tigers could be getting a truly elite closer.
It feels like ancient history now, but Wilson was lights-out in 2010, saving an NL-high 48 games with a 1.81 ERA and an 11.2 K/9. That may have been the last time he was 100 percent healthy, as he never looked right in 2011 and then blew his elbow out early in 2012.
If good health finds Wilson in 2013, the Tigers would be more secure in the ninth inning than they were at any point in 2012.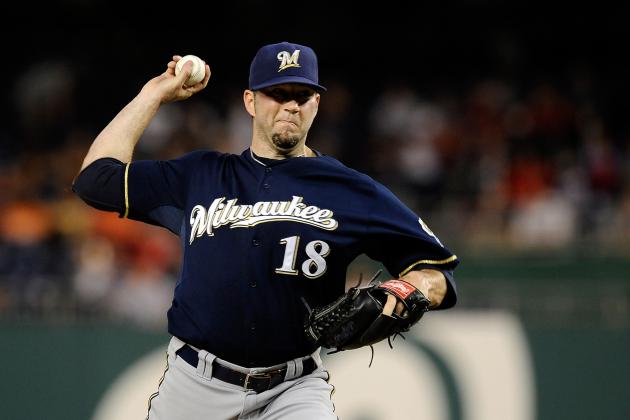 Patrick McDermott/Getty Images

Prediction: Cleveland Indians
There's nothing flashy about Shaun Marcum, but the dude knows how to put up numbers. In the past three seasons, his ERA has stayed stuck between 3.54 and 3.70.
The latest team to be linked to Marcum is the Cleveland Indians, who Jon Morosi of FoxSports.com says have had "dialogue" with him. Whether they're still in the mix for him after signing Brett Myers, however, is the big question.
I'm inclined to believe that the Indians aren't done yet, as it's going to take more than Myers to fix their starting rotation. It produced a 5.25 ERA in 2012, and the talent level still isn't up to par with other teams in the division even after the Myers signing.
Things would be a little different if the Tribe were to sign Marcum. They'd have him, Myers, Justin Masterson and Ubaldo Jimenez all locked into rotation spots with Zach McAllister in the No. 5 spot and Trevor Bauer waiting in the wings. That's not a bad mix by any stretch,
Now, the Indians would be significantly increasing their payroll from where it was in 2012 if they were to add Marcum to their list of offseason acquisitions. Their payroll is projected to be right around $56 million now, and that's not including the deals the Indians gave to Myers and Nick Swisher.
But relative to some of the other pitchers who have signed this winter, Marcum isn't in line to command an absurd annual salary in a multi-year deal. He could agree to something along the lines of the deals Joe Blanton and Brandon McCarthy signed (i.e. two years and around $15 million).
That's an extra mile the Indians may be willing to go if they see a chance to contend. And if they were to sign Marcum, they would at least be a sleeper contender in the AL Central.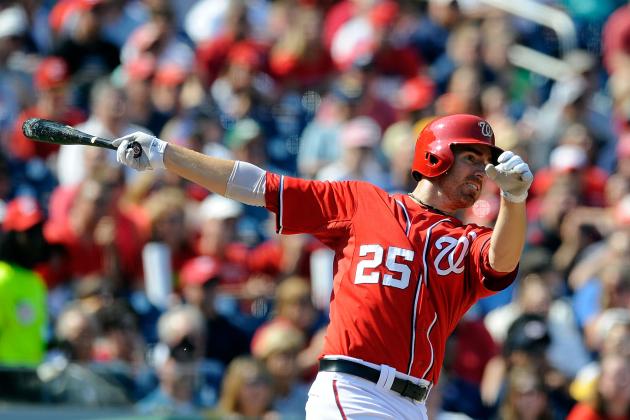 Patrick McDermott/Getty Images

Prediction: Washington Nationals
The Nationals know where Adam LaRoche stands, and LaRoche knows where the Nationals stand. Now it's just a matter of who blinks first.
Look for LaRoche to blink first and ultimately re-sign with the Nationals. The word from Adam Kilgore of The Washington Post is that LaRoche is talking to other clubs, but there aren't any good fits for him outside of Washington.
The Red Sox are a possibility, but not a likely one. MLB Network's Peter Gammons has said that they don't want to give LaRoche three years, nor do they want to surrender a draft pick to sign him. They seem perfectly content to figure things out with Mike Napoli rather than sign LaRoche.
The Texas Rangers are another possibility, but their assistant GM told Jim Bowden of ESPN and SiriusXM that LaRoche is not on their radar. They may also be worried about giving up a draft pick, and they may not want to add LaRoche to an infield that is already crowded.
The Orioles could sign LaRoche to play first base, but Dan Connolly of The Baltimore Sun has reported that they're cool on him because Dan Duquette wants to build via the draft. They're better off rounding out their roster signing somebody who doesn't come with draft pick compensation (hint, hint, Delmon Young).
This pretty much leaves the Nationals, hence the reason they haven't been in a hurry to change their stance on LaRoche. They're not about to bid against themselves.
LaRoche will be disappointed with his contract if he gives up and re-signs with the Nats, but the trade-off is that he'll be in a place where he's comfortable and on a team with a chance to win it all in 2013. He could do a lot worse.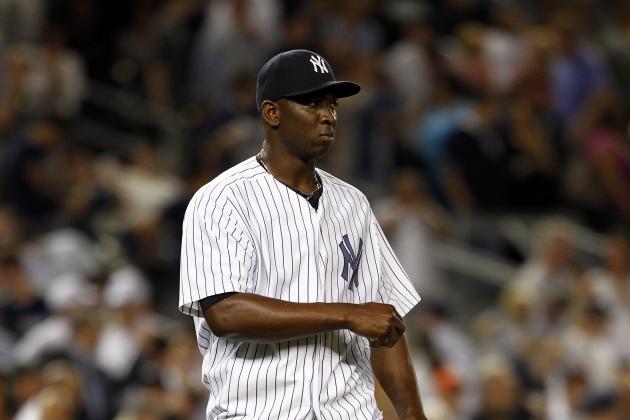 Jeff Zelevansky/Getty Images

Prediction: Toronto Blue Jays
For a guy who saved 42 games in 2012 despite not becoming a closer until May, you'd think there'd be more interest in Rafael Soriano out there.
But there's not. At this point, the best hope for Soriano is that a mystery team comes along. Of these, the surest bet is the Toronto Blue Jays.
The main hiccup where Soriano is concerned is that he's yet another player tied to draft pick compensation, and asking a team to surrender a pick just to sign a relief pitcher is asking a lot.
In addition, Soriano is looking for "proven closer" money in a day and age where there's a healthy amount of skepticism about the very idea of a "proven closer."
The Blue Jays could be the team that disregards these concerns because, heck, disregarding concerns is something they've made a habit of this winter. After having gone all-in on so many players, they may be the one team in baseball that couldn't give less of a darn about surrendering a draft pick to sign Soriano.
And the truth is that their bullpen could use an extra able body, particularly one as able as Soriano's. If they sign him, Casey Janssen could return to a setup role and the Jays would have a very strong core of middle relievers in the likes of Sergio Santos, Steve Delabar, Brad Lincoln and Darren Oliver (if he doesn't retire).
With more than $100 million in salaries committed for the 2013 season, the Blue Jays are already in uncharted waters in regards to their payroll. But it's all part of an effort to win now while the Yankees and Red Sox are weak, and signing Soriano would be yet another blow.
The Blue Jays already look like the favorites to win the division. If they get Soriano, it will be official.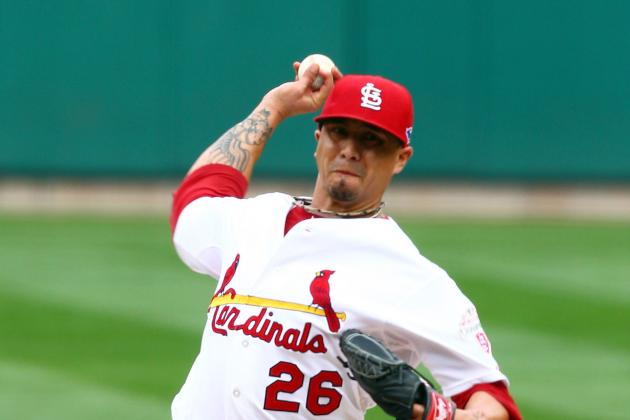 Dilip Vishwanat/Getty Images

Prediction: Milwaukee Brewers
Kyle Lohse's market is quiet because he's tied to draft pick compensation and because there are legit questions about how successful he can be outside the NL Central.
Maybe he can stay inside the NL Central by signing with the Milwaukee Brewers.
As Adam McAlvy of MLB.com recently pointed out, the only real lock for Milwaukee's rotation is Yovani Gallardo. They have several intriguing in-house options to round out their rotation, but they're short on proven veterans.
That's precisely what Lohse is. He's been in the league since 2001, and he compiled a solid 3.90 ERA in his five seasons with the St. Louis Cardinals. He'd be a very good No. 2 for the Brewers to slot in behind Gallardo in their rotation.
Money-wise, the Brewers have more wiggle room to make this happen than fans probably think. Their Opening Day payroll was just south of $100 million in 2012, but they only have about $56 million in salaries committed for 2013. They can afford to spend some money on a pitcher while still being in line to see their payroll drop from where it was last April.
With Lohse in tow, the Brewers would have a pretty solid rotation lined up for 2013, and let's not forget that they were the most explosive offensive team in the National League in the second half of the 2012 season. Lohse could easily help them challenge the Cardinals and the Cincinnati Reds in the NL Central in 2013.
Scott Cunningham/Getty Images

Prediction: Seattle Mariners
Michael Bourn would seem to be in the same boat as Rafael Soriano in that his best hope may be for a mystery team to come along.
The difference between the two is that Bourn has at least one clear suitor out there, and that's the Seattle Mariners.
Jon Heyman wrote in early December that the Mariners were interested in Bourn, and not a whole lot has changed since then. He's still looking for a lucrative multi-year deal, and the Mariners still have a spot for him in center field and in the leadoff hole in their lineup.
Bourn would cost the Mariners a pretty penny, to be sure, but they could make it work. They have less than $55 million in salaries committed for the 2013 season with no big arbitration deals due to be handed out, and GM Jack Zduriencik indicated earlier this offseason that the club's payroll could climb from where it was in 2012 (about $85 million).
A contract for Bourn would do the trick, and in him the Mariners would have an elite defensive center fielder to help their pitching staff and a table-setter for their top hitters.
That's a collection that's not as pathetic as it's made out to be. Kendrys Morales was a good upgrade for the Mariners, and he's surrounded by good young hitters in Jesus Montero, Dustin Ackley, Kyle Seager and Michael Saunders. The closer fences at Safeco Field should help all of them reach their potential.
We've been waiting for the Mariners to make a splash this offseason. Expect Bourn to be it.
If you want to talk baseball, hit me up on Twitter.