5 Things We Want to See from the Houston Rockets in 2013
Scott Halleran/Getty Images

As we turn the calendar to 2013, the Houston Rockets organization has to feel pretty good about where the direction of its franchise is heading.
Houston had a lot of questions going into the season, but now it sits at 17-14 and is quickly rising up the ranks of the Western Conference.
The Rockets are winners of six of their last eight games and are getting dynamic play out of their starters.
Still, they have a long way to go in order to be championship material. In order for Houston to take the next step, it will need to improve in several areas, both on the court and from a personnel perspective.
Rockets fans have to feel optimistic about the upcoming year, but these steps still need to be taken in 2013.
Begin Slideshow

»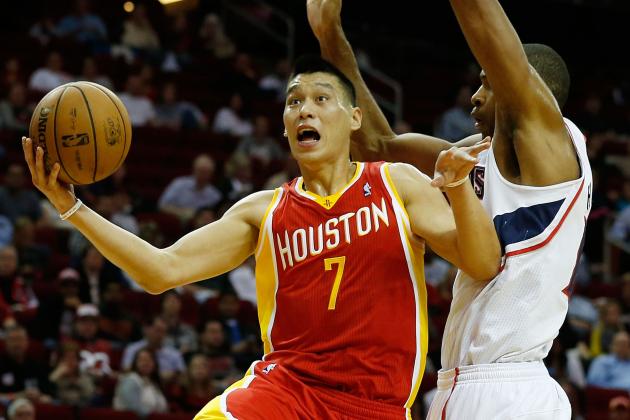 Scott Halleran/Getty Images

Jeremy Lin has had an up-and-down first season with the Rockets.
Lin is averaging 12.4 PPG and 6.4 APG, decent numbers, but not great considering what they are paying for his services.
Having said that, Lin seems to have started figuring things out in December. After a below-average first month, Lin's numbers were up in December, scoring at nearly 14 points per contest, including four games over 20 points and a 38-point explosion against San Antonio.
Lin also shot the ball better and had six different games with at least eight assists.
As well as he played overall, Lin still turns the ball over too much and occasionally stinks it up in a game.
Houston has enough offensive weapons where it doesn't need Lin to be a huge scorer every night, but it does need him to take care of the ball and get his teammates involved.
Things seem to be headed in the right direction for Lin to come closer to the "Linsanity" days of last year. However, if the Rockets are going to be successful, they need Lin to play his best night in and night out—not just occasionally.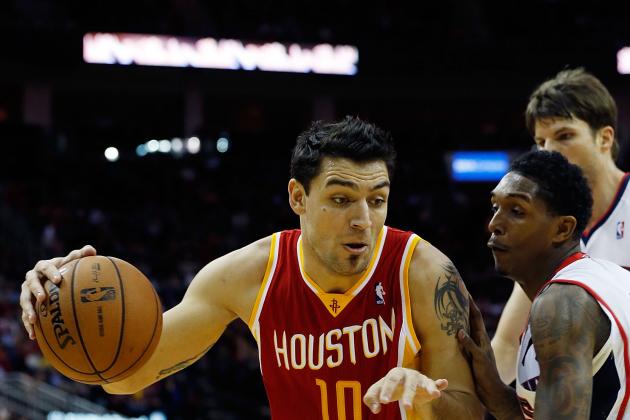 Scott Halleran/Getty Images

One way or another, the Houston Rockets have to get more out of their bench in 2013.
Carlos Delfino has been a nice piece and whoever loses out on the starting job between Patrick Patterson and Marcus Morris is an effective bench player.
However, after that the Rockets are lacking in talent out of their reserves.
Toney Douglas hasn't been awful backing up Jeremy Lin, but there is still a lot to be desired out of the backup point guard position.
Greg Smith and Cole Aldrich don't provide much of a lift in terms of backup big men and the Rockets don't have that one sixth man who can get into a game and carry the second unit.
As we near the trade deadline, adding a solid bench player or two has to be a primary focus for the Rockets' front office if they want to make noise in the West during the rest of this season.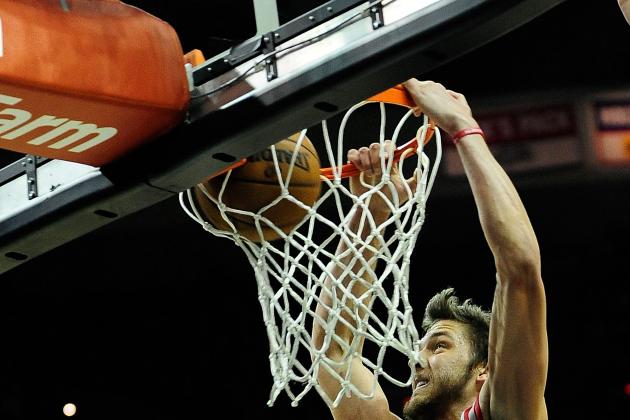 Stacy Revere/Getty Images

It's no secret, you don't become the second-highest-scoring team in the NBA without getting out and running on the fast break.
The Rockets have done just that this season on their way to averaging 105.8 PPG. Houston is leading the NBA in fast-break points at 18.8 per contest, over five points higher than it averaged last season.
Obviously, Houston is a very different team than last year, but credit has to be given to Kevin McHale (and Kelvin Sampson when he was the head coach) for his willingness to change the system that the Rockets have adapted over the last few years.
Houston has gone from a relatively slow, walk-the-ball-up team to a get-out-and-go, push-the-pace offense, which has led to fantastic results.
A large part of its success in the open court is due to James Harden, but Jeremy Lin, Chandler Parsons and even Omer Asik have to be given credit as well for how well this team plays on the fast break.
In 2013, the Rockets should completely buy into the run-and-gun system and take over the top spot in the NBA in points.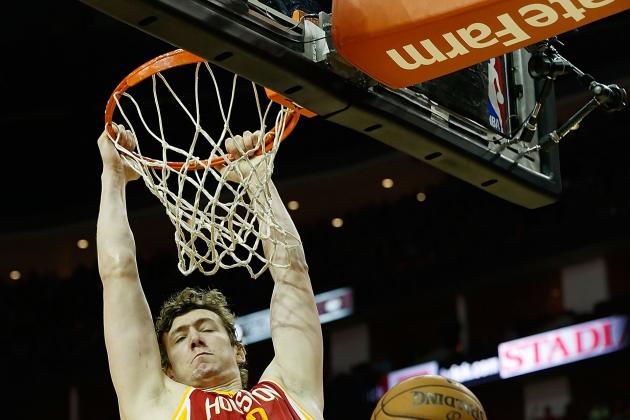 Scott Halleran/Getty Images

With all due respect to Omer Asik, who has come on very strong this season as a defensive powerhouse and rebounder, the Houston Rockets do not have a pure post scorer on their roster.
Asik is coming along nicely offensively as well, averaging over double figures, and Patrick Patterson and Marcus Morris are nice young power forwards that have face-up games.
Still, as good as that combination is, the Rockets could do well by having one guy in their half-court offense who could consistently score in the post.
Houston is loaded on the perimeter with Lin, Harden and Parsons, and adding a guy like Al Jefferson from the Jazz could be just what the team needs to put it over the top.
If the Rockets are willing to part ways with a draft pick and maybe Morris, they could acquire a scoring power forward and bring Patterson off the bench. This would greatly increase their half-court offense and make them a complete team moving closer toward the playoffs.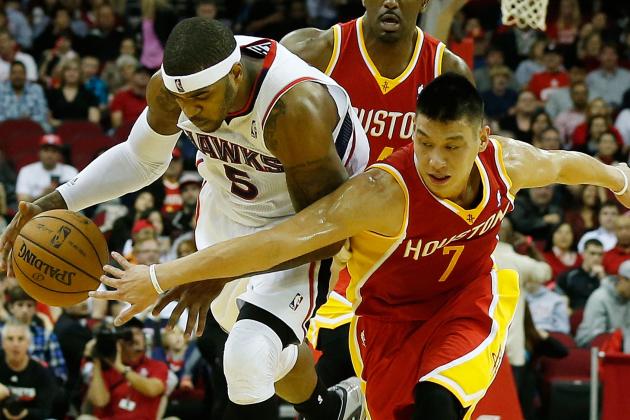 Scott Halleran/Getty Images

As much as the Rockets need to adapt a permanent run-and-gun style of offense, they still need to give up fewer points if they are going to be successful in the playoffs.
Statistically, Houston is the worst defensive team in the NBA, giving up over 103 PPG. The Rockets have given up over 110 points in 10 games already this season and have unsurprisingly won only one of them.
At times, Houston seems to be concentrating all of its energy on offense, which comes back to bite it against good teams.
The Rockets likely won't be getting enough new players to make a real difference, so it is up to the current roster to take it upon itself to improve.
Running the fast break is easier when you can create turnovers and get out in odd-man opportunities anyway. If the Rockets really want to score consistently in the 110- to 120-point range, the best way to do it is to try and wreak havoc on defense.
As great as James Harden is on offense, he needs to get better on D and so does most of the Rockets roster outside of Omer Asik.
Houston is no doubt fun to watch, but in order for it to be considered a top team, it needs to get better on defense in 2013.