6 NBA Teams That Will Continue to Thrive as Underdogs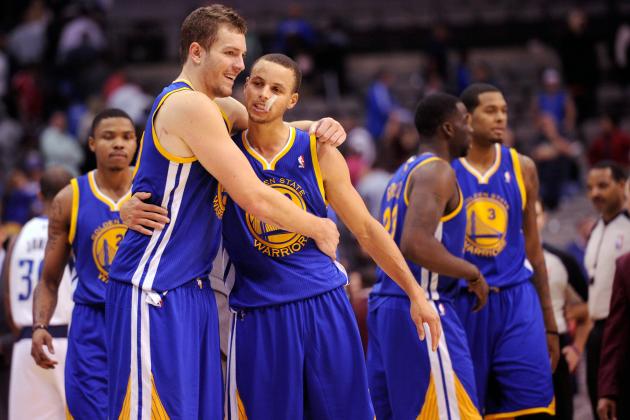 Jerome Miron-USA TODAY Sports

NBA fans love underdogs. For some reason or another, we love watching scrappy young teams overcome the odds to take out some of the giants and thus establish themselves as a force in the league. Just how fans embraced the Lob City Los Angeles Clippers last season, the same can be said for a handful of teams this year.
For example, the Golden State Warriors have finally come together to make a lot of noise in the Western Conference. Their offense is clicking and their work under the basket has been phenomenal. They may be young, but fans will be excited to see how far the team can go come playoff time.
That's the nature of being the underdog. Nobody expects you to do well and thrive, but everyone has your back and wants to see you finish on top. This support turns into momentum and serves as fuel, at which point the possibilities are endless.
Certain NBA teams this year have definitely emerged as underdogs, and the support of their fans and front office will help them flourish in such a role over the remainder of the season.
Begin Slideshow

»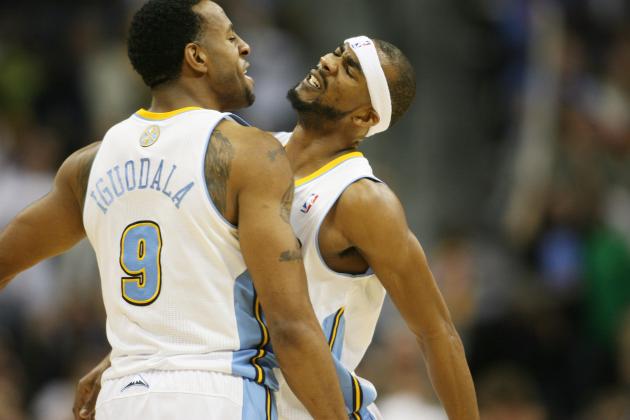 USA TODAY Sports

The Nuggets made a big splash over the summer when they acquired Andre Iguodala as part of the Dwight Howard trade, but have not made as much noise as was expected this season. The team currently ranks seventh in the highly-competitive Western Conference, continuing to play some good basketball despite its underdog status.
The primary reason Denver is an underdog team lies in its approach on defense. Despite having a dominant big man in Javale McGee, head coach George Karl insists on using the less athletic Kosta Koufos as the team's starter at the 5. As a result, McGee only receives 19.1 minutes per game, though he averages 10.7 points, 5.2 rebounds and two blocks in limited action.
Just how well the Nuggets can play if that small switch is made is unknown. After all, Karl has yet to shake up the lineup in that regard, and there has been no indication that he ever will.
As a result, this blue-collar team will continue to play hard and try and overcome the odds, proving to each and every opponent that they are as good as they are on paper.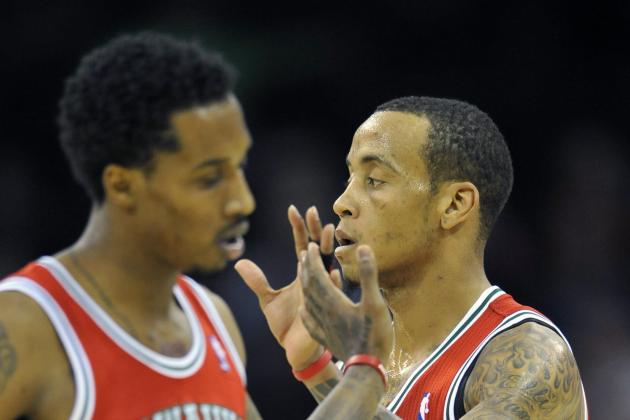 USA TODAY Sports

The Bucks are an enigmatic team, to say the least. Head coach Scott Skiles runs a defensive system, but his two best players are a pair of fine scorers in Brandon Jennings and Monta Ellis. Save for them and Mike Dunleavy, the Bucks' offense is fairly anemic.
However, thanks to a breakout season from big man Larry Sanders and the resurgence of Luc Richard Mbah a Moute, Milwaukee has kept pace in the Central Division race all season long. The team ranks ninth in points allowed, and handily defeated the defending champion Miami Heat on December 29th.
The Bucks are a young team and their ceiling for this season is not that high, but that is of little concern to them. They just go out and play hard night after night, performing like a strong unit and working together to bring home the win. They only rank 16th in assists, but something in Skiles' approach is clearly working.
Once the playoffs roll around, it'll be interesting to see just how much fireworks this team has left in the tank.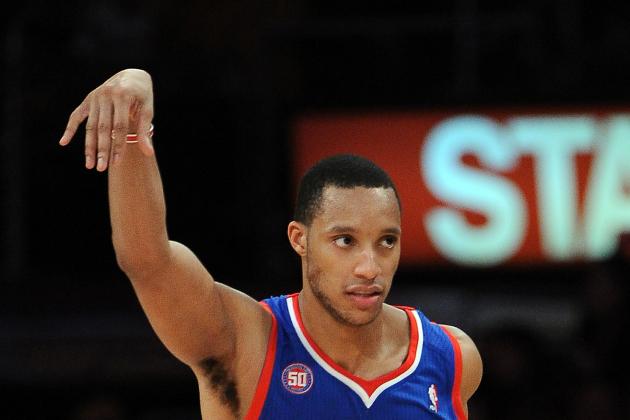 Jayne Kamin-Oncea-USA TODAY Sports

The Sixers acquired center Andrew Bynum as part of the Dwight Howard trade, but his balky knees have kept him out all season. Instead of rolling over in his absence, the young Philadelphia squad has done everything it should have done last seasons: work together and establish a star who can take over in the clutch.
Two players have stepped up to fill this role: point guard Jrue Holiday and forward Evan Turner. Holiday is a scoring point guard who dishes out the assists like no other and also provides defense, while Turner is the point forward who never hesitates to go after a rebound or take the hard shots late in the game.
The Sixers haven't been great at any point this season, but they have managed to just stay in the Eastern Conference playoff race, where they currently rank eighth. If and when Bynum comes back, expect Philadelphia to gain a lot of momentum and prove to everyone that they are more than just a young team destined for a low playoff seeding.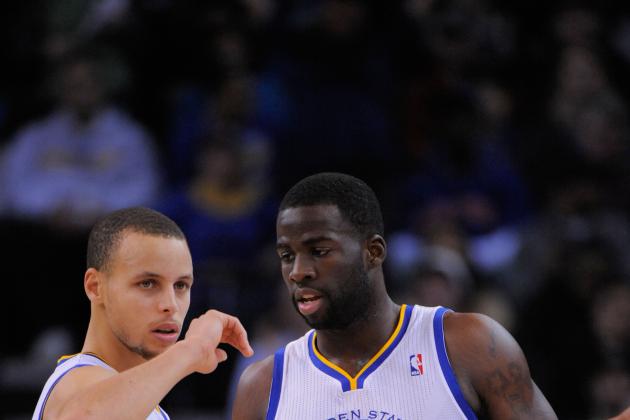 USA TODAY Sports

For the past few seasons, the Golden State Warriors had a reputation as a team that could do some fine work on offense, but crumbled on defense due to the lack of a reliable center. They acquired just that in Andrew Bogut last season, but he has appeared in just four games for the team as he recovers from microfracture surgery on his ankle.
Despite his absence, Golden State has thrived this season under the leadership of point man Stephen Curry and rebounding machine David Lee. Second-year guard Klay Thompson is turning into a reliable shooter, and rookie Festus Ezeli has done a good job in the low-post filling in for Bogut.
Throw in a reliable second unit headlined by Jarrett Jack, and you get a team that ranks fourth in rebounding, ninth in scoring and eighth in assists. They've still got a long way to go, especially playing in a Pacific Division that features tough and feisty Lakers and Clippers teams.
As intimidating as those two squads may be, the Warriors will do anything but lay down before them. They won't go down without a fight, and that type of attitude only fuels the fire of an underdog.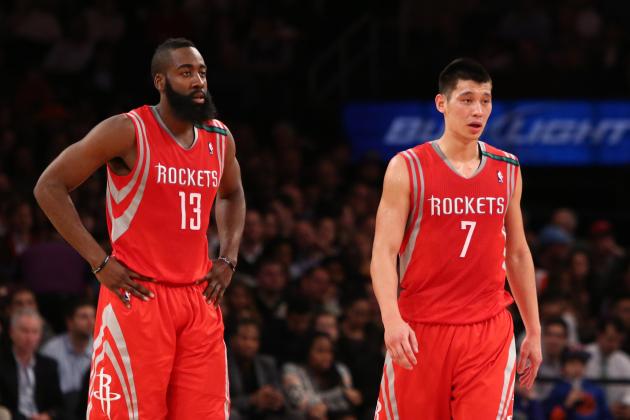 USA TODAY Sports

The Houston Rockets had a lot of hype entering the season, having signed upstart point guard Jeremy Lin to a three-year, $25.3 million deal over the summer. They made an even bigger splash just before the start of the season, trading Kevin Martin and rookie Jeremy Lamb to the Oklahoma City Thunder for reigning Sixth Man of the Year and dynamic playmaking guard, James Harden.
A slow start by Lin hampered the Rockets at first, but the team has finally found its stride as a feisty run-and-gun squad. Houston ranks second in scoring with 105.8 points per contest, and is borderline unstoppable when on an offensive role. After going 10-6 in December and taking out teams like the Atlanta Hawks and Memphis Grizzlies, they have a great deal of momentum behind them.
Houston may not be playing like underdogs now, but the level of talent they have to compete with in the Western Conference makes them so. They are not as deep as the San Antonio Spurs, nor as talented as the Oklahoma City Thunder, but that doesn't deter the Rockets at all.
They come into each game ready to play, and any team that underestimates them gets a hard lesson in how to play the game.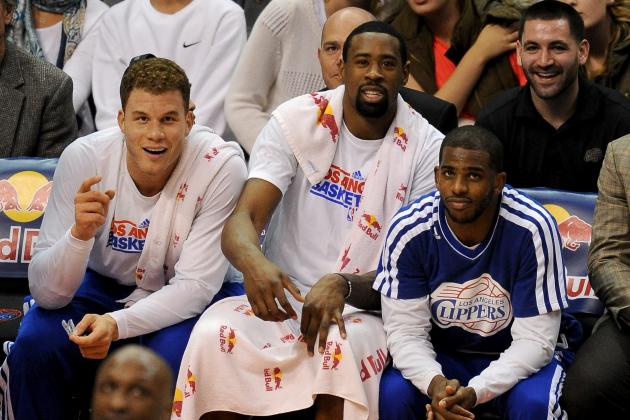 Jayne Kamin-Oncea-USA TODAY Sports

Chris Paul electrified the Los Angeles Clippers last season, and fans expected the team to be just as good or even better in 2012-13 after GM Gary Sacks brought in bench spark Jamal Crawford.
Sure enough, the Clippers kept on playing some fine basketball, but on a level that nobody could have anticipated them reaching. The team known as "Lob City" currently stands at 25-7, tied with the Oklahoma City Thunder for the top spot in the Western Conference.
The Clippers' fine standing comes from a recent 17-game winning streak that saw them go undefeated in the month of December, and fans are naturally getting excited. Still, Los Angeles remains an underdog team.
The sad truth is that the Clippers' long history of futility makes Los Angeles the Lakers' city, and wrestling control away from them is easier said than done. All that needs to happen is for the Clippers to keep on playing great, absolutely refusing to live in the aging Lakers' shadow.
If they can continue to be a top team in the Western Conference and maintain their pace up until the playoffs, then they will be an underdog squad everyone watches. Should they go all the way and win a championship, expect their fans and the city of Los Angeles to enter a frenzy.