Tottenham Hotspur: Breaking Down Spurs' Ideal Starting XI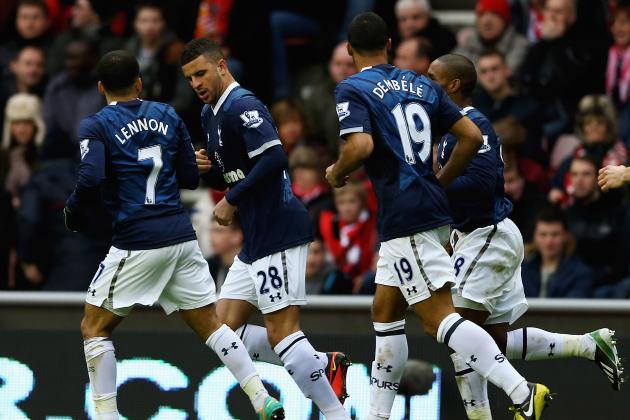 Matthew Lewis/Getty Images

If the entire Tottenham squad was fully fit right now, what would be Andre Villas-Boas' optimal starting 11?
Tottenham's starting XI has been through many changes this season as AVB and company have been forced to cope with multiple injuries and suspensions.
Luckily, the squad has shown itself to possess enough depth that Spurs have still been able to pick up positive results despite its absentees.
Nevertheless, when the going gets tough in the latter stages of the season, AVB will want to have the best players in each position available for him to use against the toughest opponents of the Europa League and Premier League.
Here's what that starting XI should look like.
Begin Slideshow

»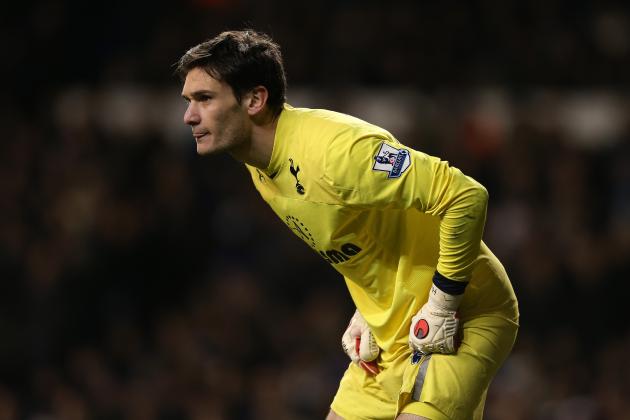 Julian Finney/Getty Images

It took him a good while to break through and prove it, but Hugo Lloris is now the undisputed first-choice goalkeeper at Tottenham.
At 26 years young, Lloris has incredible reflexes and diving abilities, while his handling and positioning is solid as well.
Many have already granted him the title of the English Premier League's best keeper, and if he hasn't already earned it with his early-season exploits, he'll almost surely have earned it by the end of the season.
Brad Friedel has always been a fine goalkeeper for Tottenham in his time at the club, but at 41 it made sense that the club switch to a keeper primed to remain in north London for the foreseeable future.
Still, having recently signed a contract extension, Tottenham are in highly capable hands should Lloris get injured or hurt at any time.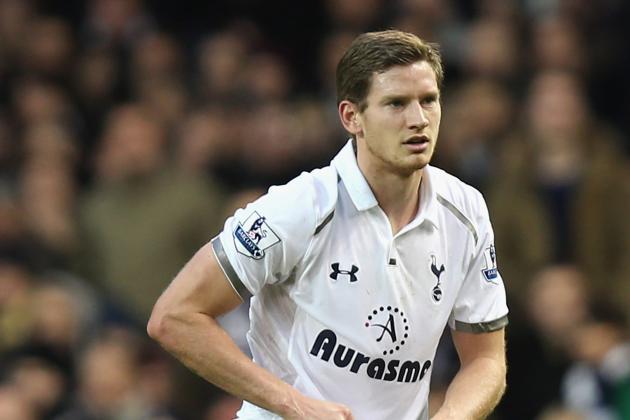 Bryn Lennon/Getty Images

Left-back has become one of the most contested positions within the squad with Kyle Naughton's terrific development at the position this season and Benoit Assou-Ekotto's impending return to the first team.
I don't believe that Tottenham should have one ideal starting left-back for every game; I believe that the talent the club has in the position necessitates that AVB pick his left-back based on how he feels he would interact with the opponents' strengths and weaknesses.
Nevertheless, if I had to pick one left-back to play the bulk of Tottenham's games this season, it would be Jan Vertonghen.
Initially, when Vertonghen was bought I thought he would be good in the air but ill-suited to get heavily involved in the offense, similar to Thomas Vermaelen at Arsenal.
I've been proven almost completely wrong.
Vertonghen has shown great ability to get down the flanks when played at left-back, and both of his league goals for Tottenham have come from his feet, not his head.
Vertonghen has been solid at centre-back, but with Spurs' options in that position and the need for more discipline in that position as opposed to left-back, I would prefer to see Vertonghen at left-back instead of centre-back.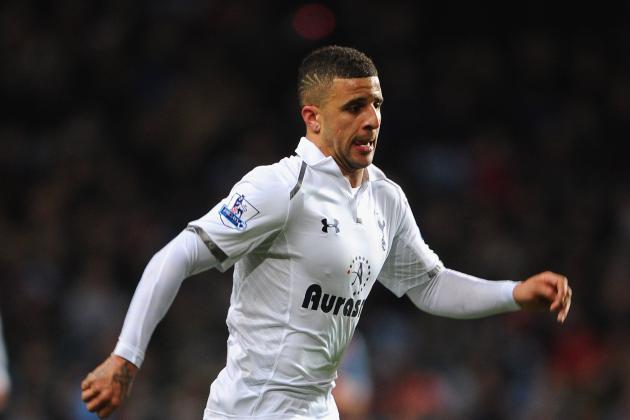 Michael Regan/Getty Images

With the high profile and consistency Kyle Walker established for himself last season with Spurs, this will probably be the easiest selection for AVB to make game-in game-out.
Nevertheless, it is important that Walker avoids complacency.
There have been at least a couple of games this season where Walker's performance has been sub-par and ineffective, and if that keeps occurring with regularity, AVB may be persuaded to give Kyle Naughton a chance, who's looked bright when given playing time.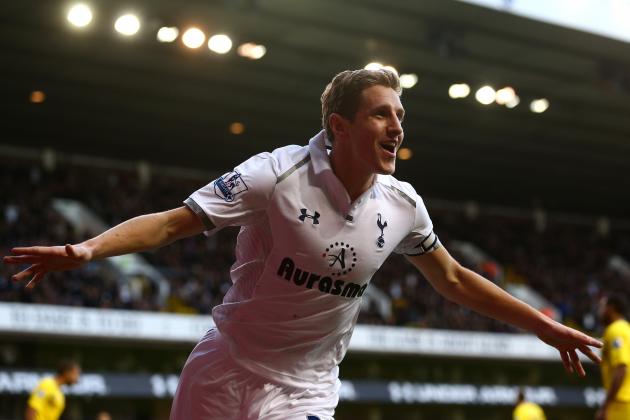 Clive Rose/Getty Images

Michael Dawson has gone through everything this season. First he was named team captain, then transfer listed, then un-transfer listed, then relegated to the bench and given two minutes of playing time through the team's first 10 games, and finally restored to the starting lineup against West Ham.
Yet, despite all the ups-and-downs, Dawson returned to the lineup without missing a beat.
Tottenham are 6-1-0 when Dawson starts, and have conceded just four goals in those games.
Admittedly, Dawson is a limited centre-back. He offers less on offense than Vertonghen, Caulker or Kaboul, and even on defense his lack of pace has been cruelly exposed by the Premier League's best attackers.
But Dawson knows very well how to pay to his strengths. He knows how to get the ball out quickly, to challenge opponents in the air, and to score off the occasional corner.
His tackles are sharp and precise, and if asked to mark a centre-forward, he can virtually take him out of the game.
Most importantly, with Ledley King now gone, Dawson provides leadership that no one else at Tottenham can.
AVB has shown a preference this season to have William Gallas be the team's leader. But as Gallas' flaws and age have become more apparent over time, AVB has shown great willingness to reincorporate Dawson in the team.
If that trend continues, Tottenham should continue to be strong and united at the back.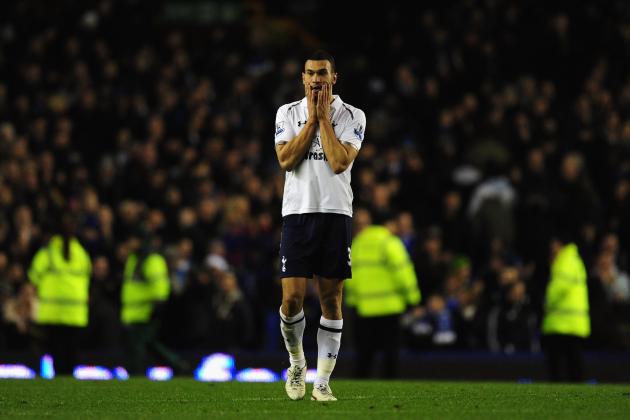 Stu Forster/Getty Images

As with left-back, I believe that this is a position that should be rotated, especially when Younes Kaboul comes back.
But again, if I had to pick one player to play the bulk of this position's minutes, it would be Steven Caulker.
Caulker has been more solid than spectacular at centre-back this season. But he's young, and it's important he continues to get minutes so that he can continue to develop.
There's certainly no reason a 35-year-old of limited ability should be taking any playing time from a 21-year-old with plenty of potential.
And even when Kaboul returns, I think Caulker will be able to show enough to keep the Frenchman from reclaiming his position.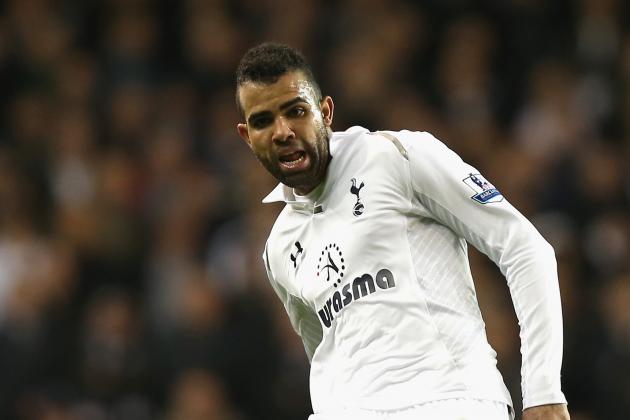 Bryn Lennon/Getty Images

Sandro has been one of the biggest surprises for me this season.
Restricted to playing a purely defensive role under Harry Redknapp, Sandro has been allowed to express the offensive side of his game under AVB as well, and the results have been excellent.
Though he sometimes shows a tendency to take extra-ambitious shots, he did open the scoring against Fulham to ease the pressure on the team, and his passing has led him to pick up a couple of assists.
On defense, Sandro has become an even better destroyer. His tackles are as crunching as ever, and his ability to intercept has only grown sharper.
Scott Parker's return means that Sandro will have to face serious competition for his place in the team, in addition to the likes of Jake Livermore and Tom Huddlestone.
But if I'm AVB, I stick with what has worked and continue to give Sandro plenty of playing time.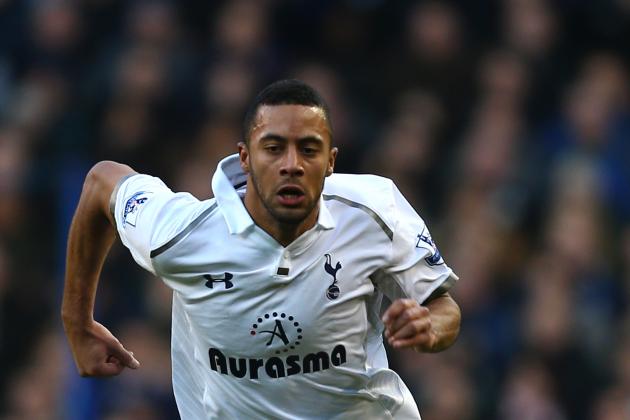 Clive Rose/Getty Images

Without Luka Modric, Dembele is a must for the club's starting 11. Yes, they are very different players, but they both have what most other footballers do not: top-level creativity and play-making.
Dembele, being a former forward, is far more offensively-inclined than he is defensively, so it would be hard to label him just a CM. He's not quite an attacking midfielder either though, hence the CM/AM compromise.
Even though Spurs' undefeated record with Dembele in the lineup came to an end in the 2-1 loss to Everton, the record still stands at an impressive 11-2-1 in the games he plays in.
He's possibly the only player who Tottenham have no adequate replacement for. AVB tried to use Huddlestone as Dembele's backup while the former Fulham man was out injured, but the Englishman was unable to match the Belgian's output.
Tottenham posted a 2-0-4 win-draw-loss record over that stretch.
There have been all sorts of suggestions made about the way Dembele could be positioned. Some have suggested Scott Parker could play behind him to allow Dembele to move further up, while others have argued for him to move further back to allow Gylfi Sigurdsson to come into the side.
Both suggestions cannot be too heavily criticized before they are tried, but at the moment Dembele's current position has been working excellently for Spurs, and there's no reason to change what's working.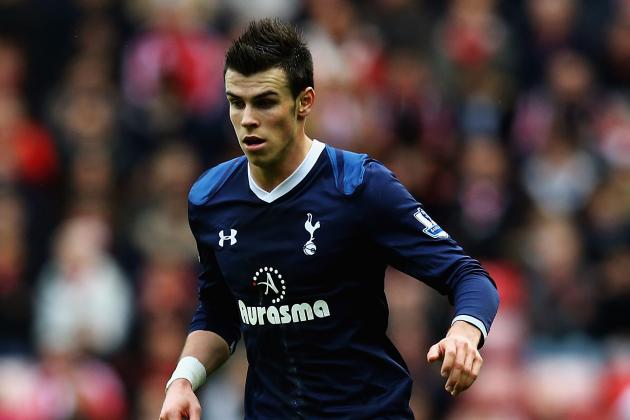 Matthew Lewis/Getty Images

Nothing really needs to be said here. Gareth Bale has terrorized defenses with regularity this season, and has looked regularly unstoppable.
Now if only EPL refs would stop accusing him of diving...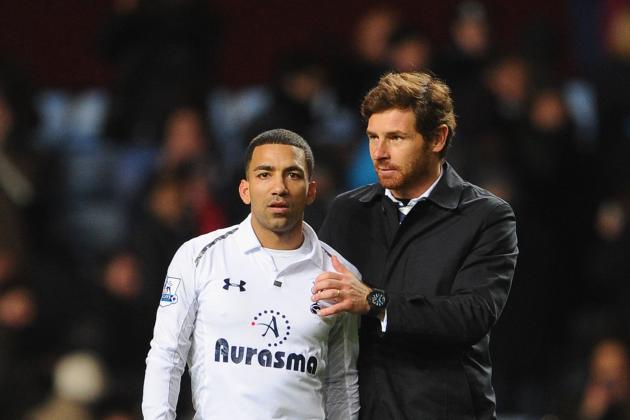 Michael Regan/Getty Images

Aaron Lennon is my pick for most improved player of the season. Andre Villas-Boas has made it a goal of his to up Lennon's confidence, and it's paid off dividends.
First, Lennon's improved fitness has been a huge gift to Tottenham. Last season, Lennon managed only 19 starts—he's already exceeded that total by two.
Lennon has also matched his goal total for each of the last three seasons through 20 games, and with the 17 games still to go, you have to expect that he's on pace to at least give another goal or two to the cause before the season finishes.
His crossing has improved significantly as well, as witnessed on Emmanuel Adebayor's goal vs. Reading.
Lennon has always been able to use his pace to lay off simple passes and collect assists, but now his crossing is improving as well, adding a new dimension to his game.
It's probably asking too much of Lennon to keep playing at the level he's played at in the last three games. But he's flourished in AVB's offensive system, and it looks like we can expect more in the future.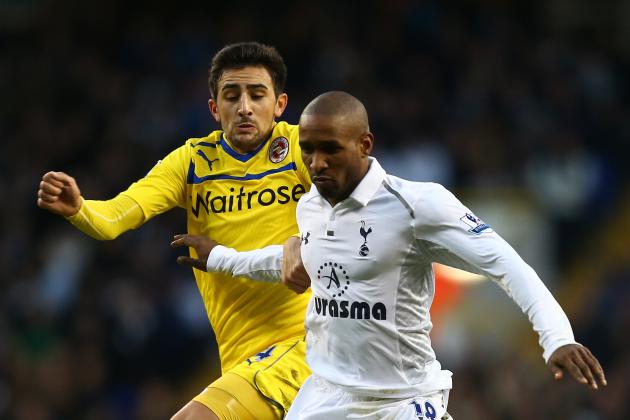 Clive Rose/Getty Images

If you were to look up "one-trick pony" in the dictionary, you would probably find a picture of Jermain Defoe.
Well, no you wouldn't, but you should.
When the ball gets passed to Defoe, everyone knows what he's going to try to do; no matter how difficult the chance, no matter how tight the angle, he's going to get as much as he can behind the ball and blast it towards goal.
And honestly, I'm pretty sure Spurs fans are okay with that.
Defoe has gotten Spurs 14 goals in all competitions, making him the club's leading goalscorer by four goals. Add that to Bale's 10, and that's about half of the club's goals.
Even if you dislike Defoe's shoot-first approach to the game, there's no denying that he's been crucial to Tottenham's success this season, and he's arguably been the greatest beneficiary of AVB's system.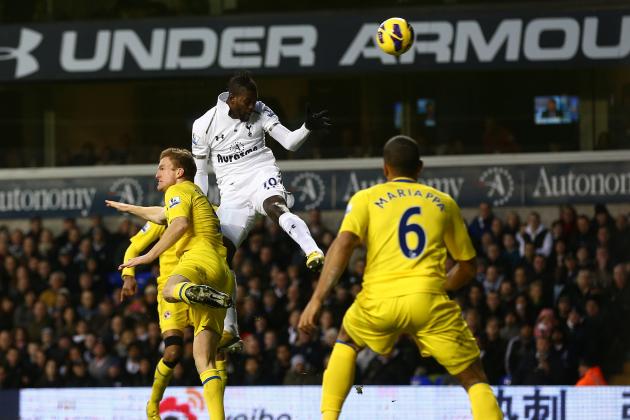 Clive Rose/Getty Images

This season, Emmanuel Adebayor has been frustrating to watch. He's been wasteful with his chances in front of goal, slow with his reaction time and at times has looked completely uninspired.
But even during his low points, Adebayor offers Tottenham something that no one else at the club currently can: he gives the offense a focal point to run through.
And at his best, when he's scoring goals and setting up others as he did last season, Tottenham are practically unstoppable.
Every transfer window, Spurs are linked with some of the world's best strikers and target men. This window they've already been linked with David Villa (h/t Daily Mail), Leandro Damiao (h/t The Guardian), Alvaro Negrado (h/t Metro), Fernando Llorente (h/t Metro), among others.
When one of these transfers actually materializes, I doubt many will disagree with AVB's decision to drop or sell Adebayor, especially if he's unable to pick up his form from the level it's been at this season.
But until then, Adebayor ought to have the full backing of Spurs' supporters.
I think there are certainly games where a partnership of Clint Dempsey and Jermain Defoe could be more effective, but against the tougher, grittier teams of the Premier League, Adebayor is the answer, and the only big target man that Spurs currently have available to call on.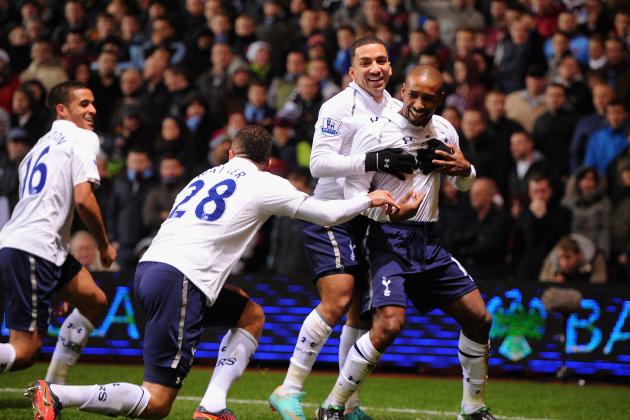 Michael Regan/Getty Images

The depth present at Tottenham necessitates that AVB rotate his team with mild regularity to ensure that as many players as possible are satisfied.
Even though they may not be the best at their positions within the squad, Kyle Naughton, Benoit Assou-Ekotto, Younes Kaboul, Scott Parker, Gylfi Sigurdsson and Clint Dempsey are all quality players who must be given playing time to stay sharp and ready to contribute to the cause when needed.
Even the less talented squad players, who are further down the pecking order but still important for the club's future—think Andros Townsend, Tom Carroll and Falque Iago—need to be motivated to stay hungry, and rewarded with occasional opportunities to show their worth.
So far, after a bit of a rough start and some poor showings by the team, AVB has proven himself to be a capable manager, and has been far better than Harry Redknapp was at distributing playing time among his players.
If he continues to build on the success he's had with the club and avoids making drastic changes to the team during the transfer window, Tottenham should really be able to push on to achieve their goals and return to the Champions League next season.
Certainly, with a starting XI of such high quality, and backups of similarly high quality, AVB has the tools at his disposal to deliver the goods for the club and its supporters.