The Greatest Hits, Motivational Speeches & Highlights of Ray Lewis' Career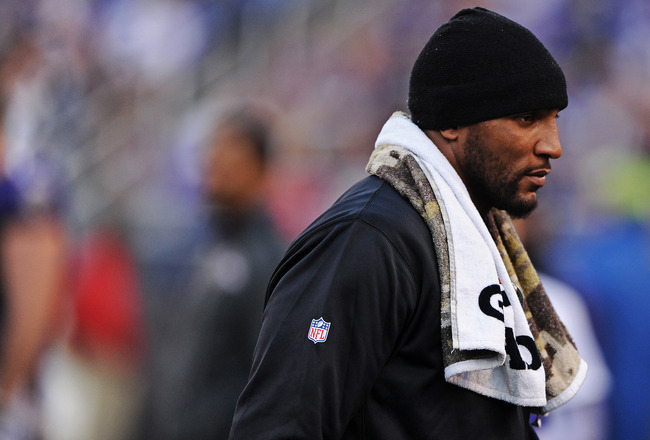 Patrick Smith/Getty Images
When the 2012-13 season of the Baltimore Ravens comes to an end, so will the decorated career of linebacker Ray Lewis.
The future Hall of Famer told his team and the media Wednesday that he will be retiring after this season.
Said Lewis, via the Baltimore Ravens' official Twitter account: "this will be my last ride."
The Ravens host the Indianapolis Colts Sunday in an AFC wild-card matchup. If Baltimore advances all the way to the Super Bowl, Lewis could conceivably play four more games in his career.
To help commemorate his career, we put together a video slideshow of all of Lewis' greatest hits, speeches and moments.
Game-Saver in San Diego
Rarely do linebackers get an opportunity to make a play that wins a game, but Lewis certainly made the most of his opportunity during this 2009 matchup with the San Diego Chargers.
On a 4th-and-2 play with 36 seconds left in the fourth quarter, Lewis read both the play and the snap, exploding into the backfield untouched to take down Chargers running back Darren Sproles. One kneel-down later and the Ravens had escaped with a 31-26 win.
According to USA Today's Jim Corbett, Lewis called the play of "one of the greatest of my career."
Dustin Keller Down
The New York Jets, fresh off their training camp on HBO's "Hard Knocks," found out the true meaning of a hard knock.
Lewis laid out Jets tight end Dustin Keller on a violent but completely legal hit during the season opener in 2010. It came with under a minute to go when Baltimore was clinging to a one-point lead. The Ravens would end up winning the game, 10-9.
Super Bowl XXXV MVP
Lewis and the Ravens defense capped off a historic year in 2000-01 with one of the Super Bowl's most dominant defensive performances.
Over 16 regular-season games, Baltimore allowed just 165 points and 970 rushing yards.
In Super Bowl XXXV, the Giants were able to manage just 152 yards and seven points in a 34-7 Ravens win. For his efforts (five tackles, four passes defensed), Lewis was named Super Bowl MVP. Only eight times in the history of the Super Bowl has a defensive player been named the game's MVP.
Madden '13 Speech
Fans of the Madden football video game franchise will recognize this speech.
"I'm going to live long after my records have fallen, long after my rings have tarnished," Lewis says in the pregame introduction. "How will you be remembered? ... Leave. Your. Mark."
Ahmad Hall, Meet Ray
Tennessee Titans fullback Ahmard Hall picks up 10 yards and a first down on this reception during the 2009 divisional playoffs, but he also pays a big price from a charging Lewis.
Just as Hall crossed the first-down line, the 245-pound fullback gets smacked by Lewis, who sends Hall's helmet flying out of bounds. To his credit, Hall got up and had the nerve to say something to Lewis.
"What a shot!" CBS announcer Dan Dierdorf says during the replay.
Ray Goes Home
Maybe more so than any player in the NFL today, Lewis has kept an unbreakable bond with his alma mater at the University of Miami.
In this speech, Lewis tries to tell this group of young Hurricanes how to unite as a family and team.
The shirt could use some work, but his words carry some serious weight.
"There is not a person on my team in my 16 years that has consistently beaten me to the ball every play," Lewis says. "That ain't got nothing to do with talent. That has got everything to do with effort. Nothing else."
Big Hit, Dumb Penalty
Believe it or not, but the NFL used to call penalties on big hits before the league-mandated rules came into place. On this hit on Bengals receiver Chad Ochocinco, we see that come into play.
With the Bengals driving late, Lewis lowers the boom on Ochocinco, but also receives a 15-yard penalty. In today's NFL, the field would have been littered with yellow penalty flags. It's a hellacious hit that sends Ochocinco's helmet flying.
Sealing a Playoff Win
The Ravens may not have even made the Super Bowl in 2001 had Lewis not made a game-changing interception during the divisional round.
Clinging to a seven-point lead and with the Titans driving, Lewis latched on to a fourth-quarter interception that was bobbled by running back Eddie George. Lewis returned the pick 50 yards for a game-sealing touchdown.
Three weeks later, the Ravens were playing in the Super Bowl.
In Loss, Comes Strength
In the moments after Billy Cundiff missed a field goal that would have tied the 2012 AFC Championship Game, an emotional Lewis did not use his leadership position to tear into the kicker.
Instead, Lewis used the opportunity to build strength in his locker room.
"The fact is we have to come back and go to work," Lewis says. "To make sure we finish it next time."
The best leaders find strength during moments of weakness. Lewis embodies that thought here.
Full Package of Highlights
Not satisfied with the highlights, hits and speeches we provided here? This video gives you a broad stoke of Lewis' career.
Also, the NFL Network's "A Football Life" documentary on Lewis' is well worth your time.
Warning: Video's music features brief vulgar language.
Keep Reading

Baltimore Ravens: Like this team?