UFC on FX: Early Main Card Predictions for Belfort vs. Bisping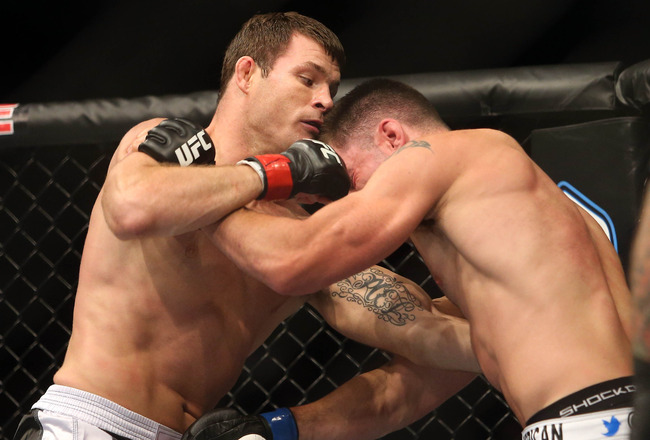 Tom Szczerbowski-USA TODAY Sports
The UFC returns to Brazil this month with an FX card that boasts a big-time middleweight main event.
Top contenders Michael Bisping and Vitor Belfort are set to square off in the Octagon in a fight which may provide the next challenger to Anderson Silva's throne.
Also on the card are a number of Brazilian fighters fighting on home soil, as well as universal prospects looking to make a splash in their respective divisions.
Here is are early main card predictions for UFC on FX: Belfort vs. Bisping.
Khabib Nurmagomedov vs. Thiago Tavares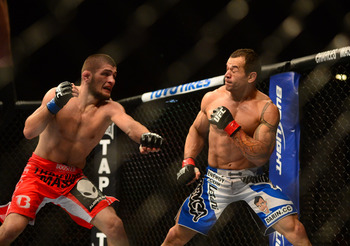 Mark J. Rebilas-USA TODAY Sports
Kicking off the main card is an intriguing lightweight bout between underrated Brazilian Thiago Tavares and surging Russian Khabib Nurmagomedov.
Tavares has flown under the radar in the packed UFC lightweight division for some time now. With the company since 2007, he has never gotten that marquee victory that leaves an impression on fans.
The submission specialist has always faltered when taking a step up in competition, as seen in his losses against Tyson Griffin, Matt Wiman and Kurt Pellegrino.
That is where I am skeptical with Tavares in this fight.
Nurmagomedov is 2-0 with the UFC, winning fights against solid fighters in Kamal Shalorus and Gleison Tibau. The Tibau fight was close and could have gone either way, but nevertheless, the Russian showed he can hang with tough guys.
In this fight, I think Khabib is more well-rounded and will be a handful wherever the fight occurs. He is likely the better striker and has the better wrestling, which may control Tavares if he wants to get this fight down.
Prediction: Nurmagomedov def. Tavares via TKO
Gabriel Gonzaga vs. Ben Rothwell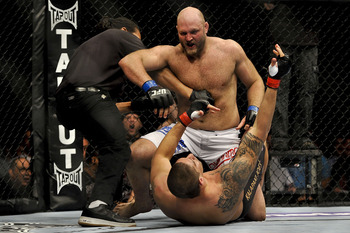 Paul Abell-USA TODAY Sports
The next fight is a heavyweight matchup between Gabriel Gonzaga and Ben Rothwell that should be interesting, to say the least.
Gabriel Gonzaga is an extremely talented grappler, but has been obsessed with striking ever since he shocked the world in knocking out Mirko Cro Cop. Jiu-jitsu is his bread and butter, and he should stick to fighting on the ground.
This is especially true against a guy like Ben Rothwell.
Rothwell is an underrated striker with finishing power. He also is pretty solid defending takedowns.
I don't know if Gonzaga has the takedown chops to plant Rothwell on his back. And while Gonzaga is definitely not a bad striker, Rothwell is more dangerous on the feet.
If Gonzaga stays standing with Rothwell, he risks a brutal knockout. If he plants Rothwell on his back, he will dominate.
I see the former, with a twist. Rothwell outstrikes Gonzaga, but cannot finish him.
Prediction: Rothwell def. Gonzaga via decision
Daniel Sarafian vs. CB Dollaway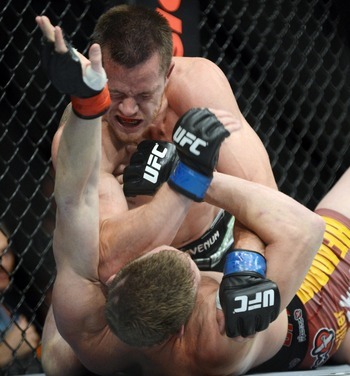 Ron Chenoy-USA TODAY Sports
The co-main feature is a little bit of a head-scratcher, but nevertheless, CB Dollaway meets Ultimate Fighter: Brazil veteran Daniel Sarafian.
Dollaway is a wrestler with submissions. His striking is still green and an area of concern when he fights.
Dollaway's last two losses have come via knockout against guys with good power in Jared Hamman and Mark Munoz. Although he beat Jason Miller in his last outing, you know that in the back of his head he is still concerned about defending on the feet.
Sarafian is a well-rounded fighter who has the power to put Dollaway to sleep. Though his record boasts six wins via submission in seven career victories, Sarafian's time on TUF showed he can strike, as well.
His flying knee over Thiago Perpetuo on the show definitely showed he is no one-trick pony.
When they fight, it will be interesting to see how Sarafian defends the takedown. TUF: Brazil lacked skilled wrestlers like Dollaway, which may have shielded a potential weakness.
Based on what I know, I think that Sarafian's balanced attack will shock Dollaway. That will lead to a victory for the future star.
Prediction: Sarafian def. Dollaway via TKO
Vitor Belfort vs. Michael Bisping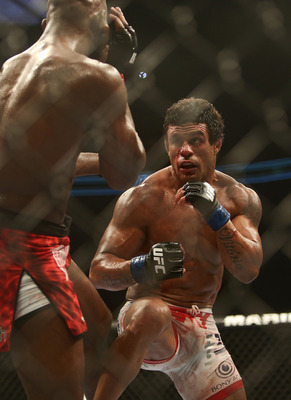 Tom Szczerbowski-USA TODAY Sports
The main event is going to be a barnburner, to say the least. Michael Bisping and Vitor Belfort are both top-10 middleweights that are looking for a title shot.
Say what you want about Belfort, but that old dog can hunt. He showed some promise early in his 205-pound title shot against Jon Jones, which leads me to believe he is still at the top of his game.
His hand speed is second-to-none. His boxing and power are ridiculous assets that should aid him in this fight.
Bisping has looked like a whole new fighter in his last few bouts. His ground game is underrated, while his striking is usually what earns him victories.
This fight is an interesting matchup. Bisping's cardio is better, but Belfort has that one-shot knockout power that should threaten Bisping early on.
I think the hometown hero should be able to rock Bisping and take advantage for the win.
Prediction: Belfort def. Bisping via TKO
Keep Reading