WWE Year in Review: Ranking the 10 Most Valuable Superstars of 2012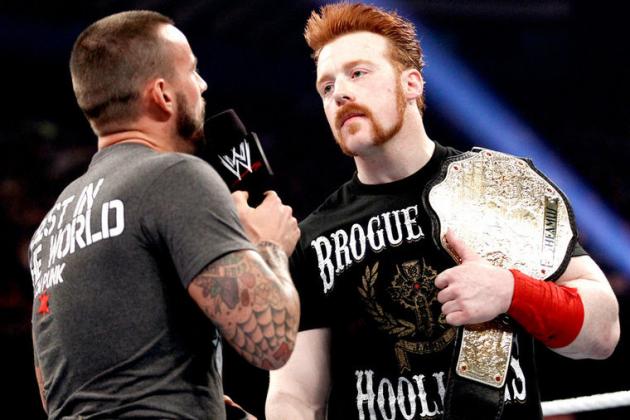 Photo courtesy of WWE.com
Although most wrestling fans are focused on 2013 and what the WWE will bring to the table during this New Year, it's always fun to reflect on the year that was. There is no doubt that 2012 was far from a perfect year for the WWE, but a lot of good things happened, and several superstars shined brightly.
One of the big reasons why most have a positive outlook on 2013 for the WWE is the fact that most of the company's top stars came up big in 2012, and many new stars were developed as well. While the usual suspects like John Cena and CM Punk were among the WWE's most valuable superstars last year, entertainment came from some unexpected sources as well.
Many fans would agree that the past couple months have been solid for WWE due to the emergence of young talent and intriguing storylines, but 2012 was a year that featured great matches and solid pay-per-views across all 12 months. Without fine performances from the superstars, none of that would have been possible.
Each and every wrestler on the WWE roster in 2012 contributed in some way that helped make the company successful. Here are the 10 superstars who rose above the rest, however, and made 2012 a year to remember.
Begin Slideshow

»
Kofi Kingston has never been a main-event player, and he often gets lost in the shuffle because of that, but there is no question that he was a vital part of WWE programming in 2012. Not only was he present throughout the year wrestling on Raw, SmackDown, pay-per-views and wherever else he was needed, but he was rarely without gold around his waist.
The year 2012 started with Kofi as a Tag Team Champion alongside Evan Bourne, but a wellness policy violation from Bourne forced Air Boom to drop the titles to Primo and Epico early in the year. Kingston's title drought didn't last too long, as he and R-Truth recaptured the tag straps in late April. Kingston and Truth proceeded to lose the titles to Team Hell No, but soon after, Kofi would go back on his own and win the Intercontinental Championship.
Kingston dropped the belt to Wade Barrett on the New Year's Eve edition of Raw, so he will begin 2013 without a title, but I doubt much will change. Kofi's lack of charisma and mic skills may very well prevent him from ever entering the world title fray, but his value is unquestioned. Somebody has to go out there every night, put on a show for the fans and supplement the main-event stars, and in 2012, Kingston did it better than pretty much anyone.
While some eyebrows may be raised as high as The Great One's by the inclusion of The Rock on this list, it's tough to deny his value to the WWE in 2012. The Rock was admittedly absent for the vast majority of the year, but he did compete in the biggest match of 2012 by far, as he defeated John Cena in the main event of WrestleMania XXVIII. That alone is reason enough to tag him with the valuable designation.
If not for The Rock's presence, there is absolutely no way that WrestleMania XXVIII would have been one of the most successful in WWE history in terms of pay-per-view buys and ticket revenue. Everyone wanted to see The Rock return to the ring in a one-on-one match with the current face of the WWE, though, so from an economic standpoint, it can be argued that The Rock was actually the WWE's most valuable superstar in 2012.
With that said, plenty of weight has to be given to those superstars who were around for the entire year, so I can't in good conscience put The Rock any higher than No. 9. In the short period of time in which he did appear for the WWE in 2012, he gave us a number of fantastic promos and a memorable match. In terms of an impact-to-appearance ratio, there wasn't a more electric WWE star in 2012 than The Rock.
Chris Jericho is yet another superstar who wasn't a part of the WWE for the entire year of 2012, but his impact was undeniable. Y2J kicked off the year by making his long-awaited return, but it would be several weeks before he even uttered a word. Jericho entered the 2012 Royal Rumble and finished as the runner-up to Sheamus. That loss would set the stage for a year that wasn't particularly good for Jericho from a kayfabe perspective.
Jericho feuded primarily with WWE Champion CM Punk and had great matches against him at both WrestleMania and Extreme Rules. Jericho came up short in both of those contests, but he didn't come back to hog the spotlight. Jericho has done it all in the wrestling business and simply wants to give back to the younger stars. Putting over Punk twice really helped to make his title run a success.
Jericho wasn't done spreading the wealth, though, as he then feuded with Dolph Ziggler. Jericho did defeat him at SummerSlam, but he put Ziggler over the next night on Raw, as he lost to him and was forced to leave the WWE as a result. Jericho's diehard fans may consider 2012 to be a failure since he rarely won a match, but Jericho did what was good for the future of the company.
Brock Lesnar hasn't been seen since the night after SummerSlam, and he only wrestled a total of two matches in 2012, but he was the driving force behind two of the WWE's best pay-per-views. Lesnar made his triumphant return the night after WrestleMania XXVIII, as he hit John Cena with an F-5, and while that would prove to be the high point of his year, he was certainly valuable.
Lesnar's initial feud with Cena was a good one, and it led to one of 2012's best matches at Extreme Rules. Lesnar dominated much of the match and looked like a legitimate tough guy, but Cena won after he hit Lesnar with a chain followed by an Attitude Adjustment onto steel steps. Lesnar disappeared for a little while, but he returned to feud with Triple H, and that resulted in a match at SummerSlam that Lesnar won.
It could be argued that Lesnar's two matches in 2012 were among the 10 best of the entire year, so he deserves a lot of credit for that. Also, the pay-per-view buy rates for Extreme Rules and SummerSlam were way up in 2012 compared to where they were in 2011, and that means Lesnar was a box-office hit. It's tough to say whether or not his actual value matched the value of his hefty contract, but Lesnar was definitely a key player in 2012.
Due to the fact that he has been with the WWE since 1997, and even longer if you take previous gimmicks into account, it's easy to take Kane for granted. He has held countless titles over the course of his career and has been featured in many different roles, but I was never more impressed with The Big Red Monster than I was in 2012.
I always thought of Kane as a dominant heel and never really liked seeing him as anything other than that, but he really showed his range as a character last year. Late 2011 saw him return under a mask with a renewed demonic personality, but that ultimately fell flat. Because of that, he has changed dramatically ever since. Kane truly hit his stride when he began feuding with Daniel Bryan. The two of them then found out that they had some common ground, and the rest is history.
Kane was absolutely hilarious in the anger management skits alongside Bryan, and you can even argue that Kane stole the show. Whatever the case, Kane reinvented himself in 2012, and both he and Bryan revitalized the tag-team division. Prior to their partnership, tag-team wrestling was dead in the WWE, but now it's booming. Add to that the fact that Kane is 45 years old and still wrestling almost every night, and it's impossible to leave him off this list.
Although 2013 may very well be remembered as the year Dolph Ziggler became an established star, 2012 will be remembered as the year that prefaced it. Ziggler actually went through the entire year of 2012 without holding a title, which was a major departure for a guy who almost always held the United States or Intercontinental Championship. What Ziggler gained in 2012 was far more valuable than any title, though.
Ziggler kicked off 2012 by feuding with CM Punk over the WWE Championship, and that set the tone for the rest of the year. Perhaps his greatest accomplishment was winning the World Heavyweight Championship Money in the Bank contract. He has even defended the contract successfully on two occasions by defeating Chris Jericho the night after SummerSlam and John Cena in a ladder match at TLC.
All of that points to Ziggler becoming a world champion in 2013, and 2012 was necessary in terms of getting him ready to reach the next level. Ziggler wasn't always booked perfectly in 2012 and he had some bumps in the road, but he showed that he was a workhorse capable of stealing the show every night. While 2012 was about paying dues and proving himself, 2013 will be about championship gold for The Show Off.
Many of the guys on this list were already established stars in the WWE prior to 2012, but Daniel Bryan was nowhere near that level. He did enter the year as the World Heavyweight Champion after cashing in his Money in the Bank contract on Big Show at TLC in late 2011; however, many were uncertain about whether or not he could stick as a main-eventer in the WWE. Now that 2012 has come and gone, I can say with confidence that he's a legitimate top guy.
Bryan's 2012 was eventful to say the least, as it began with a heel turn, which really helped launch him to superstardom. Some thought the turn was forced at first, but he played the annoying heel role too, and his "Yes!" chant caught on like wildfire. It led to a world title match against Sheamus at WrestleMania, which Bryan lost in 18 seconds, but the submission specialist's popularity only grew from there.
His relationship with A.J. was tumultuous from that point forward, and it resulted in an entertaining feud with CM Punk. Bryan's current role may be his best, as he and Kane have held the Tag Team Championships for the past few months. I liked Bryan since his debut in the WWE, but I always wondered if he had enough personality.
Bryan answered those question marks in a big way starting with the anger management segments, and he has continued to improve from there. Bryan went from world champion to tag-team competitor in 2012, but it was a good move for him and for the WWE, and it will set him up for future success.
When looking at wins and losses, 2012 certainly wasn't a banner year for John Cena, as he so astutely pointed out on the most recent edition of Raw. Being valuable to the company is about a lot more than kayfabe, however.
Despite his struggles, Cena was once again the face of the company in 2012, and he main-evented almost every pay-per-view. He also continued to disprove the fallacy that he can't wrestle by taking part in many of 2012's best matches.
When it comes to big matches, nobody was in more than Cena was last year. WrestleMania vs. The Rock, Extreme Rules vs. Brock Lesnar, Raw 1,000 vs. CM Punk, Night of Champions vs. Punk and TLC vs. Dolph Ziggler were all matches with plenty of hype surrounding them, and most delivered. It can be argued that Cena was working with a top-flight worker in all of those matches, and while that may be true, it takes two to tango, and Cena once again proved to be a capable dance partner in 2012.
As hard as it may be to believe, Cena didn't hold the WWE Championship at all in 2012, and the only real accolade he secured was the WWE Championship Money in the Bank contract. Cena squandered it, though, by using it against Punk and winning the match by disqualification. Even so, Cena was a key player throughout the year.
Although 2013 may be a better year for Cena in terms of big victories, I enjoyed him in 2012 due to the fact that he was willing to put more guys over than ever before.
Sheamus appeared to be a classic case of a talented superstar who was given too much, too soon. Sheamus first won the WWE Championship just a few months into his WWE tenure in 2009, and while his talent was obvious, he couldn't sustain his lofty status. He eventually went on a losing streak and didn't show signs of life until the summer of 2011. That impressive summer run set the stage for a 2012 to remember for The Great White.
The Celtic Warrior had a lot of momentum heading into the 2012 Royal Rumble, and he made good on it by last eliminating Chris Jericho to win the match. Sheamus chose to challenge Daniel Bryan for his World Heavyweight Championship at WrestleMania, and he won the well-documented match in just 18 seconds. That win arguably did more for Bryan's popularity than for Sheamus', but winning the world title was key to making Sheamus a top face.
After winning the title, he feuded with Bryan briefly and they had an incredible match at Extreme Rules. His feud with Alberto Del Rio after that was widely criticized and his current feud with Big Show has dragged on a bit, but Sheamus managed to have great matches with essentially everyone he faced in 2012, and his near-seven-month title reign did a lot for the big gold belt.
Sheamus isn't often mentioned among the best in-ring workers in the WWE, but 2012 proved that he should be. It also helped create a star for years to come.
Whether you love him, hate him or are indifferent toward him, there is absolutely no question that CM Punk was the most valuable WWE superstar in 2012 by a landslide. Punk won the WWE Championship from Alberto Del Rio in November of 2011, and he is still in possession of it today, so he held the company's top prize for the entire calendar year of 2012. That fact alone is enough to put him No. 1 on the list, but everything he accomplished during the title run adds to his mystique.
Punk began 2012 as the No. 2 face in the company behind John Cena, but he was arguably receiving a more favorable fan reaction than Cena was at the time. He closed 2012 as the clear top heel. That transition began when he attacked The Rock on the 1,000th episode of Raw, and his heel persona has been furthered ever since. In fact, Punk's heel turn has gone so well that even some of the Internet fans that once loved him have turned on him.
If Punk's successful switch from face to heel and the long title run aren't enough, consider some of the feuds he had in 2012. Punk beat the likes of Dolph Ziggler, Chris Jericho, Daniel Bryan, Kane, Cena, Big Show, Ryback and pretty much every big name you can think of in title matches. Not only were they big wins, but most of them were high-quality matches as well. Add in the fact that Punk is the best promo man in the WWE as far as regular roster members go, and it's clear that he's the total package.
Pun may not have won the Slammy Award for Superstar of the Year, but there is no doubt that he was the WWE's most valuable commodity in 2012.
Follow @MikeChiari on Twitter and listen to him on Ring Rust Radio.