Michigan Football: 5 Important Takeaways from Wolverines' 2013 Outback Bowl Loss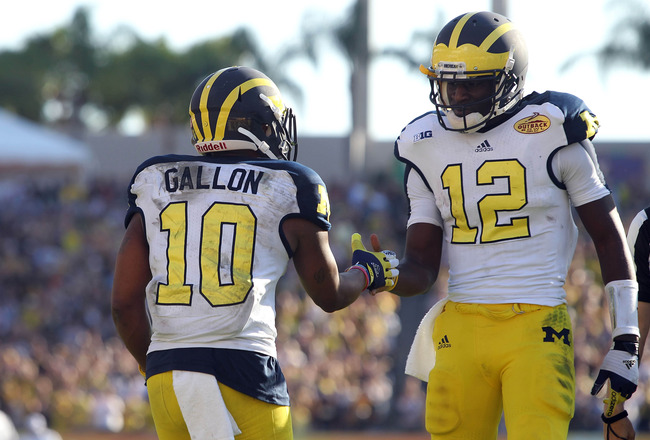 Kim Klement-USA TODAY Sports
The 2012 season did not end the way Michigan would have liked it to, as the Wolverines wound up losing to South Carolina in a heartbreaker.
So what went wrong for this Michigan team that had the game all but won? Obviously a number of things did, but there were a few factors that stood out more than others.
With that being said, a lot of things went right for Michigan in this game as well. Here's a look at five important takeaways from the Wolverines' Outback Bowl performance.
Both Gallon and Dileo Stepped Up in a Big Way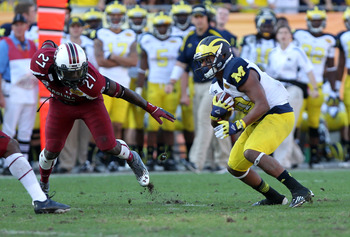 Kim Klement-USA TODAY Sports
Let's start with the good: both Jeremy Gallon and Drew Dileo showed that they can be big-time receivers when it matters most.
This is especially encouraging when looking at Michigan's receiving situation next year. The position was very inconsistent as a whole this season, as the unit looked great at times yet terrible at others.
Take Roy Roundtree and Jerald Robinson out of the picture for 2013, and other than Gallon and Dileo nobody is very experienced.
However, that isn't too concerning now seeing as how both young men showed they are capable of being game changers.
Against one of the best pass defenses in the country, Gallon dominated, hauling in nine passes for 145 yards. Dileo, on the other hand, simply made plays when he needed to.
If these two can step up and consistently have big games as seniors next year, it will allow guys like Joe Reynolds, Jeremy Jackson, Amara Darboh and Jehu Chesson to be nothing more than role players in 2013.
Joe Bolden Didn't Miss a Beat in Demens' Absence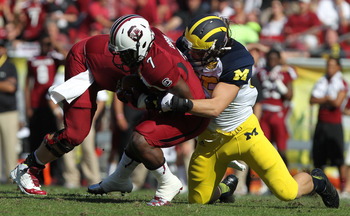 Kim Klement-USA TODAY Sports
When Kenny Demens left the game with an undisclosed injury, nobody panicked. His replacement, Bolden, may only be a freshman but he played well beyond his years.
Bolden was consistently around the football, similar to the way Jake Ryan has become known to be.
This was most evident when he sniffed out a short screen pass and absolutely blew it up in the South Carolina backfield.
For Bolden, it's only a sign of things to come. With Demens graduating, Joe will likely be starting alongside Ryan and Morgan next year to give the Wolverines a dangerous linebacking unit.
Having James Ross likely coming off the bench next season just goes to show you the talent the Wolverines have stockpiled at linebacker.
It's a shame that Demens had to end his career this way, but at the same time it gave Bolden a huge head start heading into next year.
Michigan's Defensive Line Generated as Good of a Pass Rush That We've Seen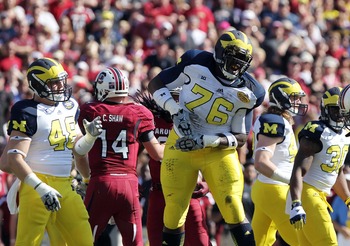 Kim Klement-USA TODAY Sports
It's no secret that Michigan's defensive line has struggled to create pressure all season. The Wolverines simply didn't have an elite defensive lineman this season, and that was obviously the main reason why.
However, Michigan got more pressure on the South Carolina quarterbacks than we'd seen in a while. Sure, they blitzed quite a bit as well, but were also able to generate pressure even when they didn't blitz.
Quinton Washington (who grew up right before our eyes this season) was a force once again at tackle, and both Campbell and Roh had decent games in their final outing in a Michigan uniform.
Lots of bodies were rotated in at strongside defensive end, as Beyer, Clark and Ojemudia all saw plenty of time.
Sure, it will hurt some losing Campbell and Roh from this group, but this Michigan front seven could be special next year. When looking at a potential tackle duo of Washington and Pipkins, combined with the plethora of ends Michigan has returning, this D-line could wind up being one of the best around.
Michigan's Vaunted Pass Defense was Nonexistent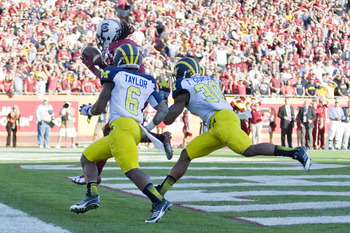 Jeff Griffith-USA TODAY Sports
What happened to this Michigan secondary that was supposed to be so hard to throw on? Was J.T. Floyd's absence the main reason it performed so poorly?
Regardless of Floyd, at Michigan the expectation falls on everyone, so excuses obviously can't be made.
Yes, Raymon Taylor got burned badly a few times in this game, but the safeties also played very poorly. Jordan Kovacs had a very disappointing game, and Thomas Gordon didn't do anything of note either.
Most seem to think that a lack of speed and playmaking ability at safety was the main culprit, and honestly, that just may be the case.
Regardless of what it was, Curt Mallory needs to straighten these boys out and fix whatever problems we saw against South Carolina. The performance of this unit was downright embarrassing.
The Outlook on the 2013 Season is Very Bright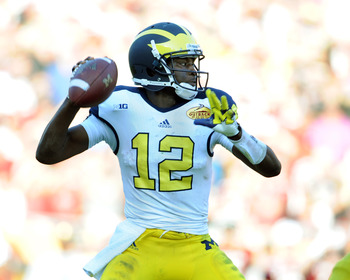 Al Messerschmidt/Getty Images
This year's Outback Bowl was basically a recap of Michigan's 2012 season: a very close, heartbreaking loss to a very good team in which the Wolverines lost the turnover battle.
Now I seldom play the "what if" game, but I'm going to a bit here. Honestly, Michigan could have easily went 11-1 this regular season. If it wasn't for turnovers and Denard Robinson's injury, the Wolverines probably would have won the Big Ten championship and wound up in the Rose Bowl or even the national title game.
Instead, this team went an abysmal 8-5, something that isn't, has never been and will never be accepted at the University of Michigan.
The Wolverines was also out of the national championship race by the time October started, something that just simply can't happen.
This season was obviously a failure, and Brady Hoke will be the first one to tell you that. However, it's up to him and the rest of the staff to get these young men where they need to be.
Fortunately, in 2013, they will.
Keep Reading

Michigan Wolverines Football: Like this team?