Jets Want To Move Training Camp Away From $75 Million Facility In New Jersey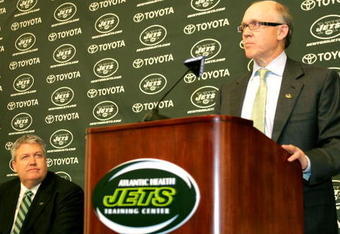 (Photo by Andy Marlin/Getty Images)
Talk about a con job.
After years of work, $75 million spent on building a facility, and increased taxes on the people of New Jersey and Morris County, the Jets are telling the Garden State that their new Florham Park training facility is not good enough to host a training camp.
According to a report from the Newark Star-Ledger, the Jets and new coach Rex Ryan are now looking to move the team's camp to Cornell University in Ithaca, or the State University of New York at Cortland, which, by the way, is a three hour and 47 minute drive from Florham Park, New Jersey, and four hours and nine minutes from New York City.
This leaves the people of New Jersey with nothing but questions. Why build a gigantic complex that is twice the size of the old one at Hofstra University with an indoor practice field and a swimming pool included for good measure? Plus, what ever happened to the idea of obligating a contract? The Jets are under a 99 year lease with the NJSEA and the state of New Jersey to hold training camp and games in New Jersey. It makes no sense for the Jets to pack up and work out in another complex, when all of the necessary amenities are right there in Florham Park to begin with.
As for dorms? Ummmm? In case you are wondering, there are three schools near the Jets new home: Drew University, Farleigh Dickinson University and the College of Saint Elizabeth.
All three schools have dorms. The only people who would take up residence in the dorms during the summer are college athletes preparing for fall sports. That leaves enough room for the Jet players to take a little nap.
Unless Drew, FDU, and Saint Elizabeth told the Jets thanks but no thanks, which makes little sense to begin with, there is no excuse for the Jets not to have explored the possibility of living in one or two of these schools.
In fact, FDU has a brand new dorm that is exactly across the street from One Jets Drive. Gee, I guess the Jets don't want their players walking across the street. Heaven forbid players would have to wait like the rest of us for the traffic light to change to cross the street.
The Jets also complained that there are no bleachers for the fans. Is it really that hard to go out and buy a bunch of steel bleachers and throw them somewhere. I mean, the Jets do have five fields at this new facility; can't they throw up a couple of bleachers?
When the Jets were at Hofstra, the only room for fans was standing room. Parents had to throw their kids on their shoulders to watch their team practice. There were some bleachers, but not many. Nobody complained.
Fans would not have cared that there were no bleachers and only standing room; they just wanted to see their team. Surely, the same is true for the New Jersey site.
But, I guess there are bleachers at Cornell and Cortland. Too bad nobody from New York or New Jersey will be there to watch because it is a longer distance to travel than it was from Jersey to Hempstead and back.
Maybe the Jets can have a scrimmage and share some laughs with Terrell Owens and the rival Buffalo Bills nearby. The Bills are closer to Cornell and Cortland than the Jets will be to their own training facility and stadium.
Did the Jets know that it's a bad economy right now, and people are pinching pennies to the point that they will not travel very far in order to save on gas? I guess the Jets missed that memo.
With no Jets in Jersey, hundreds of thousands of dollars will be lost that could have been had by restaurants, hotels, and small mom and pop shops. Summer jobs will be lost, or never created, because the Jets are not in town to attract people to visit.
In short, the Jets would be contributing to an already crippling economy. Life is bad enough right now.
Michael Frodella, who is the executive director of the Park Avenue Club, was quoted by the Ledger as saying that the lack of the Jets presence could hurt business in the area, "It could have a negative effect on other eateries in town." (Star Ledger).
Even Senator Richard Cody is pissed at the Jets. "It's a great site to build up a great fan base in New Jersey," Cody said, "Taking camp somewhere other than Florham Park, that is a mistake." (qtd. Star Ledger).
Sure, New York City fans were not happy to see the Jets move away from their Long Island home for New Jersey, but the drive from Hempstead to Florham Park is only ninety minutes with no traffic.
This pending move is a black eye for Jets owner Woody Johnson, who already has a black eye from his PSL plan. Moreover, Johnson's business is located in New Jersey; he should have put his foot down to prevent such a drastic move. What is he thinking? It's his cash that built the house to which nobody is welcome.
Johnson can do countless interviews on SNY, claiming that he is selling tickets, but the fact is that the regular fan can't afford to pay for tickets anymore, and the regular fan now can't afford to see his favorite team even during training camp, unless he or she is willing to fill up their car three different times.
Thank you, Jets organization. You continue to prove that the New York Jets are the most incompetent franchise in football. This move is so bad, you guys make the Detroit Lions and Oakland Raiders blush.
This article is
What is the duplicate article?
Why is this article offensive?
Where is this article plagiarized from?
Why is this article poorly edited?

New York Jets: Like this team?