Dallas Cowboys 2012 Final Team Grades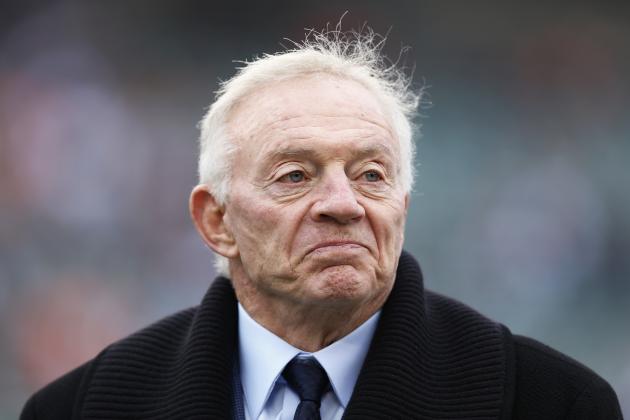 Joe Robbins/Getty Images
The Face of Mediocrity
The Cowboys concluded their 2012 season in disappointing fashion. As usual, the Cowboys continued to show a flare for the dramatic, they remained the epitome of mediocrity and couldn't seem to get out of their own way. Unlike last year's disappointment that ended at MetLife Stadium, this year's disappointment didn't leave me with quite the same hollow feeling.
Elimination games simply have not been too kind to the Cowboys and many feel strongly that the season has been a total bust. But, if anything positive can come out of this season, it's the fact that the Cowboys are really putting together a young nucleus of talent who seem to work well with the veterans.
We've seen Bruce Carter emerge, the explosion of Dez Bryant and promising contributions from younger players like Dwayne Harris. The Cowboys also showed pretty good resolve and togetherness when tragedy struck and it appears that significant progress was made regarding team concept.
But the same problems still exist for this franchise and it's a two-headed monster—moral victories don't count and they can't get over the hump. With a fan base that is suffering from the highest level of frustration, the pressure will only be greater in 2013 for the Cowboys to deliver and many questions exist.
The biggest question is: What does this franchise need to do in order to achieve and sustain a winning formula? Is the talent the problem? Do they need better coaching or more desire?
There is something in Jerry Jones' business model that is not working and fans are tired of hearing about their "processes."
As a student would hand in an assignment to their professor, the Cowboys have handed us theirs. And it's time for the results.
Let's start at the top.
Begin Slideshow

»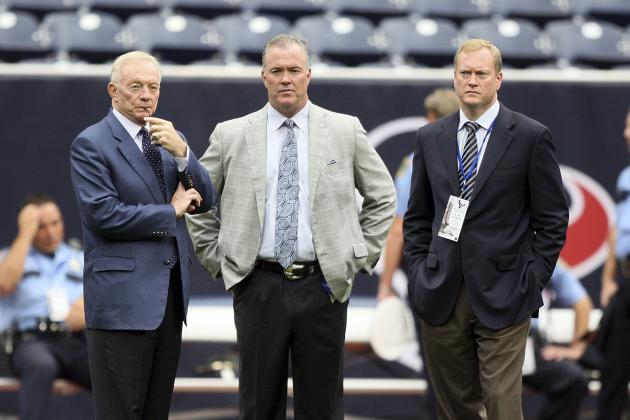 Bob Levey/Getty Images
Talent evaluators or oil speculators?
We all know that the Cowboys are structured the way Jerry wants them. I'm waiting for the day when he announces that Charlotte Anderson is making personnel decisions, and at that point I will light myself on fire.
Some of Jerry's long-term deals will affect his ability to maneuver in 2013, and he will have his work cut out for him as he tries to build a winning roster. But Jerry vows that change lies ahead. What choice does he have? His first two orders of business will be to address the contracts of Anthony Spencer and Tony Romo.
The bottom line is that the Cowboys have a 140-141 record over a 17 year period. The salt in the wound is the one playoff win during this period. With such a record, any general manager would've be shown the door a decade ago.
On the positive side, it appears that the drafts have improved, since the apocalypse of 2009, with additions like Sean Lee, Dez Bryant, DeMarco Murray and Tyron Smith. Jones also stepped up this past offseason by delivering Brandon Carr—so he does allocate resources when it's needed.
Jones needs to keep that type of talent coming in as 2013 will be a very critical year for this franchise. The question is: Can and will he make that happen ?
Grade: C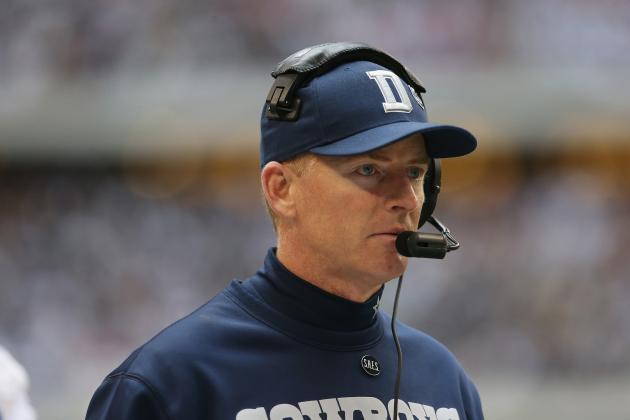 Ronald Martinez/Getty Images
Everyone's favorite red head
Jason Garrett was still criticized for his questionable play calling and overall game management, but like it or not, he will return for at least one more season. He was faced with some difficult circumstances with a number of devastating injuries and the Jerry Brown tragedy.
The Cowboys do seem to respond to him. They are virtually in every ball game, but all too often this team just doesn't win enough of those close games. In two and a half seasons with Dallas, Garrett has a 21-19 record.
2013 will undoubtedly be a make-or-break year for Garrett and his seat is probably already getting warmed up. As of now there hasn't been a major staff shake up, but that could change. Rob Ryan did an admirable job with what he had to work with, and he deserves another chance to work with a full deck of talent.
Bill Callahan could use and probably will get to work with more talent along the offensive line. His unit did show improvement as the season progressed, but the level of play needs to be elevated in 2013 as defenses will be waiting.
Grade: C+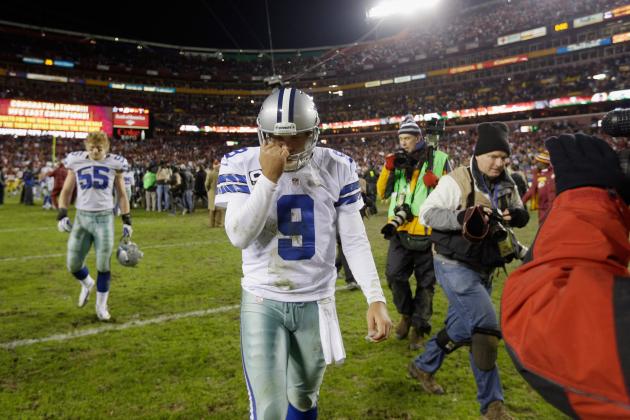 Rob Carr/Getty Images

Everybody put down your sharp objects and do not operate heavy machinery during the reading of this segment. Where do we start? As a team the Cowboys finished third in the league with a 300 yards per game average. Tony Romo finished with 4,903 passing yards, 28 touchdowns and 19 interceptions.
His interception total was tied for the NFL lead and there were none bigger than the three he threw against the Redskins. And unfortunately, that is what's sticking in the minds of every fan. The bigger question is whether Romo has the ability to overcome another late game gaffe and deliver in big game scenarios.
Many probably feel the Cowboys should move on from him and others are only partially pinning blame on him. Either way, all indications are that he will be back and signed to a contract extension. Romo will be 33 in April and the pressure on him as well as this team will be at epic proportions.
Romo is a very talented player on the surface. He will make you marvel at his game, but the gut-punching mistakes sometimes are unbearable. I think he feels the same way.
Grade: B-
Tom Pennington/Getty Images

The Cowboys had a team rushing season to forget about. Dallas' rushing attack compiled 355 attempts for 1,256 yards for an average of 3.6 yards per carry. They were out rushed by their opponents 2,003 to 1,256 in total yardage and only produced eight touchdowns .
DeMarco Murray missed six games with a sprained foot. Felix Jones was banged up all year and ineffective when healthy. The Cowboys finished second to last in the NFL in rushing. With Murray as the starter, the Cowboys have a very talented starter for 2013, but there is not much behind him.
Jones will most likely depart in free agency and Lance Dunbar and Phillip Tanner don't appear to be long-term options. This unit needs a talent upgrade in 2013 and must show significant improvement to help maximize this offense. At times it was easy to get excited by Murray's ability, but he must stay on the field. We just didn't see enough.
Grade: C-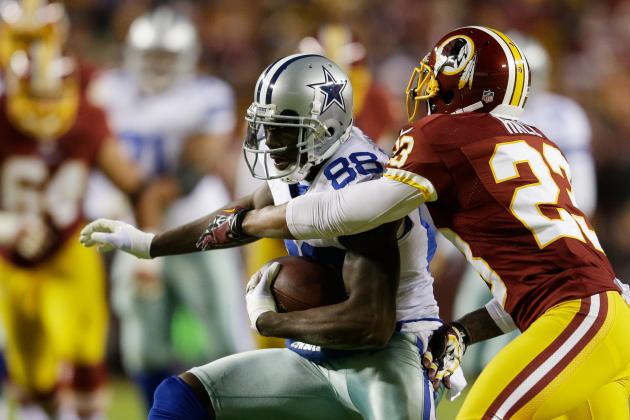 Rob Carr/Getty Images

One of the biggest positives to come out of this 2012 season, if not the biggest, was the meteoric rise of Dez Bryant. In his third season with the Cowboys, Bryant finally has become the player everyone was waiting for, delivering 92 receptions, 1,382 yards and 12 touchdowns.
At times he simply could not be covered and he often dominated his opponent. What's more impressive was his ability to make big plays at crucial stages of games. Bryant can finally be noticed for his accomplishments on the field instead of off.
Miles Austin had sort of a bounce back year with 943 yards and six touchdowns, but it's clear that Bryant has surpassed him as the go-to-receiver. The Cowboys could have a decision to make on his future, but he is still a good receiver and a trusted option for Romo.
The rest of the young receiving corps looks promising, with Dwayne Harris leading that group. At tight end Jason Witten was his usual self and James Hanna looks like a player worth watching in the future. It would've been nice to see the Cowboys implement more of Hanna in 2012, but things look bright for him.
Grade: B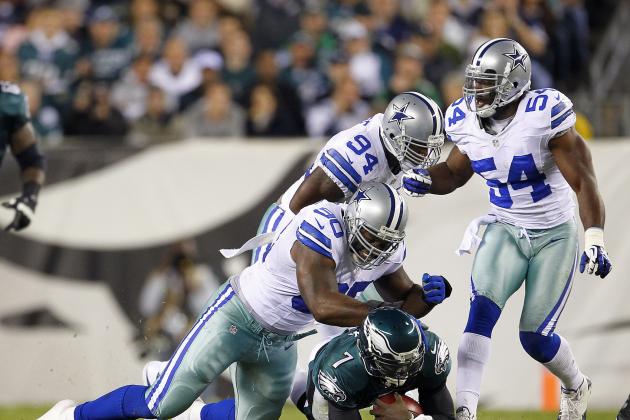 Rich Schultz/Getty Images

The Cowboys gave up 4.5 yards per carry and 125.2 yards per game as a unit. Not exactly the kind of statistics to make you feel warm and fuzzy, but in defense of this defense, the injury bug hit hard. Jay Ratliff couldn't stay healthy. We all know what happened with Josh Brent and both starting inside linebackers were lost for the season.
Once the injury situation spiraled out of control, it was easy for opponents to gash the Cowboys in the run game. Opponents had 15 plays of 20 yards or more and that is just not a recipe for success. Maybe playing with a full slate of talent would've helped but injuries are part of football.
The nail in the coffin for this run defense was Alfred Morris' performance in the season finale. In 2013 the Cowboys must be able to stop the run and close the gap but it will require a significant talent upgrade.
Grade: D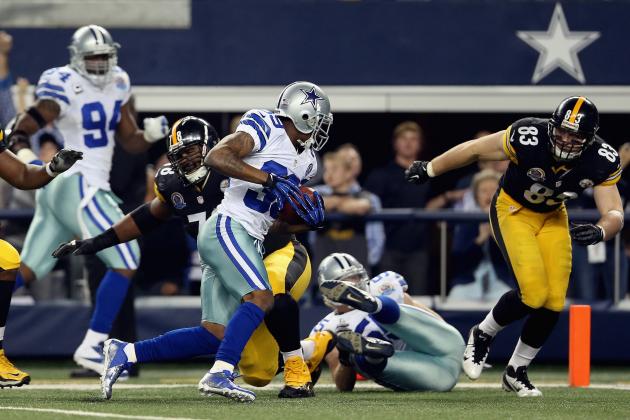 Ronald Martinez/Getty Images

The Cowboys secondary had a decent year in light of all the offseason hype surrounding the selection of Morris Claiborne and the signing of Brandon Carr. But, this unit saw it's share of injuries to Orlando Scandrick, Barry Church and Matt Johnson.
The secondary unit allowed 243.4 yards per game and 22 touchdowns. They also came up with six interceptions, which will have to come up significantly next season. But as opposed to a year ago when the secondary was getting abused, the Cowboys now have some talent back there.
Claiborne and Carr will be patrolling the unit for a long time. Scandrick will be back healthy to man the slot and the Cowboys might need a player like Sterling Moore to step up if Mike Jenkins leaves. At safety Gerald Sensabaugh had a solid year, but he didn't get enough help from Danny McCray.
The keys will be getting back Church, finding out what Johnson can do and finding some depth. Overall, the secondary was a strength for this team.
Grade: B
Tom Pennington/Getty Images
Money in the bank !
Kicker Dan Bailey was probably one of the most underrated players on the Cowboys and perhaps the league. He was an astounding 29 of 31 on field goal attempts although one of those misses was a potential game-winner against the Ravens.
The Cowboys had a punt blocked in Week 2 against Seattle for a touchdown. Overall Chris Jones and Brian Moorman were average. The special teams unit also gave up a 108-yard kickoff return to Jacoby Jones and a 98-yard punt return to Damaris Johnson.
The Cowboys appear to have found a dangerous punt returner in Dwayne Harris as his 78-yard return in Philadelphia sealed his fate after taking over for Bryant. He's also had a number of big returns. Unfortunately, the same cannot be said for the Cowboys kickoff return game.
This unit made a lot of progress and that's encouraging.
Grade: B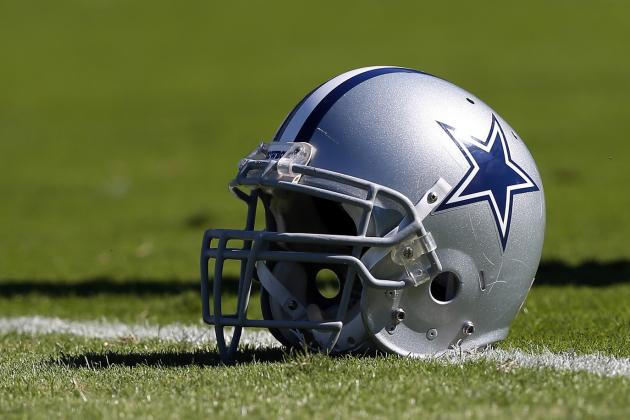 Streeter Lecka/Getty Images

Mediocre results usually warrant a mediocre grade and this season was no exception. At times this team really took major strides forward, but it often resulted with a few steps back. The Cowboys were usually fighting against poor starts, too many penalties, too many mistakes and inconsistency.
But the Cowboys did fight hard, they never gave up and they never made excuses. However, the only statistic that matters is the win column and they came up short in that department in the end. With a strong nucleus of young players and veterans still in their prime, the arrow is pointing upward for this franchise.
What will it take to get to the next level? Every year it seems that something just doesn't go quite right. The time to break that cycle is now. Hopefully next year the Cowboys will have something bigger to play for. It can only go up from here. Right?
Grade: C