BCS Championship 2013: Notre Dame and Alabama Freshmen with Best NFL Potential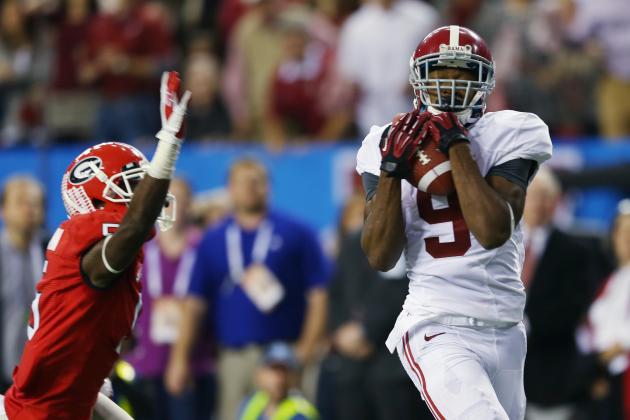 Mike Ehrmann/Getty Images

The Alabama Crimson Tide and Notre Dame Fighting Irish have relied on underclassmen to help them achieve a spot in the BCS National Championship game, but neither team has used many freshmen.
When they have, the young guys have been very effective. There are five among the two teams that have great NFL potential, and after they finish this year in the title game in Miami, their stock will immediately begin to rise.
Taking a look back at the 2012 season, these five have provided for their teams when they needed it, and they have taken on responsibilities that most freshmen would crumble under. They could play major roles in the title game and are among the elite on their rosters, being full of NFL talent.
Begin Slideshow

»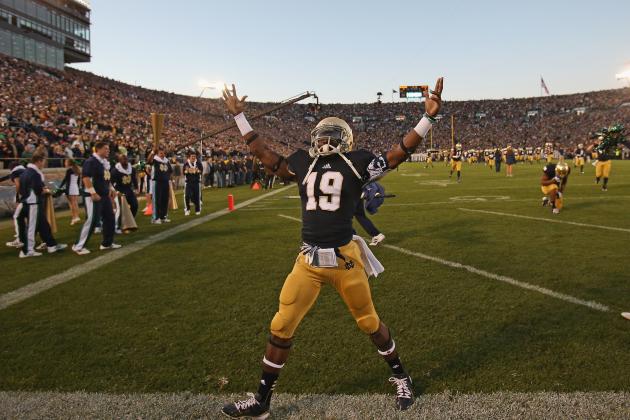 Jonathan Daniel/Getty Images

Davonte Neal was expected to make an immediate impact with the Irish from day one, but he has not reached his freshman expectations. His talent has shown at times, making him an obvious choice for this list.
Neal has returned 18 punts this fall for the Irish and has gained a few yards on the ground. He has only caught one pass, and that resulted in a loss of five yards.
His stat line has not been that impressive this fall, but he has the potential to become a leader in this offense in the next few seasons. He has an understanding of the game speed and has gained a lot of experience on special teams.
By the end of his time with the Irish, Neal should be able to become a first-round selection.
Projected Draft Round: First Round
Mike Ehrmann/Getty Images

T.J. Yeldon was an instant star in Tuscaloosa for the Tide when he rushed for 111 yards on 11 carries in the first game of the season against Michigan.
Yeldon went on to rush for over 100 yards in four games for Alabama, and he has reached the 1,000-yard milestone that is coveted by every running back at any level.
The Alabama offense has also benefited from Yeldon's ability to catch passes out of the backfield. Yeldon only finished with 10 catches this year, but he averaged 13.1 yards a catch and has the ability to increase his role in the future.
In the next few seasons, Yeldon will see his stock continue to skyrocket and should be the next running back in line at Alabama to leave for the draft a year early.
Projected Draft Round: First Round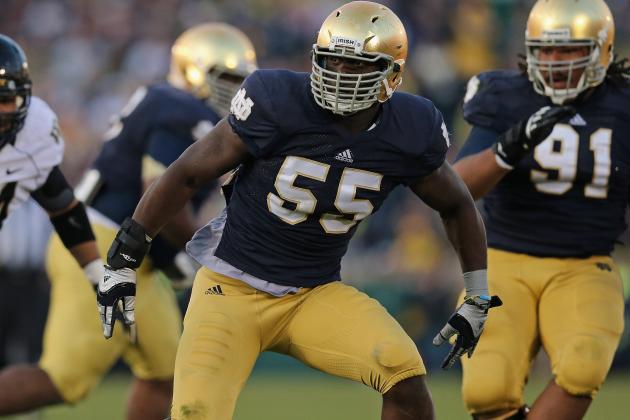 Jonathan Daniel/Getty Images

Sheldon Day has become a force for the Irish along the defensive line this season. Playing a part in the elite front seven that is found in South Bend has been an impressive feat for Day to accomplish.
Day was a consistent contributor for the Notre Dame defense all season, earning a tackle in eight of 12 games this fall. Day also recorded two sacks this year as well.
The Notre Dame defense will rely on substitutions often against the tough Alabama offense. Day will need to have his biggest performance this year for the Irish to pull off the win.
His career is just getting started, but he can become a Notre Dame legend with a big day in Miami.
Projected Draft Round: Second Round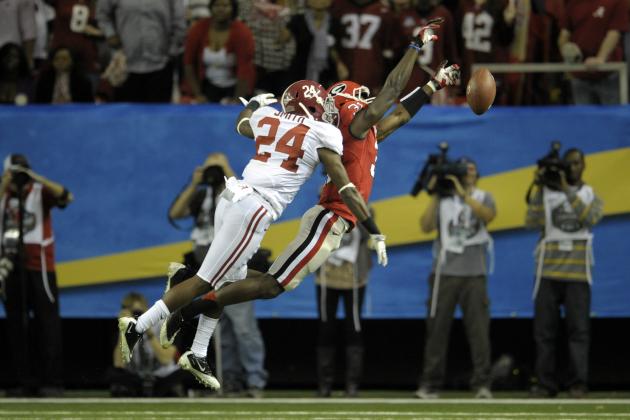 USA TODAY Sports

Geno Smith was not expected to play a major role in the Alabama defense this fall, but by November, Smith had earned the start at the nickel position for the Crimson Tide defense.
Smith has taken over the role after injuries paved the way to action. The Tide defense also needed more speed against spread offenses, so the traditional safety was replaced with Smith to utilize his speed.
He is not a major stat line producer for the Crimson Tide this year, but his quick rise this season is impressive and raises eyebrows. He will be a solid corner after he leaves the Tide and should be a first-day selection.
Projected Draft Round: Second Round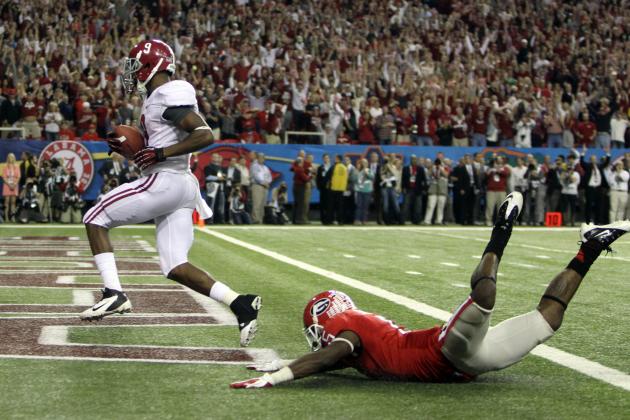 USA TODAY Sports

Alabama was expected to have a great year in the passing game with the return of AJ McCarron and a number of experienced receivers for the Tide offense. Injuries plagued the early season for Alabama and forced freshman Amari Cooper into a major role.
He has taken over the position by storm, becoming one of the most dangerous receivers in the SEC this fall. He will be a focus for the Irish in the upcoming title game.
Cooper caught passes in 12 of 13 games this fall and had four games with over 100 yards. He heads into Miami with 53 receptions, 895 yards and nine touchdowns.
His career still has a lot of room for growth, but expect Cooper to be an early draft enrollee if this success continues.
Projected Draft Round: First Round