Ranking WWE's 10 Best Storylines of 2012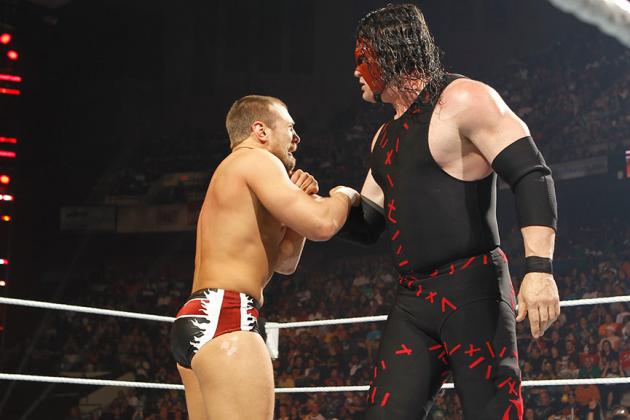 Photo courtesy of WWE.com
The WWE had a great year in 2012.
Sure, there were plenty of things that the company could and should have done differently. But overall, 2012 was a pretty successful year.
We did have to sit through plenty of terrible angles, like the infamous "embrace the hate" storyline and the "scandal" involving AJ Lee and John Cena.
However, we also got to witness plenty of intriguing storylines that resulted in some of the most entertaining moments of the year.
So, which ones will stand out as the most memorable ones?
Well, here's a look at the 10 best WWE storylines of 2012.
Begin Slideshow

»
Both Big Show and Sheamus had some terrible rivalries in 2012 (Sheamus vs. Alberto Del Rio, anyone?), but oddly enough, they were at their absolute best when feuding with one another.
Although Show really didn't do anything interesting in the first half of the year, his heel turn resulted in him wanting to make up for losing the World Heavyweight title in just 45 seconds at WWE TLC in 2011.
He would target then-World champ Sheamus and look to regain the title in a feud that I was sure would be a snooze-fest.
But it wasn't. In fact, it's been quite the opposite.
The WWE booked both Big Show and Sheamus to be so strong that it created a genuinely interesting main event storyline between the two, which resulted in a trio of damn good PPV matches, including their show-stealing bout at Hell in a Cell.
While this feud has probably dragged on too long as of now, it was arguably the best feud of 2012 thanks to the creative team booking both guys as legitimately unstoppable beasts.
Despite the fact that it resulted in two fantastic PPV matches, the WWE Championship feud between Chris Jericho and CM Punk seemed to fall a bit short of most fans' expectations.
While I enjoyed the heck out of that rivalry, here's what I enjoyed more: Jericho's silent return.
As wrestling fans, we tend to complain about seeing the same thing over and over again. Since wrestling is cyclical, though, that's bound to happen.
But the great thing about Jericho's return was that it was different from anything we'd ever seen beforehand.
When he returned on Jan. 2, 2012, we were expecting this big, epic speech. Instead, he trolled us all by getting the crowd to cheer for him, only to end up remaining silent.
Jericho would ultimately do this for three Raw episodes before breaking his silence three weeks after his return and declaring that it would be "the end of the world as we know it."
In hindsight, Jericho never delivered on that promise. But he did provide us with one of the most unique returns in wrestling history, one that certainly had the fans talking for quite some time.
Lost among the buzz surrounding Team Hell No is Daniel Bryan's great heel turn at the beginning of 2012.
After Bryan spent most of 2011 as a rather generic babyface, the WWE began gradually turning him early in the year after he successfully cashed in his Money in the Bank briefcase at WWE TLC in December 2011.
Bryan slowly evolved from the nice face to the egotistical jerk of a boyfriend, and it probably couldn't have gone much better.
He berated AJ Lee and treated her like crap, and it led to a great heel turn that transformed him into one of the WWE's top bad guys on the road to WrestleMania and, eventually, one of its biggest overall stars.
It was Bryan's surprising heel turn that ignited the flame of his fantastic 2012 and showed those within the WWE that he could excel as a top guy going forward.
Are there things about the feud between The Rock and John Cena that the WWE should have done differently? Of course.
But was it still a fantastic feud to watch from start to finish? Absolutely.
Even though some fans seem to have been "disappointed" by this rivalry, the fact that it was arguably the most anticipated feud and match in WWE history was reason enough to be invested in it.
The Rock and Cena are two of the biggest names the wrestling business has ever seen, and they stepped into the ring for a great match after building up more than a year of animosity between themselves.
The hatred between Rock and Cena seemed to be genuine at times, and it resulted in some unforgettable Raw moments on the road to WrestleMania.
While it would have been nice to see The Rock come around a little more often prior to their match, he and Cena made the most of the time they did have, exchanging big blows and dropping pipebombs on each other whenever they had the chance.
A rivalry with such lofty expectations was only going to leave some disappointed, but all in all, The Rock vs. Cena was a monumental success.
Just about everyone seems to be in agreement that The Undertaker's undefeated WrestleMania streak will never end, which could make for boring and predictable 'Mania feuds for "The Phenom."
Thankfully, though, the WWE managed to put on yet another very entertaining WrestleMania feud for Undertaker in 2012.
Billed as the "End of an Era," Undertaker stepped into the ring with Triple H one more time, with "The Game" looking to do what neither he nor his best friend, Shawn Michaels, could do in four previous chances: end "The Streak."
While we all knew that Triple H wasn't going to win, the WWE did an excellent job of building up the idea that he might.
The company focused on the fact that, although Triple H lost to Undertaker at WrestleMania 27, it was Triple H who walked out of the ring under his own power.
This led to a great pre-match buildup between the two that was only made better by the involvement of HBK and what turned out to be the "Match of the Year" at WrestleMania 28.
AJ Lee may have been the WWE's biggest breakout star of 2012, male or female.
She started the year off as a secondary act, but by the time the summer rolled around, she was arguably the hottest act in all of pro wrestling.
After being dumped by Daniel Bryan shortly after WrestleMania, AJ started going crazy, getting one step closer to full-blown lunacy each and every week.
Ultimately, AJ became known as the "crazy chick" who would do anything for attention, and she constantly found herself involved in romantic relationships with the WWE's top stars.
AJ's maniacal persona led to some of the biggest moments of 2012, and she has now solidified herself as one of the WWE's most important characters, which is something a Diva hasn't done since the days of Trish Stratus.
Whether it was pushing CM Punk through a table or making out with Kane, the "crazy chick" did plenty of, well, crazy things this year and, in many ways, was the highlight of the summer in the WWE.
After The Rock defeated John Cena at WrestleMania 28, the WWE needed to figure out what to do next with "The Champ."
They did, and it delivered. Big time.
On the post-Mania episode of Raw, Cena was cutting a promo in front of the live crowd when that oh-so familiar music hit and out came Brock Lesnar.
Lesnar made his way down to the ring, shook Cena's hand and then nailed him with an F5 that sent the crowd into a frenzy. This, of course, would set up a feud between the two that, for whatever reason, had a very "real" feel to it.
Lesnar let it be known that he was "an ass-kicker," and he eventually faced Cena in a incredibly brutal match at Extreme Rules, a bout which ranks among the best of the year.
Although Lesnar's return feud with Cena was short-lived, it provided us with four weeks of really entertaining TV and one of the most unique WWE matches we've ever seen.
While Lesnar's feud with Triple H wasn't very good, his feud with Cena was one of the highlights of 2012.
One of the WWE's most random decisions of 2012 actually turned out to be one of its best.
Kane and Daniel Bryan first crossed paths in a main event angle that involved the WWE Championship and AJ Lee, and it would ultimately lead to a very odd pairing between the two.
At odds with each other, Kane and Bryan were forced to attend "anger management" therapy together in order to work out their differences.
What could have been a disastrous storyline, however, ultimately wound up being a ridiculously entertaining one.
Kane and Bryan had (and still have) some fantastic chemistry that led to some of the most entertaining, comedic segments we've seen in years and, eventually, the formation of Team Hell No.
The duo is still going strong as the WWE Tag Team Champions to this day, and their awkward partnership has worked wonders for both guys.
In fact, you could make a case that Bryan and Kane were the WWE's two most over stars in 2012.
The Survivor Series pay-per-view concluded with the debuting faction known as The Shield destroying Ryback and screwing him out of the WWE Championship.
But it's not just Ryback that The Shield is after. Apparently, the trio is looking to end all "injustices" in the WWE.
No one seems to be sure exactly what that means, what The Shield's true intentions are or who, if anyone, the group is aligned with. And that's precisely what's made the trio so interesting so far.
Dean Ambrose, Roman Reigns and Seth Rollins are three of the WWE's most talented young stars, so it's been great to see them finally get a chance to compete on the main roster.
We don't know how The Shield's future will play out, but they've made things really interesting in the WWE and put on a fantastic match at WWE TLC last month.
The Shield is still in its early phases, but the early verdict seems to be that the trio has already made a major splash and will continue to do so in 2013.
We knew something big would happen on Raw 1000. We just didn't know what it would be.
As it turns out, that something big was CM Punk turning heel by attacking The Rock and nailing him with a GTS to end the show.
Punk had held the WWE Championship for eight months at the time, spending his entire reign up until that point as a babyface, and his mid-reign heel turn came as quite the surprise.
There have been only a few World champions who turned heel while holding the title, and Punk pulled it off incredibly well.
Turning on The Rock was a great move because Punk had grown to be so popular with the fans, and screwing over such a big-time babyface helped his transition back to being a heel go a little smoother.
Of course, this led Punk to begin preaching about the lack of respect he'd gotten (which was certainly true in a way) and a pairing with Paul Heyman, which has helped extend Punk's WWE title to more than 400 days and given the WWE its top full-time heel.
Drake Oz is a WWE Featured Columnist for Bleacher Report. Follow him on Twitter!