Complete Draft Needs Breakdown for Detroit Lions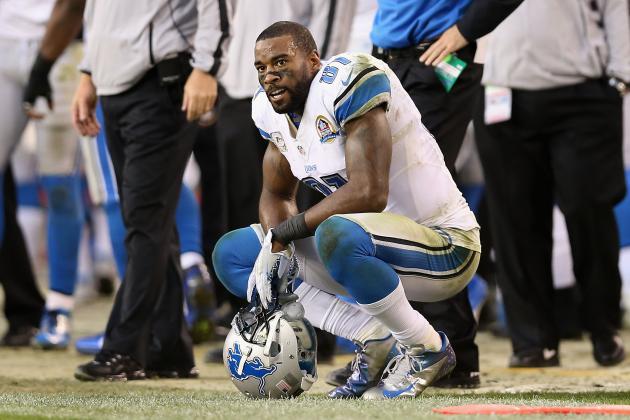 Christian Petersen/Getty Images

Expected to compete for their second straight playoff berth, the Detroit Lions' 2012 season was full of in-fighting and bitter disappointment.
The Lions finished 4-12 record, including an eight-game losing streak to end the season. Their biggest problem was a lack of discipline in close games, as nine of their 12 losses came by one score or less.
That led many to believe head coach Jim Schwartz would see the chopping block after the season. However, the Detroit coach survived Black Monday, and it looks like the Ford family will give him at least one more year to right the ship.
To put it mildly, Schwartz and general manager Martin Mayhew have their work cut out for them. The Lions have 24 players hitting free agency this offseason and a salary cap situation that most would describe as untenable at best.
In other words, changes are coming in droves. Who will the Lions target on draft day and who will return?
Here is a look at a complete breakdown of Detroit's biggest strengths and draft needs heading into the 2013 offseason.
Begin Slideshow

»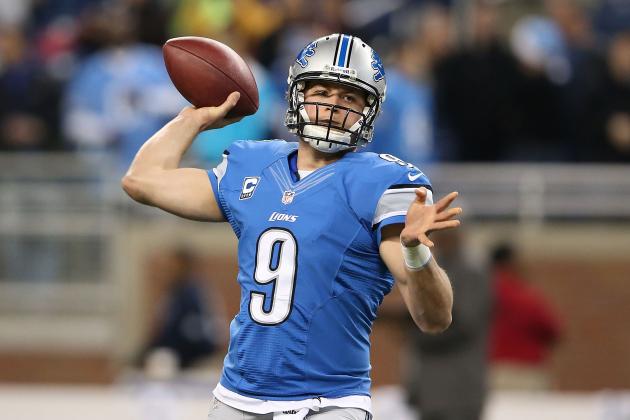 Leon Halip/Getty Images

Can the Lions win a Super Bowl with Matthew Stafford under center? After his 2012 campaign, that question is one being asked by many fans in metro Detroit heading into this offseason.
Coming off his first Pro Bowl campaign in 2011, the fourth-year quarterback regressed in just about every facet of the game. Stafford nearly eclipsed 5,000 passing yards for the second straight season (he finished with 4,967), but he had fewer than half as many touchdown passes (20 compared with 41) than last season while throwing one more interception (17 to 16). His completion percentage also fell, from 63.5 to 59.8.
There are also non-statistical concerns about Stafford. His penchant for wacky, side-armed throws only increased—and Stafford was already known as a guy who makes too many risky throws.
All of this makes it seem like I'm down on Stafford, but I'm not. He's still only 24 years old with plenty of time to grow and mature as a player.
The problem for Detroit is that he's likely due a massive extension this offseason. Stafford has a cap hold of $21.2 million in 2013, per Spotrac, and there's no way the Lions can afford to keep their prized free agents with that figure looming. It's much the same situation that faced them with Calvin Johnson last summer.
Considering Stafford's previous guaranteed salary ($41.7 million), it will likely take somewhere in the neighborhood of $60 million in guarantees to lock him up. Stafford a year ago was probably worth that exorbitant price. Stafford today? Far, far more questionable. But Detroit's hands may be tied by its cap situation.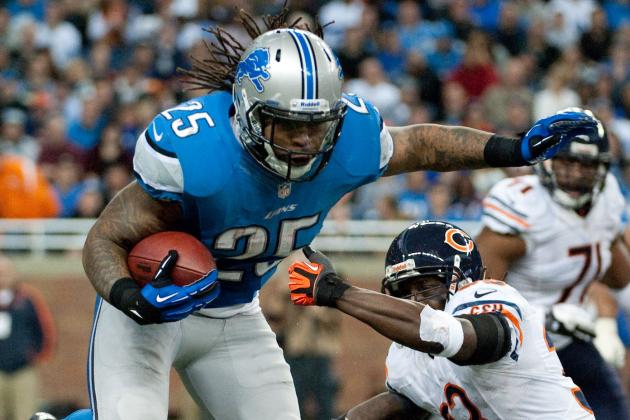 Tim Fuller-USA TODAY Sports

The argument behind the Lions' collegiate-like commitment to the pass has always been about ineffectiveness or injuries at the running back position. In 2011, that was mostly true. Detroit's running backs were a motley crew. Kevin Smith led the team in DVOA while the offensive line was the second worst in the NFL at blocking for the running game, per Football Outsiders.
That wasn't the case this past season. Though no one is going to confuse him with Adrian Peterson, Mikel Leshoure was actually a serviceable back in 2012. The second-year running back finished with 798 yards and nine touchdowns in 14 games played, and he was spelled by Joique Bell, who performed admirably in spot action.
Detroit's offensive line also improved all the way to No. 15 in run blocking in 2012, according to Football Outsiders.
So while many may theorize that the Lions still need to bolster their running back corps, that's simply not the case. They're a middling team on the ground, and it's been shown time and again that elite running backs are needed less now than ever before.
If something too good to be true, like North Carolina's Giovani Bernard being available in Round 2, comes up, one could see Detroit making a move. However, the status quo should be just fine for the Lions at running back in 2013.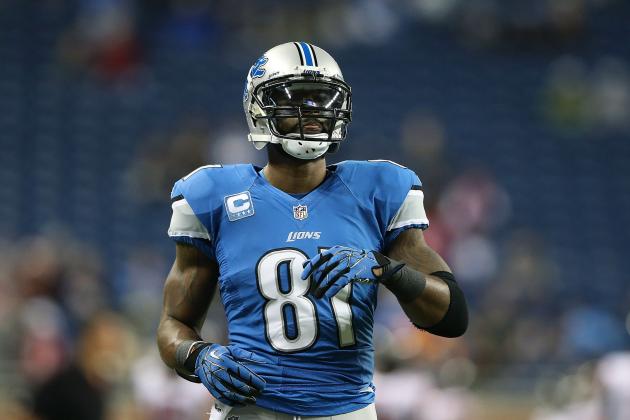 Leon Halip/Getty Images

It's nearly impossible to say a team with Calvin Johnson at wide receiver has a "weakness" at the position. Megatron set the NFL single-season receiving record this past year with 1,964 yards and at 27 years old isn't slowing down anytime soon. He's the best player at his position by a wide margin.
Johnson's supporting cast on the outside, though, leaves much to be desired. Titus Young's future with the Lions remains up in the air. Though it's impossible to deny his talent, Young is such a malcontent that the Lions may be forced to cut the cord.
With Ryan Broyles and Nate Burleson also on the injury report, Detroit was forced to start Kris Durham and give Brian Robiskie regular snaps. In other words, depth at wide receiver could be a major problem in 2013, especially with Burleson's untenable contract situation.
Burleson is due a $4.5-million base salary in 2013, a figure that simply is too rich for his level of production. He seems to like Detroit and is reportedly open to restructuring his deal (h/t Dave Birkett of the Detroit Free Press), but will Burleson take enough of a pay cut to stay in town? That remains to be seen.
If Young and Burleson are gone, that leaves Detroit extremely thin at receiver while Broyles recovers from a knee injury. Though it's certainly a secondary need, Schwartz would be remiss if he didn't dip into this season's draft class at wide receiver at some point.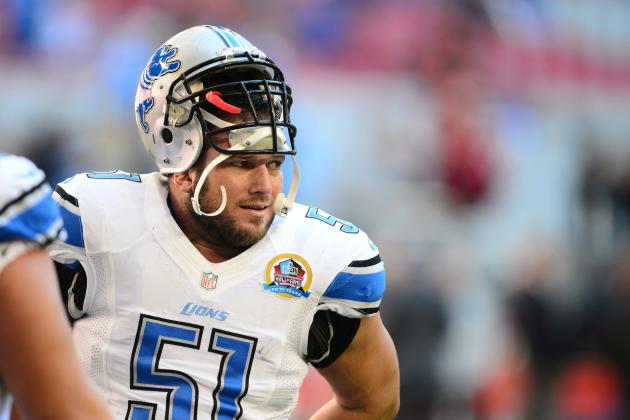 Mark J. Rebilas-USA TODAY Sports

If the Lions could afford to return with their entire offensive line from 2012, I'm sure they would enjoy nothing better. There are few measurements by which Detroit doesn't have one of the better units in the NFL.
We've already covered Detroit's ascent from second-to-last in run blocking to the league's top-half, so there's no need to harp on that point. But the Lions' true calling card is their ability to keep Stafford from going down for a sack.
According to Football Outsiders, their offensive line ranks No. 1 in the NFL in adjusted sack rate—and it's not even close. The Lions' 3.7 percent figure is a full half-percent better than the second-placed Broncos, and Detroit doesn't even have Peyton Manning under center.
It's a unit undoubtedly led by veterans. Gosder Cherilus, 24, is the only starter below the age of 29 and he may actually be headed out of town this offseason.
The long-term viability of this veteran group may be in question, but for 2013, Detroit should be more than happy on the line.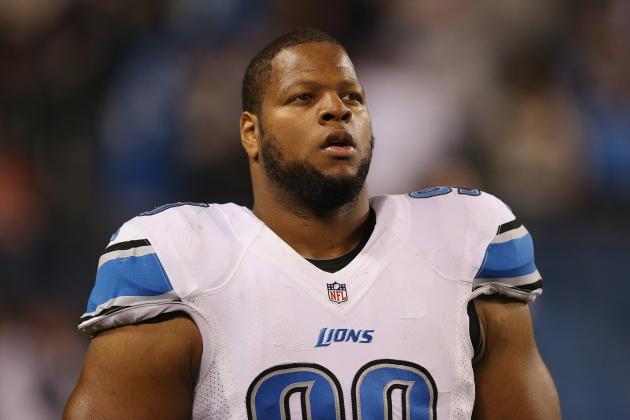 Jonathan Daniel/Getty Images

Detroit has spent plenty of money and high draft picks trying to build a top-tier defensive line, but the production simply wasn't sufficient in 2012. Per Football Outsiders, the Lions ranked 29th this past season in adjusted sack rate and tied for 20th in the league with 34 sacks.
If one wants to point to the reason Detroit struggled so much down the stretch, it starts with an inability to bring the opposing quarterback down.
Granted, the Lions did get plenty of hits on quarterbacks this season, so it wasn't for lack of trying. They were led in that category by superstar defensive tackle Ndamukong Suh, who had by far the most of anyone in the NFL at his position. Suh's 32 quarterback hits were 12 higher than second-place Geno Atkins and double that of third-place Gerald McCoy.
As one would expect, that level of penetration usually comes with a higher sack rate than Suh's eight. All told, the Lions should see a reversion to the mean for Suh, which means his sack total should rise in 2013 if he stays healthy.
One of the more intriguing questions this offseason for Detroit is the status of defensive end Cliff Avril, who led the team in sacks. The 26-year-old is a free agent and most expect him to sign with the highest bidder. Detroit has the option of franchising Avril and may do so, considering the decline of Kyle Vanden Bosch, its other defensive end. But considering the team's cap situation, defensive end may wind up being a need come April's draft.
Luckily, this is a pretty deep defensive-line class, so the Lions may be able to wait until Round 2 before pulling the trigger.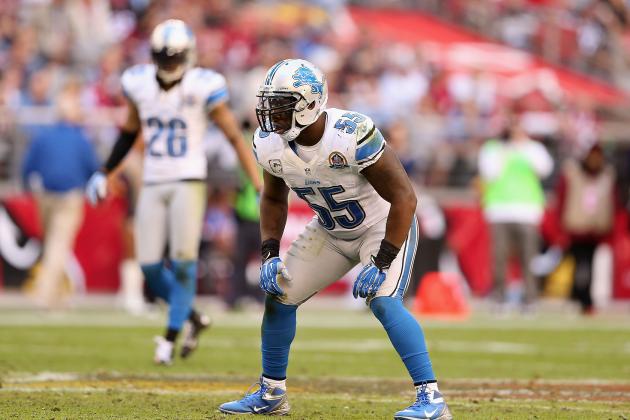 Christian Petersen/Getty Images

The linebacking corps is another position that would stay the same in a perfect world for Detroit. All three starting linebackers serve their purpose in the team's 4-3 scheme and have no overarching weaknesses that cripple the Lions' defensive efforts.
Once again, though, free agency is an issue. Starting outside linebackers DeAndre Levy and Justin Durant have expired contracts and should get interest on the open market. Neither guy will get gobs of money thrown his way, but the Lions may not be able to keep both while servicing their other needs.
On the bright side, at least middle linebacker Stephen Tulloch should be back in 2013. The 28-year-old Tulloch is a consistent, steady leader who hasn't had fewer than 111 tackles in a season since 2008. He even restructured his contract last offseason to stay with the Lions.
Detroit has done well at finding linebackers over the past few seasons. So if the team is unable to retain both free agents, a late-round draft pick could be in order. However, there's little reason to spend a high pick on the position.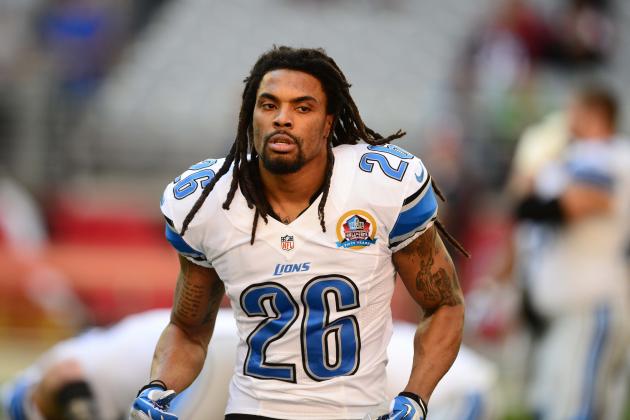 Mark J. Rebilas-USA TODAY Sports

I could say once again that free agency is also an issue with the Lions' secondary. But I already feel like a Katy Perry song, so I'll pass.
That being said, Detroit's two best players in the secondary, cornerback Chris Houston and safety Louis Delmas, will hit the open market this offseason. Both players are considered the top targets for the Lions' franchise tag and it's apparent that they can't afford to lose either player.
Houston is a top-shelf cornerback who brings it just about every Sunday. With cornerback being possibly Detroit's weakest position with Drayton Florence also due to be a free agent, Houston's consistency is a necessity in 2013.
It's widely expected that the Lions will look to make cornerback a top priority in April's draft, with Alabama's Dee Milliner being the most bandied about name. If Houston sticks around, the team will make big headway in fixing a massive weakness.
Delmas, on the other hand, is far less reliable but much more spectacular. He's only 25 years old and is one of the better players at his position when healthy. But he has missed 13 games over the past two seasons. One has to wonder whether he'll ever stay healthy long enough to live up to his potential.
Either way, the Lions are unlikely to allow Delmas to figure that out in another uniform. A starting cornerback and strong safety are still needs, even with Delmas and Houston back. Losing one or both would be an awfully scary proposition.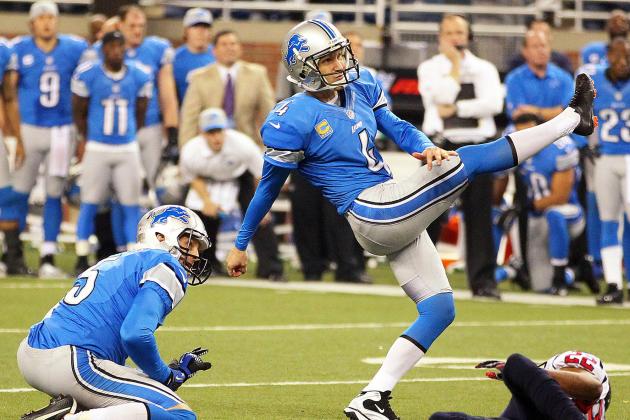 Mike Carter-USA TODAY Sports

Jason Hanson is ageless as a kicker. But at 42 years old, it's no longer a certainty that he'll want to return. With 21 years of professional football behind him, the Lions' legend may decide to hang up his golden right leg.
If he does, Detroit could be in an even bigger boatload of trouble on special teams. Per Football Outsiders, the unit ranks 30th in the NFL, which is rather embarrassing considering Hanson's continued excellence and the fact they play in a dome.
While punter Nick Harris isn't great shakes, the Lions' biggest problems are in the return game. They ranked 31st in kick-return average (20.0 yards per attempt) and 22nd in punt-return average (8.6 yards per attempt).
It's easy to overlook those figures as insignificant, but they play a huge role. Detroit's average starting field position was at the 24.97-yard line, which was the third worst in the league, according to Football Outsiders.
The blame there rests at the feet of the Lions' special teams. It's always ill-advised to use a high draft pick on anything special teams-related. But taking a return specialist in the sixth or seventh round certainly wouldn't hurt.