3 Biggest Draft Needs for the Washington Redskins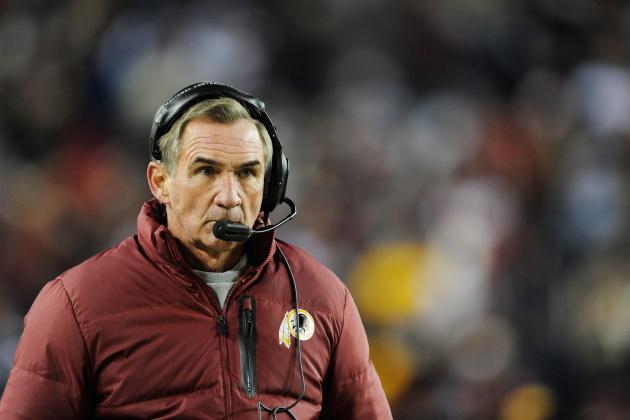 Patrick McDermott/Getty Images
Mike Shanahan has some big decisions to make regarding the future of his team.
Mike Shanahan will be proud of how his Washington Redskins team rebounded from 3-6 to take the NFC East, but his talk of player evaluation at that disappointing stage will remain true.
The draft, as always, represents a chance to fill positional needs and build on this successful season.
Before the team's impressive turnaround, the draft needs were obvious.
The secondary had performed poorly and always looked like giving the opposition another chance to win the game, spiting good work from Robert Griffin III and the rest of the Redskins offense.
The run of seven straight wins has papered over the cracks slightly, however, with the defense hauling itself up and making plays to keep the team in a winning position. Creating turnovers has been key to the Redskins' progression this year, and adding a few more ball hawks on the defensive side of the ball will no doubt help the team continue its winning ways.
Read on for three positional needs that, if filled, would immediately make the team a more dangerous proposition.
Begin Slideshow

»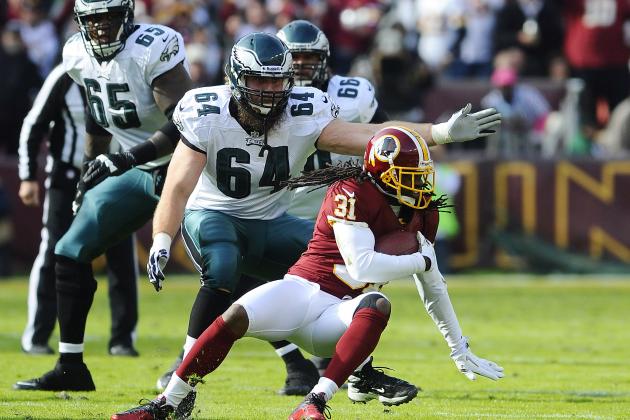 Brad Mills-USA TODAY Sports
Brandon Meriweather was effective in his limited minutes this year, and Shanahan will hope to see this continue.
Brandon Meriwether showed in one half that he can be an effective playmaker in a Redskins uniform and looked to be everywhere the ball was in that first game against the Philadelphia Eagles.
He will return next year, but if Shanahan elects not to pull the trigger in free agency for someone like Jairus Byrd, the team badly needs help at the safety position.
DeJon Gomes and Reeds Doughty have experience and know Jim Haslett's system, but they are not NFL-caliber starters. Tanard Jackson's suspension makes him an incredibly unreliable option, and Shanahan is unlikely to trust him to stay clean.
A player like D.J. Swearinger could fill the void at free safety.
Swearinger is a player who is useful in coverage and also makes big hits. His coverage skills will earn him attention from the Redskins coaching staff, as the secondary's problems in that area will have caused Raheem Morris incredible headaches over the course of this year.
Sweringer drew a lot of penalties at South Carolina in 2012, which has been a problem for the Redskins team all year and could cause the staff to look elsewhere.
Giving up yards for free isn't something that can be tolerated if a team is looking to make a deep playoff run, so adding another ill-disciplined player won't help Washington in this regard.
Other options at safety include Kenny Vaccaro of Texas and Bacarri Rambo of Georgia, along with a high-reward, late-round gamble like Ray-Ray Armstrong, who was dismissed from Miami (FL) this season.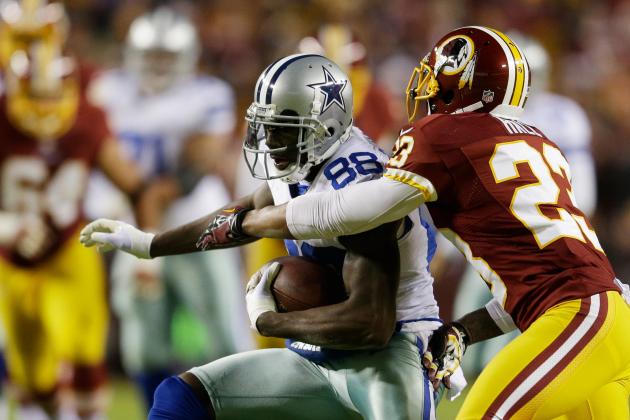 Rob Carr/Getty Images
The play of DeAngelo Hall has sometimes been impressive, but the Redskins badly need depth at cornerback.
As mentioned earlier, the big plays given up in the secondary reduced as the season progressed. With this, the calls for Josh Wilson and DeAngelo Hall to be cut were less audible among fans.
Wilson's ability in coverage was a large reason for bringing him to D.C., but this had deserted him by the fourth game of the season and he looked vulnerable when tracking receivers.
He was hesitant to make a play on the ball, and Redskins game film showed him to be a soft target. Opposing teams frequently adopted this target, and even when covering No. 2 receivers Wilson began to look like a liability.
Hall will never have doubted himself, but it's fair to say that the rest of Redskins Nation did. .
As the season cam to its midpoint, Hall had looked disinterested, unwilling and confrontational. His reputation for the big play ensured he was a fixture in the side, but the lack of depth at cornerback was also a big factor.
Regardless of how badly the secondary played, there was simply no one better available to bring into the team.
Rookie corner Richard Crawford has shown that he has a lot of potential, and returning players Chase Minnifield and Jordan Bernstein were unfortunate with season-ending injuries before they had a chance to show what they were capable of. Minnifield in particular had looked good in OTAs, and Redskins fans should be excited about his return.
Nevertheless, the lack of depth was exposed by these injuries, and the Redskins should look to rectify this in this year's draft.
Oregon State's Jordan Poyer would be an ideal choice to add a player capable of making an immediate impact for the Redskins. Whether he lasts into the 50s is another matter, but Shanahan will have his name on his board going into the draft.
Poyer brings real pace to the position, as well as being effective in both zone and man coverage. He is unafraid to take the ball in the air and trusts his hands to bring the ball down. He has played as a kick returner at Oregon State and has the ball skills to succeed in the NFL.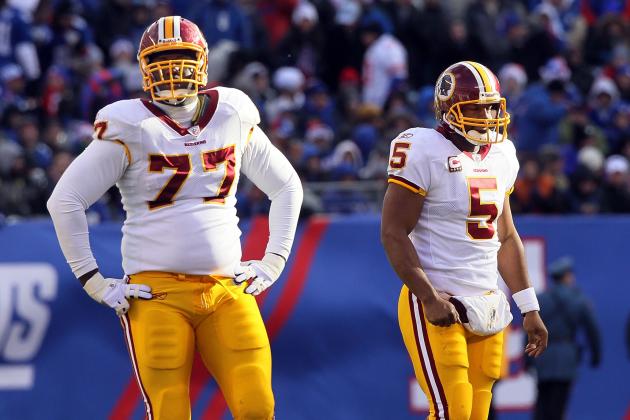 Jim McIsaac/Getty Images
Jammal Brown (No. 77) has likely played his last game in a Redskins uniform.
Tyler Polumbus kept out rookie Tom Compton when Jammal Brown went down, which suggests Compton isn't yet ready for the NFL.
Brown has accomplished precisely nothing in a Redskins uniform, and a team that has won the division without him doesn't need him to make them better. He's simply too much of a liability to retain.
Polumbus has had his own struggles in pass protection this year, so Shanahan should assess the options available and add further depth to his squad. Polumbus is a free agent at the end of this year, but is still a serviceable backup so expect to see him retained.
Shanahan has been unafraid to reach for offensive linemen, as evidenced by last year's pick of Josh LeRibeus in the third round. This is the most difficult position to predict this year, but at the very least, Trent Williams' impressive performances at left tackle deserve a player capable of matching him on the other side.
I've written about Brennan Williams before, but mention him again purely because he is ready to start next season at right tackle.
At 6'7" and 315 pounds, he is an intimidating presence and he has the positional knowledge to make adjustments on the fly and keep defensive linemen at bay. With a variety of play-action passes and a dominant running game, there needs to be strong players protecting Griffin as he rolls out.
As teams get wise to the Redskins offense, Kyle Shanahan needs to be able to trust his players to carry out the intricacies of his system.
He hasn't been able to do that this year, so the addition of Williams would allow him to tweak his offense to even more complex heights, confusing defenses and allowing Griffin to continue to flourish as the leader of this Redskins team.