Rose Bowl: Stanford Edges Past Wisconsin 20-14 with Stepfan Taylor, Kevin Hogan
Use your ← → (arrow) keys to browse more stories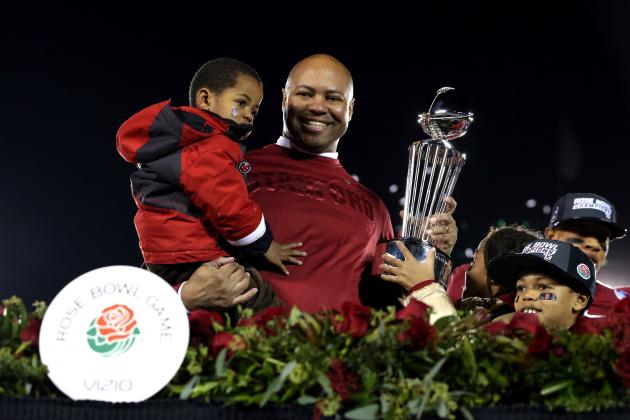 Jeff Gross/Getty Images
Coach David Shaw with Rose Bowl trophy.
It wasn't pretty.
It was, however, Stanford's first Rose Bowl win in 41 years. Not since Don Bunce and the Thunderchickens beat Michigan 13-12 in 1972 has Stanford tasted the thrill of a Rose Bowl victory. The score this time was 20-14, which was a good way to start the year 2013.
Stanford's defeat of Wisconsin capped a fantastic 12-2 year for coach David Shaw and crew. It was an entertaining game with drama right to the end. As it has done so many times this year, Stanford found a way to win.
The defense came through in the clutch once again with a strong finish. On offense QB Kevin Hogan was starting just his fifth game for Stanford, while RB Stepfan Taylor was ending his stupendous career as the most prolific runner in Stanford football history.
Wisconsin was coming off its 70-31 trouncing of Nebraska in the Big Ten championship game. The Wisconsin Badgers have a pretty good defense, and two great running backs, one of whom is first team All American Montee Ball. Ball gained over 1,700 yards this year, including over 200 in the Nebraska game. He is the best runner Stanford faced this year.
Wisconsin was in its third consecutive Rose Bowl, but lost the last two. Both teams had plenty to play for.
That was the backdrop this year for the granddaddy of them all. Throw in a parade in the morning, a stealth bomber flying over the stadium before the game, and short sleeve weather under sunny skies (till it got shady and chilly in the third quarter) and you get a sense for the afternoon. It was a special day.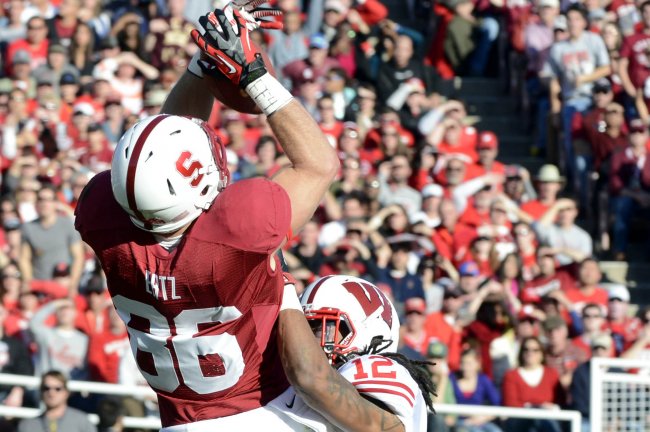 Richard Mackson-USA TODAY Sports

The game went through four phases:
• Stanford on fire to start the game
• Wisconsin fighting back for the rest of the first half
• Stout defenses for both teams for much of the second half
• Stanford sealing the deal late in the game
Here's a bit more about each phase, followed by commentary about the team and some of its players.

Stanford Sparkles Early In The First Half
Stanford took the opening kickoff and marched 80 yards down the field for a touchdown in under four minutes. The last two plays were flashy: a reverse to WR Drew Terrell who stopped and passed the ball to WR Jamal-Rashad Patterson for 34 yards, followed by an end around by speedy WR-RB Kelsey Young for a 16-yard TD.
After a short Wisconsin possession, Stanford was at it again. They marched 70 yards down the field, with two fan-pleasing plays at the end. The first was a 43-yard bomb from Kevin Hogan to Zach Ertz, who made a circus catch on Wisconsin's 3-yard line. Stepfan ran into the end zone on the next play almost untouched.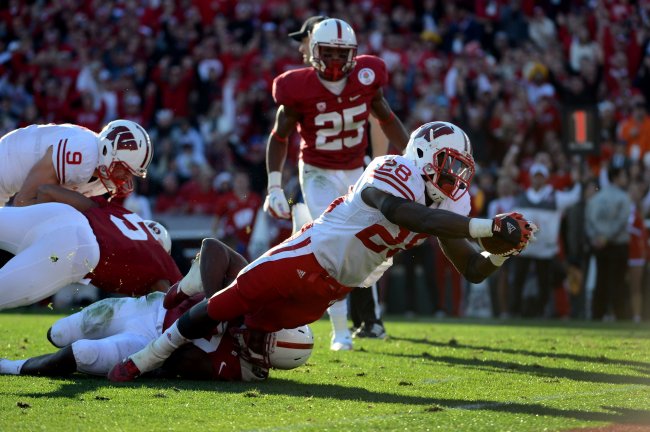 Harry How/Getty Images
Stanford led 14-0 just eight-and-a-half minutes into the fist quarter, and looked invincible.
Wisconsin Wakes Up During Rest of the First Half
The Badgers seemed to come alive for the rest of the first half. They moved the ball well. Despite a great goal line stand by Stanford aided by penalties against Wisconsin, the Badgers still scored two touchdowns. Star running back Montee Ball had 84 yards rushing in the half.
Between Wisconsin touchdowns Stanford did manage a short drive and a 47-yard field goal to make the halftime score 17-14.
Defenses Play Stronger in the Second Half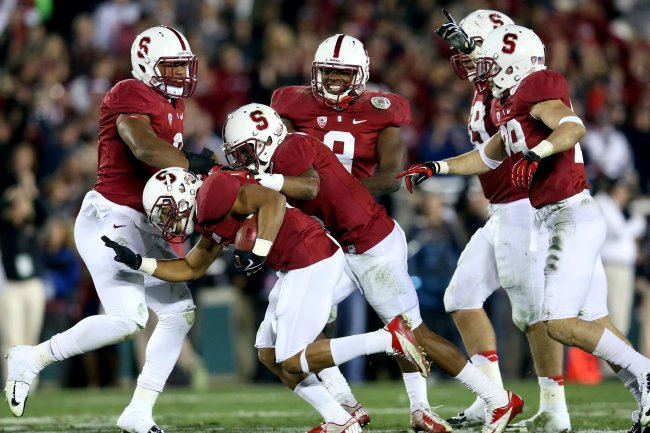 Stephen Dunn/Getty Images
The halftime pep-talks must have been about defense. It became quite a defensive battle in the second half. The third quarter alone saw six punts, often after three-and-outs. The fourth quarter started with another punt by each team in the first two possessions.
Finally, Stanford put together a long drive in the middle of the fourth quarter that stalled on the 5-yard line. Jordan Williamson kicked his second field goal of the day to give Stanford a 20-14 lead. With about four-and-a-half minutes left on the clock, it wasn't at all clear that that would be good enough.
Stanford Defense Comes Through (Again) In The Fourth Quarter
Wisconsin had plenty of time to move down the field. However, Stanford's D stifled the Badger offense most of the second half.
To this point, the game had been pretty clean. There were no turnovers by either side. That was about to change.
Wisconsin moved the ball pretty quickly from their own 25 to mid-field. Then the bottom fell out. QB Curt Phillips stood in the pocket to pass to a receiver on a crossing pattern. NB Usua Amanam held back and watched Phillips' eyes. As the ball was released, Amanam dove to his right, clutching the ball on the way to the ground. He held on. Stanford interception, game over.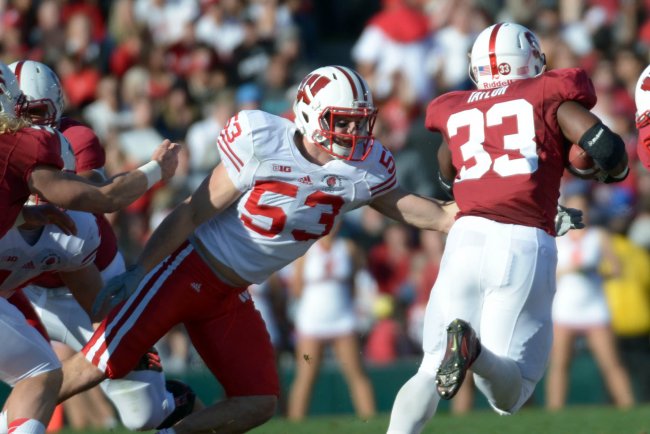 Kirby Lee-USA TODAY Sports
With a little over two minutes left, Stanford was able to run out the clock and preserve a very special victory for the ages.

Stars and Near Stars
This game was surprising in part because of the lack of production at times by both Stanford offensive and defensive players. Did Stanford's offense struggle because of Wisconsin's defense, or were they just having a bad day?
And what happened to Stanford's defense? Stanford led the nation in sacks and tackles for a loss. On this day, they had one sack and seven tackles for a loss, below their season averages.
Here are comments on a few of Stanford's key players:
• Kevin Hogan. Whatever else might be said one must acknowledge the fact that he is 5-0 as a starter in his career against four Top 20 teams and one Rose Bowl team. That's good. Hogan was not, however, at his best on this day. He passed well in the first two drives of the game, and ran a few times to keep drives alive. But he seemed to have lost his passing touch after the first quarter, throwing many errant passes. That was uncharacteristic for him.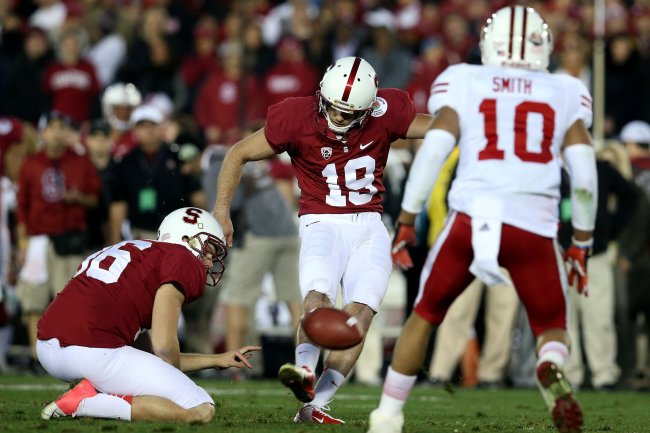 Stephen Dunn/Getty Images
• Stepfan Taylor. Stepfan ended up with only 89 yards on 20 carries (plus three catches for 17 yards). But he continued to be a star performer. Many of his runs were exciting, although short. He was often hit at or behind the line of scrimmage, and used individual effort to keep the legs grinding, breaking tackles and moving ahead to get positive yardage. His runs at the end of the game helped seal the victory as the clock ran out. For his efforts he earned co-MVP honors, along with Usua Amanam.
• Defensive Unit. While not as dominant as in prior games, the defense definitely showed up. Ball had 84 yards rushing in the first half, yet only ended up with 100 for the game. This is clearly one of the very best runners in the country, and he got bottled up in the second half. Wisconsin was shut out in the second half, and ended the game with only 14 points. That's the 10th time Stanford held opponents to 17 points or less, and that's impressive.
• Jordan Williamson. Field goal kicker Jordan Williamson was the goat in last year's Fiesta Bowl after missing two field goals that could have won the game for Stanford. This year, while having a so-so year with field goals, he did kick the overtime winner in the Oregon game, and was two-for-two in the Rose Bowl. His kicks provided the margin of victory, and that will help erase the memories from last year.
• David Shaw. By now Coach Shaw is beginning to distinguish himself as an outstanding football coach. He is no longer the former Jim Harbaugh assistant, but rather the guy who has compiled an amazing 23-4 record in his first two years. His brand of old-school power football is producing results. His play-calling is often conservative, and he's very soft-spoken with the press. He recruits well, motivates his team, puts together excellent game plans, and produces wins—lots of them. Clearly he's the real deal.
Hats off to Stanford.
Stanford's signature 2013 Rose Bowl win represents its third consecutive BCS bowl game appearance, and second BCS bowl game victory. The team came into the game ranked No. 6 in the BCS poll and No. 8 in AP. The program is clearly one of the very best in country, and will be a force to be reckoned with next year, too.
Good show, Stanford.