Scott Pioli's 10 Best and Worst Moves as Kansas City Chiefs General Manager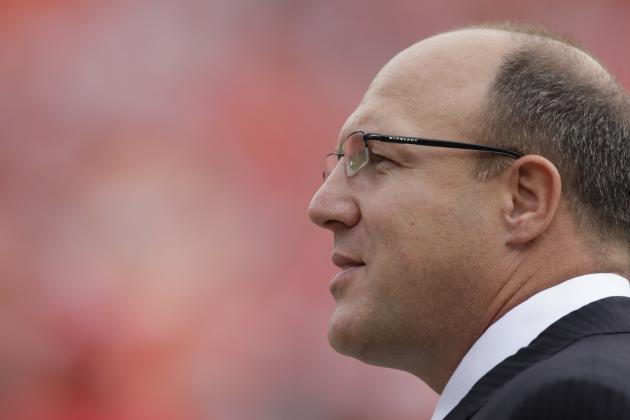 Jamie Squire/Getty Images

The Kansas City Chiefs and general manager Scott Pioli parted ways on January 4. Although the bad dwarfed the good during his four-year tenure with the team—in which the Chiefs amassed a 23-41 record—not all of Pioli's noteworthy transactions turned out to be failures.
Capitalizing off of his fame with the New England Patriots, Pioli agreed to terms with the Chiefs and was welcomed with open arms by the Kansas City community. After all, he was the man responsible for mining to the end of the 2000 NFL draft and striking gold in selecting quarterback Tom Brady in the seventh round.
The result? Three Super Bowl rings in four years, as the Patriots established a reign of dominance and accounted for the league's winningest record (102-42) throughout Pioli's eight-year stay.
Fast-forward to 2009.
Pioli answered the Chiefs' longstanding quarterback quandary by trading a second-round pick for Brady's backup, Matt Cassel—alongside veteran linebacker Mike Vrabel—and the rest is history.
Ultimately, Pioli's worst moves overshadowed any blips of genius, and the City of Fountains quickly evolved into a flood of controversy.
Begin Slideshow

»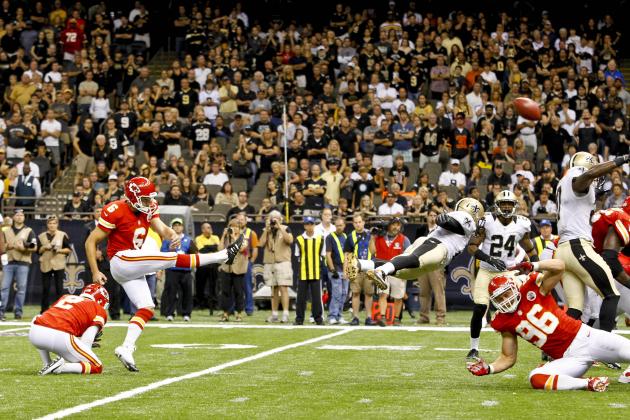 Derick E. Hingle-USA TODAY Sports

At this point, you're probably midway through typing out "How is a kicker one of the top five moves in the past four years?" in all-caps.
Inhale. Exhale.
For three of the past four seasons, the Chiefs offense was a collective drought of productivity. In that scenario, a good kicker is the team's saving grace. And Ryan Succop is a good kicker.
2009's "Mr. Irrelevant" has thumped 81.5 percent of his field goals between the uprights. To give that perspective, Adam Vinatieri—whose career oozes with potential to be the second kicker inducted into the NFL Hall of Fame—has converted 82.6 percent of his attempts.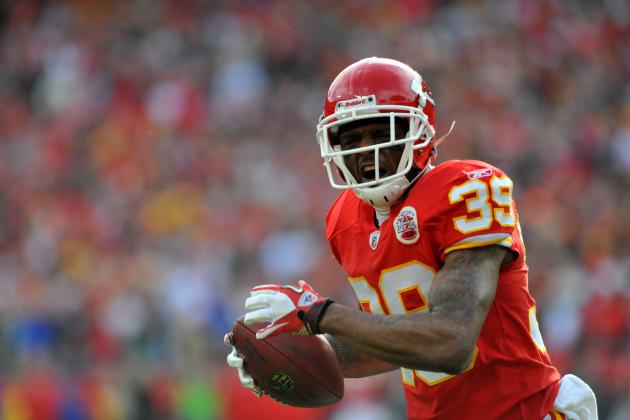 Denny Medley-USA TODAY Sports

In four seasons with the Chiefs, Brandon Carr proved to be the perfect complementary cornerback to Brandon Flowers.
While nobody should blame Pioli for having reservations about matching the Dallas Cowboys' six-year, $60 million contract offer—especially for Kansas City's second-best cornerback—fans presumed that Carr's potential release would coincide with a longterm contract for star-studded receiver Dwayne Bowe.
Instead, Carr boarded Jerry Jones' jet, a frustrated Bowe was signed to a one-year franchise tender and Carr's replacement—Stanford Routt—was released following a Week 8 loss to the Oakland Raiders.
The result was a depleted 2012 secondary that was constantly exploited for its lack of depth.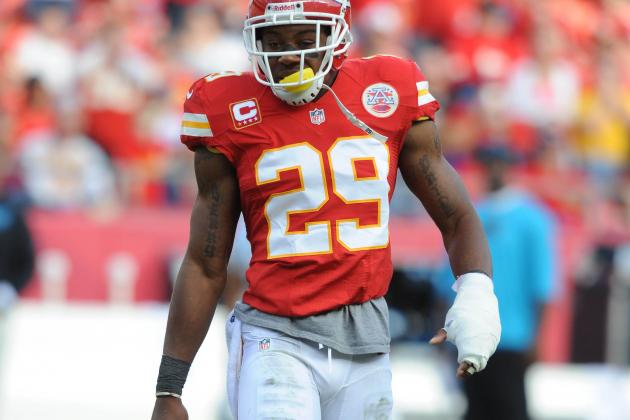 John Rieger-USA TODAY Sports

If there's a bone-jarring collision in a Chiefs game, it likely ends with the signature of Eric Berry. And it's likely stamped with regret for the victim.
Berry's early 2012 production would indicate that he didn't recover from his ACL tear as rapidly as Jamaal Charles. In the span of the first seven games of last season, Berry's season-high in tackles was eight. He only defended one pass, accounted for three tackles for loss and hadn't sniffed out a single turnover.
In the remaining nine contests, the hard-hitting safety paired together two 11-tackle performances, batted down nine incompletions, missiled through lines for seven tackles for loss and snagged one interception.
He looked like the former rookie that struck fear into the hearts of seasoned veterans.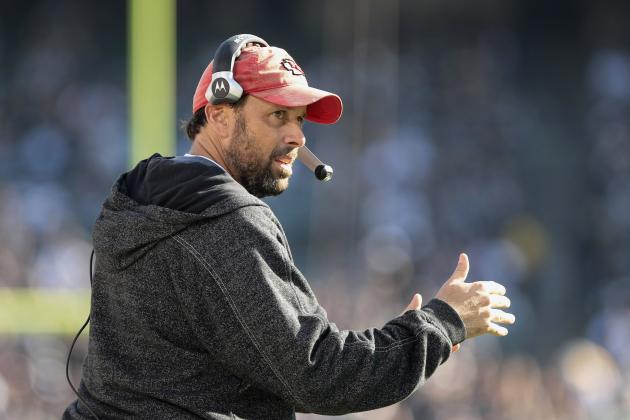 Kelley L Cox-USA TODAY Sports

A halo doesn't hover the head of Todd Haley as he paces the sideline; if there are any rings, they're probably from smoke plumes formed after steam thrusts out of his ears like a NASA launch.
He's a hot-headed play-caller who is two opposable thumbs away from being featured in the next When Animals Attack promo.
But he produced.
He took over a 2-14 bottom-dwelling team and, within two years, turned it into 10-6 squad of division-winning playoff contenders.
However, at the dawn of 2011, two young cornerstones—Jamaal Charles and Eric Berry—were placed on injured reserve, budding tight end Tony Moeaki didn't play one snap in the regular season and quarterbacks were dropping quicker than gnats around Kevin Hart (NSFW).
Despite the Everest of uphill battles, Haley still coached a 5-8 Chiefs team before being fired in 2011.
And Haley's resignation came on the heels of controversy originally stirred between he and Pioli; the sum of two alpha males added to the same equation.
Eventually, wiretapping allegations surfaced: out goes Haley, in comes Romeo Crennel.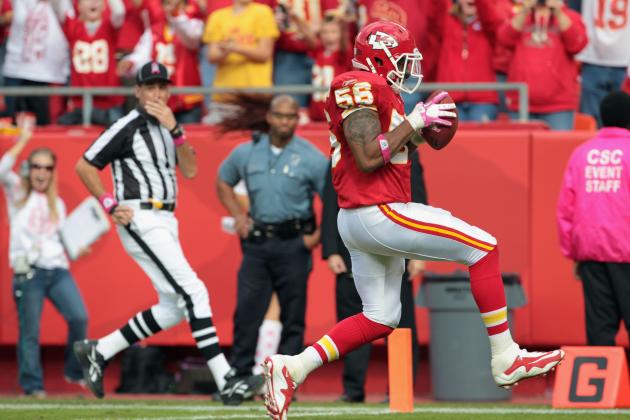 Jamie Squire/Getty Images

Throughout the past handful of seasons, Derrick Johnson has been the closest resemblance of leadership on the Chiefs defense.
The inside linebacker has evolved into a perennial Pro Bowler, orchestrating the unit while grounding every ball carrier that dares to test his luck between the hash marks.
Johnson has recorded triple-digit tackle totals in the past two seasons and tied a career-high four forced fumbles in 2012.
Questions will flank Kansas City's first and third waves of defense heading into the 2013 offseason; the same won't hold true for the middle of the defense.
Johnson storms out of Sunday tunnels as the conductor of one of the league's elite linebacking corps.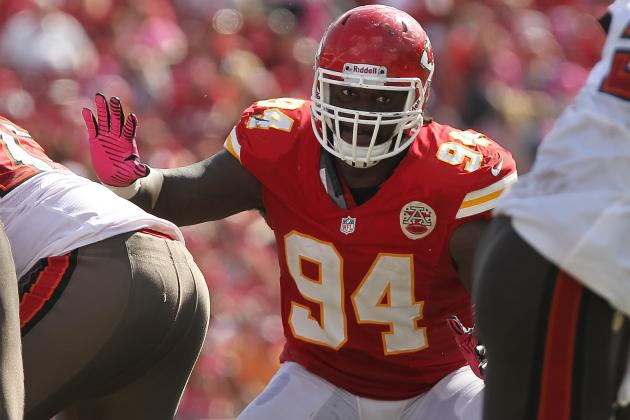 Kim Klement-USA TODAY Sports

Tyson Jackson was dormant throughout the first three-and-a-half years of his professional career.
He was viewed as a mediocre run-stuffer—nothing more. As a former No. 3 overall pick, that kind of reputation is blanketed with disappointment.
But as the Chiefs began experimenting with him in different subsets throughout the latter half of 2012, Jackson started to yield results. Although last year's total of three sacks is still abysmal when compared to his pre-draft expectations, that number is one greater than the combined total of his previous three seasons.
Jackson began showing glimpses of a progress and started to polish the rust from the "bust" label that had loomed overhead for so long.
But for the lion's share of four years, 2009's No. 3 overall pick—a choice that could have been spent on talents such as Brian Orakpo or Brian Cushing—remained a one-dimensional defensive end on a feeble run defense.
John Rieger-USA TODAY Sports

If a premium is placed on value—and even if it's not—Justin Houston is arguably Pioli's best draft pick during his time as the Chiefs general manager.
His linebacking cohort, Tamba Hali, is the one from the edge-rushing duo that received Pro Bowl honors, but Houston statistically outperformed him in 2012.
Coming off an eye-opening rookie season, Houston corralled quarterbacks with 10 sacks, forced one fumble, one interception and even blindsided Drew Brees for the rare safety in his sophomore campaign.
Knowing that the Chiefs plucked Donald Stephenson one slot before the Seattle Seahawks grabbed Russell Wilson in the 2013 draft has haunted Chiefs fans throughout the year. But if it's any consolation, the Arizona Cardinals selected Rob Housler one pick before Justin Houston in the third round of 2011.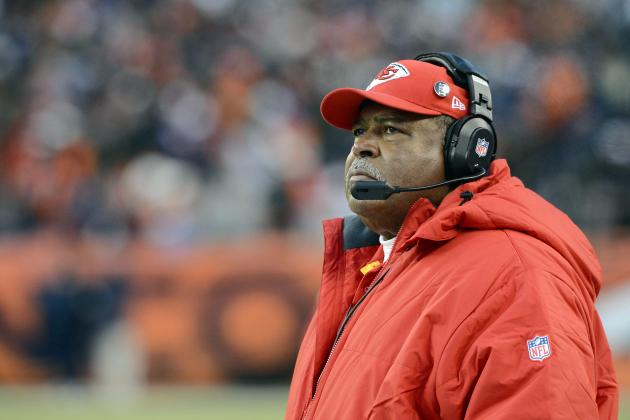 Ron Chenoy-USA TODAY Sports

Romeo Crennel is an easygoing, universally beloved coach that boasts a you'll-get-'em-next-time-kid mentality.
Football is a sport that features physical specimens attempting to run through one another like Amtrak trains. A sport that has Mad Max raiders disguised as onlookers. It's a sport that harbors muscle-bound adrenaline junkies so impatient for contact that they get their fix by purposely injuring themselves with their means of protection.
The nature of football isn't a perfect match for Crennel's demeanor, to say the least.
Although Crennel's only other reference on his head-coaching resume was an unsuccessful four-year stint (24-40) with the Cleveland Browns, Pioli threw caution to the wind and promoted him as Kansas City's main man in charge in 2012.
Crennel shed the interim tag. And two wins and 14 losses later, he returned to the unemployment line.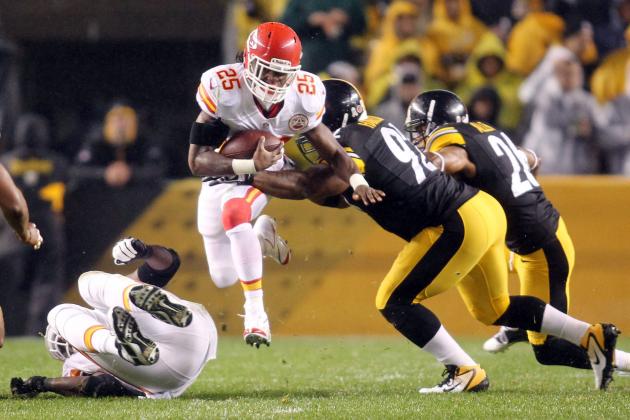 Charles LeClaire-USA TODAY Sports

Jamaal Charles has averaged 5.8 yards per carry in his five-year career—the highest output by all qualifying running backs (minimum of 500 attempts) throughout the history of the NFL.
The runner-up? Bo Jackson's average of 5.4.
Despite never lining up in an offense that presented a vertical threat—which would force defensive coordinators to second-guess stacking the box to limit his effectiveness—No. 25 annually rivals all rushers as the NFL's biggest home run threat on the ground.
He is the Chiefs offense, plain and simple.
Charles only ranks as the league's 18th-highest-paid running back, and Pioli locked the backfield blur up until the 2015 season (via Spotrac.com).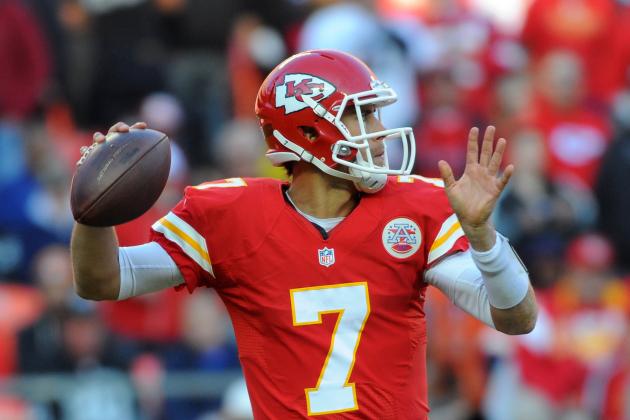 Denny Medley-USA TODAY Sports

If Peyton Manning has a laser, rocket arm, Matt Cassel has a plastic, Dollar General, two-for-99-cents water gun.
The general consensus around Kansas City is that Cassel's shack-like ceiling has held the Chiefs offense hostage for the better part of four seasons.
For the sake of fairness, Cassel's bumpy journey has sprouted its share of highlights, including a 2010 Pro Bowl campaign in which the much-maligned quarterback tossed 27 touchdowns alongside only seven interceptions.
But even Cassel's 2010 season was punctuated by an ellipsis, as the Chiefs were pummeled 30-7 in a wild-card beating authored by a fearless Baltimore Ravens squad. Kansas City clawed its way to two passing first downs—compared to Baltimore's 19—and Cassel finished 9-of-18 passing for 70 yards with three interceptions.
In No. 7's other three seasons (2009, 2011, 2012), he lobbed 32 touchdowns but was victimized for 37 interceptions.
Over four years, Pioli all but pledged his loyalty under oath to Cassel.
The Chiefs quarterback continually eyeballed his primary targets like he challenged a hypnotist to a staring contest. Defensive backs often baited him, their eyes looking like two "loading..." wheels spinning on your computer as they waited for him to go through the motions. Defensive coordinators repeatedly stacked boxes with bite-size militias awaiting Jamaal Charles, knowing that Cassel's downfield passing is as accurate as Metta World Peace's five-day forecast. [Cue "Victoria: She sounds like she's hot, but she's actually cold—it's 14 degrees" sound bite.]
Kansas Citians' patience grew thin as the Chiefs general manager patiently waited for Cassel to take the next step.
But in four years, Pioli's leash of decision-making freedom gradually tightened into a noose.
Email: gering.brett@gmail.com