BCS National Championship 2013: 5 Mistakes Nick Saban Must Avoid vs. Notre Dame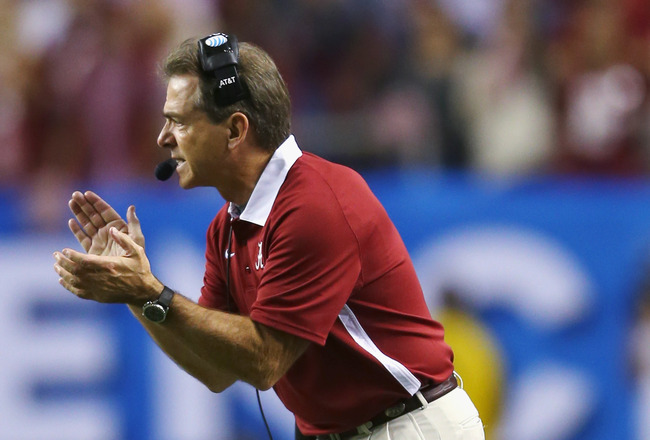 Mike Ehrmann/Getty Images
Nick Saban and the Alabama Crimson Tide are on the edge of history, as they try to become the first team in the BCS era to win two national championships in a row and three of four. However, that crystal football isn't guaranteed just yet, and the Crimson Tide could still make some crucial mistakes that prevent them from winning it all.
Far be it from me to tell Nick Saban how to do his job. After all, there is a reason why he makes over $6 million coaching football and I don't.
However, here are five critical mistakes that Saban and the Crimson Tide must avoid against the Fighting Irish.
Let His Players Believe Their Own Hype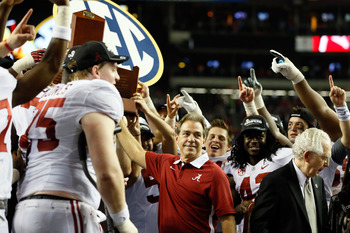 Kevin C. Cox/Getty Images
Nick Saban, like most good coaches, will probably keep his players as isolated from the media hype as possible. While confidence is critical in winning a national championship, overconfidence often leads to failure.
Saban is too good of a coach to let such a scenario happen, though.
Let Notre Dame Keep This Close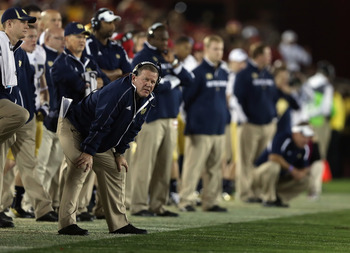 Jeff Gross/Getty Images
If Brian Kelly and Notre Dame have been good at one thing this season, it's winning close games.
The Fighting Irish won five games determined by a touchdown or less and two of them went into overtime. They certainly have plenty of experience in finishing close games.
Alabama, on the other hand, lost a close game to Texas A&M, had to come back against LSU and very nearly blew it against Georgia.
That isn't to say the Crimson Tide couldn't win a close game against the Fighting Irish, but Alabama will want to put as much distance between themselves and Notre Dame as possible.
Not Prepare for Tyler Eifert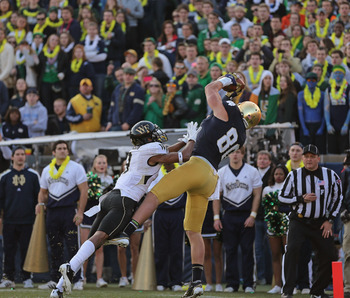 Jonathan Daniel/Getty Images
Tyler Eifert has the hands of a wide receiver stuck on a tight end's body. He can present mismatches for Alabama's secondary and linebackers if the defense isn't prepared for him.
Notre Dame doesn't have a fantastic quarterback, but with a big guy like Eifert, you can throw up the ball and expect him to go up and get it.
Allow His Offense to Become One-Dimensional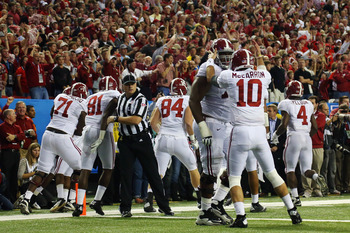 Mike Ehrmann/Getty Images
One of the main reasons why Alabama was able to win comfortably over LSU last season was because A.J. McCarron threw the ball so effectively.
Despite how good the Crimson Tide's offensive line is, Notre Dame's defense is too strong for Alabama to just try pounding the ball between the tackles. McCarron and Co. need to put together a good mix of passes to keep those excellent Fighting Irish defenders off balance.
Underestimate Manti Te'o
Mike Stobe/Getty Images
There's a reason why Manti Te'o was the runner-up in the Heisman Trophy race despite being a linebacker: He is a game-changer.
Te'o can impact the game by himself with his ability to run down running backs or pick off passes. He is also a fantastic leader and helps motivate everyone on Notre Dame to give their all. Take a look at Notre Dame's dramatic goal line stands, and you'll see Te'o's influence everywhere.
One of the worst mistakes Nick Saban could make is to underestimate Te'o or allow his players to underestimate the linebacker.
Te'o will make the Crimson Tide pay if they do.
Keep Reading

Alabama Crimson Tide Football: Like this team?