LA Lakers vs. Philadelphia 76ers: Postgame Grades and Analysis for the Lakers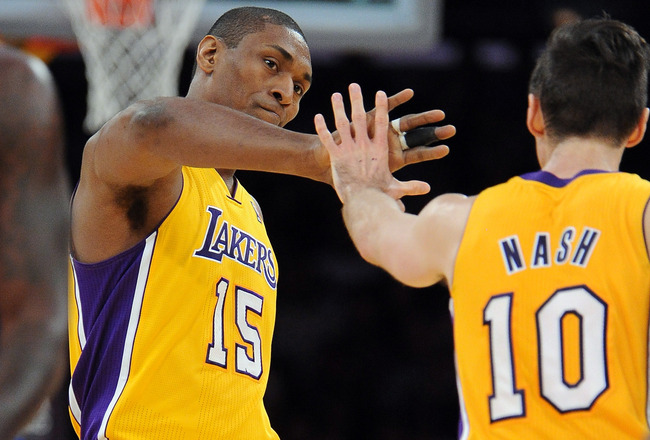 Jayne Kamin-Oncea-USA TODAY Sports
The Los Angeles Lakers tried to get their seventh win in eight games in taking on the Philadelphia 76ers Tuesday night but unfortunately fell short, 103-99. In the end, it was the Sixers who played better defense and sank the important shots, and the holes in the Lakers' run-and-gun game were further exposed.
Pau Gasol struggled once again, and Dwight Howard just didn't look like himself in the paint. Their collective performance is not how the fans wanted them to look entering the team's current stretch. Starting on Friday, Los Angeles will play four games in five days, three of which are on the road.
The loss drops the Lakers to 15-16, nowhere near what was expected of them following the acquisitions of both Howard and Steve Nash over the summer. Time is slowly running out for them to right the ship, as the playoffs will be here sooner than one might think.
The sad truth is that against young Philadelphia, the Lakers' collective age showed. Gasol struggled mightily, and it once again became the Kobe Bryant Show on offense.
Just the same, the Lakers managed to keep the game close from start to finish. Let's see how they graded out by the final buzzer.
Point Guard: Steve Nash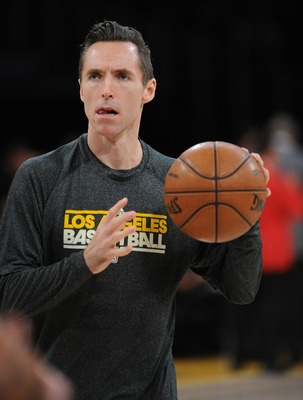 Jayne Kamin-Oncea-USA TODAY Sports
Grade: B
Overall, Nash had a decent game against the Sixers. He scored 12 points on 6 of 11 shooting, and also dished out 10 assists.
The only real marks against Nash are few and far between. Normally a phenomenal long-range shooter, he did not make one tonight. With seconds remaining in the fourth quarter, a three-point attempt by him that would have brought L.A. within one was instead an air-ball.
More importantly, Nash still appeared to be taking it slow on the court. This is understandable, given how he only recently returned from a fractured leg, but the Lakers need him to be more tenacious in the long run.
This means driving to the basket and not relying so much on his jumper, and not being so comfortable to let a teammate handle the scoring duties. Despite his decent performance, that is how Nash played the game tonight. On a night when vintage Nash was needed, he did not provide.
Shooting Guard: Darius Morris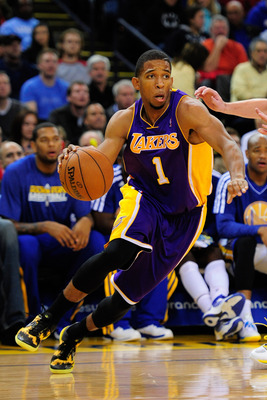 USA TODAY Sports
Grade: D+
I honestly have no idea why Mike D'Antoni continues to start Darius Morris at shooting guard. The second-year player is a raw talent who still has much to learn about playing on the NBA level, and D'Antoni does not do the Lakers any favors by giving this young man significant minutes.
The former Michigan Wolverine played 20 minutes tonight and scored three points, all on free-throws. The only other positive part of his game were his two steals, but Morris brought little else to the table.
Instead of demanding the ball and taking risks with it, he appeared content to let his veteran teammates do all the work. He's lucky he got those trips to the free-throw line and those steals. Otherwise, his grade would be much worse.
Small Forward: Kobe Bryant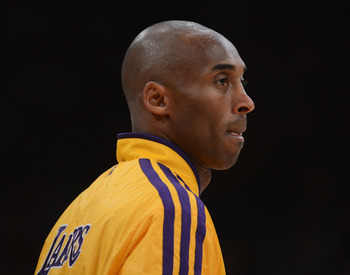 Harry How/Getty Images
Grade: B-
Once again, Bryant led the way on offense. The five-time champion finished with 36 points on 14 of 29 shooting and also had six rebounds, but no assists and just one steal. For the game, his plus/minus was minus-4.
Granted, Bryant is one of the best scorers in NBA history and the Lakers rely on him to provide most of the offense, but that doesn't take away from the fact that he is also one of the biggest ball-hogs in the game. Second in field goal attempts for the Lakers tonight was Metta World Peace, with 17, but he is a bench shooter/sixth man and that is expected of him in D'Antoni's system.
The fact of the matter is that Bryant should have been in playmaking mode against a tough defensive Sixers team tonight, but he instead focused too much on being the alpha dog on the court. As a result, some of his teammates' performances suffered.
Bryant, on the other hand, made sure that he ended the night still in first place in scoring. The numbers are decent, but the selfishness definitely downgrades him.
Power Forward: Pau Gasol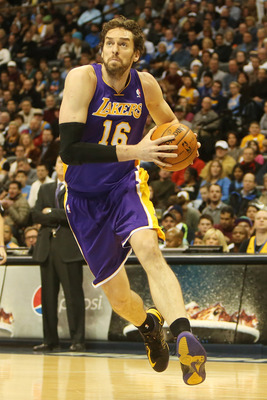 USA TODAY Sports
Grade: D
Once again, Gasol struggled on the night. He finished with 11 points and nine rebounds, but shot just 2-of-12 from the field. The man just looks lost in D'Antoni's system, and made some horrible decisions on offense.
The worst of them came late in the fourth quarter, with the Lakers closing in on tying the game and, perhaps, the lead. The team was on a fast break, and Gasol had the ball. Though he had plenty of room to drive the lane and go for a high-percentage shot, he instead pulled up for a jumper that didn't get anywhere near the hoop.
Look, I understand Gasol's plight. I really do. His skill set doesn't fit D'Antoni's system, and I can only imagine how he feels this season.
Just the same, he needs to adjust to the offense if the Lakers are to make any sort of impact down the stretch. Tonight, he looked nothing like a two-time champion and veteran, and will be graded accordingly.
Center: Dwight Howard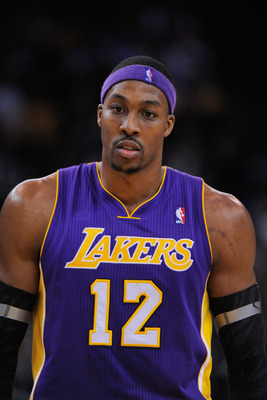 USA TODAY Sports
Grade: C-
Defensively, Howard had a great night. Not only did he have 14 rebounds, but he also blocked five shots.
Offensively, however, Howard was a nightmare. He scored just seven points, shot 1-of-7 from the field and 5-of-10 from the charity stripe.
Granted, the Lakers were unable to use the pick-and-roll much against a stingy Sixers defense, but Howard barely did anything to exploit his size and experience advantage over Philadelphia big man Lavoy Allen, especially on offense.
Here is a man who is capable of being a double-double machine night after night, but that can't happen until he starts demanding the ball more and working outside of D'Antoni's system.
On defense tonight, he looked great. On offense, he earned himself his grade for the night.
Sixth Man: Metta World Peace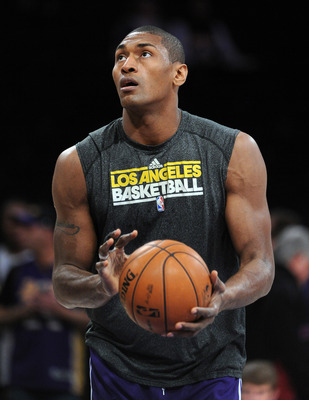 Jayne Kamin-Oncea-USA TODAY Sports
Grade: C+
World Peace has thrived in D'Antoni's offense, as his ability to sink three-pointers has revitalized his image and career this season. He scored 13 points and pulled down nine rebounds against Philadelphia tonight, but got a bit trigger happy on offense.
World Peace shot 6-of-17 from the field and just 1-of-4 from downtown, though his sole three-pointer was in the fourth quarter and kept the Lakers in the game. Were he a bit more conservative with his shot selection, perhaps the Lakers could have come away with the win.
Instead, he made some early shots and got cocky. Instead of just being a shooter, he tried to take control on offense a bit too much.
He didn't have a bad night, but it certainly could have been a lot better. On the whole, he was just average.
Bench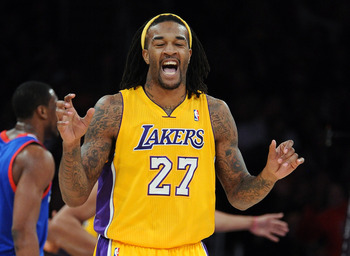 Jayne Kamin-Oncea-USA TODAY Sports
Grade: B-
I enjoy watching Mike D'Antoni-coached teams, but it drives me crazy how the man sometimes flat-out refuses to use his bench. He has a great weapon in Antawn Jamison, but has not used the man and his natural scoring abilities in two weeks.
Just the same, the Lakers' bench tonight looked decent against Philadelphia. Metta World Peace did what he had to do as sixth man, and Jordan Hill was a fine defensive spark. In 19 minutes, the former Arizona Wildcat scored 10 points and pulled down eight rebounds, including a pair of one-handed dunks.
The only other bench player who saw any time was shooter Jodie Meeks, who chipped in seven points in 17 minutes.
Overall, the Lakers' bench players did what they had to do, but were not used nearly enough as they should have been. This is not their fault, as the bench is used at the coach's discretion, but their overall performance could have been better, particularly that of World Peace.
It wasn't an awful night for them, but a team this good on paper needs to produce so much more, especially in the second unit.
Keep Reading

Los Angeles Lakers: Like this team?