While the Kansas City Chiefs continue their search for a new head coach, offseason talks are already in full force. Fans and the media are discussing which players the Chiefs should let go of and what positions need to be addressed this spring.
The Chiefs have holes in many areas. The position that is getting the most attention is the quarterback spot, but one that also deserves to be discussed doesn't come on offense nor defense.
The Chiefs need a new kicker.
Ryan Succop, the final player taken in the 2009 NFL draft, hasn't been the most consistent kicker for the Chiefs.
Before the conclusion of the 2011 season, the Chiefs inked Succop to a five-year contract extension worth $14 million. The new contract tied Succop for the 10th-highest-paid kicker in the league in 2012. But his performance didn't match that lofty ranking.
Succop made 82 percent of his field goals in 2012 and ranked 22nd among all kickers. He concluded the season by connecting on only three of six field goals from Weeks 14 through 17. During the final four games of the year, Succop, in order, missed field goals from 27, 43 and 33 yards out.
With misses from various spots on the field, Succop creates an issue that should raise concerns for the Chiefs' front office.
However, Succop has proven that he can be as good as some of the elite kickers in the NFL. In Week 3 against the New Orleans Saints, Succop split the uprights six times including a game-winning field goal in overtime to complete a win after being down by 18.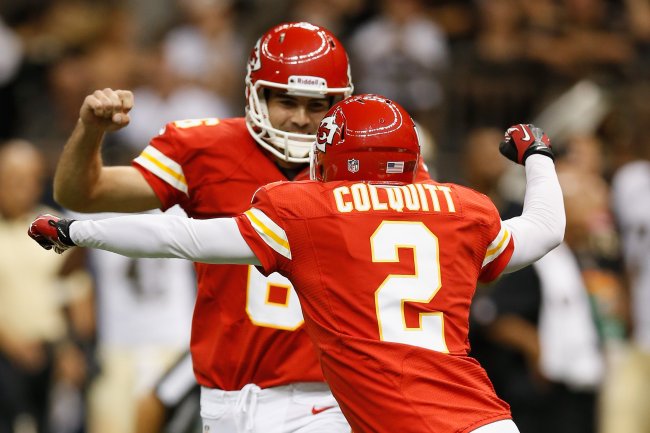 Chris Graythen/Getty Images
Succop went through a comparable stretch the season before in which he only made two of five field goals to start the season. In order, Succop missed from 49, 44 and 38 yards out in the first three games.
Succop rebounded in Week 4 against the Minnesota Vikings when he made all five field goals, including two longer than 50 yards.
He went on to make his next 22 field goals, matching a franchise-high, until having two attempts blocked in Week 16 against the Oakland Raiders.
Chiefs fans have seen the highs and lows from Succop. While he is just a kicker, his position holds a lot of value. If the Chiefs send Succop to kick a game-tying or game-winning field goal with just a couple of seconds left, Chiefs fans should be holding their breath.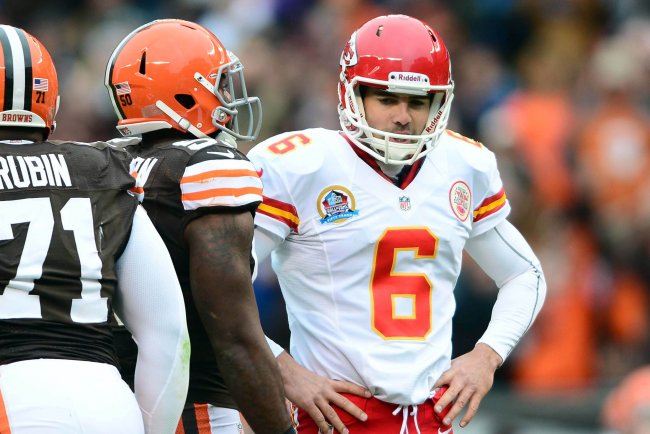 Andrew Weber-USA TODAY Sports
Late field goals always make fans nervous and put them on the edge of their seats. But with Succop's track record, the confidence level from Chiefs fans won't be as other fans around the league, despite Succop having delivered four career game-winning field goals in overtime. (He missed a 39-yard field goal in one of those overtime wins and was given a second chance.)
Succop has missed from different spots on the field, which should make fans and the organization feel apprehensive about him.
During his rookie season in 2009, he was 12th in field-goal percentage. Since then, he's either finished 22nd or 21st.
The fact is, Succop is an inconsistent kicker. Even though his contract goes through the 2016 season, the Chiefs need to reconsider whether or not he is worth holding on to until then.
I don't expect the Chiefs to make that change this offseason, but if his inconsistency shows up again early in 2013, the Chiefs might need to pull the plug and find another kicker.