Lionel Messi Leads La Liga's Midseason Best XI for the 2012-13 Season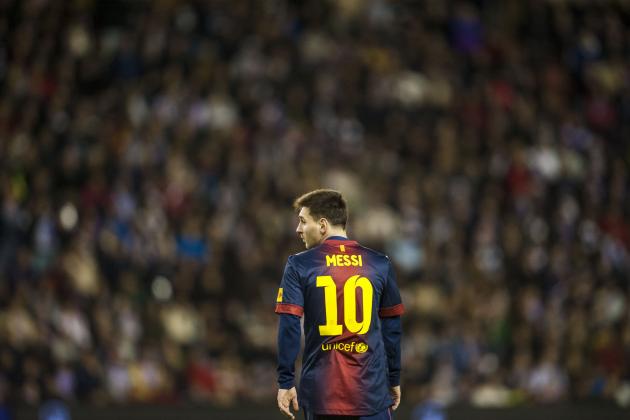 Victor Fraile/Getty Images

January 2013 has now begun and that means La Liga's 2012-2013 season is roughly halfway over.
Many football players have a chance to turn their season around and either regain or earn top form that had been lost in the first half of the season.
Simultaneously, stars who started off the campaign on great form will try to keep that up or risk costing their team in key matches as the season draws to a close.
While we have no way of knowing what the second half holds, we can review the first half of play and recognize the best players of roughly the first five months to date.
Let's take a look at the best players at each position so far this season and find out who just missed the mark.
Begin Slideshow

»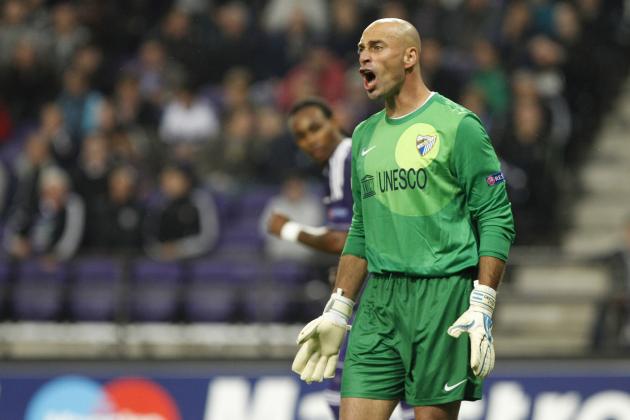 EuroFootball/Getty Images

What a resurgence for Willy Caballero. No one in Spain—not Iker Casillas, Diego Alves or Victor Valdes—has been close to his level this season.
The Argentinian has allowed only 12 goals allowed this season, has nine clean sheets and has saved just over 80 percent of shots against all the best in La Liga.
The 31-year-old has also had to make more saves per game than any keeper on the top three clubs this season, so his protection, while great, does not do all the work.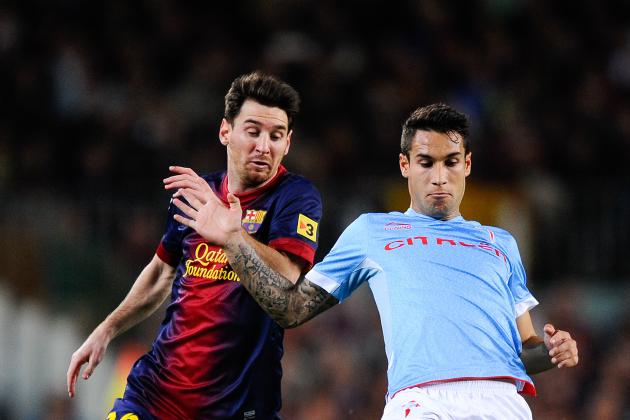 David Ramos/Getty Images

There are a few contenders for the title of La Liga's best right-back so far this season, but Hugo Mallo gets the nod due to his consistency.
Unlike Cicinho who faded like the rest of his Sevilla teammates as the season wore on, the Celta Vigo defender has played consistently well all season long.
Martin Montoya and Cesar Azpilicueta get more praise because of their jerseys, but it is Hugo Mallo who has been the best, most promising Spanish right-back in football this season.
The 21-year-old has averaged an insane 4.9 tackles per game this season and could follow Iago Aspas out the door soon with top European clubs taking notice.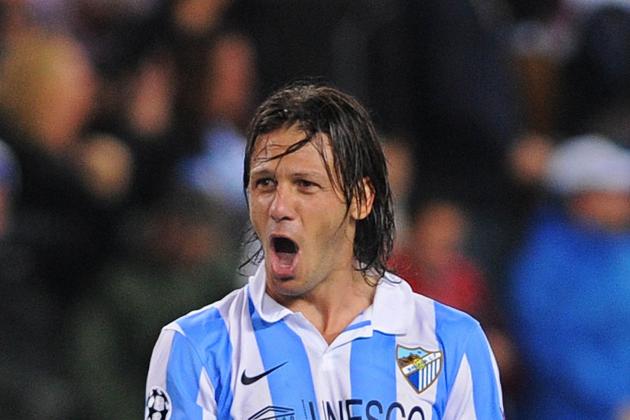 Gonzalo Arroyo Moreno/Getty Images

He may have turned 32 in late December, but Martin Demichelis might be playing the best football of his career right now.
To this point, the Argentinian has been the best central defender in a league that includes the likes of Gerard Pique, Sergio Ramos and Pepe.
Demichelis has been a true leader for Malaga, and provided Willy Caballero the best protection of any keeper in Spain and arguably all of Europe this season.
Malaga have allowed a mere 12 goals this season, and their veteran centre-back is the main reason for this.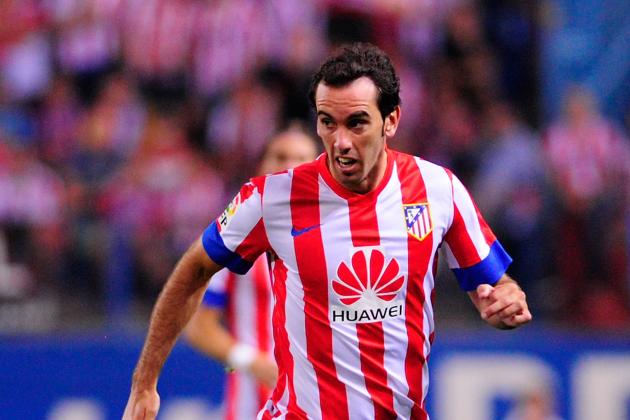 Gonzalo Arroyo Moreno/Getty Images

It is no surprise that the Madrid team who has allowed the second-fewest goals in Spain has the best central defense in La Liga this season.
What is surprising is that the team is Atletico Madrid and not their great rivals, Real Madrid.
What is also a bit surprising is that Diego Godin has been the best central defender in the Spanish capital this season.
The Uruguayan has overcome his inconsistencies from last season and has helped turn Atleti's central defense into one of the best in all of Europe.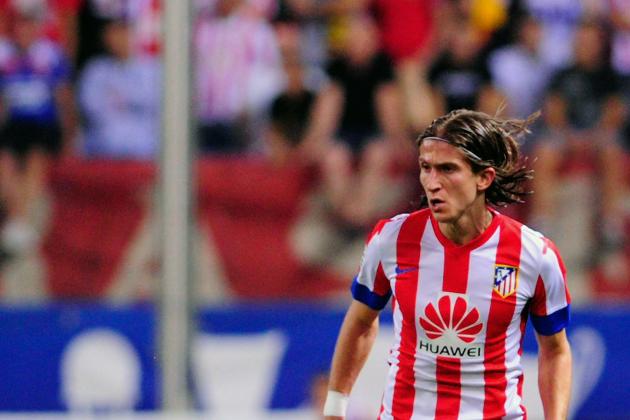 Gonzalo Arroyo Moreno/Getty Images

Take Nacho Monreal's defensive abilities, add in Jordi Alba's offensive reads and who you have is Filipe Luis, the best left-back in La Liga.
The Brazilian defender was a key player for Atleti this season, providing much-needed attacking assistance down the left flank without proving vulnerable at the back.
Unlike Jordi Alba, who relies mostly on his speed to make up for his poor positioning and defensive discipline, Luis is much smarter about when and how far he makes his runs.
The 27-year-old suffered a couple of injuries late on, but the winter break should help him regain full strength for the second half.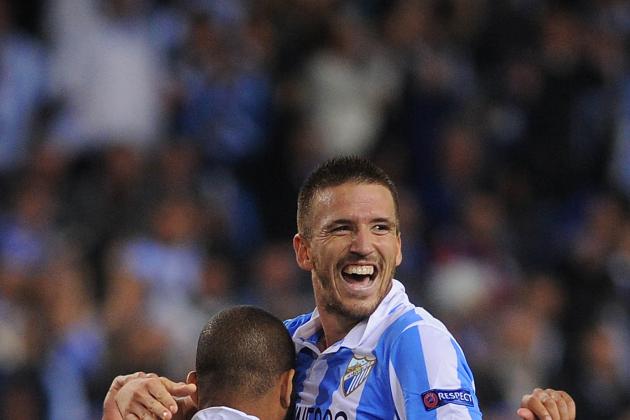 Gonzalo Arroyo Moreno/Getty Images

While casual fans of Spanish football have gushed over Isco, many have overlooked the fact that Malaga's best and most valuable midfielder this season has been Camacho.
The 22-year-old is in the middle of a breakout campaign and has been the best defensive midfielder in Spain this season.
Camacho is the only midfielder in the league who ranks among the top three in both interceptions and tackles, and he has turned his partnership with Jeremy Toulalan into one of Europe's top pairings.
The young Spaniard is further proof that no country in the world has as much midfield talent as La Roja.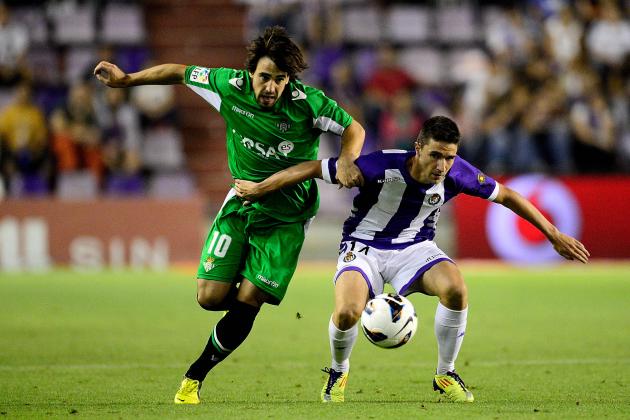 Gonzalo Arroyo Moreno/Getty Images

He doesn't have quite the intelligence of Sergio Busquets or the long passing of Xabi Alonso, but Beñat has a superb combination of both and then some.
The 25-year-old is the best scoring threat of any defensive midfielder in La Liga, is more creative going forward, can split defense from anywhere on the pitch and is very reliable at the back.
In short, he is the most well-rounded holder in Spain and is probably nowhere near his prime.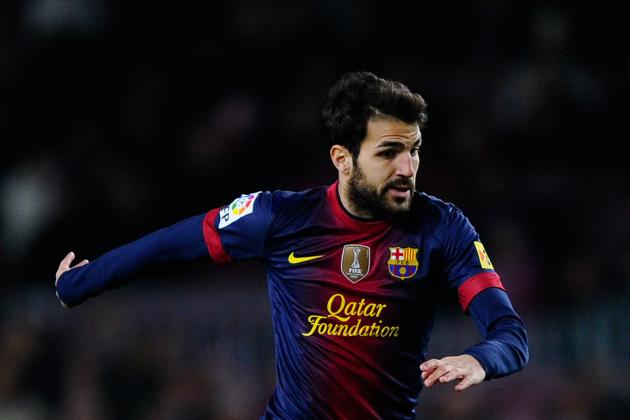 David Ramos/Getty Images

The former Arsenal man has finally gotten comfortable and found a place at Barcelona under Tito Vilanova's leadership.
The result has been him becoming the most in-form attacking midfielder in La Liga and arguably Europe this season.
La Blaugrana have added a more direct style of play to their arsenal, and Cesc Fabregas has used his previous knowledge and experience with it to be one of the most dangerous weapons on the team.
He led the league in assists before going down to injury in December, but he is a favorite to finish with the lead by season's end.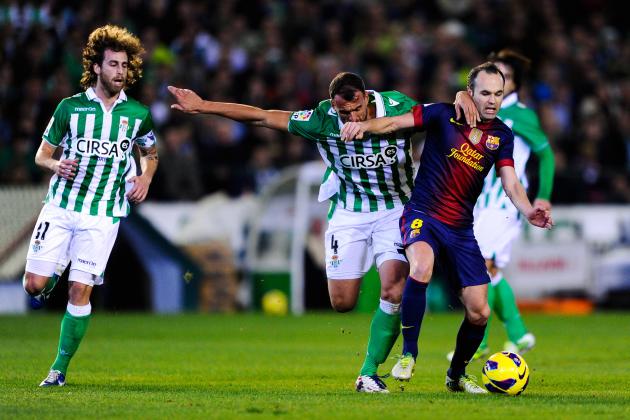 David Ramos/Getty Images

Andres Iniesta leads the league in assists and has more of those than he does starts this season.
The Ballon d'Or finalist has established himself as the best attacking midfielder in football and is now halfway to breaking his teammate Xavi's La Liga record of 20 assist in a season.
El Ilusionista is often surrounded by opposing players with seemingly nowhere to go, but he somehow manages to dance and dribble his way through pockets that do not even seem to exist to anyone but himself.
Cules could be fortunate enough to watch Iniesta battle his teammate for the assist title this season if both he and Fabregas keep their form up.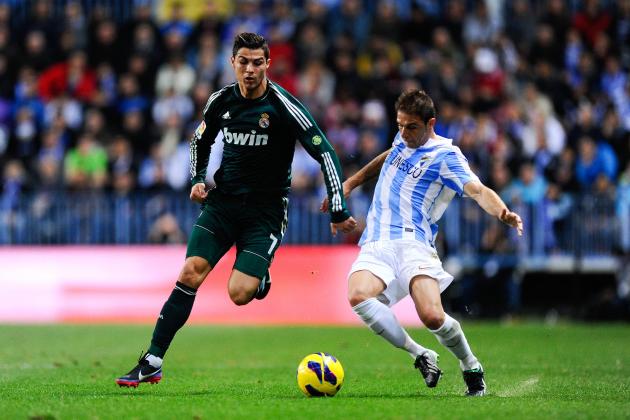 David Ramos/Getty Images

He has been more streaky than usual, but Cristiano barely makes this list over Falcao because he is more versatile and just as dangerous a goal threat despite not playing as the sole focal point of his team.
CR7 is still too wasteful with his shots, but he has learned to take more control of the game and even provide better key passes for his teammates when he is overwhelmed by the defense.
He lags behind Lionel Messi and Falcao in the Pichichi race, despite playing centrally more often this season, but it is only a matter of time before Ronaldo goes on a hot run to gain some ground.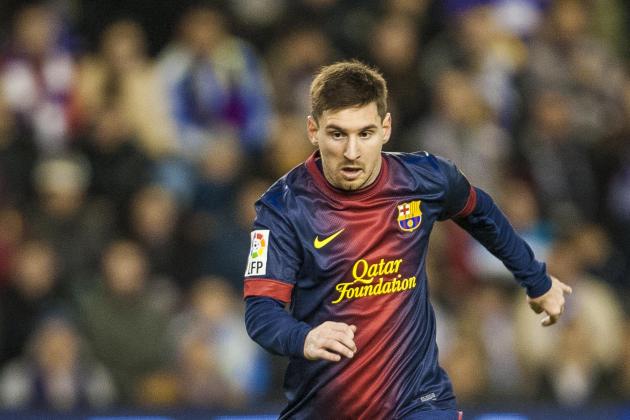 Victor Fraile/Getty Images

His assist count has been a bit more human this season, but Lionel Messi is somehow on pace to break his own record of 50 goals from last season.
He has been the only consistent goal threat for Barcelona this term, which has allowed defenses to double and triple-mark him almost non-stop, but that has not made it any easier to stop him.
There are still some who would argue that Messi's 2012 season was not as good as others, but very few can deny that he is the best player alive.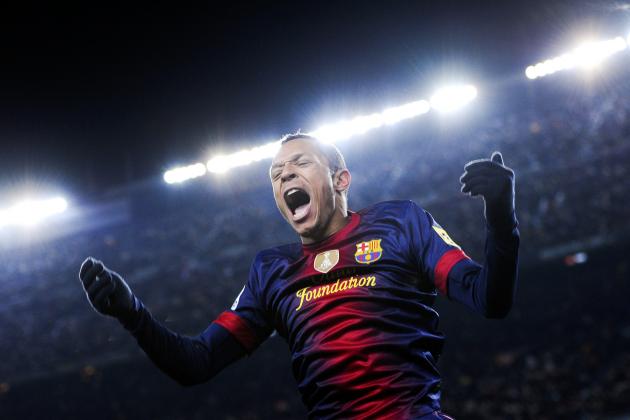 David Ramos/Getty Images

Toño (Granada)—K
The veteran has had little protection this season, but he has been exceptional despite the poor defense. He has allowed the second-most shots per game, but he also has the second-best save percentage.
Adriano (Barcelona)—D
There is not a better utility man in football right now. Jordi Alba was brought on to replace Eric Abidal, but Adriano has out-shined the Spaniard so far this season.
Damia (Osasuna)—RB/LB
He started with a fabulous performance against Barcelona that saw him almost single-handedly neutralize Andres Iniesta and Cristian Tello and has since then, he has shut down the likes Isco, Iker Muniain, Carlos Vela and Ruben Castro.
Carlos Martinez (Real Sociedad)—RB
Carlos has been the best right-back in Spain since November, but he didn't play a single game until October 29.
Nacho Monreal (Malaga)—LB
He was forced to miss all of December, but Monreal is a huge reason that Malaga have the best defense in Spain this season.
Jordi Alba (Barcelona)—LB
He was a bit streaky and still needs to improve the defensive side of his game, but there is not a better attacking full-back in the league.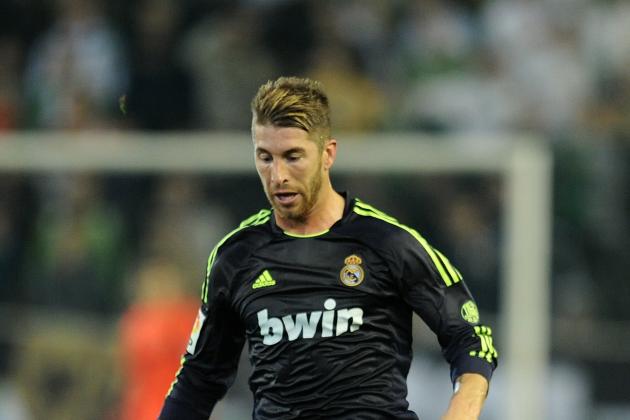 Denis Doyle/Getty Images

Sergio Ramos (Real Madrid)—CB
His partner Pepe has looked much worse than last season, and Ramos has had to pick up the slack as a result. Discipline remains a problem, but the recklessness of his fouls has been reigned in.
Weligtom—CB
Martin Demichelis is not the only veteran responsible for making Malaga's defense the best in La Liga.
Emir Spahic (Sevilla)—CB
If not for his awful showing against Atleti, Spahic would have been battling for a starting spot in this list.
Sergio Busquets (Barcelona)—DM
He remains the most important player for Barcelona behind only Messi, and his nearly unrivaled positioning and reading of the game has somehow gotten even better this season.
Xabi Alonso (Real Madrid)—DM
Alonso has been one of the few consistently reliable players for Jose Mourinho and remains the key cog in Madrid's great counterattack.
Mario Suarez (Atletico Madrid)—DM
The 25-year-old looks to have eclipsed his great partner and has really solidified his place as one of the best holders in Spain.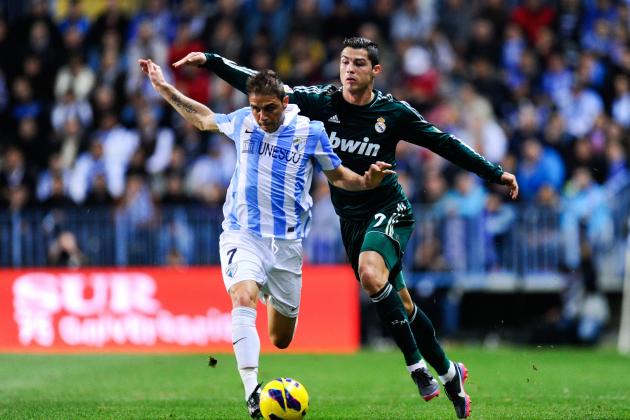 David Ramos/Getty Images

Joaquin (Malaga)—AM
The Spaniard leads the league in key passes per game and is leading the best attacking midfield unit in La Liga.
Xavi (Barcelona)—M
He will turn 33 this January, but Xavi is still the standard by which all midfielders are held against. He has as many goals as Mesut Ozil and more assists, so talks of his decline are premature to say the least.
Arda Turan (Atletico Madrid)—AM
The Turk is finally being recognized as the world-class player he is and is one of the most complete midfielders in La Liga.
Carlos Vela (Real Sociedad)—AM
He has played almost everywhere in the front half this season and is making Arsenal regret ever letting him go.
Koke (Atletico Madrid)—M
The 20-year-old has looked the best of young midfield talent in Spain, and he looks like he will battle Isco for top honors for a very long time.
Patrick Ebert (Valladolid)—AM
The German was one of the absolute best players in the league before getting injured, and Valladolid's top-six hopes could depend on how quickly he can get fit.
Pedro Leon (Getafe)—AM
This season the 26-year-old has looked like the great player Madridistas hoped he would become before he was loaned out. Madrid could certainly use him right now.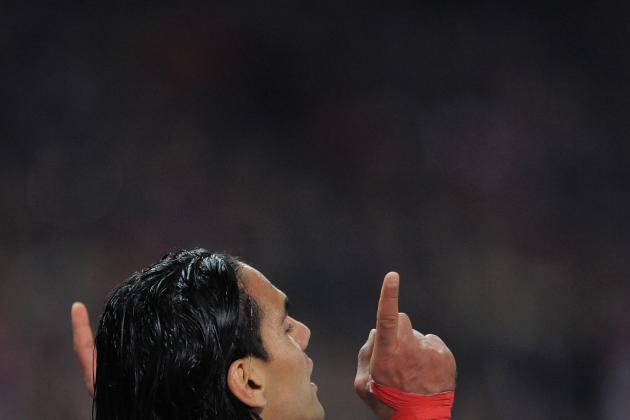 Denis Doyle/Getty Images

Radamel Falcao (Atletico Madrid)
He is the best No. 9 in football right now, and Atletico Madrid fans are praying that he stays until at least the summer. His Pichichi battle may now be for second place along with Cristiano Ronaldo.
Iago Aspas (Celta de Vigo)
His phenomenal breakout campaign already has many top European clubs hunting him, and there are still over four months of football left. Aspas is breakout player of the year to this point.
Ruben Castro (Real Betis)
Castro finished 2012 with more goals than any other Spanish striker in football. His second-half form will be key to Betis' European qualification hopes.
Aritz Aduriz (Athletic Bilbao)
His return to Basque Country really could not have started much better, as he is fourth in the league with 10 goals.
Roberto Soldado (Valencia)
His service has been atrocious at times, but he still has a strong chance of finally reaching 20 goals in a season.
Leo Baptistao (Rayo Vallecano)
The Brazilian has been the biggest surprise this season and at just 20 years old, is starting to get the attention of many big clubs, including Atletico Madrid. Keep an eye on this kid.