5 New Year's Resolutions for the Detroit Pistons
Nick Laham/Getty Images
The Detroit Pistons just can't seem to get things right.
On the one hand, they have a couple of supremely talented and young big men that could develop into a modern day twin towers.
On the other hand, just about every other position remains largely in flux.
Brandon Knight could turn into a very good young point guard. Or, he could just be another in a long line of combo players that don't excel at either of the guard positions.
Overall, the Pistons are a lot like your overweight brother-in-law; they have potential, but they are in desperate need of some New Year's resolutions.
Here are the Detroit Pistons' five biggest New Year's resolutions.
Develop the Youth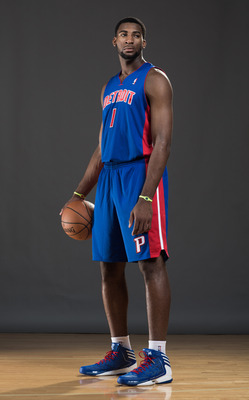 Nick Laham/Getty Images
If you are getting sick of reading about why the Pistons need to develop their young roster, you are not alone. In fact, I am sick of screaming at my television on a nightly basis, wondering aloud why Khris Middleton, Kim English and Slava Kravtsov can't get off of the bench.
The Pistons are not going to make the playoffs this year. They probably aren't even going to avoid the cellar of their division.
So why not give the young guys some run?
Coach Lawrence Frank seems to think doing so will cost his team a championship.
This year's biggest resolution is to let the young guys play. Find out if English can become a potential Aron Afflalo. Find out if Middleton is a smaller version of Kevin Durant. Find out if Kravtsov could become a poor man's Joel Przybilla.
They might not be any good, but how will we know if they don't play?
Trade the Vets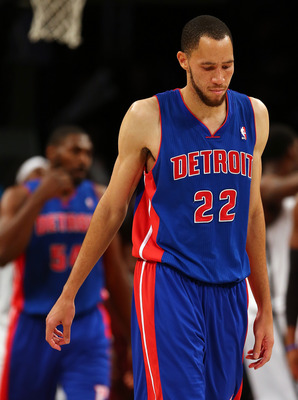 Elsa/Getty Images
Okay, so I understand about nostalgia. I had a blanket that I kept until I was six. But this is the NBA, not some child's bedroom.
The time has come to cut bait with some of this team's aging players.
Tayshaun Prince has had a great run with Detroit, but this team needs to change gears. They don't need to necessarily trade Prince, but he shouldn't be playing 30-plus minutes per night. He still has a lot of value, especially once the Western Conference powers start to have their annual arms race.
Corey Maggette is just about worthless to this team. That being said, he does have an expiring deal and could prove valuable to a contender.
Charlie Villanueva and Austin Daye, despite their recent improved play, basically cancel one another out. Having two stretch-4 players is a luxury this team doesn't need.
Heck, even entertain dealing Rodney Stuckey. He is talented, high-scoring sixth man that would do better on a playoff squad.
Let the Twin Towers Begin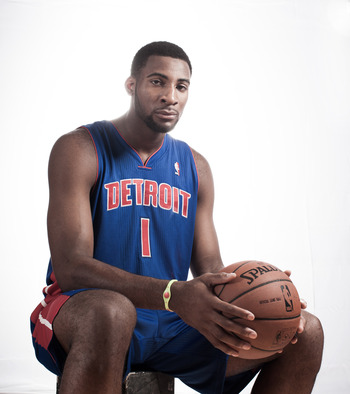 Nick Laham/Getty Images
Andre Drummond and Greg Monroe are destined to start together.
You know it, I know it and Lawrence Frank knows it.
So why exactly are they not starting?
The Pistons need to shift into their twin towers lineup immediately and never look back.
There really is no argument left to justify keeping Drummond on the bench. He is routinely outplaying Jason Maxiell and has shown the ability to play with Monroe in limited minutes. He is already the team's best shot-blocker and perhaps the best interior defender.
The future needs to begin now, and Monroe and Drummond need to use the dregs of this season to find out how to play together.
Draft an Impact Swingman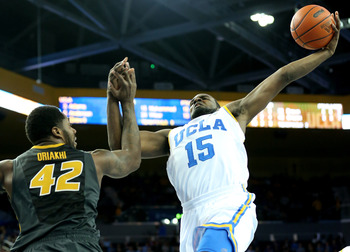 Stephen Dunn/Getty Images
Way back in 2003, the Detroit Pistons had a chance to draft an impact small forward. They were coming off of an Eastern Conference Finals appearance against the New Jersey Nets and were given the second overall pick in the draft.
They could have drafted Carmelo Anthony and forever changed the course of their history.
That was the last time an impact small forward was available to them.
This year, the Pistons need to rectify that mistake.
There are a number of players that will likely be available when the Pistons draft early in the first round. Shabazz Muhammad should be the biggest focus for this team. The UCLA product can score in a number of ways and has the elite athleticism that the Pistons have craved at the position for years.
Should Muhammad not be available, Alex Poythress and several other standouts would be viable replacements.
Bottom line, Detroit needs to improve their athleticism on the wings, and that needs to come from the draft.
Commit to "D"etroit Basketball Again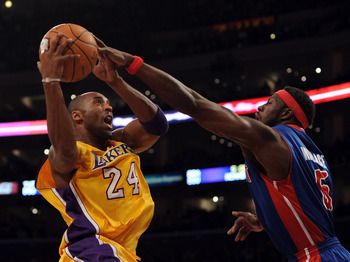 Harry How/Getty Images
The Detroit Pistons are a unique franchise. This isn't just because they tend to play best without a superstar. It is because they have a fanbase that truly loves defense.
When they had a top-five player (Grant Hill), the fans still stayed away. But when they were headlined by castoffs like Ben Wallace, they routinely sold out the Palace.
The Pistons need to get back to their defensive roots.
Luckily for them, they have an anchor in this endeavor in Andre Drummond. Drummond could develop into the next Ben Wallace or perhaps even something better.
He is a beast of a man that loves to grab boards, block shots and pump up the crowd.
But he can't do it alone. This team needs to get more athletic and fully recommit to defense. Not only would that lead to more wins, but it would bring back the fans.
Keep Reading

Detroit Pistons: Like this team?