Predicting the Lines for the Pittsburgh Penguins Next Time They Take the Ice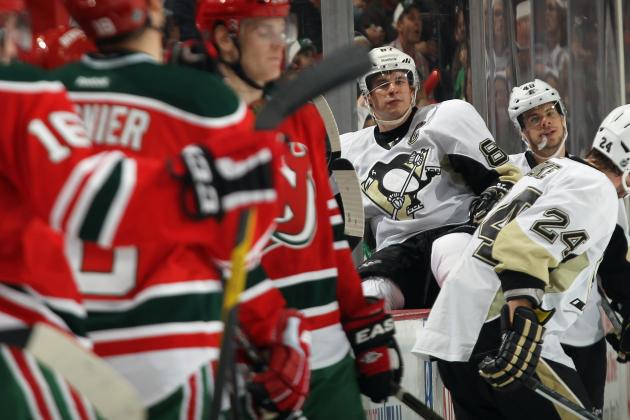 Bruce Bennett/Getty Images

Coaches often have all the pieces to the puzzle, but fail to put them together correctly.
Line building is critical to any team's success each season; however, it is even more so during a shortened season. An 82 game season gives teams more time to juggle their lines around in an attempt to find the perfect combinations whereas a shortened season forces teams to quickly figure out their best line combinations to maximize success.
Like any team, the Pittsburgh Penguins must be looking to put out their best line combinations come the start of the next season.
Begin Slideshow

»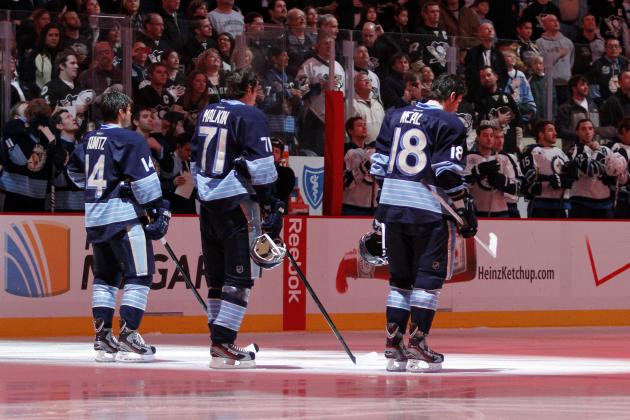 Justin K. Aller/Getty Images

If hockey is going to be played this year, this has got to be the Penguins top line. These guys tore it up last season as they racked up a total of 116 goals—that's 42.5 percent of the Penguins total goals that season.
The chemistry between these three players was great even though they did not play with each other much prior to this past season.
Coming into next season, opposing teams can only hope to slow this line down because it is too talented to be stopped.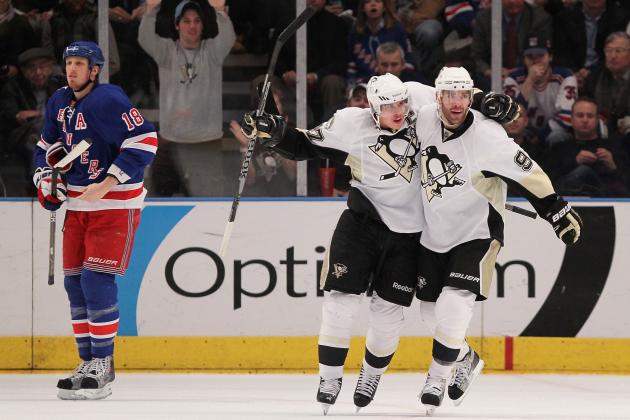 Chris McGrath/Getty Images

Prior to Crosby's concussion woes, he centered a line with Chris Kunitz and Pascal Dupuis as the wings. However, the loss of Kunitz to the top line calls for the addition of a new wing for Crosby in the form of Tyler Kennedy.
Kennedy has shown that he has a scoring touch as he has scored 70 career goals in 326 games, yet has never been given the opportunity to play with a player as offensively gifted as Crosby. With Crosby's play-making ability, Kennedy and Dupuis should expect to get a plethora of scoring opportunities.
A line with Crosby is always a dangerous one and I am sure they would love to show us just how dangerous they can be next season.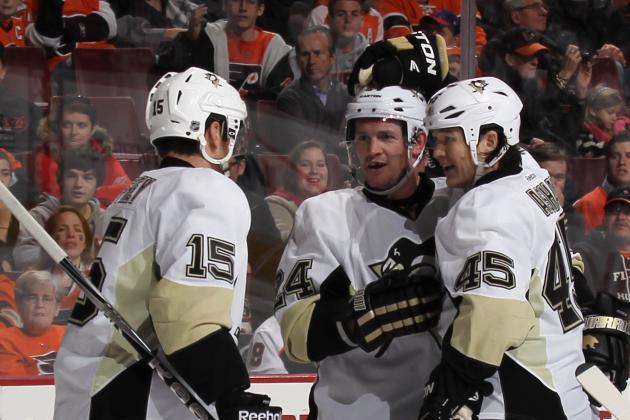 Bruce Bennett/Getty Images

Brandon Sutter was brought on to replace Jordan Staal as the Pens third-center and he will do just that.
This line holds an interesting dynamic in that all of these three are extremely responsible defensively and are very gritty, yet possess some offensive talent. I believe this line will be fairly productive offensively and serve as a great combatant to other teams' top lines.
This will be a great energy line for the Pens come next season.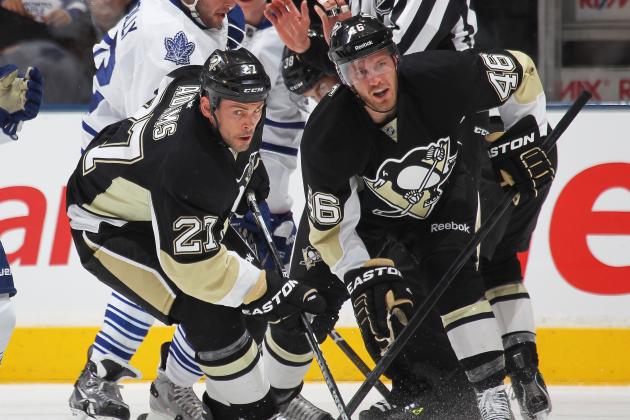 Claus Andersen/Getty Images

Like any other team's fourth line, the Penguins fourth line is going to be bold and brash. These guys are willing to do whatever it takes to protect their teammates and play their hearts out night in and night out.
I also like that the shot-blocking ability these guys possess as it is one of the more underrated aspects of the game and just illustrates their fearless nature.
The Pens are not going to be scoring many goals with these guys on the ice, but they can be assured that this line will not leave any opponent who touches the puck unscathed.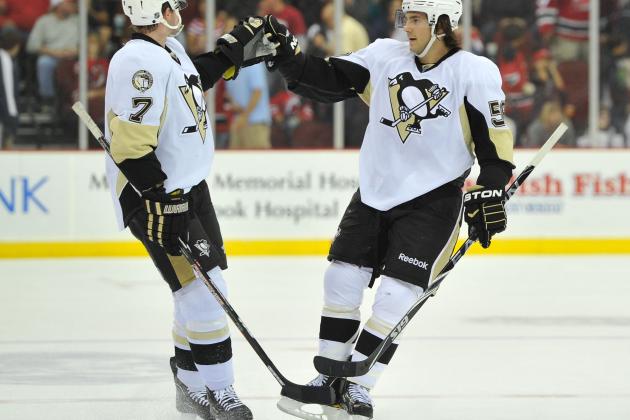 Christopher Pasatieri/Getty Images

I believe the Pens will stick with the top defensive duo they utilized in last year's disastrous playoff series against the Philadelphia Flyers.
Kris Letang boasts tremendous skill offensively and defensively. Paul Martin has not been the most talented defender on the Pens roster since coming from New Jersey. However, his great hockey sense and awareness allows Letang to take some risks and contribute on offense.
The Penguins will be rolling out a very talented top defensive line come the start of next season.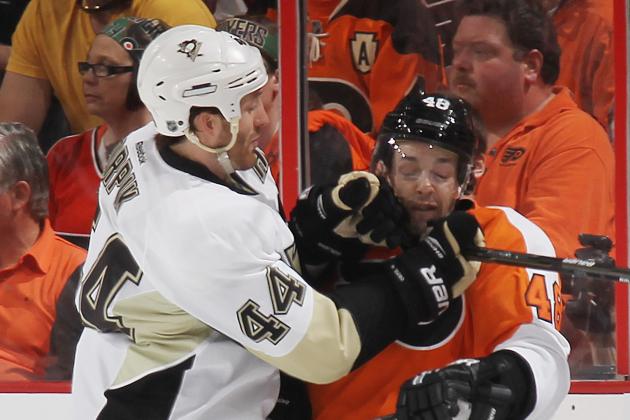 Bruce Bennett/Getty Images

Similar to the Pens top defensive line, this line features a talented two-way defender and a great defender.
Niskanen has shown that he can produce on offense, while playing well on defense as he notched 21 points and was a plus-nine in 75 games last season. Niskanen's ability to contribute offensively will only be enhanced by the presence of the always reliable Brooks Orpik.
These two will be a hassle for any team the Pens play next season.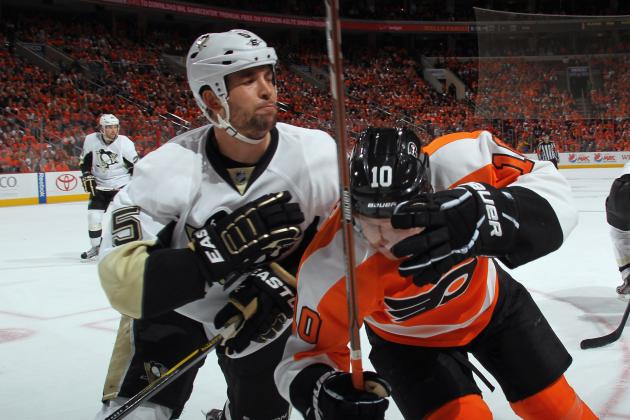 Bruce Bennett/Getty Images

Deryk Engelland and Ben Lovejoy are both products of the Penguins great farm system. As a result, both have developed into hard-working, dedicated defenders.
As of last season, they hold a combined career plus-minus of 25. Hence, their presence on the ice has been positive for the Pens.
Although Engelland and Lovejoy have been shaky at times, they both have progressed and demonstrated that they are capable NHL defenders.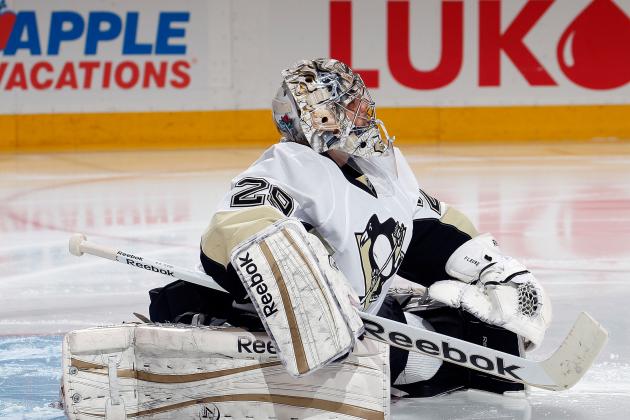 Paul Bereswill/Getty Images

Marc-Andre Fleury will surely be the man between the pipes to start next season. I expect a dominant season out of the "Flower" as he is looking to bounce back from a horrendous playoff series against the Flyers this past season and reestablish himself as an elite goaltender.
Fleury has shown an ability to comeback from poor stretches of play, most notably the start of the 2010-2011 NHL season. After starting the season 0-6-1, he rebounded and finished the year 36-20-5.
The Penguins should not have any worries regarding their situation in goal to start the next season.
Have any questions or comments? Please post them in the comment section below or contact me via Twitter @ryan_tactac.