Fantasy Football 2012: 6 Lessons Learned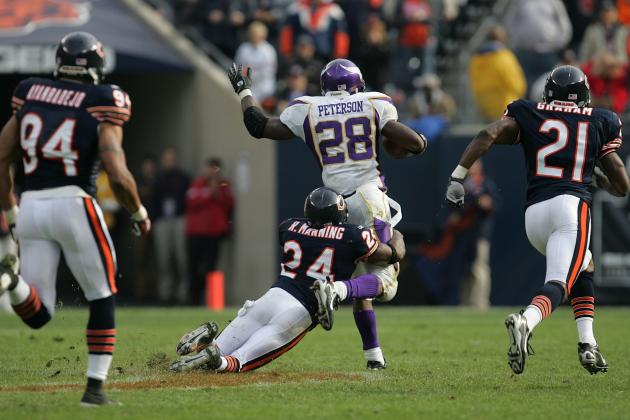 Jonathan Daniel/Getty Images

In order to be successful, you have to evolve and adapt. This is true in many facets of life including business, relationships and, of course, fantasy football.
Just as cultures change within sports, the truths about fantasy sports also change. A few seasons ago it would be laughable to think that a tight end could be a vital component to a championship team or that a running back may not be the key cornerstone of a team.
Since things change, it is important to learn from each season to guide us in the decisions we make next season. This article focuses on the things I learned from this past season (some more pertinent than others) and looks at how these lessons can be applied to next season.
Begin Slideshow

»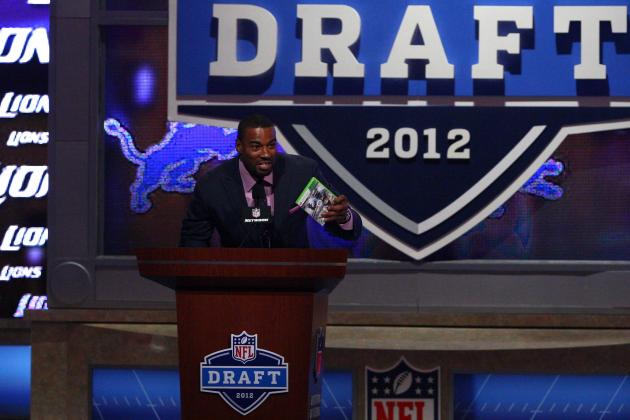 Chris Chambers/Getty Images

This lesson is certainly more of a personal lesson than a general lesson about participating in fantasy football, but I had my first experience in a live offline draft and came away absolutely enamored with the concept.
If you've done a live online draft, you are undoubtedly familiar with the following issues:
Technical issues that render you unable to make your pick.
Players not "showing up" for the draft and the auto-pick either taking a player that you wanted and probably could have picked up later or drafting a ton of kickers for the absent player, weakening their team as well as their interest in maintaining their team for the season.
Opponents taking the player you want, not because they are aware of the player and how spectacular you know he can be, but because he is atop the automated computer rankings.
Smack talk is less effective in a small computer chat box.
Alternatively, being present in a draft setting carries with it a human element, ratcheting up the intrigue both in the team you are drafting and the teams that others are drafting.
When you are at home, in front of a computer, you are without the benefit of hearing the genuine reactions to your picks. There is little more satisfying than taking Brandon Marshall in the fourth round and having the person picking after you organically react in agony, as opposed to collecting themselves and responding in a more reasonable, subdued chat message.
This type of draft is perfect for the enthusiastic and informed fantasy player as it removes the convenience of a draft room with preorganized rankings and easy-to-access snippets about each player. Drafting without these safety nets feels more like a true test of your football knowledge and makes the concept of making a "steal" more rewarding. Ultimately, it feels like your team is comprised mainly of the players that you want and not simply a result of where you picked in the draft.
Of course, the option to do live offline drafts is hindered by people's schedules and often an unwillingness to be without the convenience, but if ever you have the opportunity to participate in such an event, I would certainly recommend it.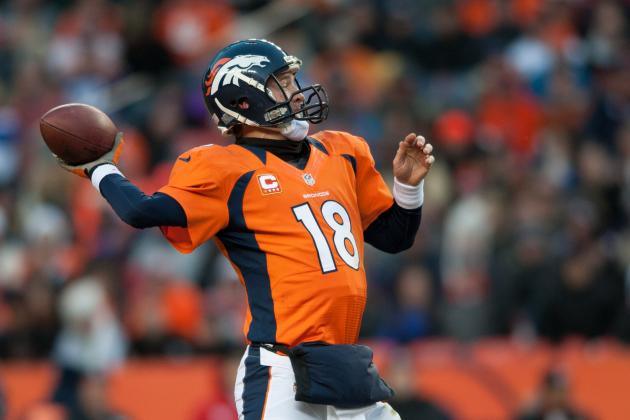 Dustin Bradford/Getty Images

If you are like me, the majority of people who were in seasonal fantasy championships this year were people who were bold enough to draft either Adrian Peterson or Peyton Manning. I was one of the latter and was carried by Peyton Manning to the championship.
The frequency with which these two players were in the championship gave me a greater understanding of the function of taking calculated risks in the draft room. In a mock draft done on foxsports.com, A.P. was taken in the third round and Peyton was picked up in the middle of the fourth.
Any experienced fantasy football player will tell you that the picks in these two rounds are hardly throwaway picks, typically going a long way toward determining the success of your team.
Spending your third-round pick on a running back who tore both his ACL and MCL at the end of last season or spending your fourth-round pick on a quarterback who has been out of the game for a season due to multiple neck surgeries are both high-risk/high-reward prospects, which ended up paying dividends for the people who picked them up.
Of course, there is a reason this section is not simply titled "Take Risks."
If you are going to use a high draft pick on a player that could end up on the sideline, you should have some significant reason behind your decision.
In my decision to take Peyton Manning, it was not simply with the hope that he would play; it was because I believed that he was intelligent enough to only put himself on the field if he knew that the risk to his health was minimal. Of course, there was still the significant chance that he could have taken a hit that ended his season, but because of an understanding of the situation, it was a risk that ultimately was worth taking.
Similarly, Peterson scared a lot of people away, due to the rarity of cases wherein running backs have come back from this type of injury with a great deal of success, especially in such a short time frame.
However, Peterson does have the reputation of being intense with his workout regiment and was progressing more quickly than expected through the phases of recovery. Again, this could have backfired had A.P. fallen early in the season, but certainly paid off for players willing to take a risk on him.
As always, the key is being informed. It is easy to play it safe and just avoid players with significant injuries, but being willing to take risks can be the difference between having a decent season and dominating your league.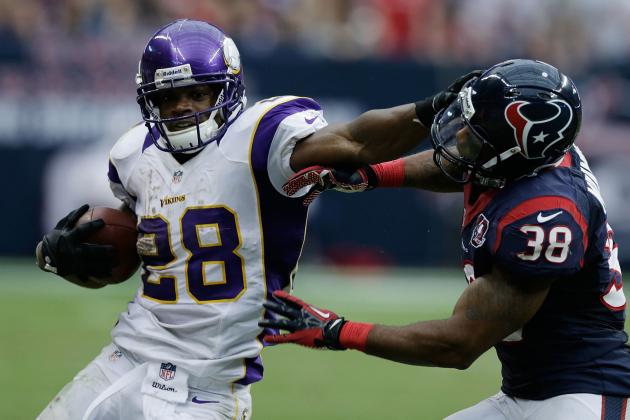 Scott Halleran/Getty Images

Since I first began participating in fantasy football, the running back has been perceived to be the most valuable position. Originally, this was due to the fact that, other than quarterbacks, rushers are the only position where touches are guaranteed and they often served as the determining factor for how far your team went due to high profile backs being the emphasis of many NFL teams.
Players like LaDanian Tomlinson, Marshall Faulk, Shawn Alexander, Clinton Portis and Tiki Barber were alone in the backfield, making them the cornerstone of their team as well as a cornerstone of your fantasy team.
The rationale behind drafting running backs has changed with a majority of teams moving to systems that incorporate two running backs. This is frustrating for fantasy players since they are unable to pick up a running back and be assured that they will be the featured back. What I've learned from this year is that a running back may not serve as the same cornerstone for a team, but it is still vital to pick them up early, as there are stark drop-offs between tiers.
It should come as no surprise that Adrian Peterson rounded out the season with the most fantasy points among running backs, finishing with 404 fantasy points in the example league. This yields an average of 25.3 fantasy points per week, in effect putting him in his own tier.
The top player on the next tier drops 61 points to Arian Foster, who finished with 343 fantasy points after averaging just more than 21 fantasy points per week. Joining Foster in this second tier are Doug Martin, Alfred Morris and Marshawn Lynch, who scored 330, 324 and 323, respectively.
After Lynch, the third tier is led by Ray Rice, who scored 284 fantasy points after averaging 17.8 fantasy points per game. There are only four other players who scored more than 250 fantasy points (Stevan Ridley 279, C.J. Spiller 275, Jamaal Charles 274 and Frank Gore 264), averaging just a little more than 10 points per game less than Adrian Peterson.
What this shows is that it is difficult to compile a strong running game with the significant drop-off between tiers.
While running backs are typically not the cornerstone they once were, waiting a few rounds to draft your first running back or waiting too long to build depth at the position could prove costly in the long run. The next two sections of this article will show that it is possible to wait on quarterbacks and wide receivers, which makes an early focus on running backs possible and necessary for the success of your fantasy team.
*All stats compiled from a single non-PPR CBS Sports Fantasy League in which the scoring is mostly standard except for a bonus point counting for first downs. The stats include the entirety of Week 1 of the regular season to Week 17.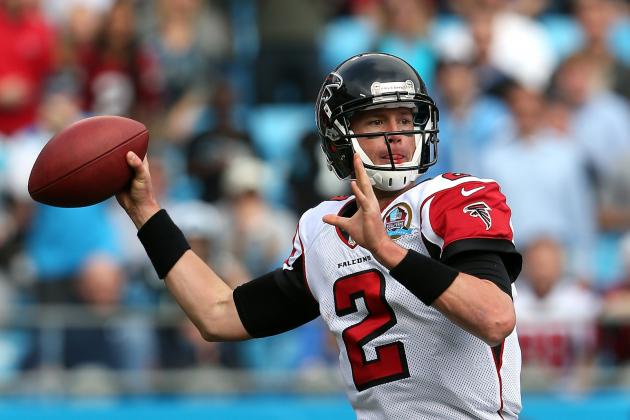 Streeter Lecka/Getty Images

With the league becoming more and more pass-oriented, it may seem logical that quarterbacks would be the most valuable commodities for the fantasy football player. While it is true that you want a strong presence at the position, this past season shows that it may not be all that difficult to acquire a strong player at that position, even if you wait a little bit in the draft.
There was an obvious top tier in quarterbacks this year, consisting of Drew Brees (484), Aaron Rodgers (483) and Tom Brady (473). All three of these players averaged 30 fantasy points per game.
The second tier is comprised of those quarterbacks who scored between 400 and 450 fantasy points (Cam Newton, Peyton Manning, Robert Griffin III and Matt Ryan). The lowest player on this tier was Matt Ryan, having scored 418 fantasy points over the course of the season. This point total gives him an average of 26 points scored per game, only a point-and-a-half lower than Cam Newton at the top of the four-man tier and only four points per game less than Drew Brees at the top of all quarterbacks.
The third tier was comprised of four quarterbacks (Tony Romo, Andrew Luck, Russell Wilson and Matthew Stafford), with yearly totals ranging from 388 (24.3 per game) to 371 (23.2 per game). At the low point of this tier, we have reached the 11th quarterback, almost enough to almost supply every team of a 12-team league with a starting quarterback and from top to bottom; there is only a difference of seven fantasy points per game between the two extremes.
Of course, in a draft situation, if you start to notice quarterbacks being taken rapidly, you are going to want to make sure you have a player that you believe can be a top-12 player, but with the stark drop-off for running backs, it would certainly be worth sacrificing one or two tiers for a quarterback to ensure that your running back position is taken care of, especially if you are able to get a top-tier rusher.
*All stats compiled from a single CBS Sports Fantasy League in which the scoring is mostly standard except for quarterback touchdowns being worth six as opposed to the four in typical leagues.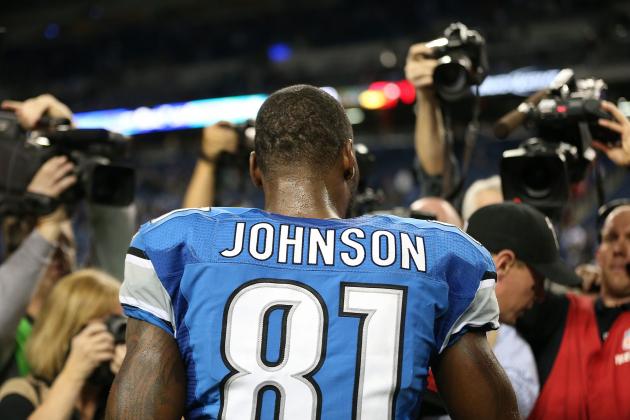 Leon Halip/Getty Images

The pass-oriented nature of the NFL has implications for both quarterbacks and wide receivers. For fantasy players, the yardage and touchdowns that receivers are able to accumulate has changed their role on fantasy rosters to some extent. There are a few very important things to remember when considering drafting wide receivers.
Most rosters require two wide receivers to be played and also allow for a flex player, typically either a running back or a wide receiver. With the extreme lack of depth at the running back position, it would be wise to build depth at the receiver position through the draft.
The wide receiver is the most dependent player on an NFL team. Logic dictates that it is difficult for a receiver to get the ball if he does not have a capable quarterback and it is also difficult for a quarterback to deliver the ball without a decent offensive line, to the detriment of the wide receiver. It also stands to reason that a receiver has a diminished chance of success if there is not another receiving threat to divert defensive attention. Of course there are exceptions to this rule, but I am sure owners of Larry Fitzgerald, Jeremy Maclin, Justin Blackmon and Dwayne Bowe would argue that they wish their receivers had been in a better situation this season.
As stated in a previous slide, the running back position is most crucial because of the lack of depth available. With that being the case, the wide receiver position is the second most vital because of the depth necessary.
This season, Calvin Johnson stood alone at the top, amassing 319 fantasy points in the example league, averaging 20 fantasy points per game. One step below him was Brandon Marshall, scoring 292 points over the course of the season, averaging 18 points per game.
This is certainly the top tier of wide receivers and is indicative of the only type of receiver who should be considered with first-round picks. As tempting as it may be to jump on these players, it is arguable that a wiser move would be to take an upper-level running back.
Following this advice may render it impossible for you to acquire the likes of Johnson or Marshall, but the drop-off from receiver to receiver is not that severe.
Passing up on Calvin in the first round to pick up a running back would have left you to pick up a receiver in the second. This receiver could have potentially been of A.J. Green or Andre Johnson's caliber, which would have only cost four points a game below Calvin, with the benefit of picking up an upper tier running back, an action which we have established, should be a priority.
After the top tier, the remainder of the point totals for wide receivers drops rather gradually with very few stark drops and therefore no well-defined wide receiver tiers. This does not mean that one should be slow in picking them up, but rather that fantasy players should be informed enough to be confident in their wide receiver picks so that they are making the most efficient picks at the position possible.
Perhaps that sounds like simplistic advice, but with wide receivers being the position that will most populate rosters, it is important to make the most efficient picks, which take team situation, injury history and upside into consideration.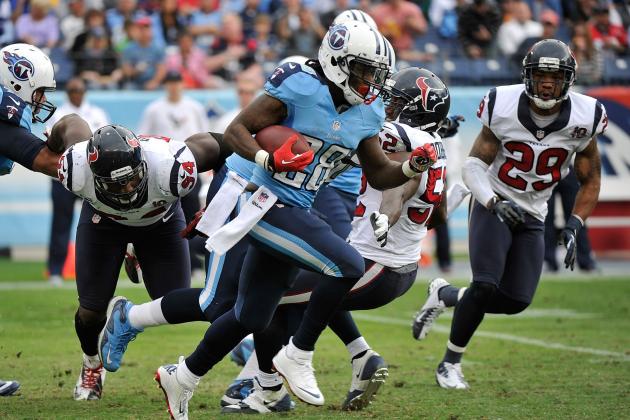 Frederick Breedon/Getty Images

In regards to fantasy football, I have always been a terrible trader. I always subconsciously assume that the person I am trying to make a trade with can read through the proposal and can see my true intentions for what they really are. I also make the assumption in these trading scenarios that the person has all of the same knowledge that I do, rendering me incapable of making an argument, leaving my team stagnant.
With this in mind, I decided that I needed to come up with some idea of a mindset that can make a trade possible and the most simple understanding I could come to is the difference between perceived and actual player value.
The easiest way to exemplify this is by giving two potential scenarios from this past season, showing both the "sell high" and "buy low" strategies that may be employed.
Buy Low
There are few bandwagons that have ever cleared as rapidly as that of Chris Johnson.
A few years ago he was the hottest commodity in fantasy football, the surest No. 1 pick since the days of LaDainian Tomlinson's reign. Since then, people have been disappointed by his lack of production, especially those who have him on their fantasy rosters.
The disappointment has not changed the fact that there will still be fantasy owners who take him with an early pick.
This season, that pick led to scores of six, three, and five in the first three games of Tennessee's campaign. An attentive, peripheral owner may have seen this and been able to predict that an owner who spent a high draft pick for that kind of production would likely be frustrated. Johnson's owner would likely be willing to listen to most any offer, just to get something out of a wasted early pick.
Sell High
This season certainly began strong for the Arizona Cardinals and also for Larry Fitzgerald. Upon returning from injury in the third week of the season against Philadelphia, he posted performances of 22, 18, 13 and 21 points. With Arizona's early strong showing and the name of Larry Fitzgerald, these numbers were certainly enough to build up his perceived value.
The savvy owner may have recognized that the team really may not be as strong as they made it seem early on and defenses may, with more tape on John Skelton, be able to better take away his connection to Fitzgerald.
An owner would know that Fitz's stock would not rise much more than it presently was, so that would be the time to offer him around the league. Granted, this would have taken a great deal of foresight, boldness and understanding of the situation, but it is an example of a time in which perceived value may not have matched actual value.
Again, this is a lesson that I had to learn myself and is likely already in the arsenal of many experienced fantasy players, but it does reflect the need to fully understand what you have as well as what your opponents have on a given roster.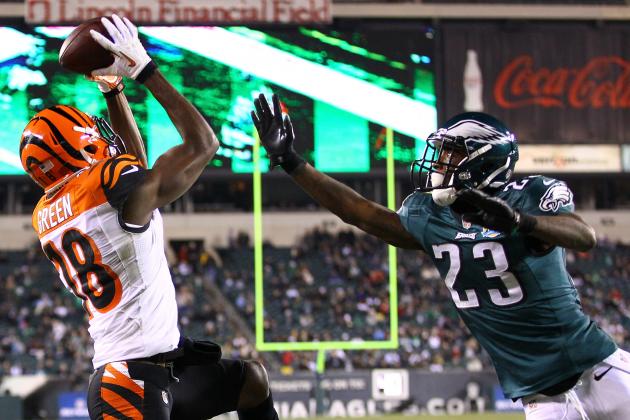 Al Bello/Getty Images

To succeed in anything, it is important to best understand the nature of a given situation and to evolve over time as changing trends warrant. In fantasy football, that requires paying attention to how NFL trends shape fantasy owners potential draft strategies and roster needs. Those who play fantasy football continue to learn and evolve in order to adapt their game to an ever-changing NFL.