College Football: 5 Coaches Who Should Scare Nick Saban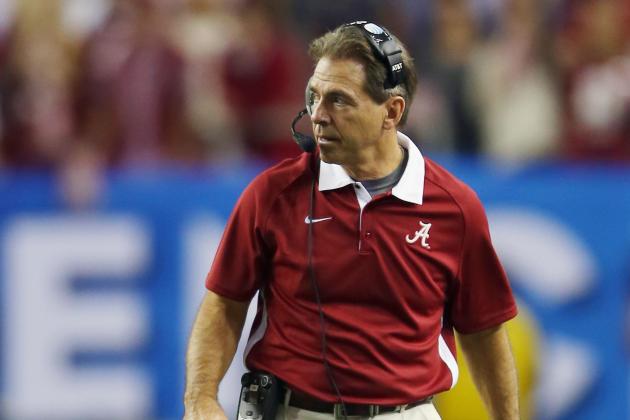 Mike Ehrmann/Getty Images

Upon stepping back and looking at his career and personality, Nick Saban probably isn't scared or fazed by many things.
Big games? Nope.
Recruiting? Nope.
The laundry lists continues as Saban is one of the best college coaches in the country, if not the best.
However, there has to be something that irks the rigid coach...ah, yes, the spread offense.
Considering his defensive and methodical approach, spread offenses, no-huddle and fast-paced style of play isn't something Saban should necessarily enjoy.
With that being said, let's take a quick look at some coaches that would be inside Saban's mind all week leading up to a potential game.
Begin Slideshow

»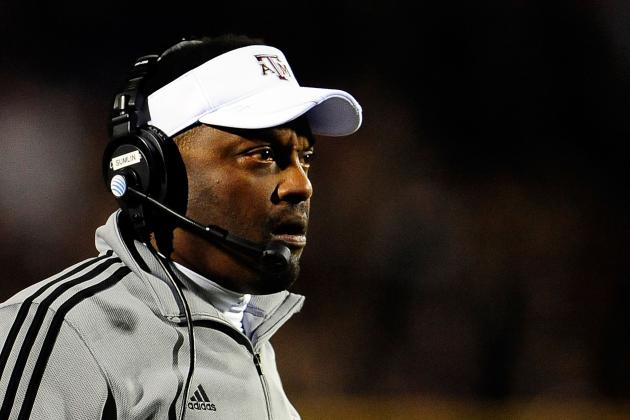 Stacy Revere/Getty Images

After operating a high-flying offense at Houston, Kevin Sumlin was a hot product on the coaching carousel last offseason.
Texas A&M landed a fantastic coach when Sumlin came to the Aggies and the SEC—including Saban—probably won't like that heading forward.
Sumlin and his Aggies were No. 3 in the nation in average points per game this season (44.8), scoring under 20 points just two times (against Florida and LSU).
Not only that, but Saban has also seen Sumlin's spread attack in person this year and it's safe to say he didn't like the result—a 29-24 defeat.
In the game, the Aggies wore down the Crimson Tide's defense with a speedy, high-octane offensive attack.
If that contest is any indication of what to expect in the coming years, Saban will be a shoe-in for some migraines.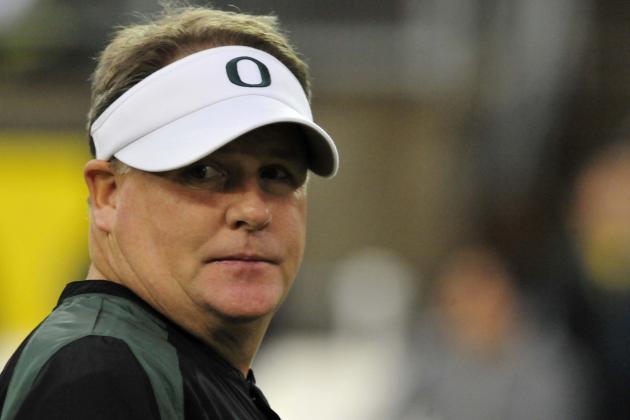 Steve Dykes/Getty Images

Whenever "speed" is brought up in college football, one name comes to mind: Chip Kelly.
Kelly, who has been the head coach at Oregon since 2009, is widely considered one of the most innovative and imaginative minds in college football.
The coach has for the past few years established Oregon as probably the most flamboyant and wild offense in the country.
Whether it's through read options or quick slashing screens, Kelly has utilized swift, athletic playmakers to destroy opposing defenses—and most of the time, it's not even fair.
This year Kelly's offense has generated an average of 50.8 points per game.
That's absurd.
And while a premier Alabama defense would be able to stifle Oregon a bit up front, the unpredictable and unheard of schemes by Kelly could definitely throw Saban off.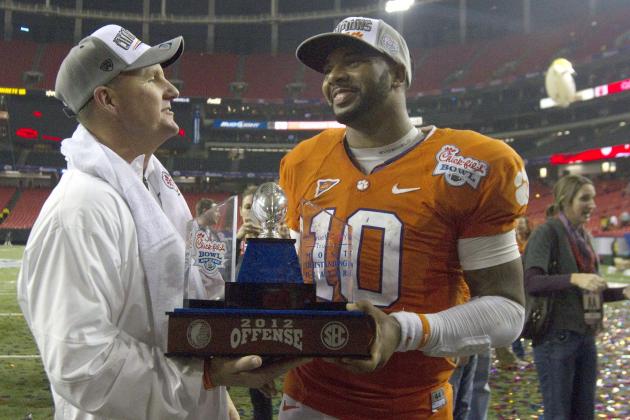 USA TODAY Sports

You might be thinking, "Isn't Dabo Swinney the head coach for Clemson?"
Yes, he still is, but the coach on Clemson's staff that Saban would be scared of is the Tigers' offensive coordinator, Chad Morris.
Morris, who has garnered head coaching looks this offseason, is a guy who loves to spread the ball around and create options in the passing game.
The coordinator took quarterback Tahj Boyd and turned him into a potential NFL quarterback and continues to prove himself worthy of the coaching carousel talk.
Also, he lead the Tigers to a 25-24 defeat of LSU in the Chick-fil-A Bowl. That's the same LSU team that allowed 20 or more points only three times all season long.
In the game, Boyd threw for 346 yards, and Clemson had three different receivers snag eight or more receptions (aka, spreading the ball around).
Whether Morris is a coordinator or head coach, Saban should stay away from whatever team Morris coaches.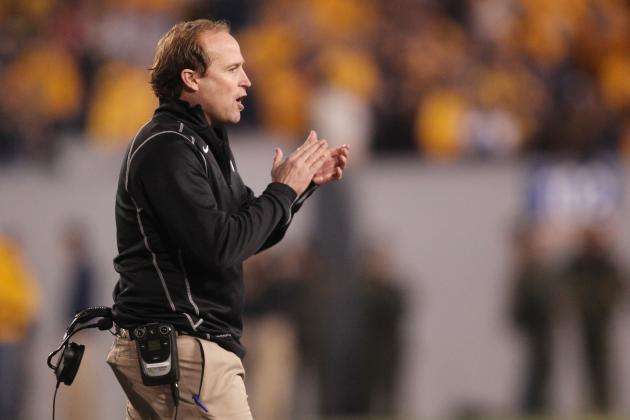 Charles LeClaire-USA TODAY Sport

So, West Virginia started off the season pretty hot (5-0 with Geno Smith as a lock for the Heisman) and ended abysmally (losing six of the last eight games of the year).
However, that still doesn't mean Dana Holgorsen isn't a feared offensive coach.
While the Mountaineers dropped the ball in their biggest test against Kansas State this year, Holgorsen still led West Virginia to generate about 40 points per game on a consistent basis.
And not only does Holgorsen know how to utilize gifted receivers, but he also knows how to call in passing plays—a lot.
Whether the Mountaineers are winning or losing, it doesn't matter: A Holgorsen-run team is going to chuck the ball all around the field.
Even though Saban is a better coach that Holgorsen in my opinion, I believe that an offense like the Mountaineers could beat a stiff Alabama defense if things fall into place.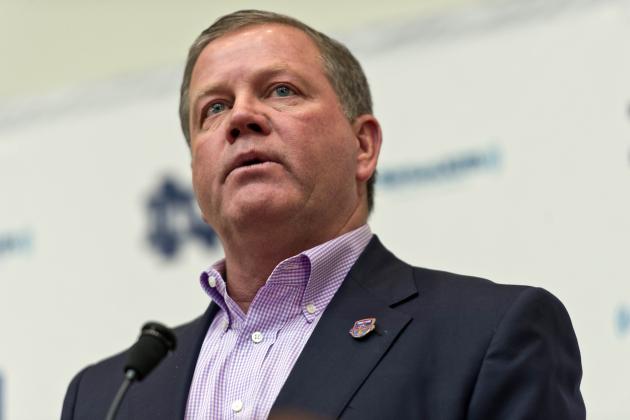 USA TODAY Sports

When looking at this past year in college football, one thing is apparent: Brian Kelly is one hell of a football coach.
Whether it's play-calling or rightfully utilizing freshman quarterback Everett Golson, Kelly has pulled all the right strings this year and will try to do the same against Saban in the national championship game.
With that being said, Saban should at least be worried about how Kelly can impact the game as a head coach.
Even though he doesn't run a spread style, the fact that Kelly has made fantastic decisions this year to lead a less-than heralded preseason team to the 'ship is pretty impressive.
Bottom line, Kelly's coaching chops will be put to the test against Alabama in Miami, but for the time being Saban should be concerned with the Irish lead man.