Jerry Jones: One Dallas Cowboys Move That Would Make Him a Genius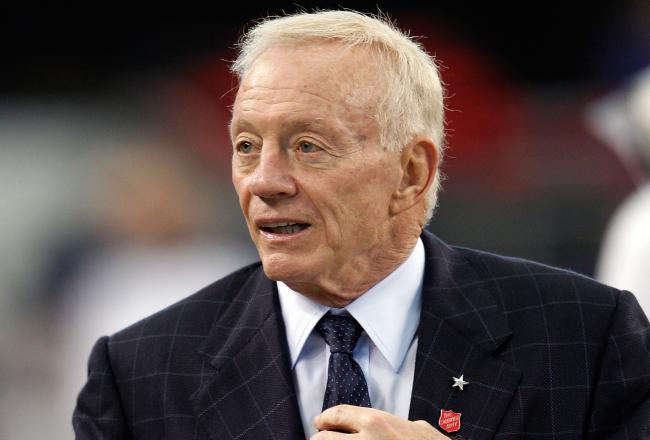 Tom Pennington/Getty Images
Dallas Cowboys faithful are once again wondering what Jerry Jones will try this time to break out of this cycle of mediocrity. The good news is that there is a perfectly simple and rational plan that can get this team back into contention for Super Bowls. And it doesn't require massive spending in free agency, which is good, because Dallas will have limited funds this year.
So, in this season that other teams call the playoffs, lets take a look at the one step that is required for the Cowboys to finally get back into championship form.
Either Fire Jason Garrett or Give Him the Big Ultimatum

The big ultimatum sounds like this: "We bring in an offensive coordinator versed in either the Patriots, Saints or Packers system and you give him free rein to run a wide open offense or you can pack your bags."
This is the only rational choice, because the old Coryelle-Zampese-Turner offensive system just doesn't scare defenses anymore. Norv Turner ran it for years, he was just fired. Cam Cameron ran it for Baltimore. They fired him before the season was through.
Word is that they were unhappy with his unwillingness to run the hurry-up offense more often. Why would that be, if it weren't too easy to shut down at regular speed?
Those were the only two remaining coaches aside from Garrett that run this system and they were both fired.
When Garrett was first hired as offensive coordinator in 2007, he had a great season. Dallas finished as the third best offense (yards per game) and the second best scoring offense.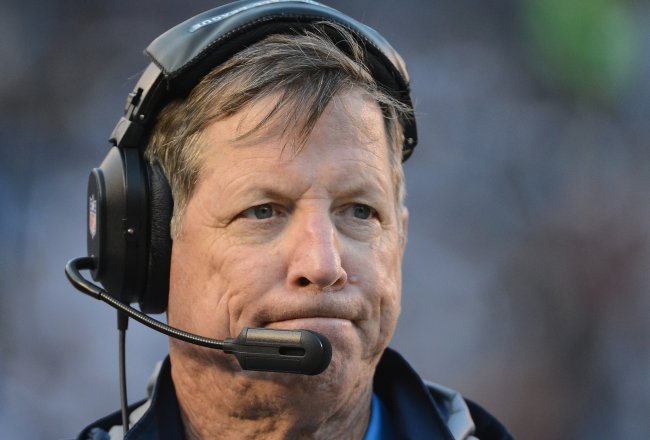 Norv Turner Fired at Close of Season
Harry How/Getty Images
What made that season such a strong offensive showing was that yards accumulated and points accumulated were in sync. This wasn't just an offense that put up lots of yards but couldn't score.
At least not in 2007. But, now in 2013, it's clear this offense is all yards and few points. A look at the road traveled since 2007 shows that this is an offense which opposing defenses have figured out:
In 2008, Dallas dropped to 13th in total yards and 18th in total points.

In 2009, Dallas was the second best yardage team, but only 14th best in total points.

In 2010, Dallas finished seventh in yards and seventh in points. This was the "give up" year that cost Wade Phillips his job. Romo was lost early in the season. Most of the points and yards were a function of coming from behind all year because the defense flat-out quit.

In 2011, Dallas finished 11th in yards and 15 th in points.

For 2012, Dallas finished 6th in yards, 16th in points, 27th in turnover ratio and 31st in rushing.
The failure to score points has now become the most obvious characteristic of this offense. In San Diego, Norv Turner finished 20th in total points and was fired. He also finished last in total yards.
Folks, this is an offensive scheme has crashed and burned. It's time to walk away from the wreckage and make a commitment to a scheme that works in 2013.
And if you're going to do that, why on earth would you look anywhere else than the Patriots, Saints or Packers? These teams have consistently led the league in scoring for years now.
If you're unwilling to steal from the best, you're unwilling to win.
Dallas has the pieces to run any of these schemes. They need to continue upgrading their offensive line, but the offensive weapons are there. They just need to be deployed in a scheme that other teams can't shut down so easily.
Lets look quickly at each of these offenses:
Patriots
Bill Belichick's system uses two pass-catching tight ends, liberal use of spread formations and a hurry up offense to keep defenses on their heels. It works fantastically. They led the league in scoring and it wasn't even close. They put up 557 points. Next closest was Denver who scored 481. Dallas scored 376, a full 181 points fewer than the leader.
Dallas can run this system. With Witten still in his prime and James Hanna coming on, Dallas can attack defenses with two tight end formations that shift from strong run looks to strong pass formations in the blink of an eye. Once the opposition has sent out its run stoppers, you go no-huddle and you prevent them from substituting while you march down the field hitting Witten, Hanna, Miles Austin and Dez Byrant. You mix in a few runs with Murray and of course, you also mix in plenty of spread formations with Dwayne Harris and Cole Beasley.
Packers
With the Packers, it's all about their wide receivers. They run enough to keep people honest, but this is a west coast system that just kills its opponents with a constant, attacking pace. No one throws more slants and crossing patterns than the Packers. These set up the defense for the long ball, which inevitably comes after the defensive backs move closer and closer to the line to try and stop the bleeding from the slants and various shallow routes.
Dallas has seen Harris emerge this year, and Bryant has taken the next step. With Bryant, Austin and Harris, plus Witten and Hanna, Dallas has plenty of talent to run the Packers scheme. When Dallas chooses to run, they will do it with a far better back than the Packers have had in recent history.
Saints
Much speculation surrounded Sean Payton's brief free agency, but ultimately, he signed with the Saints once again. That's too bad for Dallas, but they could still find someone to run his scheme if they so desired.
Again, all the pieces are in place. What the Saints do better than anyone, is involve their running backs in the passing game to the extent that it sets up the safeties and linebackers for big plays to Jimmy Graham and their wide receivers.
When the Saints torched Dallas, they did it by throwing 15 passes to their backs, plus the usual allotment to Graham, Colston and others. Meanwhile, Garrett threw only four passes to Murray.
Basically, it works like this: if the defense doesn't adjust to the backs catching passes, you keep doing it. Both of the Saints top receiving running backs, Darren Sproles and Pierre Thomas, average around nine yards a reception. If defenses don't adjust, it's like stealing. When they do adjust, Brees burns them with a deep ball to any of several weapons.
Dallas has two excellent pass-catching running backs, yet they seldom throw more than a handful of passes to them in a game. Typically it's about four or five. During the 2012 offseason, we heard from Jerry Jones that they were going to run more screen passes.
It never happened. Dallas continues to be a very poor screen team. It seems clear at this point that this is on Garrett. He doesn't really know how to implement it like Sean Payton.
But it's not just about screens or dink passes to backs in the flat. It's about stubbornness on the part of Garrett that his scheme is the best, despite all evidence to the contrary.
The Big Crossroads
What we know now, in 2013, is that Tony Romo and the Dallas Cowboys are at a major crossroads. The last interception in the Redskins game has Romo's biggest apologists walking away from him. Everyone is beginning to believe he truly is a choke artist.
The time is now for a clean break. Not from Romo, but from the system that has dumped everything on his shoulders year after year. Maybe he does crack under the pressure. His ribs certainly do.
The time has come to give Romo a system that allows him to put up so many points in the first 58 minutes of the game that we aren't looking to him to perform miracles so often in the final two minutes.
Dallas finished 29 th in the league in first half scoring. New England and New Orleans finished first and second.
Dallas finished first in the league in fourth quarter scoring, though. Why? Because they had to abandon Garrett's original plans that weren't working, open up the offense and hope Romo could work his magic, which he usually did.
What Romo, the Jones family and the Cowboys fandom need going forward is a system that scores lots and lots of points in the first three quarters. If Jones will simply make the wise choice and insist on any of the three suggested schemes, Dallas can get back to contending for championships.
This article is
What is the duplicate article?
Why is this article offensive?
Where is this article plagiarized from?
Why is this article poorly edited?

Dallas Cowboys: Like this team?