Real Betis Balompie S.A.D. has been named the first La Liga BBVA Team of the Week for B/R in 2013. The reason is its rich history which is seldom mentioned outside of Spain.
Real Betis was founded in Sevilla, Spain on September 12, 1907 according to its webpage in Spanish. The first President was Alfonso Castillo de Ochoa.
The club started to attract attention after winning the Copa De Sevilla in 1910, 1911, 1912, and 1915. It won the Copa De Andalucia in 1910 as well. Alfonso XIII, at the time King of Spain, awarded the Real title in 1914.
During the 1920s, the club was in a general decline until the 1930s. Real Betis was promoted to the Second Division in 1928.
During the 1930s, the club experienced a golden age in its history. Betis (the Real was removed during the Spanish Republic of the 1930's) was promoted to the First Division.
After their promotion, Betis won the 1934-35 La Liga title after defeating Santander in the finals. Unfortunately, the golden age came to an end with the Spanish Civil War.
After the end of the Civil War, Real Betis descended into the Second Division. The reason being that the team competed in the 1939-40 season when other La Liga teams decided to reorganize.
Real Betis eventually descended into the Third Division and decline until 1958, then later that year returned to the First Division following a defeat of Sevilla.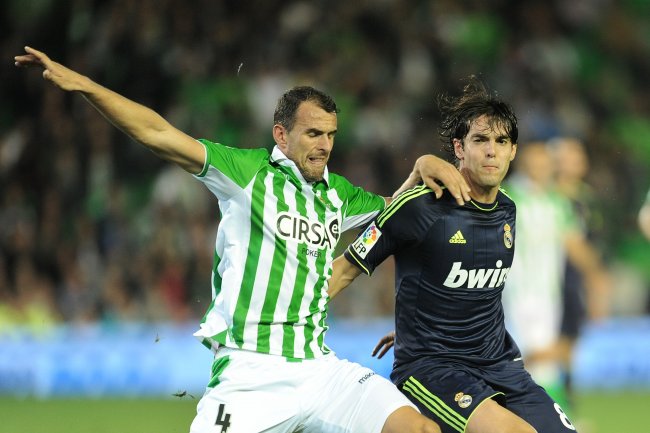 Denis Doyle/Getty Images
The 1960s and 70s were another golden era for Real Betis. The names of Rogelio Sosa and Rafael Gordillo were associated with this era.
Real Betis won the Trofeo Carranza and participated in the Copa de Ferias. It was also champion of the Copa Del Rey in 1977 after being sub-champions two times.
The club suffered from economic problems during the 1980s and 90s before Manuel Ruiz de Lopera managed a financial reorganization after purchasing the club in 1992.
Real Betis enjoyed great moments between 1992 to 2012. One example was the UEFA Europa League match against Vejle BK of Denmark on September 29, 1998.
The result was a five-goal victory over the scoreless Danish club.
Present Time
Real Betis is currently in fifth place in the 2012-13 La Liga tables behind FC Barcelona, Atletico Madrid, Real Madrid, and Malaga. The club has 28 points with nine victories, seven losses, and one draw.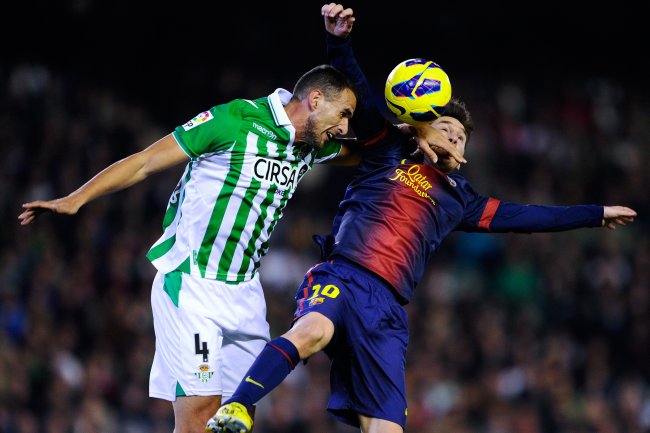 David Ramos/Getty Images
Real Betis currently has 26 goals scored for and 28 against. The goal differential for the club is a -2.
In spite of this, the team recently defeated a scoreless Real Madrid during the current La Liga season. It remains to be seen what will transpire for Real Betis yet they are capable of survival.
My thanks to the BR readers for their time in reading about the latest La Liga BBVA Club of the week. I would like to wish you the best now and always.