NY Knicks Who Benefit Most from Amar'e Stoudemire's Return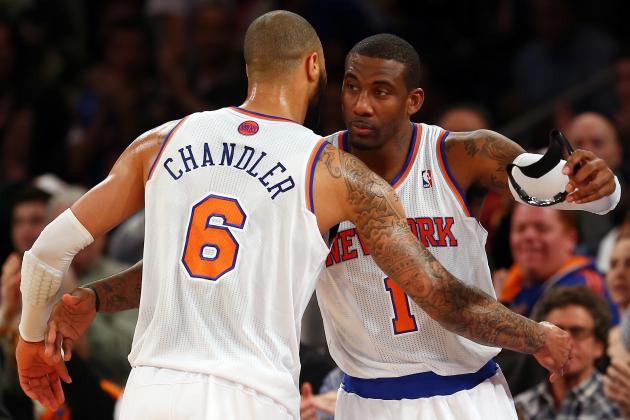 Elsa/Getty Images

Amar'e Stoudemire has finally made his seasonal debut for the New York Knicks this past week.
The power forward has been sidelined all season with a nagging knee injury, and as a result, a lot of guys saw an increase in playing time. However, with STAT back in uniform, these players might not see that ample time anymore, but there are some guys who will heavily benefit from having him on the floor.
You can surely expect to see all point guards numbers to go up, especially if they utilize Amar'e in the pick-and-roll. Keeping in mind that all of the Knicks' point guard options can dish out passes, they're the first to reap the advantages of playing with Stoudemire.
Players in the second unit will also have their benefits from playing with a scorer like Amar'e, who draws attention. Speaking of those who draw attention, rest assured Carmelo will benefit from having Amar'e back.
Begin Slideshow

»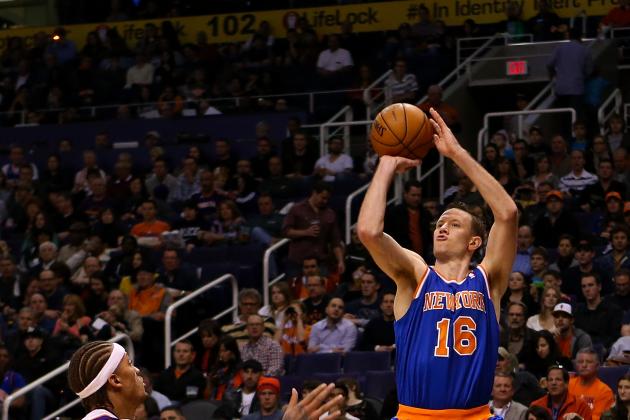 Christian Petersen/Getty Images

Steve Novak relies heavily on his jump shot for scoring, and with Amar'e threatening down low, Novak will have some open looks that he should knock down.
He's in a bit of a slump lately; in eight games, he's only scored 10-plus in one game, and that's a problem for New York considering they gave him a hefty contract for someone who just shoots threes.
Until recently, opponents didn't really have a worry under the basket because New York is 29th in the league—ahead of only the Washington Wizards—with 33.2 points in the paint per game.
Amar'e Stoudemire has the potential to change this.
If he does, in fact, increase the Knicks' points in the paint, opponents will flock to STAT leaving Novak—or any shooter, for that matter—wide open.
For example, if Amar'e Stoudemire is drawing a double team under the basket, he might be able to find Novak in the corner for an open three, and Novak loves to let it fly from the corners.
Benefit? Novak's scoring increases, while New York develops into a multidimensional team.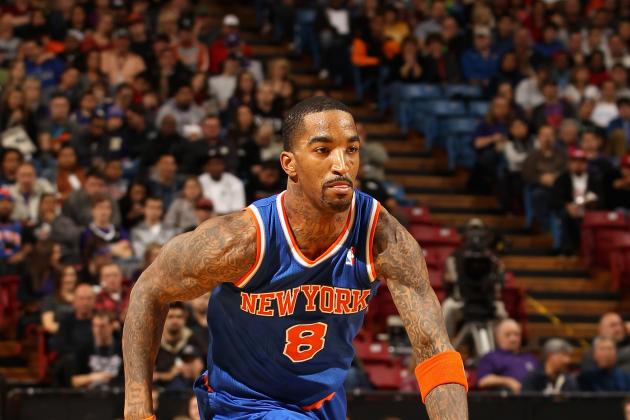 Ezra Shaw/Getty Images

A bench consisting of two scorers should be good enough to pad leads and give starters reasonable resting time—that's what J.R. Smith and Amar'e Stoudemire bring to the Knicks' pine.
J.R. Smith will likely have a ton of open looks if he and Amar'e are sharing the floor on that second unit, particularly if Amar'e's going to channel his inner Hakeem Olajuwon.
You may remember that over the summer Stoudemire worked one-on-one with Olajuwon to develop more of a post game.
Only time will tell if he learned anything.
If Amar'e is going to be in the paint more often, expect J.R. to be open from his favorite spot—anywhere on the court that's wood and in-bounds—and he'll be shooting from the perimeter more than he does now.
You might not expect J.R.'s 16.5 points per game to increase, but you have to understand that he'll be doing a lot more shooting and driving because he'll be on the receiving end often. His assist numbers might even increase when he looks to move the ball down low and feed Amar'e.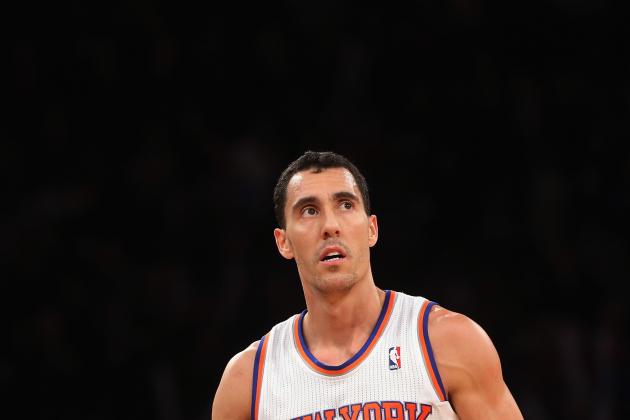 Bruce Bennett/Getty Images

Pablo Prigioni will benefit heavily with Amar'e's return, especially considering the amount of playing time he's set to receive with Raymond Felton sidelined because of that hand injury.
With Jason Kidd being inserted into the starting rotation, Pablo is now the first point guard to come off the bench.
Considering that Prigioni is a pass-first point guard, he'll have a threat to dish off to in Amar'e Stoudemire. Not only will this increase Amar'e's scoring, but it will also allow Pablo to accumulate more assists.
Currently, the point guard is only averaging 2.8 assists per game, and in New York's 31 games, he's only gotten more than five assists on six occasions.
Stoudemire will rejuvenate the 35-year-old rookie, and Prigioni will have a few great games.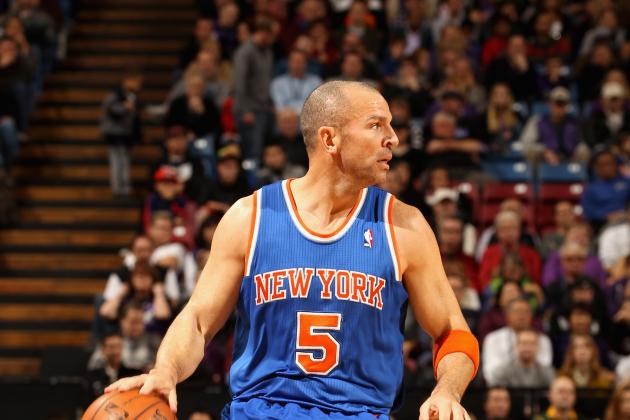 Ezra Shaw/Getty Images

Jason Kidd will go down as one of the greatest point guards in NBA history because he knows how to play his position so well.
He'll be a great facilitator in that very same pick-and-roll with Amar'e Stoudemire, especially down the line when the two are in the Knicks' second unit.
At 39 years old and with 18 years of NBA experience, Jason Kidd has totaled up enough assists to surpass greats like Magic Johnson and Mark Jackson. Kidd comes in second of all-time in that category with 11,953 assists.
Kidd has mastered the pick-and-roll, so working with Stoudemire should come naturally. He has a career average of 8.9 assists per game, and although this season he only has 4.1 a game, the number is sure to go up—especially with Amar'e on the receiving end of alley-oops.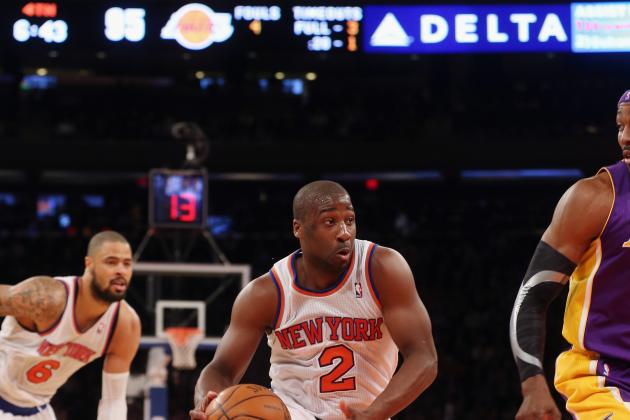 Bruce Bennett/Getty Images

When Raymond Felton returns from his finger injury, expect him and Amar'e to rekindle that old flame for the 2010-11 season.
Whether Amar'e starts or becomes the Knicks' sixth man, he's sure to see some time along side Felton, and that can only mean good things for the tandem—I'm sure you all remember the point guard's first stint in New York playing with Stoudemire.
In 2010, before being traded to the Denver Nuggets, Raymond was averaging nine assists a game, and Amar'e was scoring about 25 points a game.
The two had perfected the pick-and-roll for Mike D'Antoni's system, and there's no reason that they won't be effective in Mike Woodson's system.
If this is the kind of end result fans can expect, surely both Felton and Stoudemire will benefit from playing with each other.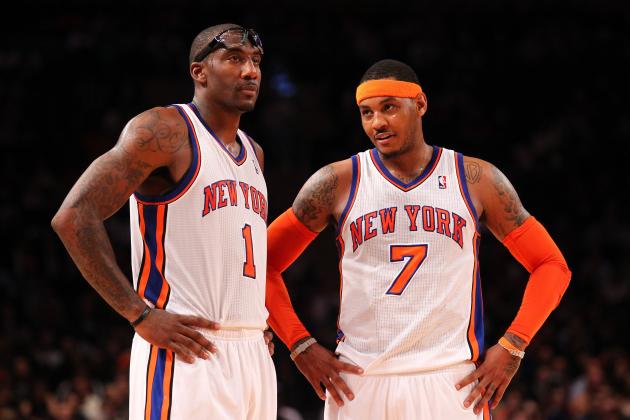 Al Bello/Getty Images

Believe it or not, Carmelo Anthony benefits just as much as anybody from Amar'e Stoudemire's return to the hardwood.
Stoudemire is one of the best pick-and-roll players in the NBA, and because of that, it'll ease some of the pressure placed on Carmelo Anthony. Although the two athletes are referred to as scorers who need the ball in their hands, Stoudemire alleviates some of the stresses of playing in New York because he, too, can score 20-plus points.
Of course, that comes with sharing the spotlight of one of the greatest arenas: Madison Square Garden.
If Amar'e is consistently attacking the rim, or even looking for his sweet 15-foot jump shot, Carmelo Anthony will be left open or have single coverage. Either way, Carmelo can drain this shot wherever he is on the floor.
Without Stoudemire this season, Anthony is averaging 29.2 points and just two assists per game. Carmelo will still put up close to 30 a night, and if he uses Stoudemire properly, he can get that assists average up, too.
Many believe Carmelo's drive and scoring will take a hit with Amar'e's return, but past numbers show that he'll do just fine—last year he averaged 22.6 points in a shortened season.
Carmelo is better with Amar'e returning, contrary to what you may think.