Fiesta Bowl 2013: 5 Most Important Overlooked Matchups for Oregon vs. K-State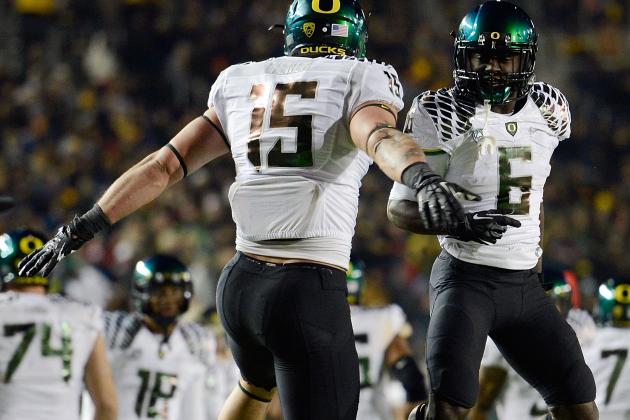 Thearon W. Henderson/Getty Images

November 17 was a day that will live in infamy, at least for the Oregon Ducks and the Kansas State Wildcats. That cruddy day brought losses to the No. 1 and No. 2 teams in the nation, and derailed national championship dreams for both.
Life goes on, and so does college football. Sometimes it's ironic how things work out, and the 2013 Fiesta Bowl is all of that and more. Scheduled to meet in a preseason game that was ultimately cancelled by—fill in the team of your choice here, since there is disagreement on which team really cancelled—Kansas State and Oregon seemed destined to meet.
The coaches and the stars are well-established, and have been getting their share of the pre-game hype. However, there might be some matchups that are being overlooked as media and fans concentrate on the high-profile matchups.
Here's what I came up with.
Begin Slideshow

»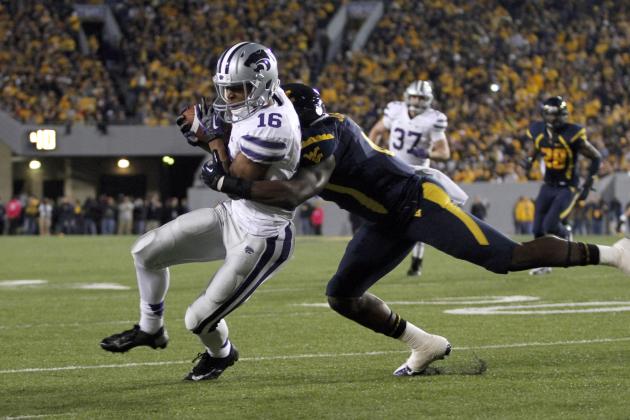 Justin K. Aller/Getty Images

Kansas State's wide receiver Tyler Lockett has 657 yards on 40 receptions this season. But that isn't what scares me about him.
As K-State's primary kickoff return man, Lockett has racked up 532 yards and two touchdowns this season. The sophomore is a natural return guy, and he is a threat each time he touches the ball.
Lockett has averaged over 33 yards per return, good enough for third in the nation. Lockett always gets his yardage, and that should cause some real nail-biting by Duck fans because Oregon's special teams have been, to put it generously, a weak link this season.
The Ducks will score—and probably often—which will mean more opportunities for Lockett. Oregon had better focus on this guy from the get-go, or it runs the risk of trailing after Lockett as he takes it to the house.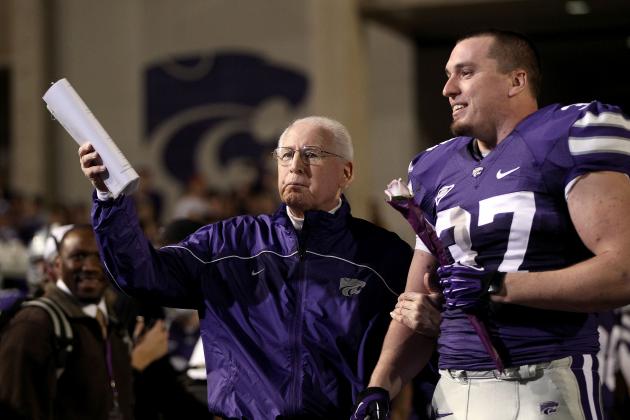 Jamie Squire/Getty Images

I haven't heard many people talking about the matchup of head coaches. This will be two intriguing sidelines, people, with very real style differences.
But first, the similarities. Both Kelly and Snyder took their respective programs to new heights—Kelly over four years, and Snyder over 21 years. They have both turned around programs in dramatic fashion. Both coaches look calm, cool and slightly bemused on the sidelines.
Snyder and Kelly are beloved by their schools and could probably remain head coach until they drop. No doubt both men, at various points in 2012, thought they would be playing on Jan. 7 in Miami. Kelly and Snyder are offensive geniuses, who are creative and make the most of the personnel they have.
There are differences, however. Kelly is a coach most definitely on the way up. The only question mark surrounding Kelly is will he stay at Oregon and take another shot at the BCS National Championship, or will he break hearts throughout the state of Oregon and accept the challenge and the big bucks of the NFL?
Snyder has beaten the mandatory age retirement and is an inspiration to grey hairs around the country. He has accomplished more things than there is room here to list, including being named national coach of the year seven times.
One would surmise that Snyder might be thinking about escaping Kansas' winter and heading to the desert to play golf and drink vodka tonics.
But first, there is this little matter of who will do the best coaching job in the 2013 Fiesta Bowl. Brash youth vs. seasoned veteran—who do you like?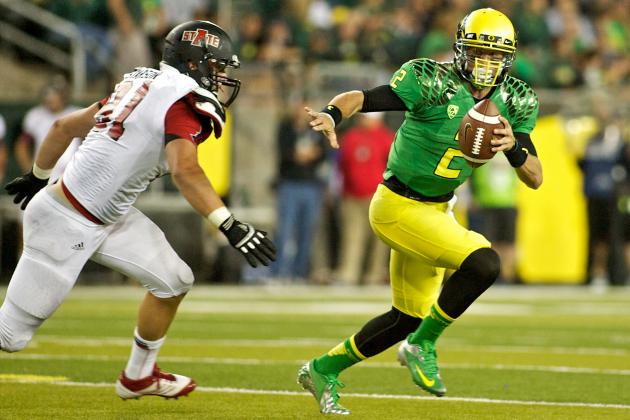 Craig Mitchelldyer/Getty Images

OK, I admit it, this one might be a bit of a stretch. But the most excellent Rob Moseley of the Eugene Register-Guard has reported that Bennett has taken reps at wide receiver in the Ducks' practices.
In case you are new to the Ducks, Bennett is the backup quarterback who was beat out by Marcus Mariota in fall camp. Bennett manned up and stuck with the Ducks after the disappointment.
Since Mariota has turned into a superstar for Oregon, Bennett has two choices for his remaining college eligibility: transfer to another school, or add/change positions. He is very athletic, and has good size and speed. We don't know if he has good hands or the ability to go vertical to grab a pass, but what great fun it would be to find out.
It's an interesting idea, and what I really like about the prospect of Bennett playing WR is that there is no film for K-State to watch. Wildcats cornerbacks Allen Chapman and Nigel Malone had better watch film of Bennett in his backup QB role to get a feel for what he's capable of.
And they should realize that Bennett might be a little cranky.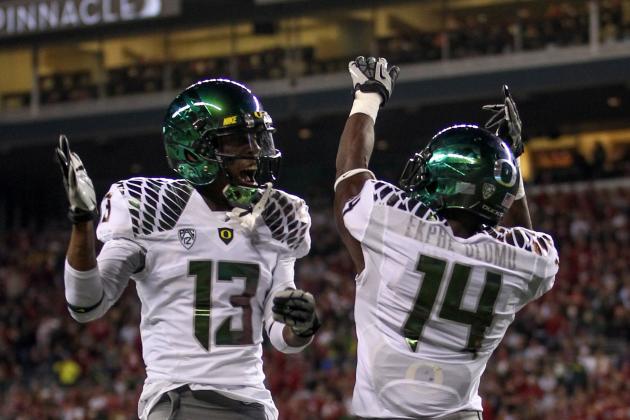 Otto Greule Jr/Getty Images

I'm expecting a big game from K-State's Chris Harper. The Wildcats' receiver has had a good year (50 catches for 786 yards and three touchdowns) and may have some extra motivation in this game.
Here's a trivia question for you: Who was the last player at Oregon to run, pass and catch for touchdowns in the same season before Marcus Mariota did it this year?
Uh-huh. Chris Harper.
Even though his transfer from the Ducks to Kansas State was more about Harper, a Kansas native, being homesick than it was about unhappiness at Oregon, you have to believe that he would still like to make his presence known to his former teammates.
Oregon recruited Harper as a quarterback/athlete, and he is a complete athlete who can play several positions well. Expect Oregon cornerback Ifo Ekpre-Olomu, who has also had a highly successful year, to take on Harper. IEO has faced excellent receivers all year and is more than up to the challenge that Harper might present.
Two athletic, highly skilled athletes going at it out in space; you have to love this matchup.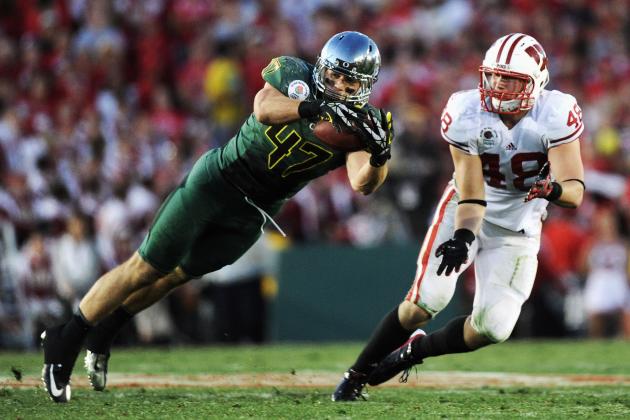 Harry How/Getty Images

This matchup might not qualify as an "overlooked" one, but it's too darn interesting to leave out of this piece.
K-State quarterback Collin Klein is going to run the ball—we know that for sure.
Oregon linebacker Kiko Alonso is not fond of quarterbacks who run the ball, and he has been downright rude to those QBs who have tried. It would not be surprising to see Alonso, the 2012 Rose Bowl defensive MVP, go after Klein hard if he dares run the ball in his part of the field.
If I were Mr. Klein, I would make sure that I avoided Mr. Alonso as much as possible, thus ensuring that my head stays connected to my body.
Kay Jennings is a member of the Football Writers Association of America.
https://twitter.com/KayJenningsPDX