Heading into every UFC fight card there are always a handful of fighters that have something much greater than a win or a loss at stake. At UFC 155 you had Leonard Garcia coming in with a three-fight losing streak. Todd Duffee returned to the promotion after being dismissed in 2010 and Alan Belcher looks to make a statement and that he belonged among the middleweight division's elite.
Junior dos Santos looks to defend his title against Cain Velasquez. However, the fighter that may have been under the most pressure was one of the two individuals that were opening the pay-per-view portion of the fight card, Chris Leben.
On December 29, Leben returned to the Octagon for the first time in 13 months. His last fight, a corner stoppage loss to Mark Munoz, took place on November 5, 2011. Following that fight Leben was popped for having oxycodone and oxymorphone in his system. The positive test resulted in a one-year suspension by the UFC.
At that point the promotion could have very easily kicked Chris Leben out of the business; after all it was his second drug related suspension, and when you add in the fact that he had a two previous DUI related arrests to his name, no one would have blamed the promotion if they had decided to hand Leben his walking papers.
Instead of washing their hands of the fighter, the UFC put the fighter into rehab. Prior to UFC 155, Leben spoke to UFC.com and voiced his appreciation for the promotion getting him into recovery and vowed that he would deliver a memorable performance for his benefactors:
It means so much that Dana White, Joe Silva, and the Fertittas have helped me out. They sent me to rehab. I really feel like now I just want to do nothing more than make them happy – to just go out and put on a good show. Go out and show them that I'm the fighter that I believe I can be, and the fighter that I believe they believe I can be as well because they have kept me around.
Leben's high hopes for himself went unrealized at UFC 155; the clearly gassed fighter dropped a unanimous decision to Derek Brunson on December 29. The fight left UFC president Dana White lamenting his decision to place Leben on the PPV portion of the card.
"I made a mistake putting [Leben] on the main card," White said after the fight, "I should have had him on the undercard."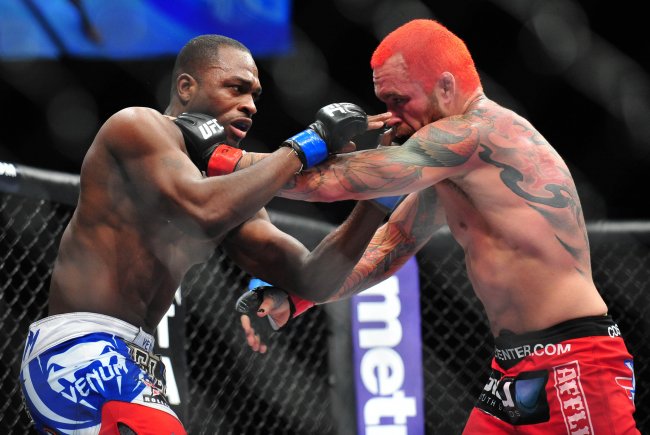 Gary A. Vasquez-USA TODAY Sports
That a clean and sober Leben even entered the Octagon at UFC 155 can be viewed as passing a test. That he lost to Brunson isn't really important in the grand scheme of things. With that being said, the real test could be the one that Leben now faces back home in Hawaii.
Leben's focus in the months leading up to the fight in Las Vegas was just that—his fight in Vegas. The members of his fight camp who were all getting him prepared for that bout on December 29 surrounded him and kept his mind on the goal of defeating Brunson.
Now that the fight is finished, one has to wonder what's next for the 32-year old fighter.
This time out of the spotlight will be a critical time for Leben, but he seems to have the right mindset regarding his recovery, knowing that it's a lifelong process that will have it's ups and downs, as he told MMAJunkie.com:
It's definitely not in the past for me. I'd be lying to you if I told you the thoughts weren't there – if stress doesn't get high and start raising in my life, and instantly my natural reaction is to look for the easy way out. And I don't think that's going away anytime soon – absolutely not. Does that mean there's something wrong with me? No. That just means I'm an addict, and I had an issue.
The focus now, for Leben, for his friends and training partners, for the UFC and for his fans should be on Chris Leben the man, not Chris "The Crippler" Leben, the fighter.
Fan of the fighter or not, you should wish the man luck on his road to recovery.