NBA Title Odds: Which Teams Are Soaring and Slumping into 2013?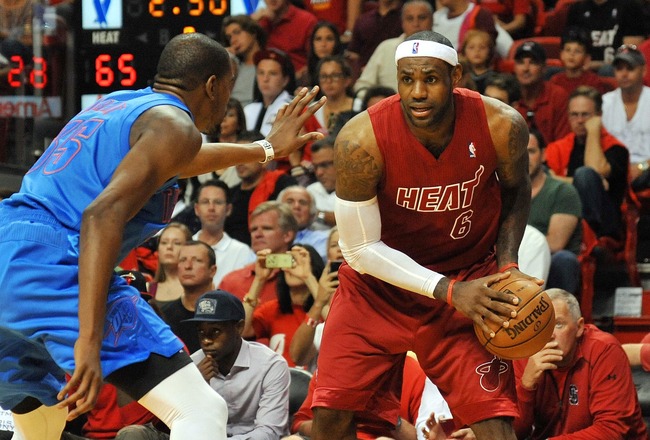 USA TODAY Sports
The NBA may be a league full of surprises, but when it comes to championship aspirations, we have a solid idea of which teams stand the best chance two months into the year.
At this point in the process, we can assume that any squad with odds lower than 100/1 probably won't be contenders by the end of the season. Think about it: Do you really want to put money down on the Charlotte Bobcats? Or the Washington Wizards?
But in a league where anything can happen, we have to look at more than just the top-tier teams. The squads at the top are there for a reason, but you can't count out most teams with three-and-a-half months left to play.
*NBA title odds are provided by Bovada.lv and are accurate as of Jan. 1, 2013.
Teams Below 100/1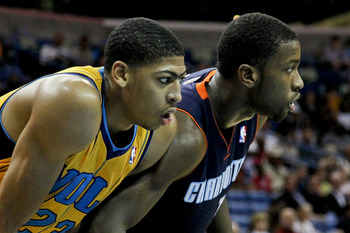 Derick E. Hingle-USA TODAY Sports
Washington Wizards: 3,000/1
New Orleans Hornets: 2,500/1
Cleveland Cavaliers: 2,000/1
Charlotte Bobcats: 2,000/1
Sacramento Kings: 1,000/1
Detroit Pistons: 1,000/1
Toronto Raptors: 750/1
Phoenix Suns: 750/1
Orlando Magic: 500/1
Utah Jazz: 200/1
Portland Trail Blazers: 200/1
Milwaukee Bucks: 150/1
Philadelphia 76ers: 100/1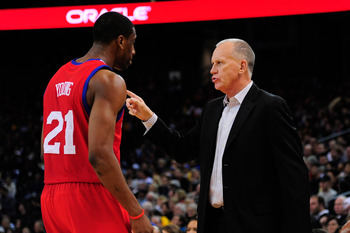 USA TODAY Sports
The Philadelphia 76ers acquired center Andrew Bynum during the 2012 offseason, and it looked like just the move to put this group into the next level of teams in the Eastern Conference.
Unfortunately for Doug Collins and his young squad, Bynum has done nothing thus far, as he's yet to play in a single game for the 76ers.
Defensively, this team has been good, which is why it still stands a chance. Any Collins-coached group of players is going to fight on the defensive end of the floor, and that makes it difficult to truly count them out.
However, if you want to compete with the best, you have to score the basketball, and that's something the Sixers have struggled with as we enter 2013.
Minnesota Timberwolves: 100/1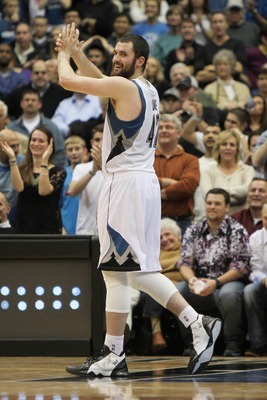 Brace Hemmelgarn-USA TODAY Sports
The Minnesota Timberwolves are another example of a team that had hopes of resurgence, but injuries have kept them from where they want to be.
The team got off to a great start, as it won four of its first five games. Unfortunately, the Timberwolves couldn't keep the momentum going with Kevin Love and Ricky Rubio on the bench, and they're looking like a borderline playoff team.
But then again, as this team gets healthy and continues to jell as a unit, we could see it make a bit of noise against the lower-seeded teams out West.
The thing that the Timberwolves have to do is win the winnable games. Losing to the top teams isn't going to devastate them, but when facing a team that could take their place in the postseason, they have to get the job done the rest of the way through.
Houston Rockets: 100/1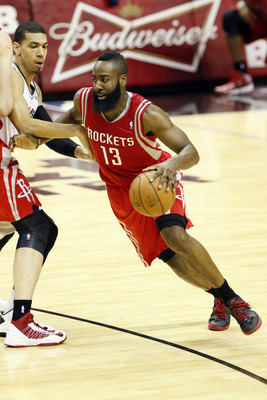 USA TODAY Sports
There's no denying that James Harden makes the Houston Rockets a fun group to watch. He's the team's leading scorer by a long shot, his energy is virtually unmatched and he has the ability to go off on any given night.
The problem is that the Rockets have yet to show they can beat the truly elite teams on a regular basis.
The Rockets successfully took down the surging New York Knicks twice to begin the 2012-13 season, but they haven't beaten anybody else who is projected to compete for an NBA championship.
If we're only looking at offense, this team belongs near the top. The Rockets have one of the highest point-per-game averages in the league, they know how to move the ball and Harden has been known to put them on his back in times of need.
But to be a successful team, you have to play defense. The Rockets have been one of the worst in the league when it comes to points allowed, and they must improve on that side of the floor if they want to compete in a tough seven-game series.
Dallas Mavericks: 100/1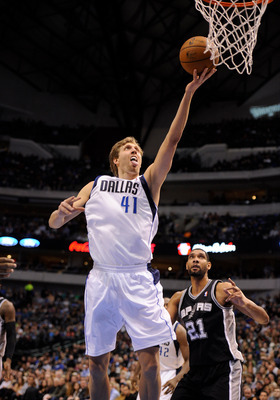 USA TODAY Sports
Entering the 2012-13 season, the Dallas Mavericks had a whole new look about them. Nobody quite knew what to expect, but it's safe to say that they've been a disappointment thus far.
The Mavs took six straight losses with them into 2013—all of which were by double digits—and it took a matchup against the struggling Washington Wizards to get a win on New Year's Day.
In the Mavs' defense, they've been without their franchise player for most of the season. They're used to relying on Dirk Nowitzki, and with him out, they've been forced to turn in unfamiliar directions.
This team has the talent to put it together, but unless it can do it soon, its streak of 12 straight years in the postseason will be in serious jeopardy.
Denver Nuggets: 66/1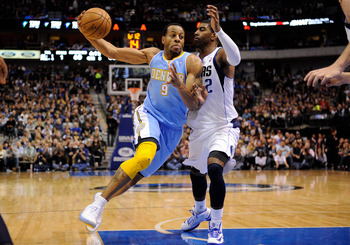 USA TODAY Sports
The Denver Nuggets have one of the deepest rotations in the NBA, which has been both a good and a bad thing the past few years.
While depth is a recipe for success, having no No.1 option is a recipe for disaster. The Nuggets find themselves in the middle of both extremes, which is why they're tough to predict in the Western Conference picture.
Like so many teams in this league, they're good offensively while they struggle on defense. They're a great rebounding squad, so toughness isn't necessarily the problem; but they have to buckle down on both sides of the floor if they want to win on a more consistent basis.
Denver has been a great home team throughout the 2012-13 season, and with 15 of its first 18 games in 2013 at Pepsi Center, it's time for the Nuggets to prove that they are better than a seventh or eighth seed out West.
Indiana Pacers: 60/1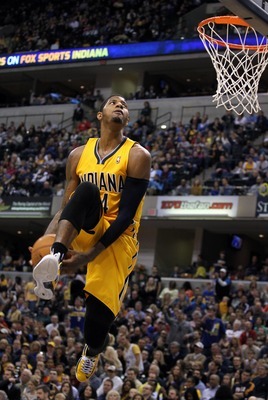 Brian Spurlock-USA TODAY Sports
The Indiana Pacers are a perfect example of what you get when you play great defense.
Despite being one of the worst offensive squads in the league, they are one of the best at keeping their opponents off the board. They rebound and block shots well, which helps make up for the fact that they don't shoot well from the field.
Entering the new year, the Pacers are fourth in the Eastern Conference, but there are certainly some concerns. They're just 1-5 against the East's current playoff teams, and if any of their scorers go down to injury, you have to wonder where the production is going to come from.
If they can start challenging playoff-caliber teams, they're going to be dangerous as the postseason approaches; but if they can't, you have to wonder what their potential truly is.
Golden State Warriors: 50/1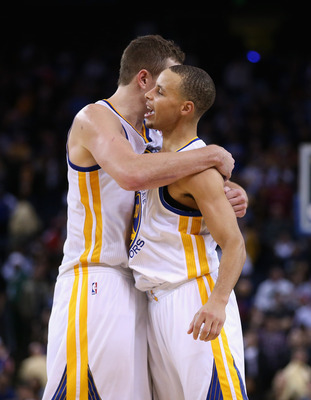 Ezra Shaw/Getty Images
The Golden State Warriors just might be the surprise of the 2012-13 season.
Anybody who looked at this roster coming into the year knew that they were primed for a turnaround. But did anybody really expect them to be pushing for a top-four spot out West by the time we hit 2013?
The question is, do they have enough experience to make a deep run in the playoffs? David Lee and Stephen Curry have been great up to this point, but neither of them has any playoff experience.
This team is beyond entertaining to watch, and if it can prove late in the year that it's worth all the hype, nobody will complain while watching it compete in the Western Conference playoffs.
Atlanta Hawks: 50/1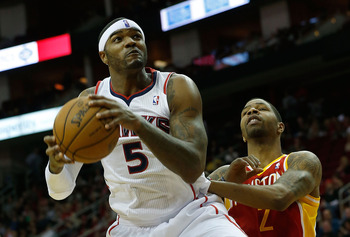 Scott Halleran/Getty Images
Like the Golden State Warriors, the Atlanta Hawks have been a pleasant surprise for their hometown crowd.
The moves to shed Joe Johnson and Marvin Williams from the roster helped set a path for the future, but a third-place standing after two months of play is more than most optimistic fans could have imagined.
The Hawks have been a very good defensive squad throughout the 2012-13 season, but they've also found excellent balance in their scoring. Any team that can do both deserves to be in the conversation for a deep playoff run, and Atlanta has made itself deserving at this juncture.
Brooklyn Nets: 45/1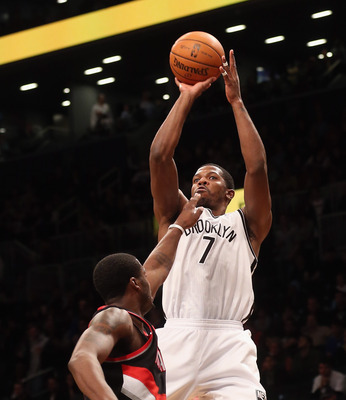 Bruce Bennett/Getty Images
With all the hype surrounding the Brooklyn Nets in their inaugural season, it's no surprise they've disappointed up to this point. Expectations were high, and as a result, head coach Avery Johnson has been shown the door.
If Deron Williams and Joe Johnson can ever learn to blend styles, they could make up one of the most productive backcourts in the NBA. The problem—as we've seen—is that they've yet to make that happen.
Brook Lopez is another player who has a chance to be great, but while he's shown improvements heading into 2013, he's yet to be consistent enough to make us believe he's there.
The Nets aren't going away just yet, but you have to wonder just how much they can improve with two months of play already behind them.
Boston Celtics: 30/1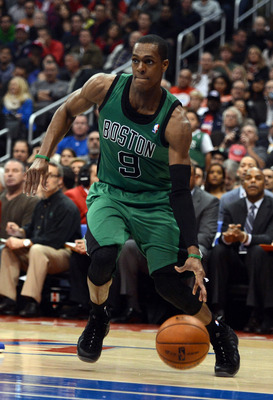 Harry How/Getty Images
The Boston Celtics made us all believe that their championship window was still open by making it to the 2012 Eastern Conference Championship, but they're quickly convincing us otherwise as we now cross into 2013.
Calling this group middle-of-the-pack on offense is accurate, but they've had too many nights where they've failed to reach 90 points.
The surprising part about the C's is that their defense has been nothing special, if not bad as of late. Doc Rivers has instilled a defensive mindset throughout the years, but that appears to be in the rear-view mirror as the team continues to struggle.
Don't count out the Celtics, as they didn't solidify themselves as a playoff team in 2012 until after the All-Star break, but something needs to changed quickly if they want to challenge the teams out East, let alone the Western Conference champions.
Chicago Bulls: 22/1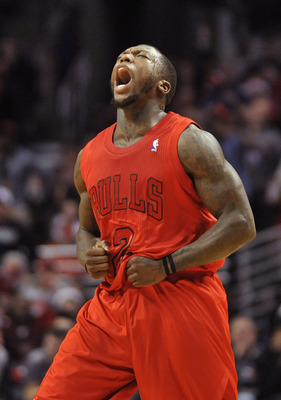 David Banks/Getty Images
Unless you specifically root against the Chicago Bulls, it's been refreshing to watch them find success without Derrick Rose.
Coming into the season, projections were all over the board for this group. Some believed they were deep enough to compete without their star, while others thought they would be nowhere near the playoff picture.
The truth is that their offense has struggled mightily, but their defense has continued to overwhelm opponents—this is the biggest reason they find themselves ringing in the new year as the No. 5 team in the Eastern Conference.
Can this team compete for a championship as is? That depends on how much you believe defense truly wins championships. But if Rose can come back healthy without the team losing its defensive edge, you have to push this team closer to the top by the time the playoffs are here.
Memphis Grizzlies: 16/1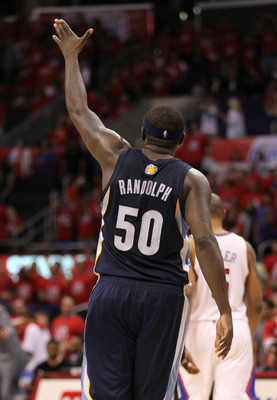 Stephen Dunn/Getty Images
Every year we talk about the Memphis Grizzlies playing spoiler to some Western Conference contender, but you have to wonder if this is the year where they are truly the ones contending for an NBA championship.
Defense is the name of the game for the Grizzlies, as they allow the fewest points per game entering 2013. Having forced the second-most turnovers in the first two months of the season, they're locking down defensively and they're making up for an offense that has struggled on occasion.
After losing O.J. Mayo in the offseason, Zach Randolph and Rudy Gay have continued to lead the Grizz, especially in the comfort of their arena, where they've dominated their opponents.
They're not surprising people any more, which means they have to be ready for everybody's best; but that hasn't been a problem yet, as they're putting themselves in position for home-court advantage come playoff time.
New York Knicks: 11/1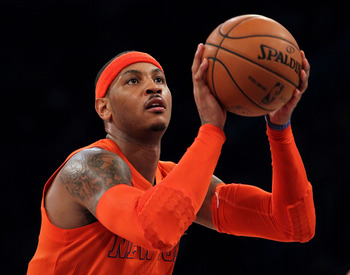 Victor Decolongon/Getty Images
If the Golden State Warriors are the surprise of the 2012-13 season, the New York Knicks are right behind them in the shock factor.
With Amar'e Stoudemire not in uniform, the Knicks managed to record the second-best record out East heading into Jan. 1. That's good enough to put them just behind the Miami Heat for first place in the Conference, even after dropping a New Year's Day game to the Portland Trail Blazers.
Carmelo Anthony has looked like an MVP candidate, the team's age has yet to truly show and they're making a case as legitimate title contenders from what we've seen thus far.
As we enter 2013, we also enter the return of Stoudemire. The big man made his return against Portland, and how well he can re-integrate himself into this new-look rotation will help determine how far the Knicks can go.
San Antonio Spurs: 9/1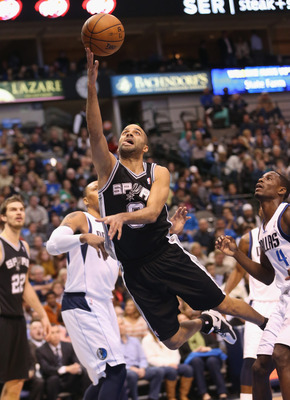 Ronald Martinez/Getty Images
If there's one thing that we've learned throughout the years, it's to never, ever count out the San Antonio Spurs.
In typical San Antonio fashion, the team has managed to fly under the radar while still solidifying itself as a top-3 team in a tough Western Conference.
Everybody wants to talk about the New York Knicks and the Los Angeles Clippers—and even the Los Angeles Lakers—while the Spurs have quietly done their damage at their own efficient pace.
They were known for their methodical style of play for so many years, but a high-octane offense has complemented their defense nicely in 2012.
Tim Duncan is playing incredibly well, and between the obvious veteran leadership and the youthful depth off the bench, this team appears to have it all as the second half of the season approaches.
Los Angeles Lakers: 15/2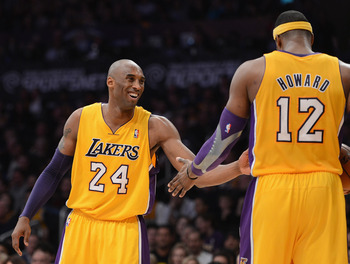 Harry How/Getty Images
Either the good people at Bovada.lv are extremely optimistic about the Los Angeles Lakers' immediate future, or they simply haven't looked at the headlines since "Magic Johnson thinks Lakers are 'team to beat' with Howard."
The Los Angeles Lakers haven't been who we thought they were to start the 2012-13 season, but with Steve Nash back in the lineup and Dwight Howard continuing to work himself into game shape, it's easy to see the potential.
The Lakers have the most talented starting unit in all of basketball, and their winning ways have begun to return two months in.
Is this team jelling too late for a run at an NBA title? Where the standings are at the All-Star break will be more telling for this group than it will be for most other teams in the NBA.
Los Angeles Clippers: 11/2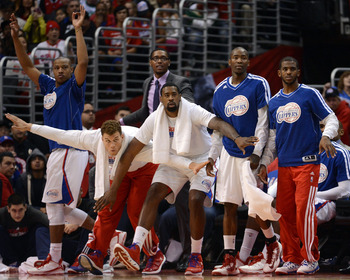 Harry How/Getty Images
The Los Angeles Clippers enter 2013 as the hottest team in the NBA, and there's simply no debating it.
As of Jan. 1, the team from L.A. owned the league's best record at 25-6, and it had won a remarkable 17 straight games. That streak was ended on New Year's Day against the Denver Nuggets, but there's no denying how good they've looked through this point in the year.
The Clippers may be one of the most exciting groups to watch in the entire Association, and their exciting play has translated into victories as a result of strong play on both sides of the ball.
The Clippers still have to get through the defending Western Conference champion Oklahoma City Thunder to earn a shot at a title, but if current events are any indication of future trends, Los Angeles is well on its way to becoming the conference favorite by the time the playoffs start.
Oklahoma City Thunder: 4/1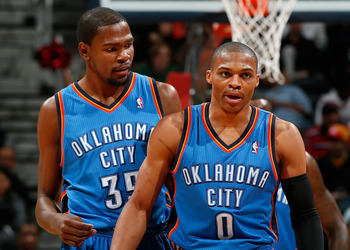 Kevin C. Cox/Getty Images
It's tough to compete with an 18-game winning streak, but the Oklahoma City Thunder are just as big of a threat as the Los Angeles Clippers to come out of the Western Conference.
After the trade that sent James Harden to the Houston Rockets, we all knew that the Thunder would still be one of the best in the West, but we didn't know if they would be as good as they were when they closed out the 2011-12 season.
Offensively, the Thunder haven't lost a step without Harden. They're still atop the league in scoring, Russell Westbrook and Kevin Durant are playing extremely well together and Kevin Martin has proven to be the sixth man that they needed.
We've watched OKC grow up throughout the years, and while the team that went to the Finals in 2012 was great, this one might be even better.
Miami Heat: 19/10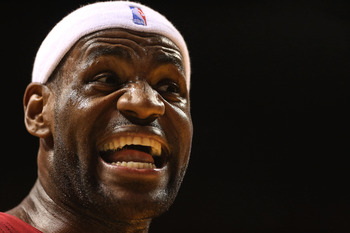 Marc Serota/Getty Images
The Miami Heat are the defending NBA champions, and they're going to be considered the favorites until a team out East eliminates them from contention.
The Heat haven't played great defense this season, but you have to wonder if it has more to do with their efforts than anything else.
A good performance on Christmas Day against OKC shows that they have it in them, but allowing triple-digits in the next four games to the Charlotte Bobcats, Detroit Pistons, Milwaukee Bucks and Orlando Magic makes you question how much they care about the regular season.
Luckily for the Heat and their fans, we've seen this team go into Coast Mode before, and they're almost always able to work themselves out of it.
When you have LeBron James, Dwyane Wade and Chris Bosh on your team, you're always going to be considered a favorite. If they stay healthy—and just as importantly, stay motivated—there are very few teams in the league that can take them down in a seven-game series.
Keep Reading