L.A. Clippers vs. Denver Nuggets: Live Score, Results and Game Highlights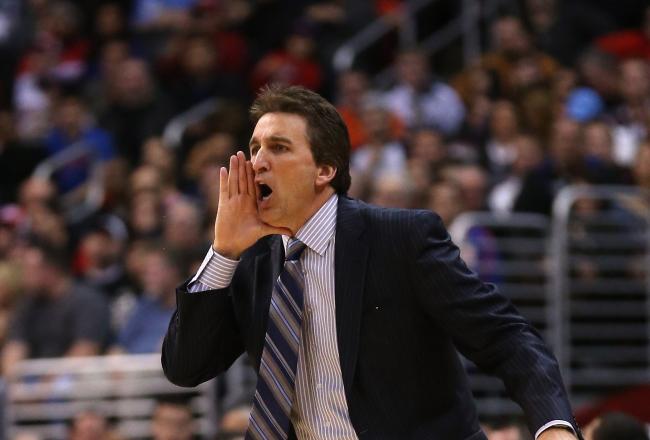 Vinny Del Negro is a coach of the year candidate.
Stephen Dunn/Getty Images
The Clippers are on fire in a nearly unprecedented fashion. As winners of their last 17, they'll look to extend the streak tonight in one of the toughest arenas in the league: Denver's Pepsi Center.
Tune in live to the action on NBA TV.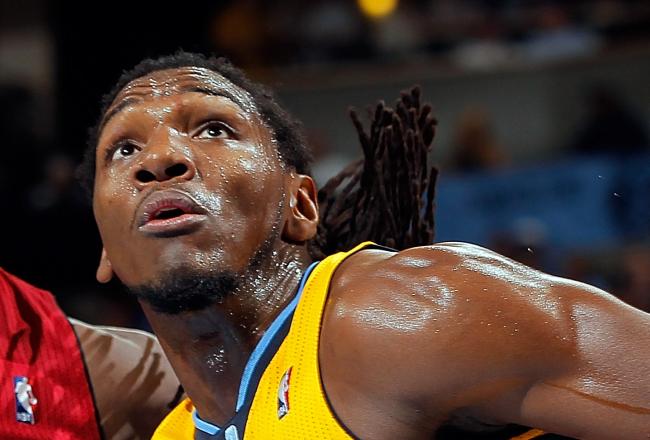 The Nuggets came away with a double-digit victory against the hottest team in the league. The keys to the game were:
1) Great offensive rebounding (14 total; 10 in first half)
2) Forcing a lot of Clippers' turnovers (15)
3) Pushing the pace and exhausting the Clips in the high altitude
4) Getting Blake Griffin in foul trouble (5 fouls, 28 minutes played)
The Nuggets improve to 10-1 at home, and have played just one-third of their games at the Pepsi Center. With their schedule becoming more favorable here in the new year, expect the Nuggs to make a push upwards in the Western Conference standings.
As for the Clippers, it was the end of a very good thing, but by no means an end. I posted a tweet by Stephen A. Smith that predicted the Clips would win the title this year, and by all means they have the talent to do it.
But "Oh mama said there'd be days like this; there'd be days like this, mama said."
FINAL SCORE: NUGGETS 92, CLIPPERS 78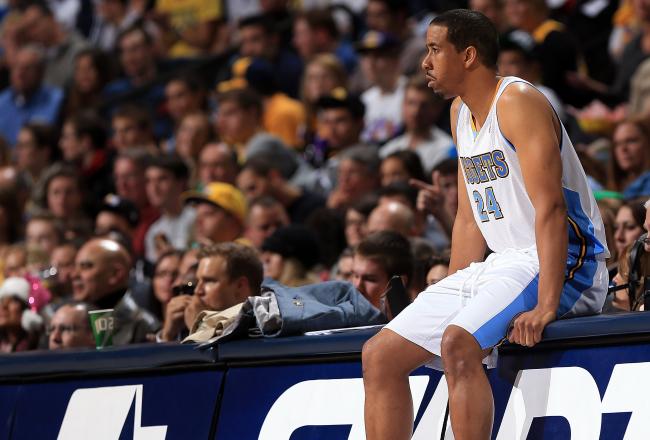 Well, it's safe to say the Clips streak ends here at 17. The Nuggets are up by 15 and the crowd has come to its feet to celebrate early.
Evan Fournier checked in for Andre Miller, who did such a brilliant job in Ty Lawson's absence. Miller showed that you can always rely on a veteran to step up when called upon. Both he and Kenneth Faried posted double-doubles, and Faried earned a nice ovation too, checking out.
The Nuggs have cleared the bench and they're all seeking to get a shot up, as they're not running clock.
All good things must come to an end, Clippers fans.
NUGGETS 89, CLIPPERS 74 — 46.4 seconds in game
Blake Griffin picked up his fifth foul, but at this point Vinny Del Negro has no choice but to leave him in. Just over four minutes to go and down by 15, it's not as though they'll get back in the game without him.
George Karl is upset with Kenneth Faried for picking up silly fouls, as the Nuggets have entered the penalty.
Yes, it's Blake Griffin at the line, but the one way the Nuggs could give this game away is by picking up a bunch of fouls and allowing the Clippers to score with the clock stopped.
NUGGETS 87, CLIPPERS 73 — Under 4:00 in game
It's hard to tell whether the Nuggets are seeking to slow this game down or just needed to catch a breather. They spent 20 seconds dribbling on the perimeter before a kicked ball led to a shot clock reset.
It seems with a 17 point lead the Nuggets would like to slow this down, but that's not something we're used to seeing from George Karl teams.
NUGGETS 85, CLIPPERS 68 — 5:45 Remaining in Game
Blake Griffin is back on the court with his four fouls. Expect George Karl to push it inside to try to pick up a fifth on Griffin, as that could cripple the Clippers.
NUGGETS 79, CLIPPERS 66 — 8:03 in 4th
It's looking like tonight is the night the Clippers streak comes to an end.
The first commenter in this game thread said that with Ty Lawson out the Clips would have no problem extending the streak, and while I ostensibly agreed with that sentiment, it ignores the fact that Lawson has struggled this season—and that the Nuggs have the deepest team in the league.
Andre Miller and Andre Iguodala make an effective 1-2 tandem running the point, and Danilo Gallinari is playing very well.
The Nuggets got a gift on that JaVale McGee three, and another run could put this away.
NUGGETS 79, CLIPPERS 66 — 8:20 Remaining in Game, Official Timeout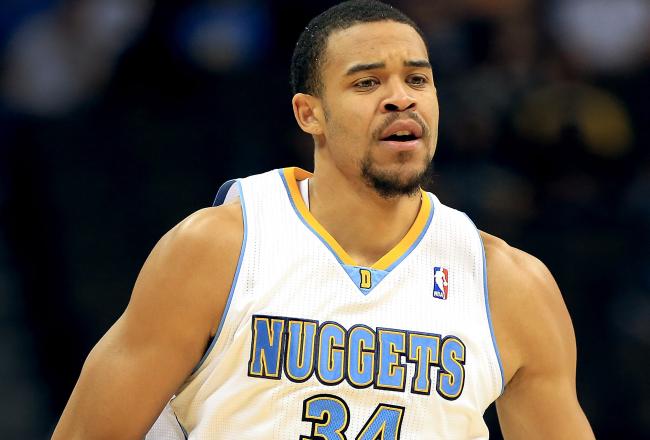 Following two missed JaVale McGee free throws, the Nuggets got the ball back and Gallo drilled another three to extend the lead to 12.
The Nuggets isolated Andre Miller at the top of the key and found McGee for a lob pass to close the quarter offensively...
But they committed a foul to send Jamal Crawford to the line with five seconds remaining the quarter. Crawford's free throw routine is short and sweet, but he led the NBA in free throw shooting last year, and calmly knocked down both to cut the lead back to 13.
McGee nailed a three to close the quarter! McGee for three? Don't mind if I doooooo!
The Clippers are just 4-6 when trailing after three quarters.
NUGGETS 75, CLIPPERS 59 — End of a Bizarre 3rd Quarter
Since Blake Griffin has checked out, the run I predicted has occurred. The Nuggets have outscored the Clips 10-5 since that juncture, and are going to look to close out the quarter strong with five reserves on the court.
NUGGETS 67, CLIPPERS 58 — Under 1 minute in 3rd
Kenneth Faried and DeAndre Jordan both already have double-doubles with just under three minutes left in the third quarter.
Both have furiously worked the offensive glass.
Faried and Jordan both have five offensive rebounds a piece, and both have 11 total boards a piece.
NUGGETS 63, CLIPPERS 55 — 2:56 in 3rd
JaVale McGee had a nice flush and then two possessions later dished it to The Manimal for a nice flush of his own. McGee's basketball IQ is a lot higher than people give him credit for.
His overall IQ? We're not going to comment on that, because it just might not be all that relevant. The Nuggets sure don't care.
NUGGETS 63, CLIPPERS 55 — 3:14 in 3rd
Blake Griffin picked up his fourth foul. It's just not his night. He'd started to get things going, but was still taking jumpers—not his game.
Chris Paul has hit consecutive jumpers and will do his best to get the Clips back in this one, but with their leading scorer riding the pine in foul trouble, they'll have to be careful not to let Gallo and the Nuggs go on a big run right now.
The Nuggets lead by just four at the moment, but something tells me a big run could be in the making here.
NUGGETS 57, CLIPPERS 53 — 5:54 in 3rd
That layup got The Rooster going. He came back the next possession to bang a trey, and he now has 17. This is the Gallinari I spoke of in the halftime update.
He has the talent to be a 20-plus point per game scorer, and he's showing it tonight. At just 24 years of age, the best is still to come from The Rooster.
NUGGETS 57, CLIPPERS 49 — 7:22 in 3rd, Clippers timeout
Danilo Gallinari is showing he's more than a jumpshooter. He split the defense on a take to the hole and finished strong with his left hand through contact for a three point play.
The shot which led to the transition basket? A long Blake Griffin jumper.
As I just said, Griffin's jump shot still has a long ways to go, despite reports this offseason that he had worked extensively on it.
NUGGETS 54, CLIPPERS 49 — 7:30 2nd Quarter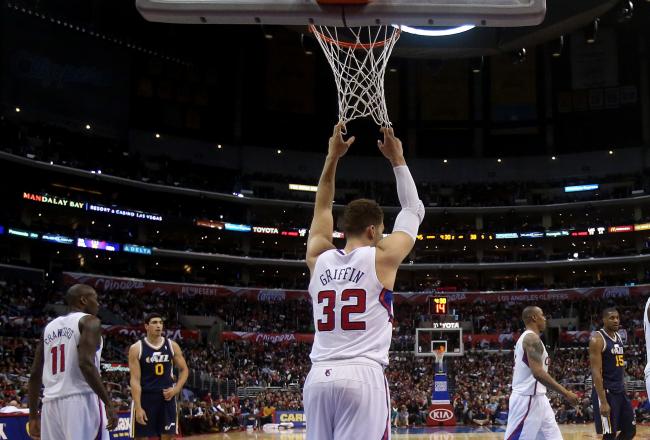 Blake Griffin had a quiet first half with just four points, but backed down Kenneth Faried in the post for his first bucket of the second half. The Clips will need to get Griffin going in this second half to win this one. Griffin averages 17 points per game on the season.
His offensive game has diversified some this season, but he's still an ineffective shooter from beyond 15-feet. Griffin took it hard the next possession to get to the line for two more. He hit both free throws.
Vinny Del Negro likely made it a point of emphasis to get the young Griffin more involved in this second half.
NUGGETS 48, CLIPPERS 47 — 10:23 in 3rd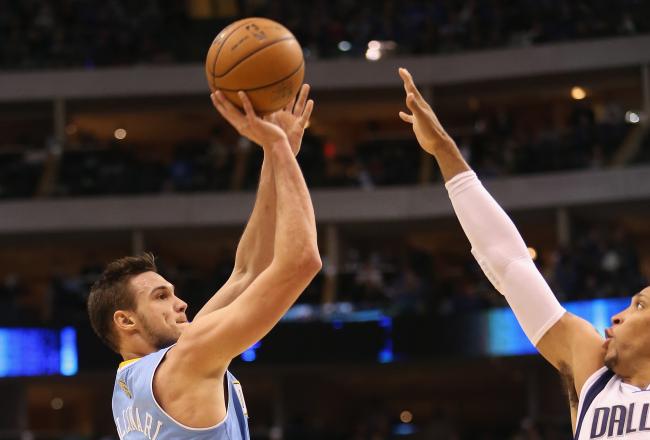 The Clippers are 5-5 when they trail at the half, so it's dubious as to whether this streak can continue.
They trail by only five, but the Nuggets out-hustled them in the first half and the Clips did two things wrong:
1) Gave up too many offensive rebounds (10)
2) Didn't take care of the basketball (nine turnovers)
If Vinny Del Negro can make those adjustments and get the Clips to be more careful and work the ball for better shots, they can get back in this game and win it.
It's not as though a five point deficit is huge, but the Nuggets could realistically be up by eight or more, since Danilo Gallinari missed a wide open three to close the half.
Gallinari is shooting just 40 percent from the floor over his career, which is somewhat baffling as nice as his shot looks. He's a shade under 16 points per game this season, but the ceiling for Gallinari seemed a lot higher as he broke out in his early days in New York.
Drafted No. 6 overall in 2008, The Rooster has been in the league long enough now that we may be seeing what we'll see from him at this point.
AT THE HALF: NUGGETS 48, CLIPPERS 43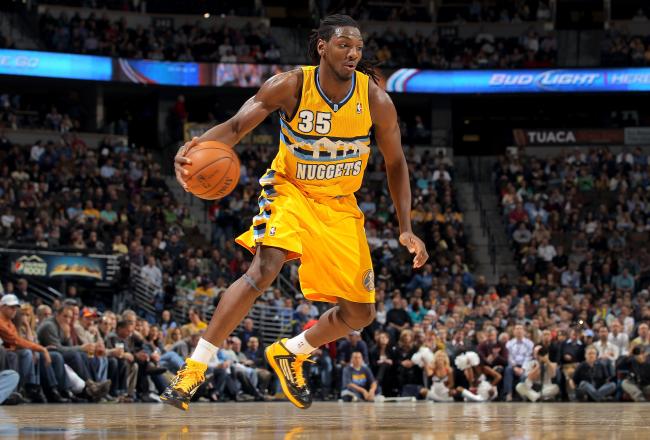 Closing in on halftime, not a single Clippers player is in double figures. Blake Griffin just checked out of the game and has just four points. The Nuggets, meanwhile, have two in double figures: "The Rooster" and "The Manimal"—otherwise known as Danilo Gallinari and Kenneth Faried.
Faried's speed and athleticism is quickly making him one of the best offensive rebounders since Dennis Rodman. And he comes with none of the behavioral problems Rodman had.
Faried 10 points and 7 boards, as the half approaches.
NUGGETS 48, CLIPPERS 41 — 26.7 in Half
The pace of the game is frenetic and furious, and both teams are huffing and puffing. DeAndre Jordan took advantage of it, running the court to throw down an easy dunk.
Both teams are likely praying for this half to come to an end so they can go catch their breath.
The Nuggets have maintained the lead they acquired from their run earlier in the game, but the Clips aren't being patient offensively either...shots early in the possessions and not a lot of ball movement.
Oh, and turnovers. Too many Clippers turnovers: nine and counting.
NUGGETS 46, CLIPPERS 34 — 2:31 Remaining in 1st Half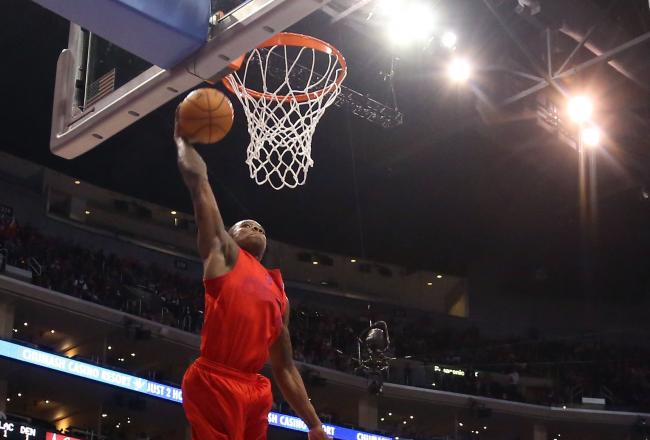 It's hard to imagine Chris Paul leaving the Clippers this summer as a free agent, as well as they are playing. But the Clips have insurance if he does.
Eric Bledsoe may be the league's best backup point guard, and the Clips have a very valuable trade asset if they feel they have a deficiency somewhere else in their rotation. Or they just have an awesome backup.
Either way, Bledsoe is great. He nails down an three and comes back the next possession and gets to the hoop for two more. Bledsoe is 3-of-3 from the floor for seven points.
NUGGETS 40, CLIPPERS 32 — 6:08 2nd Quarter
The Nuggets have gone to using Andre Iguodala at point guard while Andre Miller rests. The 6'7" Iguodala is being covered by Eric Bledsoe, so of course he tried to take advantage by posting Paul up. A double team came quick, needless to say.
NUGGETS 33, CLIPPERS 25 — 7:55 2nd Quarter
The Nuggets are on a 12-3 run and are running the ball down the Clippers throat. Jamal Crawford had consecutive turnovers, which both led to Nuggets fast breaks.
The Nuggets also out-hustled the Clips on the boards on a prior possession, getting a third chance shot which led the Pepsi Center to give them an ovation.
And it's loud again. Nuggets are rolling after a free throw to extend the run to 13-3.
This could be the end of the Clips streak. It's early, but Denver is rolling, sans Lawson.
NUGGETS 28, CLIPPERS 19 — 10:11 2nd Quarter
The Clippers got into their final possession of the quarter far too late. Lamar Odom set a pick for Chris Paul at the top of the key with just under five seconds to go, and Lamar Odom rolled to the hoop, dumped it off to Ronny Turiaf, who couldn't get the shot off in time.
Ordinarily, CP3 has much better late quarter execution, but called for the pick too late.
NUGGETS 21, CLIPPERS 19 — End of 1st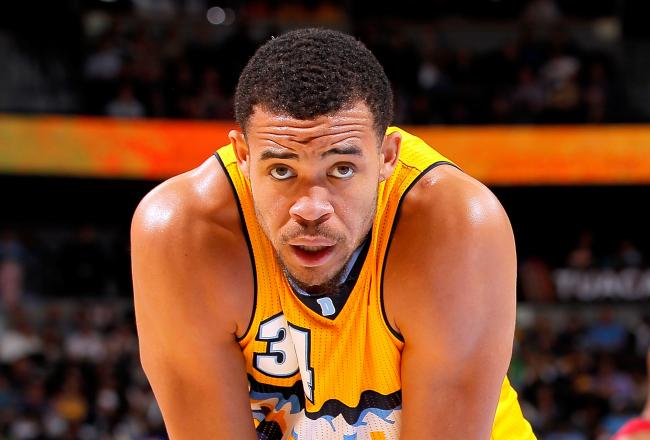 JaVale McGee just threw down his 82nd dunk of the season, which leads the NBA. Not bad for someone who doesn't start.
The Nuggets are probably still glad they obtained him for Nene, too, in light of Nene's injury battles this season in Washington.
NUGGETS 21, CLIPPERS 17 — 1:37 1st Quarter
JaVale McGee isn't doing much better with DeAndre Jordan than Kosta Koufos did. Jordan posted against McGee and made a nice spin move which caused JaVale to hack him. McGee lost his starting role to Koufos and it doesn't seem he'll regain it any time soon by reaching in a lot on defense.
The Nuggets count themselves fortunate, though, to have two above replacement-level centers to choose from.
NUGGETS 17, CLIPPERS 16 — 2:48 in 1st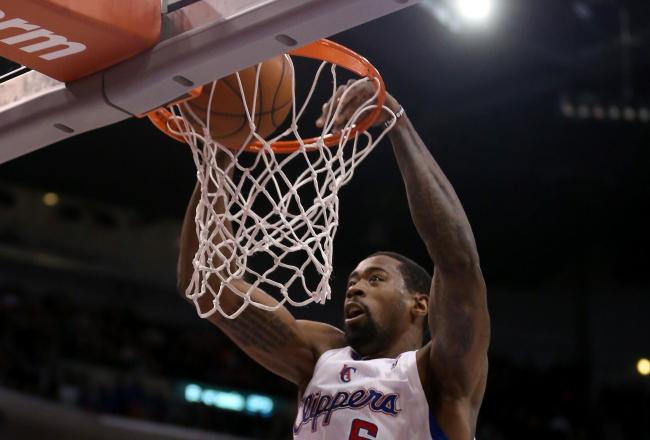 DeAndre Jordan has been very active inside on the offensive glass, and drew a second foul on Kosta Koufos. Jordan has two offensive rebounds and will head to the line where he already hit his first two.
Jordan has been much improved offensively, but still has a long ways to go before he can be a consistent threat offensively. Right now, though, hard work on the glass is all the Clippers need. They already have a plethora of offensive options to choose from.
NUGGETS 17, CLIPPERS 16 — 5:36 in 1st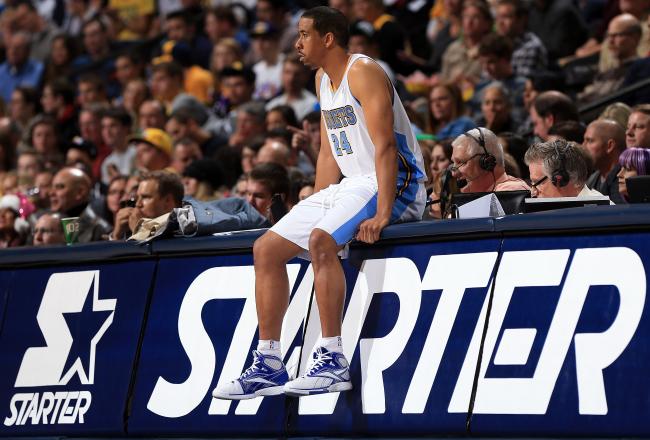 The grizzled vet Andre Miller can still effectively run a team. With no Ty Lawson, the Nuggets are counting on Miller to run the show as he has done effectively since 1999-00. Miller found Kosta Koufos under the hole for an easy look and should be able to rack up the assists with the potent Denver offense.
NUGGETS 11, CLIPPERS 11 — 7:58 1st Quarter
This article is
What is the duplicate article?
Why is this article offensive?
Where is this article plagiarized from?
Why is this article poorly edited?