Minnesota Vikings: Grading Every Starter's 2012 Regular Season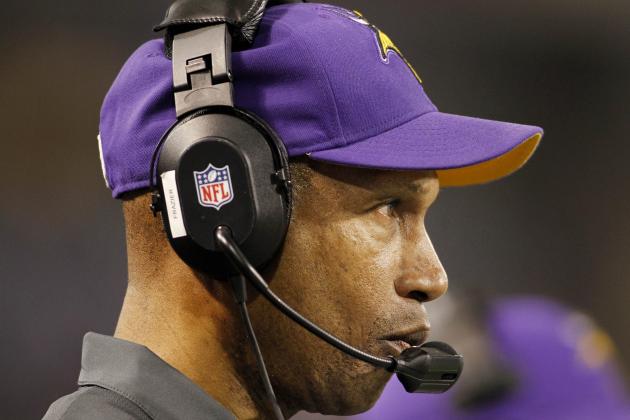 Bruce Kluckhohn-USA TODAY Sports
Overachievers at multiple positions helped Minnesota and Leslie Frazier overcome deficiencies at multiple spots.
It was the year very, very few saw coming.
Minnesota wasn't supposed to compete for the postseason in 2012, let alone reach that stage.
But with multiple players rising to the occasion before they were expected to and others playing out of their minds, Minnesota was able to hide enough of its deficiencies to rattle off 10 wins.
These are my grades for Minnesota's 22 starters on offense and defense, plus the two kickers.
Begin Slideshow

»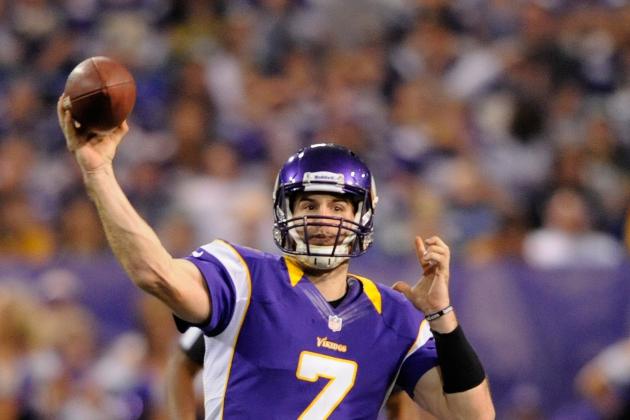 Hannah Foslien/Getty Images
Christian Ponder threw for 2,935 yards with 18 touchdowns and 12 interceptions this season. He completed 62.1 percent of his passes and finished with an 81.2 passer rating.
He went through his ups and downs during his first full season as a starter. Hate him, defend him or be indifferent towards him, Christian Ponder is now the quarterback of a playoff team.
Ponder was critical to Minnesota's upset victories over San Francisco in Week 3 (21 of 35 for 198 yards with two touchdowns and zero interceptions) and Green Bay in Week 17 (16 of 28 for 234 yards and three touchdowns with zero interceptions).
His downfall this season was the turnover bug, which bit him hard between Week 6 and Week 14. Over that stretch, he threw at least one interception in eight of nine games.
At this point in his career, Ponder is merely a game manager who has shown glimpses of brilliance. In the eyes of many, that's all he will be.
But he's still young and deserves at least the first half of 2013 to show improvement.
Grade: C+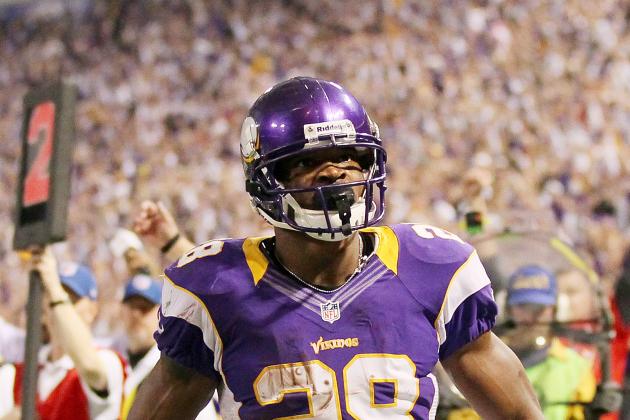 Andy King/Getty Images
Adrian Peterson finished 2012 with the second most rushing yards in a single season (2,097).
No torn ACL or MCL was going to hold Adrian Peterson back. He said it from Day One and meant it.
He followed through on his promise to be ready for Opening Day and actually came back stronger than ever.
Peterson finished 2012 with the second-most rushing yards over a single season (2,097), which was eight yards shy of tying Eric Dickerson's mark.
The former Oklahoma Sooner didn't get off to the best start in 2012, but made up for lost time. Between Week 7 and Week 17, he failed to reach 100 yards rushing just once.
Between Week 7 and Week 15, Peterson accumulated the NFL's highest rushing total over an eight-game stretch (1,313 yards).
He averaged six yards per carry and finished with 12 touchdowns rushing. He caught 40 passes for 217 yards and a touchdown.
The sixth-year pro gets the highest possible grade on this slideshow and should get the MVP award after leading Minnesota to the postseason.
Grade: A+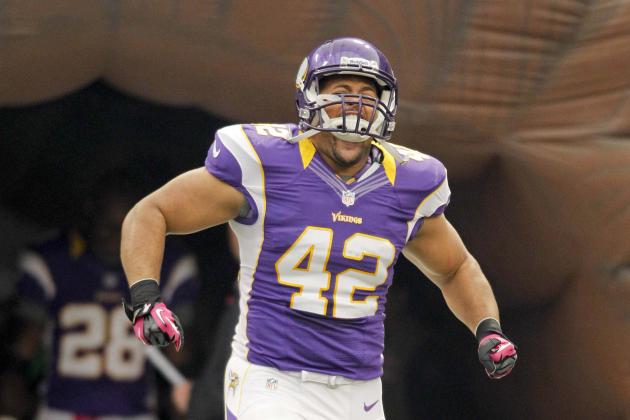 Bruce Kluckhohn-USA TODAY Sports
In his first season with the Vikings, fullback Jerome Felton was named to the Pro Bowl.
A week ago today, I wrote a piece about Jerome Felton and proclaimed that he would not make the Pro Bowl.
Boy, do I feel sheepish.
His talent was there to warrant the nod, but there wasn't much talk about him nationally.
Felton paved the way for the second-greatest statistical season any running back in the NFL has ever had. His blocks were vital to Adrian Peterson's individual success.
Minnesota would have loved its fullback to have done more than just open up holes (Felton caught three passes for 35 yards and had zero rushes), but he did that very well.
Grade: A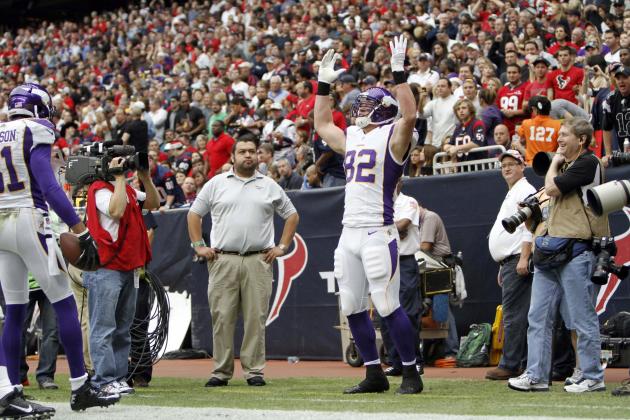 USA TODAY Sports
Kyle Rudolph led Minnesota in touchdown receptions (nine) and took a grand step towards becoming an elite pass-catching tight end in the future.
Early in the 2012 campaign, Kyle Rudolph became Christian Ponder's favorite target in the red zone.
At 6'6" and 258 pounds with 10.75-inch, hands that's the way it should have been. When Percy Harvin missed the team's final seven games, Rudolph became Ponder's favorite target. Period.
Rudolph finished with 53 receptions for 453 yards and nine touchdowns. He led Minnesota in touchdown receptions. In all three categories, he was better than he was in his rookie campaign (26 receptions for 249 yards and three touchdowns).
He's on his way to becoming an elite pass-catching tight end, but had three games where he went without a reception. That's unacceptable, especially since two of those games were played with a limited Percy Harvin or without him all together.
Minnesota never expected much from Rudolph as a blocker, so anything it got from him throughout the season was appreciated. As expected, he was an inconsistent blocker.
Grade: B+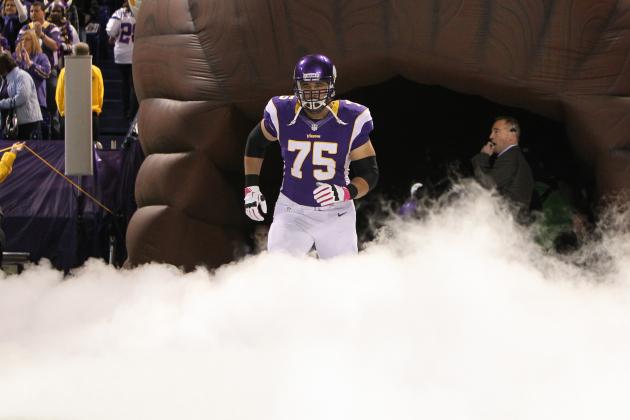 Brace Hemmelgarn-USA TODAY Sports
Matt Kalil had a fantastic rookie season and projects to be a Pro Bowl left tackle in the future.
The Vikings knew they had a big hole at left tackle. So they found a big man to fill it in Matt Kalil.
Kalil, the No. 4 pick in the 2012 NFL draft, exceeded the expectations his rookie season and has been named as an alternative for this season's Pro Bowl.
It's an honor Kalil has earned.
Kalil is a stronger pass-protector than he is run-blocker because of his small stature by left tackle standards (6'6" and 308 pounds). He can move defenders off the line of scrimmage and gets to the next level well, but his size does limit him from time to time.
Charlie Johnson embarrassed the left tackle position with how he played in 2011. Kalil redeemed him in 2012 and should have Christian Ponder's blind side covered for as long as he wants to don the Purple and Gold.
Grade: A-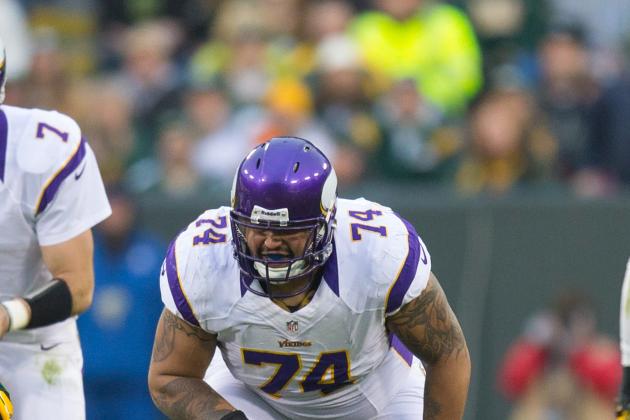 Jeff Hanisch-USA TODAY Sports
Charlie Johnson started off well, but his season faded quickly.
The experiment with Charlie Johnson as Minnesota's left tackle failed epically in 2011.
The experiment with Johnson as Minnesota's left guard provided strong results early, but faded quickly down the stretch.
Johnson got beaten on pass protection far too often as the season progressed. If Christian Ponder got sacked in the final eight games, then it was very likely because Johnson blew his assignment.
Johnson also lacks the push necessary on running plays to create holes for Adrian Peterson.
If Minnesota is serious about bettering itself in 2013, then Johnson will not be the starting left guard.
Grade: D+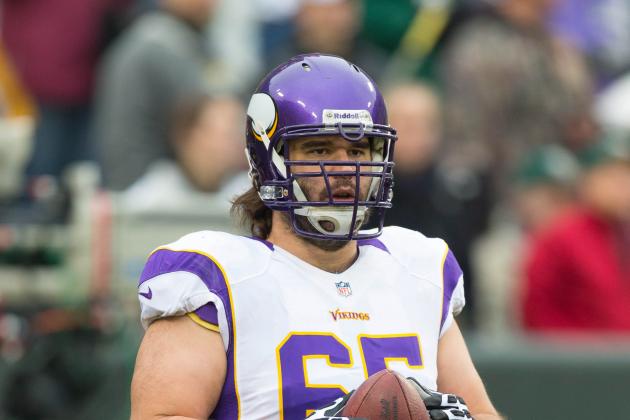 Jeff Hanisch-USA TODAY Sports
John Sullivan has cemented himself as a top-10 player at the center position.
Along with teammate Matt Kalil, John Sullivan has been named an alternate for this season's Pro Bowl. And rightfully so.
Sullivan is a well-balanced center. He's strong in pass protection and at pushing defenders off the line of scrimmage to open alleys for Adrian Peterson (edge goes to his run-blocking over pass protection).
At 27 years old, he's the leader of the offensive line and the longest tenured member. He has control of the unit and doesn't get rattled easily.
Even better for Minnesota, Sullivan is locked up through the 2016 season.
Grade: A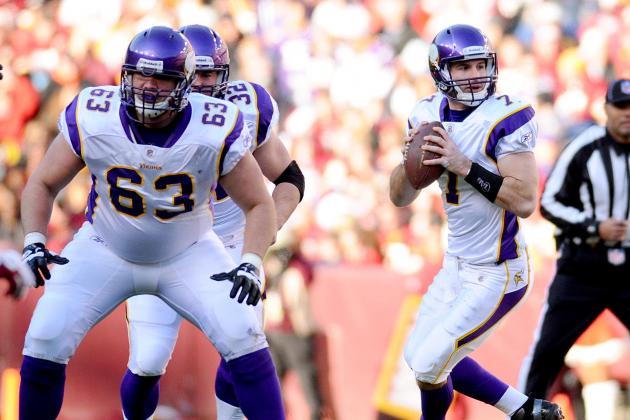 Evan Habeeb-USA TODAY Sports
Brandon Fusco began the season as the starting right guard but conceded playing time to Geoff Schwartz as the season advanced.
As is the case with many first-year starters, Brandon Fusco had his inconsistencies. He wasn't slated to be Minnesota's starting right guard to open 2012, but ran with the torch and did an OK job.
He began to lose playing time to Geoff Schwartz as the season progressed. He was just too inconsistent sometimes.
Another year he could be better. Another year he could be worse.
If Minnesota's smart, it'll make sure it has its bases covered in case Fusco struggles in 2013 like he did in 2012.
Grade: C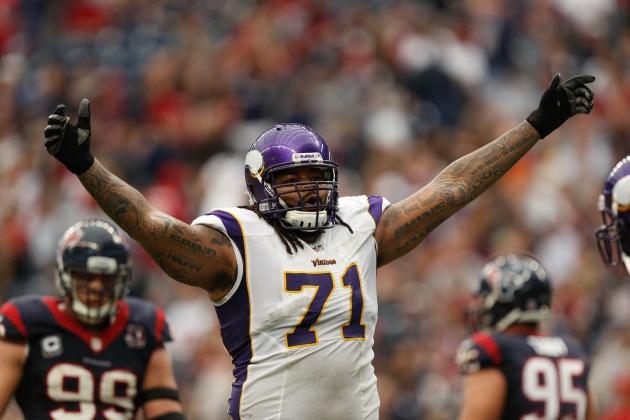 Thomas Campbell-USA TODAY Sports
Phil Loadholt started off slowly but heated up as the season progressed.
In his fourth year as a starter, Phil Loadholt took the approach of the tortoise and the hare to heart: slow and steady wins the race.
Loadholt struggled early in the 2012 campaign. Quicker pass-rushers blew past him and he struggled to get much of a push on run plays.
Despite his struggles, Minnesota attempted to work out a new contract with the 2009 second-round pick.
As the season progressed, fewer defenders blew past him in passing situations. Fewer defenders were stuck with him at the line of scrimmage on run plays.
He was still inconsistent, but the talent was visible. The 2013 campaign will be a big one for Loadholt.
Grade: B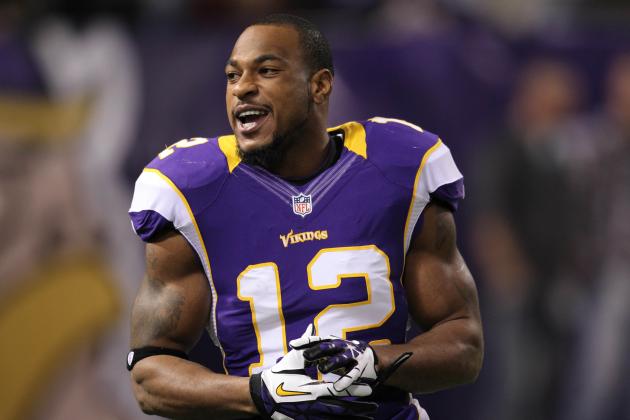 Brace Hemmelgarn-USA TODAY Sports
Despite missing Minnesota's final seven games, Percy Harvin led the Vikings in receptions (62) and receiving yards (677).
"Injury" aside, Percy Harvin's 2012 season couldn't have gone any better.
The 2009 first-round pick was finally put in positions to succeed, and he took full advantage of them.
Harvin caught 62 passes for 677 yards and three touchdowns in nine games. Had he played a full 16-game season, the former Florida Gator would have eclipsed 100 receptions and 1,000 yards.
Regardless, his nine-game performance served as a wake-up call to the NFL: Don't sleep on Harvin.
Entering 2013, he'll be discussed as one of the game's most dangerous offensive threats, and rightfully so.
If he had a standout quarterback to get him the ball in 2012, then his statistical performance would have been that much better.
Grade: A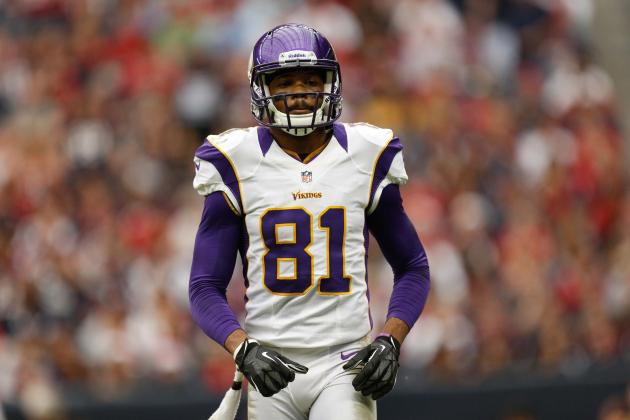 Thomas Campbell-USA TODAY Sports
Jerome Simpson's first season in Minnesota may be his only as his performance left the franchise disappointed.
Jerome Simpson is listed as Minnesota's No. 2 wide receiver on the Vikings' official depth chart page, so we'll critique him for this position (I believe Michael Jenkins is more of the No. 2 receiver).
Minnesota signed Simpson to a one-year deal in the offseason in hopes that he could turn his high-flying backup act in Cincinnati into a play-making role in a leading position in Minnesota.
That was an epic fail.
Simpson was suspended for the first three games because of marijuana use and never got on track.
He finished the season with 26 receptions for 274 yards in 12 games.
Drops belittled his season and he didn't look comfortable ever going over the middle, although that's less important on a team with Percy Harvin.
I don't expect Simpson brought back in 2013, and his performance certainly doesn't justify a return.
Grade: D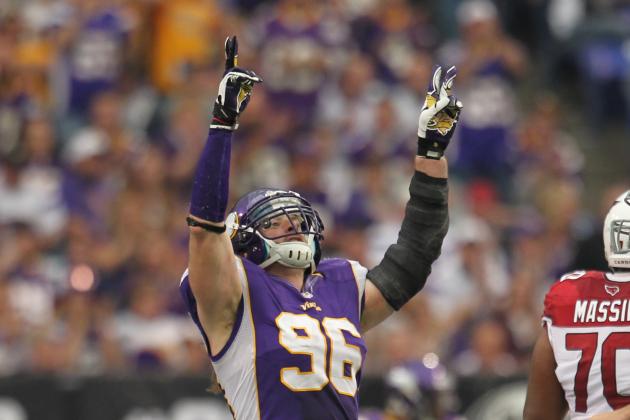 Brace Hemmelgarn-USA TODAY Sports
Brian Robison finished 2012 with 8.5 sacks, .5 more sacks than his 2011 total.
Year Two as a starter wasn't as healthy as Year One, yet Brian Robison's sack total increased by .5 a sack (8.0 to 8.5).
Injuries limited Robison to 15 total games played and limited snaps throughout multiple contests with a shoulder injury.
The knock on Robison entering Year One as a starter was that he couldn't stop the run. His strength was his pass-rushing ability.
Robison cemented himself as a pass-rusher in 2011 and reaffirmed that in 2012. He improved as a run-defender in 2011 and played similarly in 2012.
His total tackles decreased from 2011 to 2012 (44 to 37), but his overall play didn't alter much.
He still has a powerful motor that helps him get to plays that lazier players can't reach. That was on display in Week 17 when he forced a crucial strip-sack of Aaron Rodgers.
Grade: B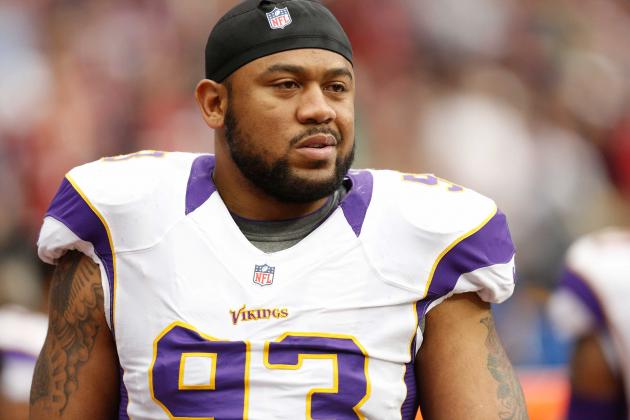 Thomas Campbell-USA TODAY Sports
Kevin Williams posted the fewest sacks and tackles of his career this season.
It's tough watching Kevin Williams continue to decline from the player he once was.
The process is inevitable for every player, but Williams was so strong against the run while providing some pass rush that it's sad how he has fallen.
Williams had 2.0 sacks this season and 30 tackles in 16 games. Both totals are the lowest of his career.
He doesn't stop the run like he used to or get after the quarterback particularly well at this stage in his career. For the most part, he's playing off of his name credits (with the ability to eat up space inside).
He's 32 and will be 33 in August. Expect it to get worse before it gets better.
Grade: C+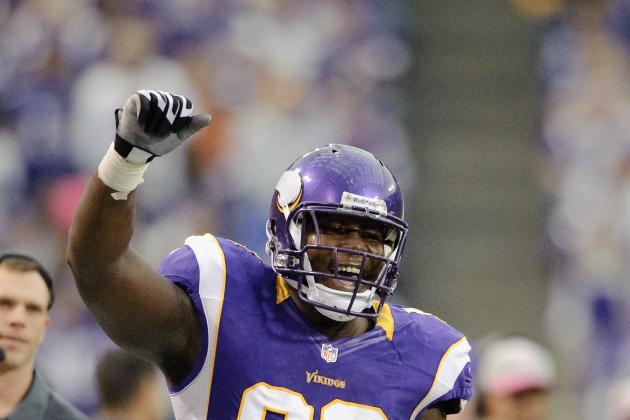 Hannah Foslien/Getty Images
In his first year as a starter Letroy Guion looks more like a rotational player than long-term starter.
With two seasons in the book since Pat Williams retired and effectively brought down the Williams Wall, Minnesota has been in search of his replacement.
Letroy Guion, the one auditioning for the position in 2012, is not a long-term solution.
Guion showed glimpses of greatness this season, which suggests he'd be great as a rotational player.
The fifth-year pro from Florida State recorded 31 tackles and 2.0 sacks in 15 games this season.
He's better as a pass-rusher than a run-stuffer, which is backed by his size (6'4" and 303 pounds).
Grade: C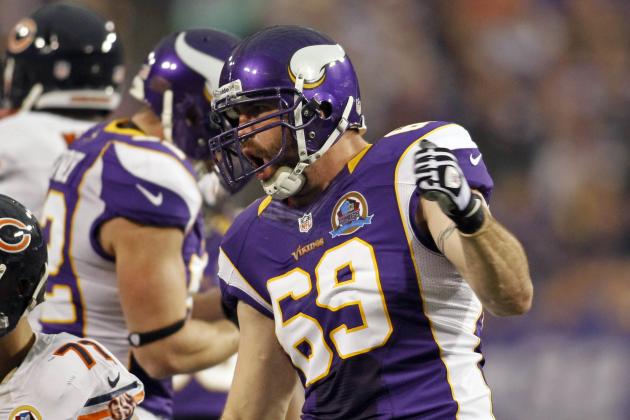 Bruce Kluckhohn-USA TODAY Sports
Jared Allen recorded his sixth straight double-digit sack season in 2012.
Coming off of his 22-sack performance in 2011, the bar was set very high for Jared Allen entering 2012.
The bar was eventually lowered by fans believing that the 30-year-old Allen was beginning to regress due to age after he slowed in the middle of the season; he opened the season with seven sacks in the first eight games.
But it came out in December that Allen was battling a torn labrum in his shoulder that would require surgery in the offseason.
Allen still finished with 12 sacks and 45 tackles, which would have been a career year for many defensive ends.
His performance earned him another Pro Bowl nod, the fifth of his career.
Grade: A-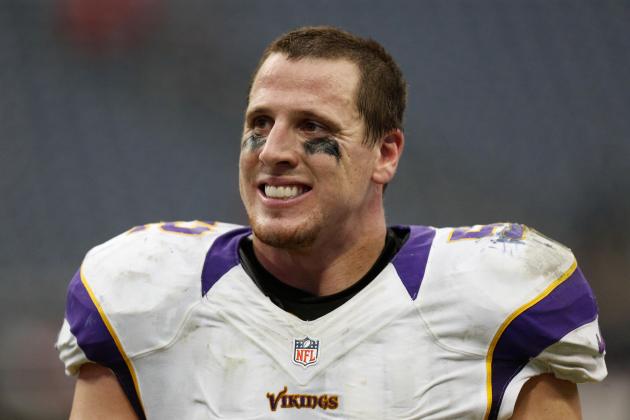 Thomas Campbell-USA TODAY Sports
Chad Greenway recorded the third most tackles in the NFL this season (148).
It was an exciting start to the 2012 campaign for Chad Greenway.
Not only was he making the basic plays that had made him a strong staple in Minnesota's defense, but he was making some extraordinary plays (like his open field sack of San Francisco's Alex Smith in Week 3).
That trend died down quickly.
Greenway still had a strong season. He recorded the third-most tackles in the NFL (148) and is an alternative for the Pro Bowl.
The former Iowa Hawkeye makes his presence known sideline to sideline by making as many tackles as possible, and is the defense's quarterback.
Grade: A-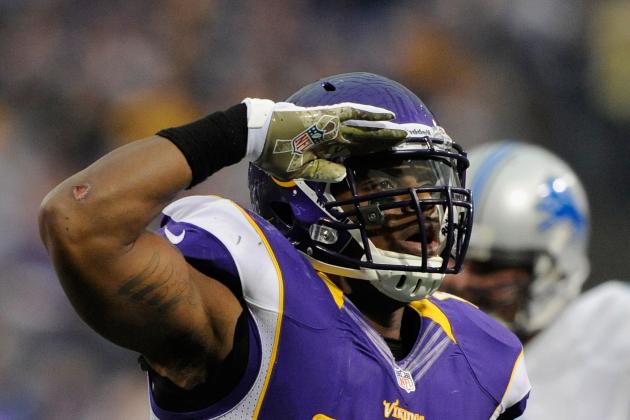 Hannah Foslien/Getty Images
Jasper Brinkley completed his first year as a starter with 97 tackles.
The Vikings knew middle linebacker could be a trouble spot when they were preparing for training camp.
Jasper Brinkley had experience as a substitute player, but never as a starter.
Minnesota took a chance on its 2009 fifth-round pick and was rewarded with glimpses of play-making abilities, but no consistency. He finished with 97 tackles and three forced fumbles in 16 games.
Brinkley is known as a run-stopper, but allowed himself to get swallowed up by offensive linemen far too often. That's unacceptable in Minnesota's defense, which relies on the middle linebacker stopping the run.
The former South Carolina Gamecock showed similar pass-coverage skills as Minnesota's former middle linebacker E.J. Henderson, which is to say his skills aren't worth writing home about.
Grade: C+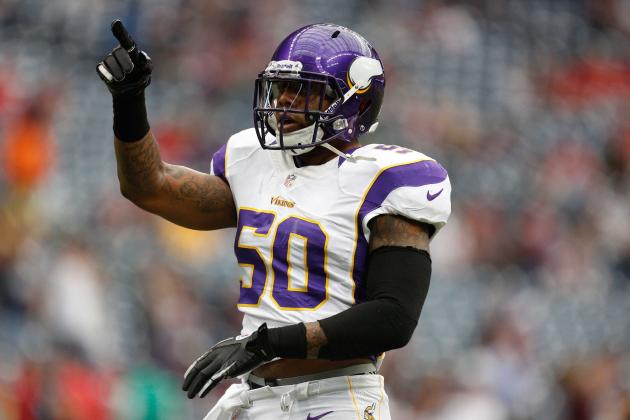 Thomas Campbell-USA TODAY Sports
In his second year as a starter, Erin Henderson had 79 tackles in 14 games.
Glimpses of play-making ability lured the Vikings into giving Erin Henderson a second year as their starting outside linebacker.
He had 70 tackles, two forced fumbles and 1.5 sacks in 15 games last season. This season he had 79 tackles, three sacks and one forced fumble in 14 games.
Henderson started out strong, posting double-digit tackles in Week 1 and Week 2 before suffering a concussion against San Francisco in Week 3.
It was apparent the concussion dragged on Henderson after his return in Week 5. He failed to post 10 or more tackles the rest of the way, but did improve as time passed..
After 2011, the 2012 performance doesn't do much to solidify Henderson's starting post in 2013, but only time will tell.
Grade: C+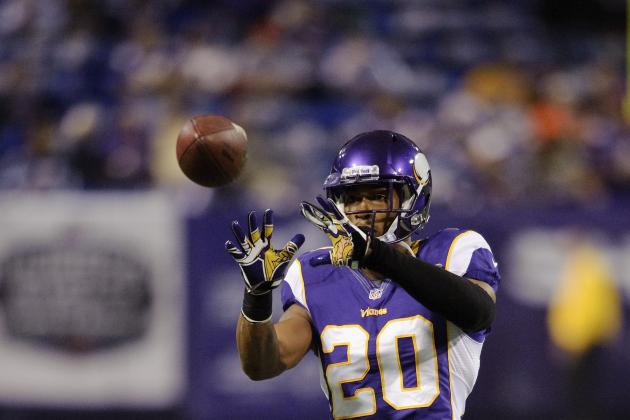 Hannah Foslien/Getty Images
Chris Cook missed six games with a broken right wrist and returned to impact Minnesota's final two games.
While watching Sunday's season finale against the Green Bay Packers, something may have been apparent. Aaron Rodgers and the Packer offense weren't attacking Chris Cook's side of the field.
They consistently attacked his counterpart, A.J. Jefferson (who was filling in for an injured Antoine Winfield).
It makes sense. Cook is becoming Minnesota's shut-down corner. He has the size (6'2" and 212 pounds) and enough speed to cover the game's best receivers.
The problem for Cook, again, was staying on the field. He suffered a broken right wrist in Week 8 vs. the Tampa Bay Buccaneers and missed six games.
Cook finished with 35 tackles and one sack on the season.
Upon his return, the secondary was immediately bolstered as Josh Robinson, Jefferson and Marcus Sherels were on the field less.
Grade: A-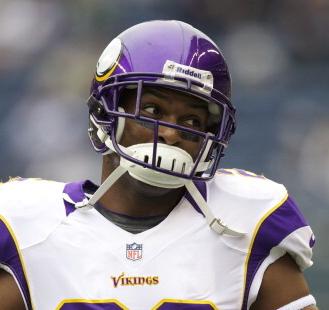 Stephen Brashear/Getty Images
At 35 years old and 14 years of NFL experience Antoine Winfield proved he can still play at a very high level after playing in just five games in 2011.
When Antoine Winfield left during Sunday's 37-34 victory over the Green Bay Packers, it was very evident.
Green Bay's aerial attack gained momentum when it was able to pick apart A.J. Jefferson or Marcus Sherels rather than Antoine Winfield, who left the game after re-injuring the broken index finger on his right hand.
Winfield, even at 35 years old, proved he's still one of the best open field tacklers at his position. Very few defenders escape his grasp. Once his paws are on an offensive player, they typically take the opposition to the ground.
The former Ohio State Buckeye finished with 100 tackles and three interceptions in 16 games. It was just the second time of his career he finished with 100 or more tackles.
Grade: A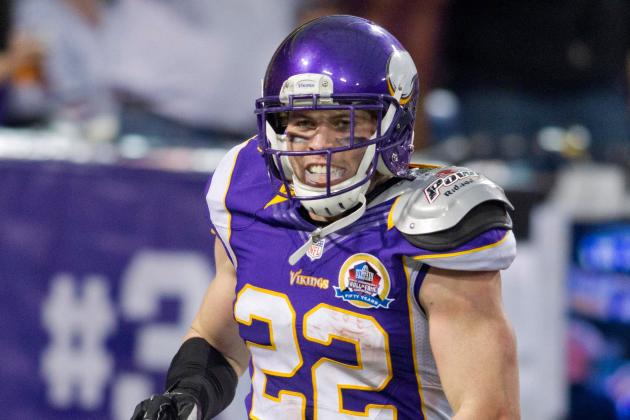 Bruce Kluckhohn-USA TODAY Sports
Harrison Smith returned two interceptions for touchdowns and recorded 103 tackles as a rookie this season.
As the season progressed, the decision to trade back into the first round of the 2012 draft to select Harrison Smith looked better and better.
Smith made his fair share of rookie mistakes, but played well beyond his years for most of the season.
He finished with 103 tackles, three interceptions, one sack and a forced fumble in 16 games.
The former Notre Dame Fighting Irish plays safety with an attitude and an edge Minnesota hasn't had since Robert Griffith roamed center field (sorry Darren Sharper fans).
Smith isn't afraid to knock the snot out of a receiver going over the middle while possessing the ability to play the position gracefully, like Sharper did, and take a pick to the house.
Grade: A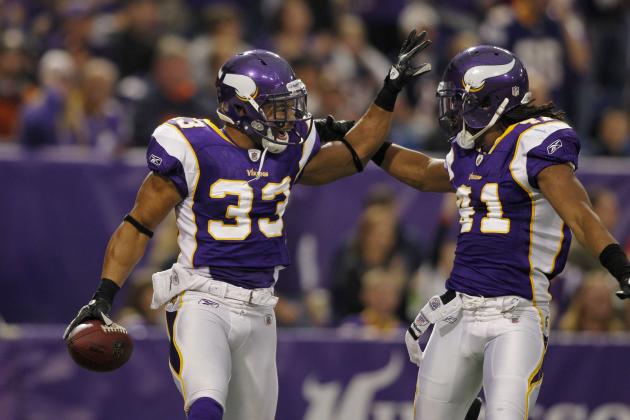 Bruce Kluckhohn-USA TODAY Sports
Jamarca Sanford (No. 33) and Mistral Raymond shared safety duty next to Harrison Smith.
Regardless of who started opposite Harrison Smith in 2012, one thing was certain: neither player is on the level of Smith.
Many expected Mistral Raymond to take a big step forward this season after showing glimpses in 2011. That didn't happen, as injuries derailed his season. Raymond finished with 15 tackles in 10 games.
Jamarca Sanford had shown the ability to play good run defense in 2011 while struggling against the pass. That rung true in 2012, too. Sanford finished with 66 tackles and four forced fumbles in 16 games.
Both players have attributes that make them valuable commodities to an NFL team, but neither should be the starter of a championship-caliber team.
Grade: C+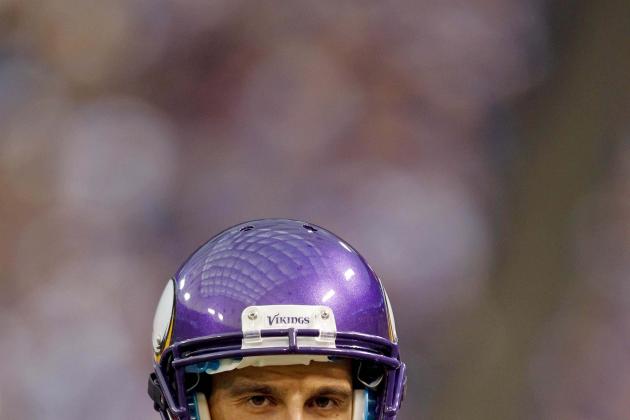 Bruce Kluckhohn-USA TODAY Sports
As off-field distractions piled up Chris Kluwe's on-field performance suffered.
When the average person hears the name Chris Kluwe, they are more likely to think of him as a writer or a political activist.
That's not quite what a team hopes to hear about its punter.
Kluwe struggled so much on the field this season that Minnesota brought in a punter for a workout in October.
Kluwe finished the season stronger than he started and posted his best net total yards (39.7) and third-best average yards (45) of his eight-year career. He still posted the second-lowest percentage inside the 20-yard line (25 percent) and the lowest total inside of the 20 since his rookie season (18).
Grade: B-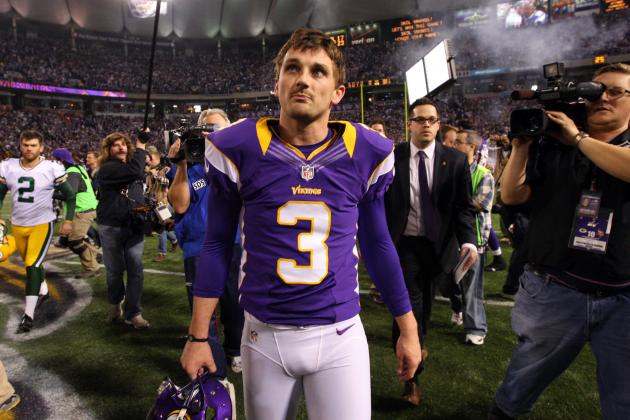 Brace Hemmelgarn-USA TODAY Sport
Rookie Blair Walsh made critics forget about Ryan Longwell very quickly.
Not sure where anyone can be overly critical of Blair Walsh.
As a sixth-round draft pick in the 2012 draft, Walsh was labeled as a kicker with a strong leg and limited accuracy.
He affirmed the former and corrected the latter.
Walsh consistently boomed kickoffs into the end zone, which forced the opposition to start at its own 20.
The former Georgia Bulldog set the NFL record for most field goals made from 50 yards or beyond in a single season (10) and was named to the Pro Bowl. He missed three field goals all season (35 of 38).
Where's the beef?
Enjoy, Vikings fans. Packer fans would kill to have a consistent threat like Walsh on their side.
Grade: A+