10 College Football Playmakers We Can't Wait to See on Sundays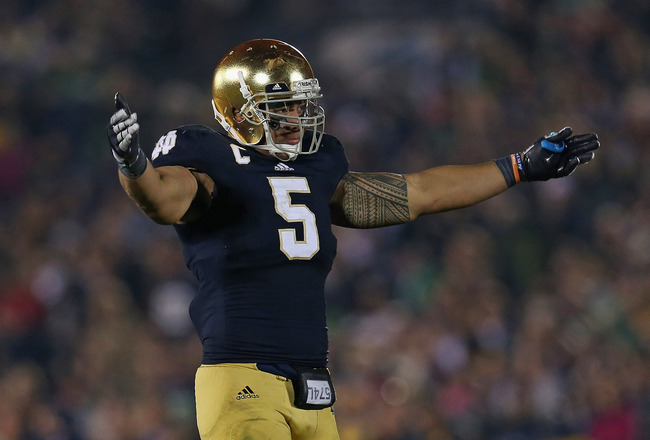 Jonathan Daniel/Getty Images
Some college football players know how to put on a show.
Whether it's by making that big hit, throwing that perfect pass or just barreling their way into the end zone, some few players were just meant to play at the next level.
These players have shown us that they will be exciting additions to the NFL. Some of them will leave now, while other will make the pros wait just a bit longer.
Who are they? Read on.
Denard Robinson, Michigan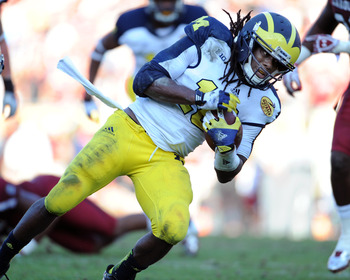 Al Messerschmidt/Getty Images
Denard Robinson probably won't be a first-round draft pick or a quarterback at the next level, but he is too good of an athlete to pass up.
More than anything I'm curious to see how a NFL team will use Robinson, whether that be as a tailback or maybe even at wide receiver.
Montee Ball, Wisconsin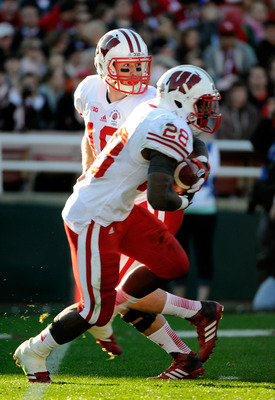 Robert Laberge/Getty Images
What can you say about the man who holds the NCAA record for career touchdowns?
Montee Ball may not have had the year he had last season, but he also didn't have Russell Wilson throwing to him out of the backfield.
Not even close.
So, what will happen when he has an NFL QB throwing to him? I think the NFL may have a scoring machine here.
Bjoern Werner, Florida State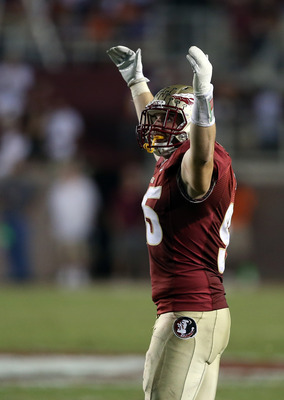 Streeter Lecka/Getty Images
If you like seeing big defensive ends running in from the edge, Bjoern Werner is your man.
Werner has 18.0 tackles-for-loss and 13.0 sacks through the ACC Championship Game. I've got a feeling quarterbacks are going to have to learn to run from Werner at the next level.
Matt Barkley, USC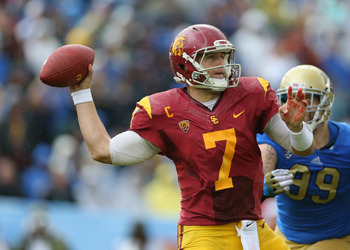 Jeff Gross/Getty Images
Calling 2012 a disappointment for Matt Barkley is a severe understatement.
Still, I wouldn't look past Barkley's potential. If he can get healthy and show why NFL teams were drooling over him in 2011, I think he'll be a solid QB at the next level.
Johnny Manziel, Texas A&M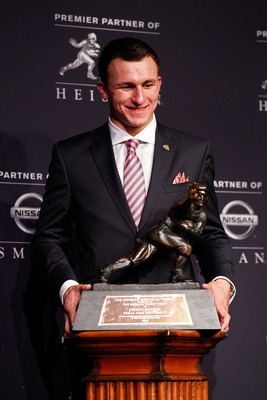 Mike Stobe/Getty Images
It's going to be a while yet before Johnny Football can even think about going to the NFL, but the defending Heisman Trophy winner is a fun QB to watch. Just check out this amazing touchdown against Alabama.
Manziel won the Heisman because he's both good and entertaining. I'm sure he'll be just as entertaining once he gets to the pros.
Star Lotulelei, Utah
Steven Bisig-USA TODAY Sports
You may not have heard of Star Lotulelei, but as his name suggests he was born to be a star.
NFL gurus know who Lotulelei is, which is why he tops a lot of draft boards. He's great at getting into the backfield with 10.0 tackles for loss this season and three forced fumbles.
Now, imagine what he could do with a NFL team...
Ezekiel Ansah, BYU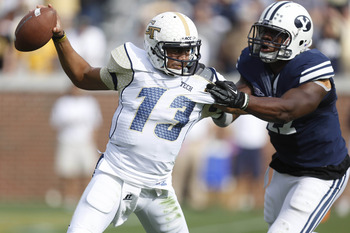 Josh D. Weiss-USA TODAY Sports
Ezekiel "Ziggy" Ansah may be the most interesting story of the 2013 NFL draft.
Ansah came from Accra, Ghana and came to BYU hoping to make the basketball team, but he just wasn't able to make the cut. In 2010, he walked on to the football team without even knowing how to put his football pads on.
Now, he's a potential first round draft pick as he finished 2012 with 4.5 sacks and 13.0 tackles for loss.
Ansah still has much to learn, but I'd love to see this talent further developed in the NFL.
Geno Smith, West Virginia
Jeff Zelevansky/Getty Images
Geno Smith has to be one of the most frustrated players of 2012. Despite throwing for 4,201 yards and 42 touchdowns on the year, the Mountaineers went 7-6 thanks in large part to that horrible West Virginia defense.
I, for one, would really like to see what Smith can do with a decent defense helping out his team. We'll just have to wait to see if Smith's future NFL team can provide what West Virginia could not.
Jadeveon Clowney, South Carolina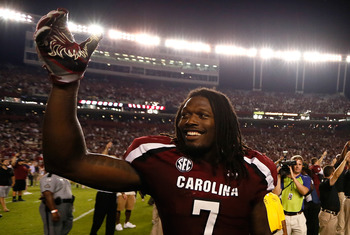 Kevin C. Cox/Getty Images
Did you see what Jadeveon Clowney did to Vincent Smith in the Outback Bowl?
These are the kind of hits NFL fans love to see, and Clowney has a whole highlight reel full of them. However, the pros are going to have to wait at least one more year for Clowney as he's a true sophomore.
Oh, well...
Manti Te'o, Notre Dame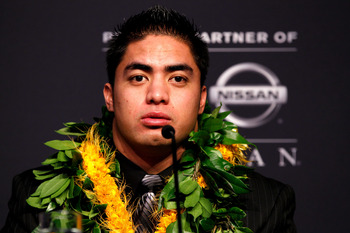 Mike Stobe/Getty Images
The Heisman Trophy runner-up made the NFL wait for him a year, and as a result, Notre Dame is playing for the national championship.
However, the wait is almost over as Te'o will enter the NFL draft in 2013.
Te'o's instincts, ability to make the play and leadership skills will help energize any defense in the NFL. There are plenty of NFL teams who could use a game-changer like Te'o.
Keep Reading