Outback Bowl 2013: Grading South Carolina and Michigan's Performances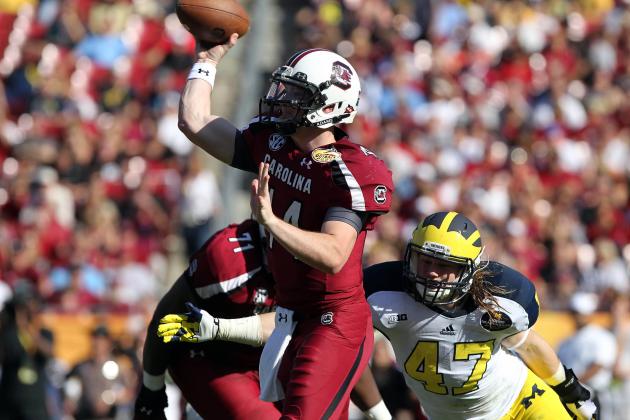 Kim Klement-USA TODAY Sports
QB Connor Shaw led South Carolina to a 33-28 victory over Michigan in the Outback Bowl
The battle between South Carolina and Michigan in the Outback Bowl turned out to be one of the most exciting and entertaining games that we've seen this postseason.
The Gamecocks ultimately relied on big passing plays, including an unbelievable 32-yard touchdown pass from Dylan Thompson to Bruce Ellington with 11 seconds left, to prevail 33-28 down in Tampa.
Here's a look at how each team's individual units performed.
Begin Slideshow

»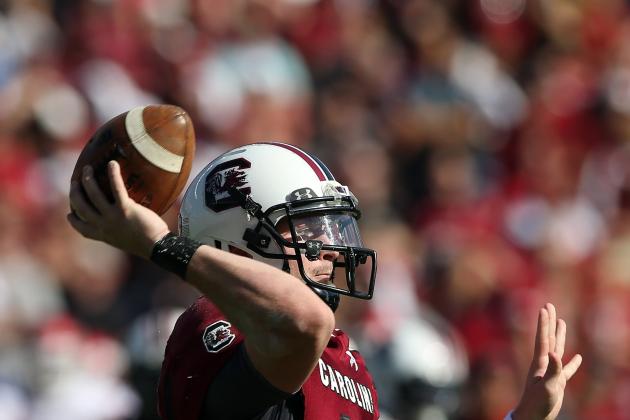 Streeter Lecka/Getty Images
Connor Shaw
South Carolina: A-

Connor Shaw completed 19 of his 27 pass attempts and threw two touchdowns and had no interceptions. Plus, he proved to be a major rushing threat as well, as he totaled 96 yards on 11 carries.

The Gamecocks also got some big plays from backup Dylan Thompson, who was the one who threw the game-winning 32-yard touchdown pass to WR Bruce Ellington


Michigan: C+

Devin Gardner had a rather erratic day throwing the football. He completed just 18 of his 34 passes. Although Gardner's accuracy was certainly spotty, he did throw three touchdown passes, including a crucial scoring strike to Jeremy Gallon on 3rd-and-13 that put the Wolverines up 28-27 with under four minutes left.

He also had a nice-looking 19-yard run right up the middle on a quarterback sneak on 4th-and-1.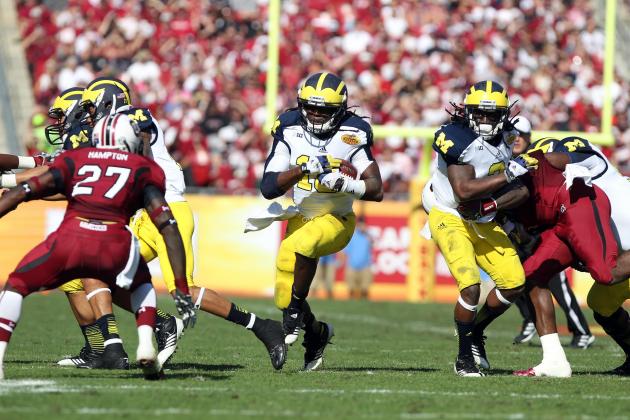 Kim Klement-USA TODAY Sports
Denard Robinson
South Carolina: F

Besides a few nice long runs by QB Connor Shaw, South Carolina had no semblance of a rushing attack in this game.

Kenny Miles was the only Gamecock running back who carried the ball. Miles touched the ball just five times and finished with a grand total of just one yard.

Michigan: B

Denard Robinson lined up as Michigan's main running back for this game. Robinson had a pretty strong day running the ball, as he totaled 100 rushing yards on 23 total carries.

The speedy playmaker may not have a future playing quarterback in the NFL, but he showed scouts that he could definitely handle a running back role in the pros.
Jeff Griffith-USA TODAY Sports
Ace Sanders
South Carolina: A+

South Carolina got some huge explosive passing plays out of its wide receivers in this game. Ace Sanders was the team's leading receiver with nine catches for 92 yards and two touchdown grabs. However, Damiere Byrd, Nick Jones and Bruce Ellington also made some huge plays as well.

Byrd was on the receiving end of South Carolina's first score, which was a 56-yard touchdown catch. Jones hauled in a 70-yard bomb that brought the offense inside the 5-yard line and set up a touchdown. Ellington scored the all-important 32-yard touchdown that won the game.


Michigan: B

Jeremy Gallon was Devin Gardner's top target all game long. Gallon really stepped up and made some big catches, finishing the day with nine receptions for 145 yards and two touchdowns.

Gallon was great, but the rest of the Wolverines' receiver corps didn't really do all that much. Roy Roundtree and Drew Dileo combined to catch just six passes for 49 yards. However, their lack of production can partially be blamed on the inconsistent passing of QB Devin Gardner, who overthrew wide-open receivers on a few different occasions.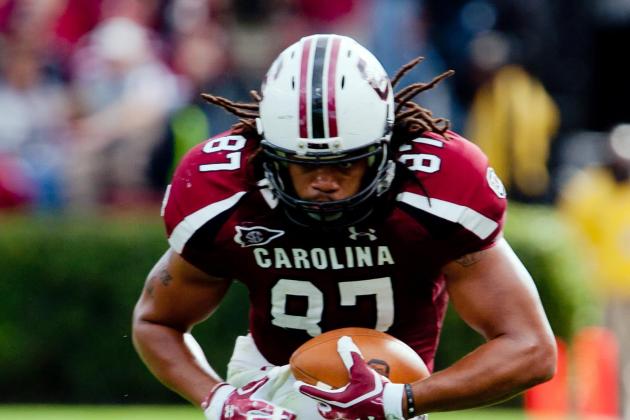 Jeff Blake-USA TODAY Sports
Justice Cunningham
South Carolina: C-

South Carolina got a great day from its wide receivers. But the Gamecocks' tight ends weren't really all that involved in the passing game.

Justice Cunningham had an impressive 37-yard catch over the middle. But that was his only reception of the day. The team's other tight end, Rory Anderson, finished with just one catch for seven yards.


Michigan: D+

Devin Funchess put together a strong debut season in 2012. However, the young freshman didn't exactly cap it off with a huge performance. Funchess finished the game with just one catch for four yards. Plus, there were times when he got beat on a few blocks by South Carolina's speedy defensive ends.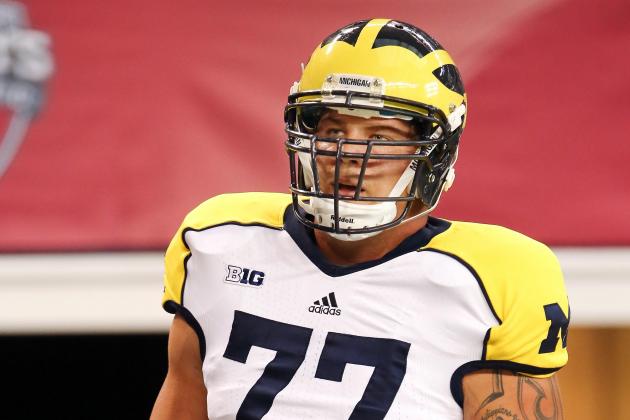 Kevin Jairaj-USA TODAY Sports
Taylor Lewan
South Carolina: C-

South Carolina's offensive line allowed two sacks (it would have been three if it weren't for Connor Shaw's fantastic spin move out of a sack late in the game). Plus the unit certainly didn't get much movement in the running game.

Michigan: C-

Michigan was able to keep South Carolina's star defensive end Jadeveon Clowney in check for the first half. But the Wolverines offensive line wasn't able to keep Clowney out of the backfield in the second half, which resulted in him making the biggest defensive play of the game.

The front five did give Denard Robinson a few nice holes to run through. However, the line also let Devin Gardner get sacked four times.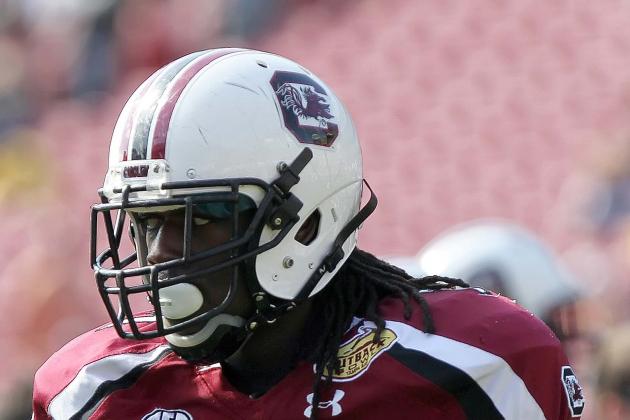 Kim Klement-USA TODAY Sports
Jadeveon Clowney
South Carolina: A-

After a slow start to the game, DE Jadeveon Clowney proved that he was indeed worthy of his tremendous hype late in the game. He made one of the best defensive plays of the season—a vicious hit on Vincent Smith, which caused a fumble that he promptly scooped up.

The Gamecocks finished the game with four total sacks, and they applied constant pressure on QB Devin Gardner all game long.


Michigan: B+

Michigan's defensive line completely shut down South Carolina's running game in the first half, which is why the Gamecocks basically gave up on even trying to establish a ground attack later in the game.

Although QB Connor Shaw sprung through the line and reeled off a couple big runs in the second half, overall, the Wolverines defensive line did a great job of controlling the line of scrimmage.
Kim Klement-USA TODAY Sports
DeVonte Holloman
South Carolina: B

DeVonte Holloman had an outstanding final game in a South Carolina uniform. Holloman played like an animal, and he made impact plays and key stops all over the field.

The converted safety looked like a natural linebacker, as he displayed the type of lateral speed, recognition skills and physicality that NFL scouts are looking for in a starting-caliber outside linebacker.

Michigan: B

Like Holloman, Michigan's star linebacker, Jake Ryan, also had himself a heck of a game. Ryan was chasing down ball-carriers all game long. He also came up with a crucial fumble recovery that gave the Wolverines the ball deep in South Carolina territory.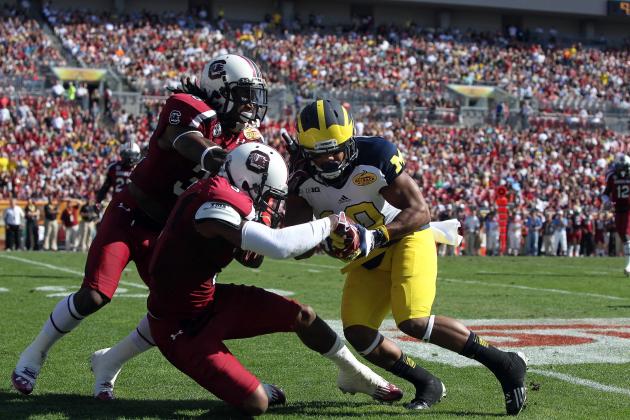 Kim Klement-USA TODAY Sports
D.J. Swearinger
South Carolina: C

South Carolina's secondary was clearly aided by Devin Gardner's lack of accuracy in this game.
There were times when Michigan receivers were wide open down the field, but Gardner just missed them.

Still, you have to give the Gamecocks credit for limiting Michigan to just 214 yards through the air.


Michigan: F

It may sound strange, but an "F" might be too gracious of a grade to give to Michigan's secondary, considering how many big passing plays the Wolverines got burned for in this game.

This defensive backfield looked nothing like the one that came into this game ranked second in the nation in passing defense, allowing an average of just 155 yards through the air per game.

Michigan gave up 341 passing yards and four passing touchdowns, including an inexcusable 32-yard touchdown pass in the middle of the field with just 11 seconds left.

It was just a truly terrible performance by the secondary.
Matthew Stockman/Getty Images

South Carolina: C

Ace Sanders came up with a huge 63-yard punt return for a touchdown in the first quarter. But other than that, there really wasn't anything truly special about South Carolina's special teams.

The field goal team was a disaster. On his first attempt, Adam Yates booted an ugly-looking miss, and his second attempt was blocked.


Michigan: C+

Michigan's punt team gave up that big return to Sanders for a touchdown. However, the Wolverines did get a strong day in the kicking and punting department.

Brendan Gibbons knocked through both of his field-goal attempts from 39 and 40 yards, and Matt Wile boomed a 52-yard kick.

Wile also blasted a few booming punts as well, finishing with a 48-yard average on three punts.