Michigan Football: Grading All 22 Starters from the Outback Bowl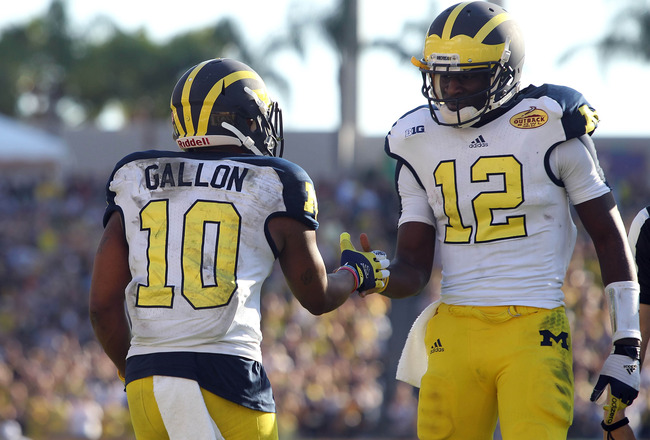 How did Devin Gardner and Jeremy Gallon grade out for the Michigan Wolverines in the Outback Bowl?
Kim Klement-USA TODAY Sports
The Michigan Wolverines could not overcome a lackluster performance by a patchwork secondary in their 33-28 Outback Bowl loss to the South Carolina Gamecocks, who torched the Maize and Blue defensive backs for 341 passing yards on Tuesday.
On the upside for the Wolverines, junior quarterback Devin Gardner made great strides and Denard Robinson turned in an impressive performance in his final game for Michigan.
What grades would all of the Wolverines starters be getting on a report card for this game? Click ahead to find out!
Devin Gardner, Quarterback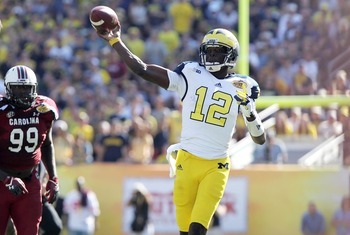 Devin Gardner made a handful of plays for the Michigan Wolverines, but they were not enough to top South Carolina.
Kim Klement-USA TODAY Sports
Devin Gardner: Overall Game Grade: B
Things did not look good for the Michigan Wolverines and Devin Gardner on the first offensive series. The junior dual-threat quarterback missed Roy Roundtree on a slant route, fumbled the ball on second down and threw a jump-ball interception on the following play.
Gardner did manage to settle in later on, though, and turned in an impressive statistical performance when you factor in the struggles Michigan's offensive line had all afternoon and the lack of separation the wide receivers were getting from the South Carolina Gamecocks defensive backs.
The Inkster High School product completed 18-of-35 pass attempts for 214 yards, three touchdowns and only one interception.
Another thing Gardner did well against the Gamecocks is scrambling for first downs. Some of those runs include a seven-yarder on third down and short in the second quarter along with a 19-yard dash on a quarterback sneak in the third quarter.
Unfortunately, Gardner did not make enough plays to carry the Wolverines to a victory, and the 6'4", 203-pounder overthrew Jeremy Gallon and Roundtree on numerous occasions, which is why the signal-caller is only getting a slightly above average grade.
Running Back and Fullback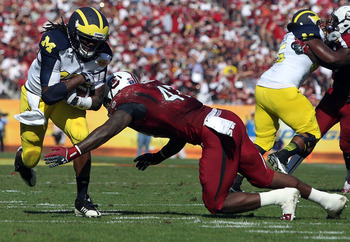 Denard Robinson played primarily at running back for the Wolverines in the Outback Bowl.
Kim Klement-USA TODAY Sports
Denard Robinson: Overall Game Grade: A-
Vincent Smith: Overall Game Grade: C
Joe Kerridge: Overall Game Grade: B
Senior running back Vincent Smith started the game for the Michigan Wolverines, but senior quarterback turned utility man Denard Robinson took a majority of the handoffs out of the backfield for much of the afternoon.
Despite Michigan's struggle to handle the speed and athleticism of the South Carolina Gamecocks' defensive line, Robinson rushed for 100 yards on 23 carries and looked like he should have been playing running back a little bit more often during his time in Ann Arbor.
Robinson also ran the option, hauled in a seven-yard reception and attempted a pass in the loss.
Smith proved to be ineffective for much of the game as a runner, missed a couple of blocks and fumbled the ball in the second quarter.
Meanwhile, redshirt freshman fullback Joe Kerridge quietly escorted Robinson and the rest of the Michigan running backs on several option runs. Kerridge made his first career start for the Wolverines.
Wide Receivers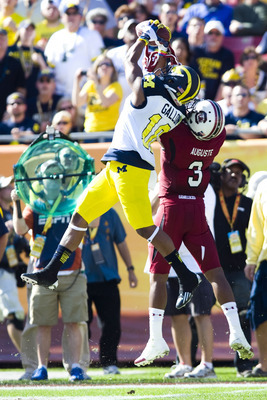 Jeremy Gallon made a number of highlight reel catches for the Wolverines on Tuesday.
Jeff Griffith-USA TODAY Sports
Jeremy Gallon: Overall Game Grade: A
Roy Roundtree: Overall Game Grade: C+
By far the brightest spot from the Outback Bowl for the Michigan Wolverines was junior wide receiver Jeremy Gallon, who caught nine passes for 145 yards and two touchdowns. All of those statistics were career-highs for the Apopka, Fla. native.
Gallon hauled in a couple of jump balls, made a fantastic catch in the corner of the end zone in the third quarter to put Michigan out in front 22-21 and got ESPN's Jon Gruden talking about his double-move route running skills on numerous occasions.
Senior wideout Roy Roundtree was seldom heard from in the loss to the South Carolina Gamecocks, but did make a crucial 16-yard reception to extend a drive at the end of the first quarter and hauled in a seven-yard catch for a first down on Michigan's final scoring drive.
Roundtree gets a bit of a boost for making some important catches for the Wolverines, though, his contributions were limited enough to keep in the C range as far as grades go.
Devin Funchess, Tight End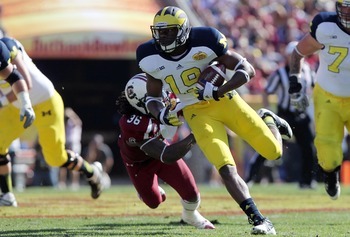 Devin Funchess is rounding into a major threat in Michigan's passing attack.
Kim Klement-USA TODAY Sports
Devin Funchess: Overall Game Grade: Incomplete
True freshman tight end Devin Funchess got some valuable experience in the Outback Bowl, but lost a lot of time to his freshman counterpart A.J. Williams since the Michigan Wolverines needed some extra blockers to keep the South Carolina Gamecocks front seven at bay.
Funchess did make a nice grab and run on a screen play, which went for four yards and was the only reception the Farmington Hills, Mich. product had in the entire game.
The future looks bright for Funchess as the Wolverines continue to transition to a more pro-style offense, though, the 6'5", 229-pounder will need to pack on some more muscle in the offseason and improve as a blocker in order to become more than just a one-trick tight end.
Due to the lack of targets in the passing game, and the shuffling in and out of Williams and Mike Kwiatkowski, Funchess is receiving an incomplete.
Offensive Linemen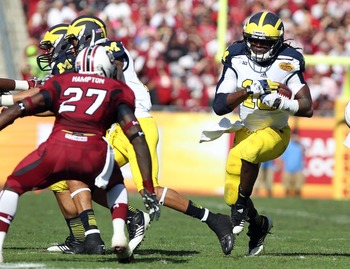 The offensive line struggled against a quick South Carolina defensive front.
Kim Klement-USA TODAY Sports
Taylor Lewan, Left Tackle: Overall Game Grade: B
Ricky Barnum, Left Guard: Overall Game Grade: C
Elliot Mealer, Center: Overall Game Grade: C
Patrick Omameh, Right Guard: Overall Game Grade: C
Michael Schofield, Right Tackle: Overall Game Grade: C
The offensive line lost the battle in the trenches for much of the game, but Denard Robinson found enough small holes to grind out 100 yards on the ground for the Michigan Wolverines.
None of Michigan's other running backs were able to find much room up front and Devin Gardner had to scramble to avoid several sacks.
Thankfully for the Wolverines, left tackle Taylor Lewan managed to win several battles against arguably the nation's top defensive end Jadeveon Clowney.
However, Lewan and the rest of the line get docked a bit for allowing Clowney to absolutely demolish Vincent Smith and force a fumble that set up a 31-yard touchdown pass in the fourth quarter.
Clowney also beat Lewan to take down Robinson in the backfield in the final quarter of play, and the Scottsdale, Ariz. native was called for two penalties.
This game should make it clear to everyone that Lewan is ready to take his talents to the NFL, and that the Wolverines have a long way to go in the rebuilding of their offensive line with at least three starters departing.
Defensive Linemen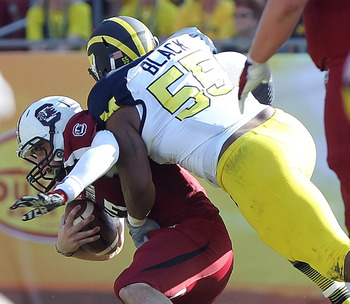 Jirbeel Black made a few key plays for Michigan's defensive front.
Kim Klement-USA TODAY Sports
Craig Roh, Defensive End: Overall Game Grade: C
Quinton Washington, Nose Tackle: Overall Game Grade: C+
Will Campbell, Defensive Tackle: Overall Game Grade: D
Frank Clark, Defensive End: Overall Game Grade: D
With the exception of a couple of blitzes and outstanding efforts from junior reserve Jibreel Black, the Michigan Wolverines did not manage to get any pressure on either Connor Shaw, or Dylan Thompson.
Shaw also rushed for 96 yards on 11 carries, and the lack of a stout pass rush allowed South Carolina's signal-callers to throw for 341 yards without much resistance.
Craig Roh made a crucial third-down tackle in the fourth quarter, which led to a blocked field goal by Quinton Washington, but outside of that the senior defensive end did not make much noise for the Wolverines.
Senior defensive tackle Will Campbell became a complete non-factor in the game, and sophomore defensive end Frank Clark did not record a single tackle.
Linebackers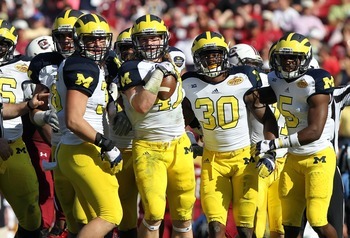 Jake Ryan made several plays for Michigan, including a fumble recovery in the second quarter.
Kim Klement-USA TODAY Sports
Kenny Demens, MIKE: Overall Game Grade: Incomplete
Jake Ryan, SAM: Overall Game Grade: B+
Desmond Morgan: WILL: Overall Game Grade: C
Senior linebacker Kenny Demens made the start for the Michigan Wolverines, but left with an injury early in the game and was replaced by true freshman Joe Bolden, who recorded 2.5 tackles, including one for a loss of two yards.
Redshirt sophomore linebacker Jake Ryan continues to prove he is the leader of Michigan's defense and racked up 1.5 tackles for loss and a half of a sack. Ryan also notched a fumble recovery thanks to a strip by Mario Ojemudia.
Sophomore WILL linebacker Desmond Morgan played well in streaks, though, true freshman James Ross III played several key snaps.
The Wolverines linebackers were by far their top defensive unit and is one of the main reasons Michigan forced the South Carolina Gamecocks to attack its secondary, which head coach Steve Spurrier made sure to do.
Defensive Backs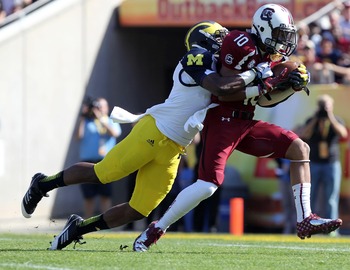 Raymon Taylor got picked in coverage early and often.
Kim Klement-USA TODAY Sports
Raymon Taylor, Cornerback: Overall Game Grade: D
Courtney Avery, Cornerback: Overall Game Grade: B
Jordan Kovacs, Strong Safety: Overall Game Grade: C
Thomas Gordon, Free Safety: Overall Game Grade: C
The wealth of the blame from the Michigan Wolverines loss on Tuesday afternoon lies with the secondary, which blew several coverages, missed tackles and were gashed to the tune of 341 yards between the quarterback combination of Connor Shaw and Dylan Thompson.
Time and time again, the Gamecocks picked on sophomore cornerback Raymon Taylor and two of South Carolina's touchdown passes were a direct result of blown coverage by the Detroit, Mich. native.
Taylor saved himself from a failing grade by chasing down Shaw on a 64-yard run, which saved a touchdown and allowed the Wolverines to keep points off the board thanks to a missed field goal by Adam Yates.
Junior cornerback Courtney Avery did not get thrown at as often as Taylor, and made some solid open-field tackles in his first career start.
Senior safety Jordan Kovacs missed a tackle on Shaw's big run and got burned on the game-winning touchdown pass to Bruce Ellington.
Finally, junior free safety Thomas Gordon made an impressive tackle early in the fourth quarter only to later get burned by Ace Sanders twice.
The first mistake by Gordon resulted in a 31-yard touchdown for the Gamecocks, while the second allowed Sanders to convert a fourth-and-three on South Carolina's final drive of the game. Gordon did lead the Wolverines with five tackles, but his mistakes level out his letter grade.
Keep Reading

Michigan Wolverines Football: Like this team?