Ranking the 10 Fights We'd Most Like to See in 2013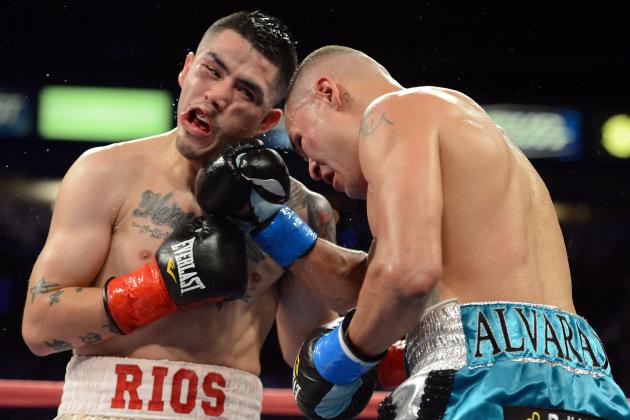 Harry How/Getty Images
Brandon Rios, pictured left, and Mike Alvarado, pictured right, may fight in a rematch of their epic first encounter from 2012.
Fights are dreamed up by fans all the time. What separates the dream fights from reality are the willingness of two brave challengers to do battle and the willingness of promoters to make fights happen.
Sometimes a dream fight fits in perfect alignment with a promoter's intention. Other times, a dream fight can be merely that, a dream.
As 2013 gets underway, a new year of dream fights are brewing. While the majority of them may be just a dream, some could actually happen.
Here's a look at the 10 fights fans would most like to see next that could actually happen this year.
Begin Slideshow

»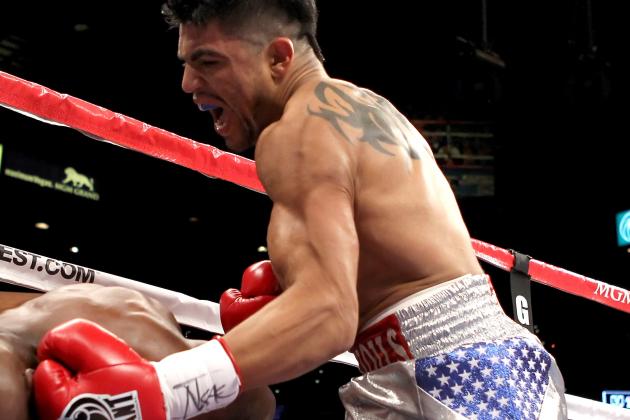 Al Bello/Getty Images
Victor Ortiz during his big chance against Floyd Mayweather Jr. that he ruined with a foolish headbutt.
Victor Ortiz vs. Andre Berto was the highlight of both men's careers, even the loser, Berto, won that fight because of all the respect he garnered by getting off the canvas twice to knock Ortiz down twice.
Ortiz has since lost twice, once by knockout and then by a stoppage due to a broken jaw. Berto has lost once in a welterweight title shot against Robert Guerrero after failing a drug test in earlier 2012.
Berto's failed drug test cancelled a planned rematch against Ortiz, but ESPN reports that Berto's proved his innocence since returning this past fall.
Both Ortiz and Berto have shown a willingness to take random drug testing, so a rematch should be back on the schedule for 2013. The fans want it, and both fighters need something to bring them back.
The winner of Ortiz-Berto II would undoubtedly be set to make a comeback. For a more extensive look at the Ortiz-Berto II fight and why I think this fight should be on the Mayweather-Guerrero undercard, follow this Bleacher Report link.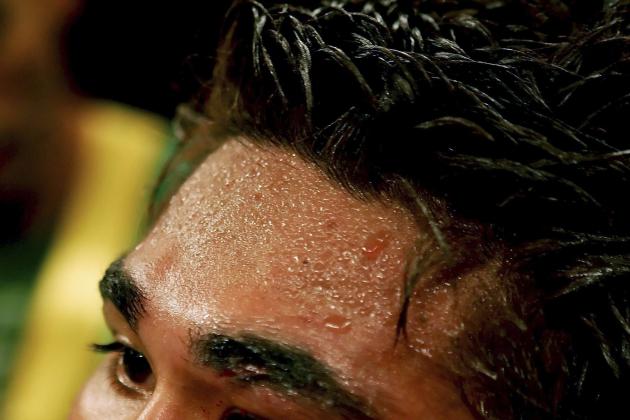 Jed Jacobsohn/Getty Images
Brian Viloria
Brian Viloria is a battle-tested veteran on a late-career resurgence with huge knockout victories over some of his biggest rivals, including the man who gave him his first loss, Omar Niño Romero.
Roman Gonzalez is a young, talented world champion who's undefeated and powerful. Gonzalez only sits one division below Flyweight king Viloria, and this fight has epic written all over it.
It's a familiar story in boxing. Hard-nosed veteran vs. a hot-blooded young pup ready to rip the old dog's throat out. What makes this fight possible is promoter Bob Arum actually saying he wants it.
Bob Arum told Boxing Scene he has an interest in making the fight in 2013, and when he does, audiences can expect a firecracker where it doesn't matter who wins, just that they tuned in to see it.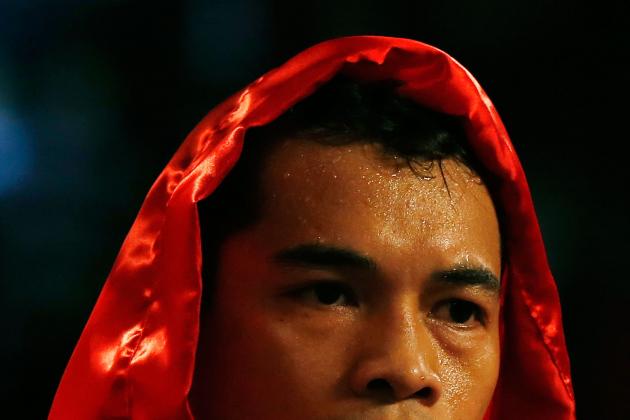 Scott Halleran/Getty Images
Nonito Donaire
Nonito Donaire has cleaned out the super bantamweight division to the point where there's only two notable names left to conquer, WBC champ Abner Mares and WBA king Guillermo Rigondeaux.
Rigondeaux and Donaire happen to have the same promoter, so a fight between those two is a very natural next step as fans demand to see a clear No. 1 in the super bantamweight division.
Rigondeaux is a slick masterful boxer and two-time Olympic gold medalist.
Donaire's pressure and power could prove too much for him or Rigondeaux could prove too slick for the Filipino warrior.
Either way, it would go a great deal toward legitimizing Rigondeaux's professional career or Donaire's reign over the super bantamweight division.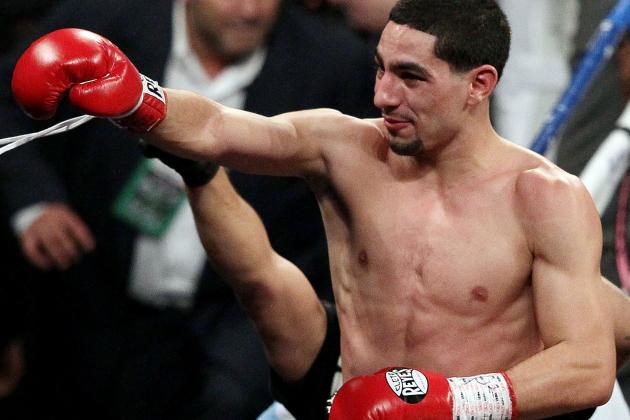 Alex Trautwig/Getty Images
Danny Garcia holds the WBC and WBA junior welterweight championship titles.
Amir Khan went into his match vs. Danny Garcia as the slight favorite, and Garcia proved why it should've been considered a 50/50 fight in his fourth-round knockout victory.
Khan was able to win the first two rounds with his superior speed, but in Round 3, Garcia landed a counter hook that sent Khan crashing to the mat.
Khan would survive the round off pure heart alone, but Garcia would put an end to things in the following round.
Khan has now dumped his trainer, Freddie Roach, and joined forces with Virgil Hunter, the trainer of 2011's Fighter of the Year Andre Ward. Can Khan change his ways under the tutelage of Hunter?
That could very well happen, but will it be enough to win a rematch? Fans want to know and may find out in the fall/winter, according to the Ring website.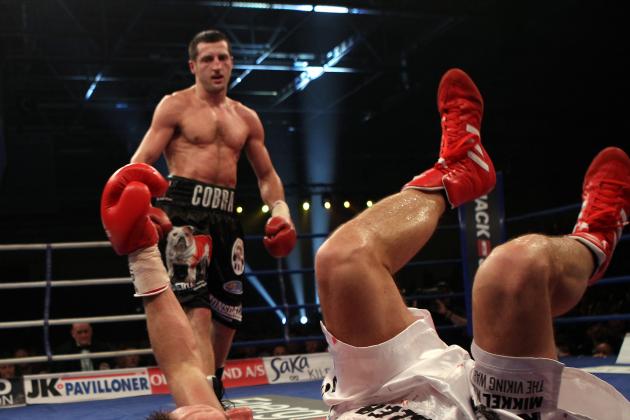 John Gichigi/Getty Images
Carl Froch, standing, looks to get revenge against Mikkel Kessler, sitting.
Carl Froch is now IBF world champ, and Mikkel Kessler holds a WBA title at super middleweight. Both fighters met in 2010 for the WBC super middleweight title in what the BBC could only call "a cracking fight."
Froch-Kessler was one of the best fights of 2010. Both men had never been knocked out before and would be damned if they were to get knocked out that night. The fight went to a close decision.
Kessler picked up the victory in his home country of Denmark, handing Froch his first loss, but now Froch will have the home-field advantage in England when the two meet again sometime in summer 2013.
In a close fight, the man with the home-field advantage could win, but don't expect this one to definitely head to the scorecards. Both men pack power and wicked intentions in their fists.
As can be seen in Martinez-Williams II and Pacquiao-Morales II, a rematch to a competitive fight between fighters that originally reached a decision in the first fight can end in a brutal knockout.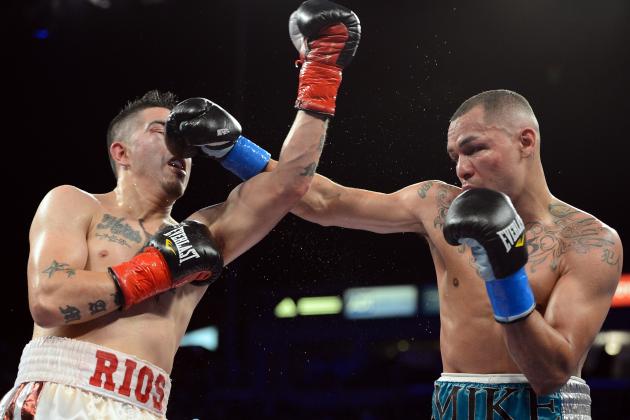 Harry How/Getty Images
Brandon Rios and Mike Alvarado engaged in brutal combat during their first fight.
Every once in a while, two fighters come along that each have a style so ready-made for each other that all fans can do is giddily talk among each other until the fight comes into fruition.
Brandon Rios vs. Mike Alvarado was clearly one of those fights. Both are sluggers with hard chins and a never-back-down attitude. Both men were also undefeated and willing to die in the ring before giving up.
The first match didn't disappoint. Blood and heavy shots were traded for an intense seven rounds. Rios was able to outlast Alvarado and throw a steady stream of hooks and overhand rights to stop Alvarado.
Despite the loss, fans would still love to see them come together again. The stoppage in Round 7 could be argued as an early stoppage to an intense fight that could've changed at any moment.
Both fighters' promoter, Top Rank, is planning on having the match again in March. When the rematch happens, a referee such as Steve Smoger who lets fights go on longer would be advised.
Smoger would allow the rematch to continue until it reaches a more fitting conclusion with either one of the fighters going out on their shield instead of momentarily out on their feet.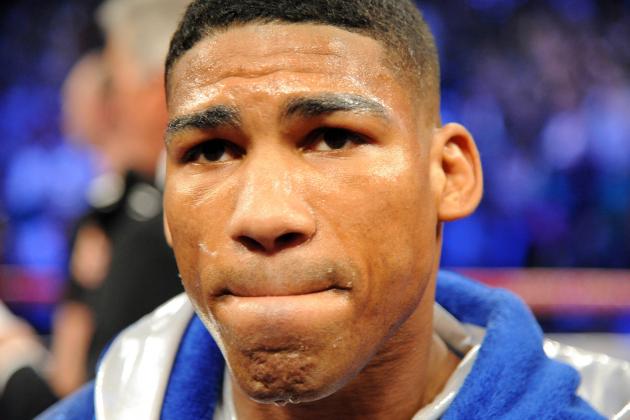 USA TODAY Sports
Yuriorkis Gamboa after recently returning to combat Dec. 8 on the Pacquiao-Marquez IV HBO PPV televised undercard after over a year of absence from the ring.
Adrien Broner vs. Yuriorkis Gamboa is interesting for one reason: speed and slickness plus power and precision equals a fast display of excellence.
Broner and Gamboa have speed and power like no fighter in or around the 130 to 135 weight classes. Gamboa is a super featherweight champion, while Broner holds a lightweight title.
Gamboa would likely have to move up in weight to make it happen, but when it does happen, the hype for the fight will be unreal as HBO and the promoters move heaven and earth to sell the fight.
Gamboa's promoter, rapper 50 Cent, has already told the Ring website that Broner-Gamboa "could turn into the new Floyd Mayweather-Manny Pacquiao."
In order for it to live up to the hype, Broner has to fight who he can at lightweight until Gamboa has fully shaken off the ring rust and had a least one tune-up at 135. Then look for this one in late 2013.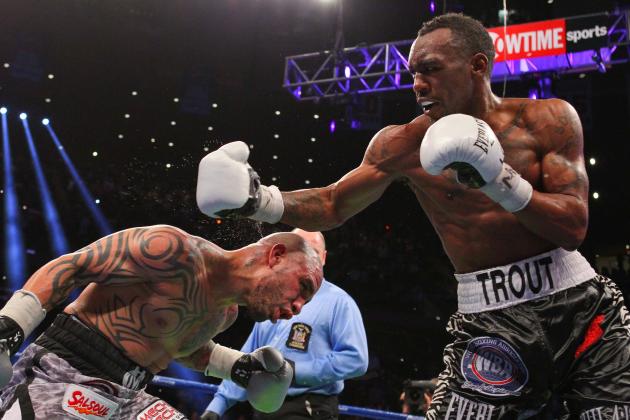 Ed Mulholland-USA TODAY Sports
Austin Trout, pictured right, outboxed Miguel Cotto in a career win to get the opportunity to face Canelo Alvarez.
Saul "Canelo" Alvarez is undefeated and WBC junior middleweight world champion, but he is untested. Before he can even think of facing the likes of Floyd Mayweather, he needs a signature win.
Miguel Cotto was meant to be that signature win if he had beaten him. The problem is undefeated WBA champ Austin Trout got to Cotto first in Madison Square Garden.
By becoming the first to end Cotto's seven-fight winning streak in Madison Square Garden, Trout made a fight between himself and Canelo the quintessential fight to make.
If Alvarez can beat Trout, he will not only raise the legitimacy of his title reign, he will also have the signature win on his resume to validate the big fight with Mayweather.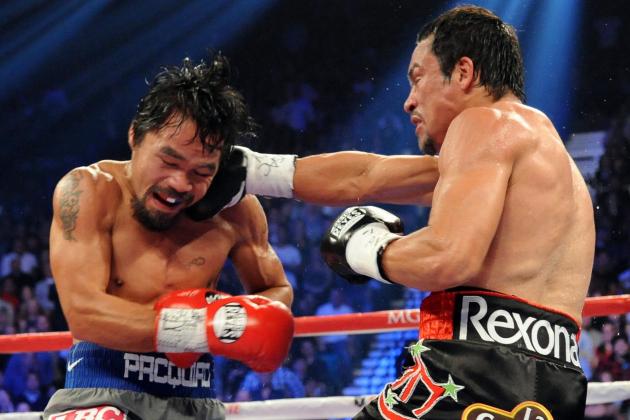 USA TODAY Sports
Manny Pacquiao and Juan Manuel Marquez going toe to toe in their fourth battle.
Pacquiao-Marquez V sounds crazy doesn't it? But after fans were treated to one of the most shocking finales to a major fight in years when Pacquiao hit the floor in the last fight, a fifth fight sounds wonderful.
Marquez is a counterpuncher made to make Pacquiao think before he rushes in. Pacquiao is a busy fighter made to make Marquez think quick or pay fast. These two always make for an epic encounter.
Change the setting to the Cowboys Stadium in Arlington, Texas and you have potentially 100,000 Mexicans and Filipinos on their feet. The atmosphere raises the stakes and provides a great backdrop to what could function as the perfect swansong to both their Hall of Fame careers.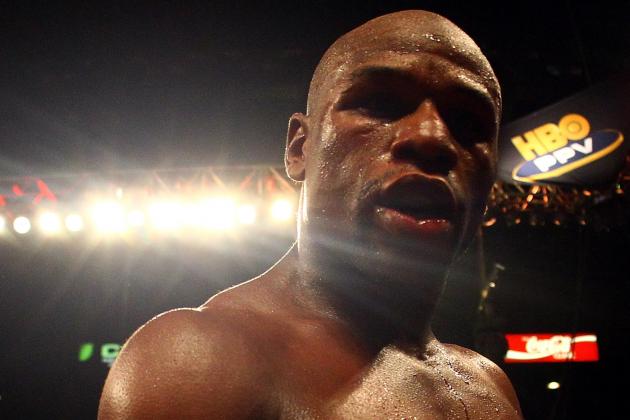 Al Bello/Getty Images
Floyd Mayweather may see the light of a Manny Pacquiao fight at the end of the HBO PPV tunnel.
Manny Pacquiao vs. Floyd Mayweather is still the most hyped fight that can be made in boxing, despite Mayweather approaching 36 years old and Pacquiao recently suffering a devastating knockout loss.
Even if Mayweather loses his next fight, the demand still won't slow. In fact, the fight may become even more tantalizing if both fighters take a big loss before it happens to give the illusion of an even fight.
So long as both fighters have something left in the tank, fans will always go crazy over this match. The popularity of the two figures involved and the battle of styles will always make their clash interesting.
In 2013, there's not much left for either fighter outside of each other. Pacquiao has a potential revenge fight with Juan Manuel Marquez, and Mayweather has big-money fights on Mexican holidays against Robert Guerrero and Saul "Canelo" Alvarez.
None of these fights can compare to the economical and potential legacy impact of facing each other. Maybe the new year will see these two icons finally agree on terms for the fight of the century.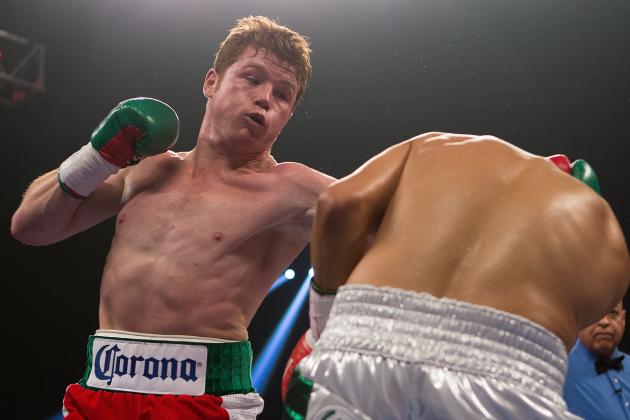 Josh Hedges/Getty Images
Saul "Canelo" Alvarez, pictured left, goes in for the kill against Josesito Lopez.
Floyd Mayweather vs. Manny Pacquiao has inevitably lost some luster after stalled negotiations and Pacquiao's recent knockout loss to Mexican rival Juan Manuel Marquez.
Boxing fans will, of course, look for the next big superfight. In steps Saul "Canelo" Alvarez. A 22-year-old red-headed hotshot who is already a superstar in his native Mexico.
Mayweather owns a WBA title at 154 pounds, and Alvarez owns a WBC title. Should they unify, the winner would emerge as the obvious division king.
Should Canelo defeat Mayweather, he would instantly become the next million-plus selling pay-per-view superstar. As Mayweather turns 36 years old, youth is not on his side.
The intangibles of what he has left and what Canelo could learn by the time he faces Mayweather makes this match intriguing and certainly one of the biggest blockbuster fights available.