Portland Blazers vs. New York Knicks: Live Score, Results and Game Highlights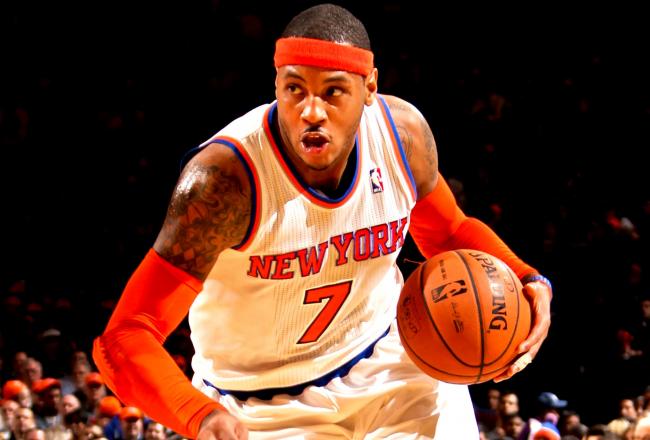 The Portland Trail Blazers defeated the New York Knicks 105-100 at Madison Square Garden tonight. Carmelo Anthony led all scorers with 45, but it wasn't enough in Amar'e Stoudemire's return.
Let's look and see why the Blazers were able to come away with the win.
1. Great poise
Portland led by as much as 19 in the second quarter, but the Knicks inched their way back into the game and got the lead down to three in the third period. The Trail Blazers never panicked. Led by their unflappable rookie point guard Damian Lillard, Portland led from wire-to-wire and answered every New York run with a run of their own.
2. Rebounding
The Blazers killed the Knicks on the glass tonight, outrebounding them 47-37 and corralling 13 offensive boards. LaMarcus Aldridge finished with 14 rebounds, seven of them coming on the offensive end. He also had a huge putback to put Portland up six points late. The Trail Blazers controlled the glass from the get-go, hauling in eight offensive boards in the first quarter. They never let up, either. Rebounding has been an issue for New York all year, and it reared its ugly head again tonight.
3. Great leadership from Lillard
What else is there to say about the rookie at this point? He has been hitting big shots all year and did so again tonight, nailing a cold-blooded stepback three to put his team up 103-97 with 35 seconds left. He finished with 21 points, six assists, and five rebounds. Yet another fine all-around performance from the Weber State product. This kid is going to be in the conversation for the best point guard in the league very soon.
4. Points in the paint
The Blazers had a 48-36 edge in points in the paint tonight, outscoring the Knicks 32-12 in that category in the first half. J.J. Hickson was the biggest catalyst early on, as he poured in 18 first half points off 9-of-10 shooting (he finished with 18 points off 9-of-11). He got into some foul trouble in the second half, though, leaving it to Aldridge to patrol the inside. Aldridge tallied 19 points.
5. Hot shooting from Nicolas Batum
Nicolas Batum shot 6-of-12 from behind the arc tonight, finishing with 26 points. The Blazers should be thanking him dearly, as the rest of the ballclub hit on only five of their other 21 attempts from long range.
6. Forcing the Knicks to shoot perimeter jumpers
New York shot 10-of-37 from three-point range and 43 percent from the floor overall. Credit Portland's tough, physical defense for that.

So, once again, the Blazers defeated the Knicks by 5 tonight.
BLAZERS 105, KNICKS 100 - FINAL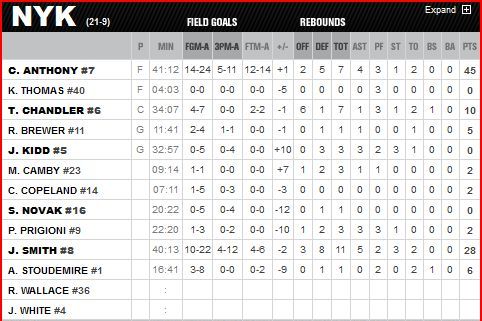 Knicks final box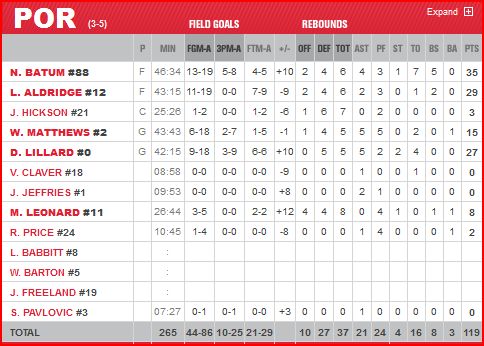 Blazers final box
Matthews hits a pair of clutch FTs. Smith misses a 3, and that'll do it. The Blazers top the Knicks.
BLAZERS 105, KNICKS 100 - FINAL
Knicks now have to foul and send Wes Matthews to the line.
Melo misfires on a quick three attempt on the other end. Portland rebounds. Not sure why NY didn't go for a two there.
BLAZERS 103, KNICKS 100 - 13.8 SECONDS REMAINING IN 4TH QUARTER
Knicks force a jump ball. Incredible.
Blazers 103 Knicks 100 with 29 seconds left. Blazers have the ball. I think the ball is going in Damian Lillard's hands. I could be wrong.

— Chris Haynes (@ChrisBHaynes) January 2, 2013
Should be intriguing to see what Portland draws up out of this timeout. Do they let the rookie Lillard take the shot again? I certainly would.
I don't anyone is overlooking this anymore.
One aspect of this game that could get overlooked is the rebounding of LA. He has 14, including a huge off reb and put-back w 1:13 left.

— Joe Freeman (@BlazerFreeman) January 2, 2013
Hickson has been out the entire quarter. He comes back in and pulls off the most foolish foul you will ever see. Melo with a clear path to the basket. He dunks and Hickson fouls him from behind. Melo comes up limping. Hits the FT to complete the 3-point play.
BLAZERS 103, KNICKS 100 - 29.3 REMAINING IN 4TH QUARTER
P.S.: Carmelo has 42 points.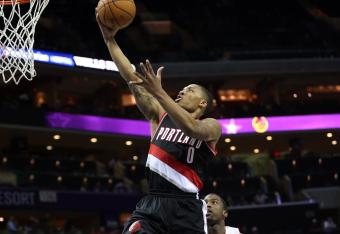 Oh and Damian Lillard hits a stepback three! This kid has been unbelievable all season. He has been so clutch all year and he displays that again here. Such a smooth move from the kid. We are witnessing a superstar in the making in Lillard.
BLAZERS 103, KNICKS 97 - 35 SECONDS REMAINING IN 4TH QUARTER
Aldridge has been killing the Knicks all night. Another offensive putback to put POR up 6. Melo then comes back and drains a three to bring the Knicks to within 3. What a game.
BLAZERS 100, KNICKS 97 - 50 SECONDS REMAINING IN 4TH QUARTER
The Knicks are down four with less than 1:25 left in the game. It's getting real over here. Blazers 98 Knicks 94.

— Chris Haynes (@ChrisBHaynes) January 2, 2013
Blazers don't really have a direction right now offensively. They either need a Lillard penetration or Aldridge in the post. Batum in the corner for three should be the third option.
Wow. J.R. Smith with an INCREDIBLE acrobatic putback off of a Carmelo miss. Just like that, it's a four-point game. Still plenty of time left. Blazers looking like the Bad News Bears all of a sudden.
BLAZERS 98, KNICKS 94 - 1:25 REMAINING IN 4TH QUARTER
So much for that. Lillard travels. Game is right there for the taking for NY.
This has been Damian Lillard time this season.
Wow. They say Matthews fouled Melo on that play. Strange.
However, Anthony misses one of two from the line.
BLAZERS 98, KNICKS 92 - 1:51 REMAINING IN 4TH QUARTER
Yet another bad foul by Matthews. Tried to fight around a screen by Chandler and hooked him.
Anthony hits two of three FTs. Smith then comes down off a Batum miss, gets fouled, and hits a pair. Blazers have to be careful here. It's only a seven-point game now. Gotta run some clock and get good shots inside like they had been doing.
BLAZERS 98, KNICKS 91 - 2:26 REMAINING IN 4TH QUARTER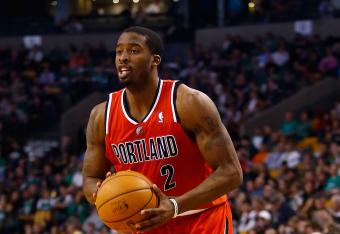 Matthews fouls Anthony behind the three-point line and now Melo will attempt three FTs. That's the last thing you want to do in that situation.
Odd how Hickson has not even played in this quarter.
Batum puts an end to the Knicks run with two FTs. He has been huge tonight for Portland. 26 points.
BLAZERS 98, KNICKS 87 - 3:10 REMAINING IN 4TH QUARTER
This article is
What is the duplicate article?
Why is this article offensive?
Where is this article plagiarized from?
Why is this article poorly edited?