Old Teams That Need to Blow It Up, Start from Scratch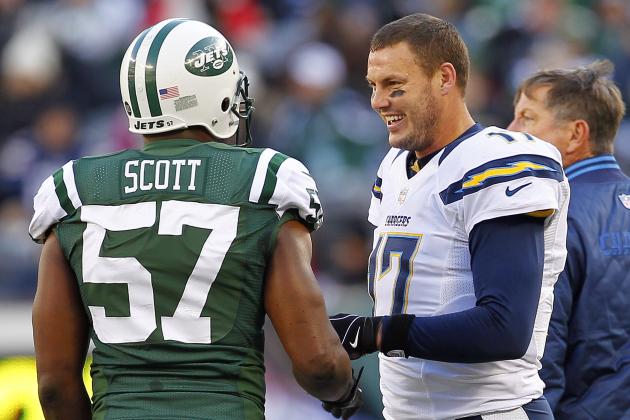 Rich Schultz/Getty Images

The NFL is a young man's game.
There's a fine line between respecting veteran leadership and retooling a team with youth, and it's one Bill Belichick has toed with skill for more than a decade with the New England Patriots.
Teams like the New York Jets and San Diego Chargers have been less successful, though, and it's the primary reason both franchises are currently shopping for new general managers.
Sometimes the best way to make progress is to tear the entire structure down and start anew. With that in mind, here are a few NFL franchises that would be well served to blow up their roster and start from scratch, much like what Pete Carroll did up in Seattle a couple of seasons ago.
Begin Slideshow

»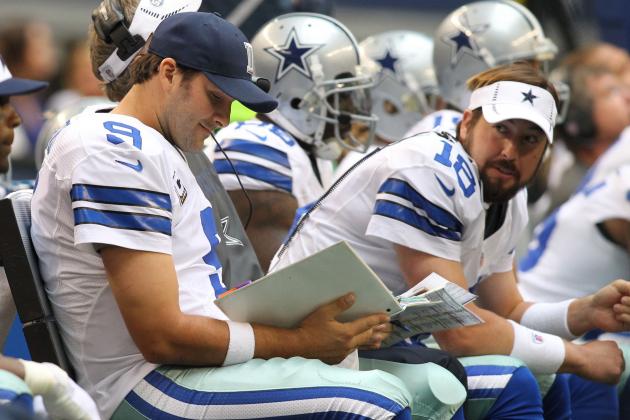 USA TODAY Sports

This one's simple: The Dallas Cowboys need to embrace the truth and realize Tony Romo isn't the golden boy they thought he was.
It's time to draft a young quarterback.
Romo is 32, and his backup Kyle Orton is 30. Neither Romo nor Orton is the quarterback of the future for Dallas, but don't try to tell Jerry Jones, who is convinced that Romo will get him to the promised land.
Never mind that Romo is 1-6 in "win-or-go-home" games.
The Cowboys need to embrace the youth movement at the quarterback position and let Romo become his tutor.
At least he can teach the young quarterback what not to do.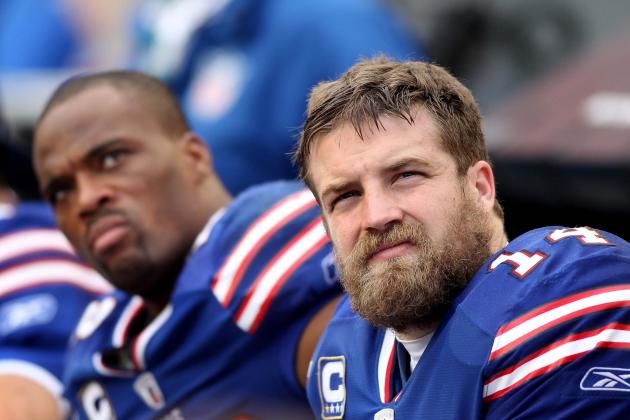 Robert Mayer-USA TODAY Sports

There's not much the Buffalo Bills can do about the massive amount of cash spent last year on free agents, but this franchise must at least make some hard decisions about the offense.
Ryan Fitzpatrick and Fred Jackson, in particular, are huge problems for the Bills. Both were recently rewarded with big contract extensions, and both have proved to be liabilities.
Jackson finished the 2012 season in exactly the same place he did in 2011—on IR.
Fitzpatrick has proved to be a massive disappointment at the quarterback position. At the age of 30 and with eight years under his belt, it's likely we've seen the best he has to offer.
Meanwhile, C.J. Spiller—one of the most explosive weapons in the NFL—has been underutilized to the point of madness, and it's not hard to envision a quarterback like Tyler Wilson revitalizing the Bills passing attack as a rookie in 2013.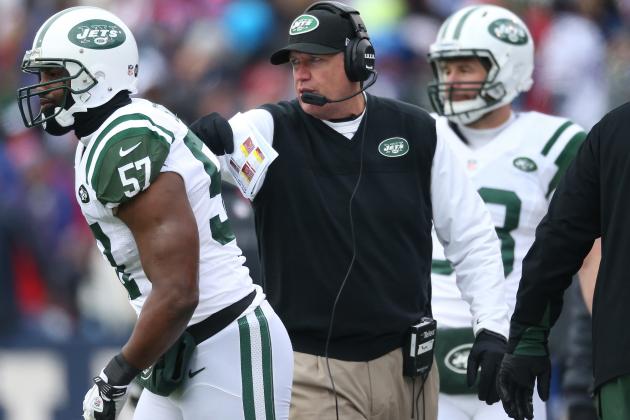 Tom Szczerbowski/Getty Images

The New York Jets made a huge mistake when they decided to keep Rex Ryan. His influence over which players were brought into the organization should matter just as much as Mike Tannenbaum's.
Things aren't likely to change much until he's no longer the head coach.
That said, whoever decides to take on the challenge of revamping the Jets roster needs to take a hard-line approach and get rid of some players—both young and old—who have not been worth keeping around for the past year or longer.
The Jets are particularly old on defense.
Sione Pouha (33), Calvin Pace (32) and Bart Scott (32) have seen better days, as has Yeremiah Bell (34). Much of the problem lies in the fact that the Jets haven't drafted well, so Ryan has necessarily turned to his veterans to get the job done.
But this isn't a dominant defense anymore, even when Darrelle Revis is back and ready for action.
Mark Sanchez isn't old, but he isn't good either. The Jets would be smart to take the cap hit and just cut him or at least attempt to trade him. Sanchez may end up becoming a serviceable quarterback, but it's not happening with the Jets.
The offensive line is a mess too, and it'll get worse if the team can't afford to keep Brandon Moore, who will hit the free-agent market in the spring.
The Jets need to start from scratch. There's no easy fix for this disastrous team, and the best course of action will be to bite the bullet and let the surgeon (aka the next general manager) do his work.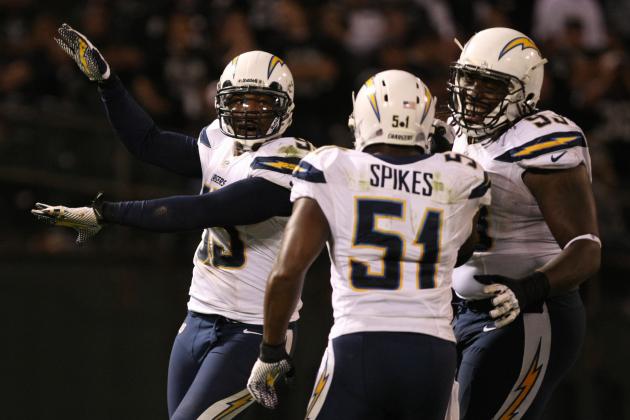 Kelley L Cox-USA TODAY Sports

When the 2012 season began, there wasn't a team in the league as old as the San Diego Chargers (h/t ESPN.com's Mike Sando).
Many of the team's stalwarts are over 30 years old, and I have no doubt the first order of business for the team's new general manager (whoever he may be) will be to get younger and more talented on both sides of the ball.
Philip Rivers (31), Malcolm Floyd (31), Antonio Gates (32), Randy McMichael (33), Rex Hadnot (30) and Nick Hardwick (31) are all nearing the end of their careers, and it's time to look for replacements for all six veteran starters.
Takeo Spikes (36), Antonio Garay (33), Aubrayo Franklin (32), Jarret Johnson (31), Shaun Phillips (31), Quentin Jammer (33) and Atari Bigby (31) are all expendable, and the new GM needs to retool the entire defense—barring a few players, of course.
It may be a few years before the Chargers are ready to challenge the Denver Broncos for the AFC West crown, but given a forward-thinking strategy, this team could become a powerhouse once again.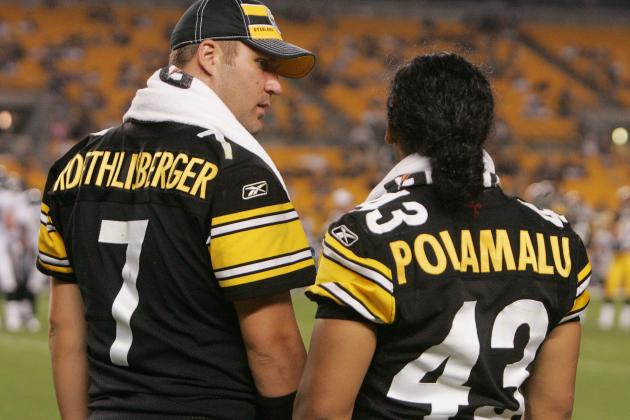 Charles LeClaire-USA TODAY Sports

The Pittsburgh Steelers have waited far too long to replace some of their aging stars, and it's come back to bite them hard this past season.
It's crazy to think that Ben Roethlisberger, at the age of 30, is the youngest quarterback on the Steelers roster.
I'm not trying to say he doesn't deserve to keep starting in 2013, but it's clear the Steelers need to draft his replacement this spring.
And you know things are bad at wide receiver when Plaxico Burress was called into duty off the streets in December. Mike Wallace has proved to be nothing more than a talented distraction, and Heath Miller (30) is looking much older than he actually is.
Max Starks (30) should not be back on the roster in 2013, and it's imperative for the Steelers to upgrade the level of talent at the tackle position.
But the team's biggest problems lie on the defensive side of the ball, where aging stars Troy Polamalu (31), Ryan Clark (33), Ike Taylor (32), James Harrison (34), Larry Foote (32), Casey Hampton (35) and Brett Keisel (34) are all in the twilight of their careers.
Really, it was only a matter of time before the Steelers fell off their perch as a dominant team and turned into one barely capable of mediocrity.
Follow me on Twitter @JesseReed78