Ranking the 10 Biggest Tennis Stories of 2012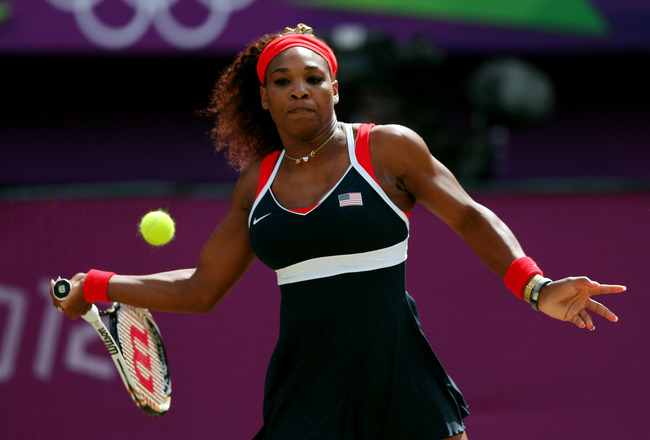 Clive Brunskill/Getty Images
2012 saw the ascension of Andy Murray truly giving the ATP a big four, Rafael Nadal missing have the season, the retirement of two of the biggest stars from the ATP and WTA and one of the greatest upsets in tennis history. Four different men won a major for the first time in nine years, and we saw the return to dominance from the queen of tennis.
It wasn't a memorable year in the sense that we saw a grand slam or Andre Agassi's admittance a few years ago of cocaine use, but 2012 will go down as an interesting season for both the ATP and WTA.
10. Victoria Azarenka's Breakthrough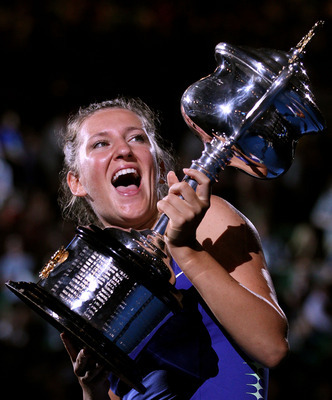 Ryan Pierse/Getty Images
After never advancing past the quarterfinals at a Grand Slam until her breakthrough trip to the semifinals at Wimbledon in 2011, Azarenka broke through in 2012. Azarenka began the season by winning the first four tournaments of the season and had a 26-match winning streak to earn the No. 1 ranking for the first time. Included in that stretch was her first Grand Slam victory at the Australian Open.
She finished the season 69-10 with six titles. In addition to her win in Melbourne, Azarenka also advanced to the semifinals at Wimbledon and the final at the US Open.
After losing the top ranking to Maria Sharapova following the French Open, Azarenka regained the No. 1 ranking after Wimbledon and has held it since.
9. Lukas Rasol Upsets Rafael Nadal at Wimbledon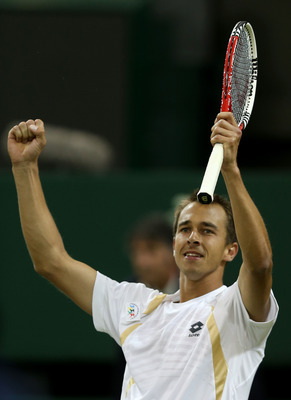 Clive Rose/Getty Images
Rasol had only three Grand Slam wins before entering Wimbledon this summer. His ATP record at the beginning of 2012 was just 7-19. His win over Nadal is considered one of the biggest upsets in the history of Grand Slam tennis. Rasol has never been ranked inside the top 70.
Nadal's injury and health problems continue. He hasn't played since losing to Rasol. After trying to get his knees healthy, a virus will keep him out of the Australian Open. Nadal's ranking has dropped to fourth. There is no sign of when he will return.
8. Rafael Nadal Wins the French Open, Denying Djokovic 4th Straight Major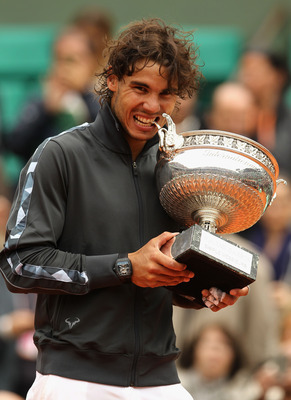 Matthew Stockman/Getty Images
Novak Djokovic entered the 2012 French Open bidding to become the first place since Rod Laver in 1969 to hold all four Grand Slam titles at the same time. A win would have made Djokovic the eighth male player to win the career Slam, joining contemporaries Nadal and Roger Federer.
Nadal cruised to a four-set victory to win his record seventh French Open title, denying Djokovic his fourth consecutive Grand Slam.
7. Kim Clijsters Retirement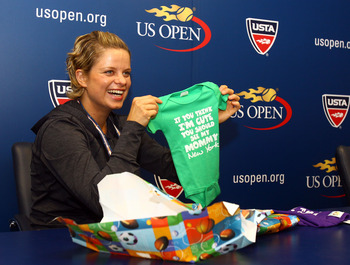 Alex Trautwig/Getty Images
Before her first retirement in 2007 to start a family, Kim Clijsters had reached 12 Grand Slam semifinals and five slam finals. Her only Grand Slam title in that time frame came at the 2005 US Open. She did win back-to-back year-end WTA Tour titles in 2002 and 2003.
When she came back after giving birth to daughter Jade, Clijsters became a dominant player. 2012 was the first year during her comeback that Clijsters failed to win a Grand Slam title.
She finished her last season 20-6 without a title. Clijsters finished her career with 44 tour titles. That ranked third among active players at the time of her retirement.
6. Andy Roddick Announces Retirement at US Open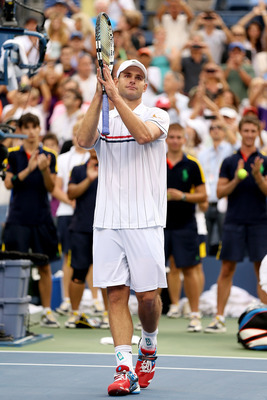 Matthew Stockman/Getty Images
Roddick was the face of American tennis for 10 years. When he captured the US Open at age 21 in 2003, many assumed it would be the first of many Grand Slam titles for Roddick. He had some questionable losses in Grand Slams during his career, but it was Roger Federer who blocked Roddick's path to accumulate more Grand Slams.
Federer defeated Roddick four times in a Grand Slam final, including three times at Wimbledon. Two of those were heartbreakers. In 2004, with the match tied at a set apiece and Roddick up 4-2 in the third set, a rain delay helped Federer regain momentum. He went on to win in five sets.
Their 2009 final at Wimbledon is one of the greatest matches in the history of the sport. Roddick was up a set and 6-2 in the second set tiebreaker. Federer saved four set points and went on to even up the match at a set apiece. Federer then captured the third set in another tiebreak.
Roddick evened up the match by capturing the fourth set. Federer ended what would be Roddick's last, best chance to win another slam by outlasting him 16-14 in the fifth.
The highlight of Roddick's career, other than his win at the US Open, was leading the US to the Davis Cup title in 2007. Roddick won the first match in the final against Dmitry Tursunov of Russia in straight sets.
Roddick finished his final season 23-16 with the title at Eastbourne.
5. 4 Different Men Win Majors
Clive Brunskill/Getty Images
Between the the 2005 French Open and Wimbledon this year, Roger Federer, Rafael Nadal and Novak Djokovic had combined to win 29 of 30 Grand Slam titles. Andy Murray's win at the US Open made him the fourth male (after Djokovic, Nadal and Federer) to win a Slam title in 2012.
This marked the first time since 2003 that four different men claimed slam titles. Four different women had won majors in the same year four times in that same time span.
4. Andy Murray Breaks Through to Win Olympic Gold and US Open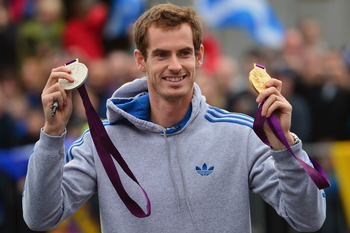 Jeff J Mitchell/Getty Images
The British male drought at Grand Slams has been well-documented. Fred Perry was the last British male to win a Grand Slam when he captured the title at the 1936 US Open. Murray advanced to his fourth Grand Slam final when he lost to Federer in the final at Wimbledon in four sets.
Three weeks later, he enacted revenge when he defeated Federer for gold on the same court in the Olympic final. He followed that up with a five-set victory over Djokovic at the US Open to end the Brit Slam drought.
3. Maria Sharapova Completes Career Grand Slam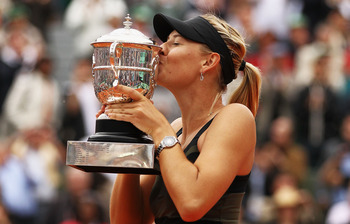 Matthew Stockman/Getty Images
Maria Sharapova had been one of tennis' biggest stars since stunning Serena Williams in the 2004 Wimbledon Final as a 17-year-old. Her star rose quickly at the beginning of her career. After winning Wimbledon in just her second year on the tour, Sharapova reached the semifinals in seven of her next 10 Slams. She claimed her third Grand Slam title in Australia in 2008. It would take her four more years to capture the French Open.
She dominated Sara Errani 6-3, 6-2 in the Final to become the 10th woman to earn a career slam. Her attempt to become the second player to finish a career golden Slam fell short when she lost to Serena Williams in the gold medal match in London.
2. Federer Regains Top Ranking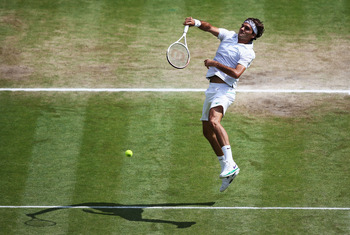 Paul Gilham/Getty Images
After defeating Andy Murray and breaking the heart of the British tennis fans (albeit momentarily), Federer regained the No. 1 ranking. It had been two years since Federer held the No. 1 ranking. He previously held the top ranking for four-and-a-half years.
His win at Wimbledon ended a drought of nine straight Grand Slams without a title. This was the longest of his career since he captured his first title at Wimbledon in 2004. Federer finished 2012 71-12 with six titles. He lost the No. 1 ranking to Novak Djokovic when Djokovic defeated him at the ATP Championships in November.
1. Serena Williams' Return to Dominance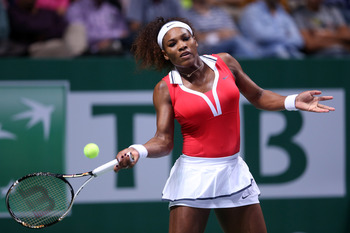 Julian Finney/Getty Images
After failing to win a grand slam in 2011 and struggling early in 2012, Serena dominated from Wimbledon on. She lost in the fourth round to Ekaterina Makarova at the Australian Open and to Virginie Razzano in the first round at Roland Garros. She took time off between the French and Wimbledon before coming back with a vengeance.
Serena began 2012 20-4 with two titles through the French Open. She was only 5-2 at the two majors. From Wimbledon on, Williams went 31-1 with five titles. Four of those five came at Wimbledon, the Olympics, the US Open and the WTA year-end championships.
Keep Reading