NY Knicks Stock Watch: Players Rising and Falling Near Season's Halfway Point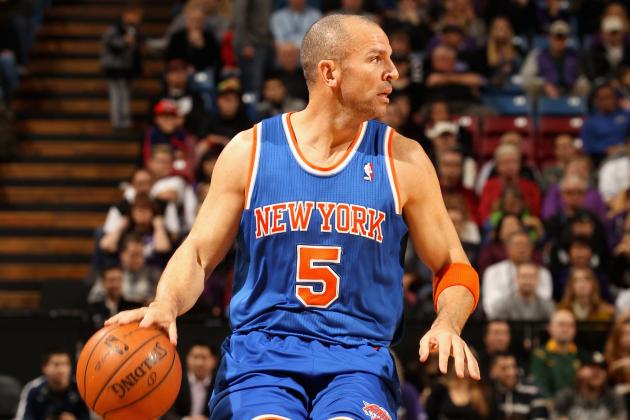 Ezra Shaw/Getty Images

The New York Knicks' season is at a crossroads.
Point guard Raymond Felton is set to be sidelined for the next four to six weeks with a finger injury, but on a more positive note, $100 million man Amar'e Stoudemire is back on the Madison Square Garden hardwood.
Several players including MVP candidate Carmelo Anthony are banged up as well. Tyson Chandler is nursing an ankle injury, and Rasheed Wallace is day-to-day with a foot problem, while Marcus Camby is finally back to suiting up after battling plantar fasciitis.
With the upcoming lineup shuffles New York is about to undergo, a few key players will be experiencing some changes in roles—some for the better, and some for the worse.
Stats accurate as of games played prior to Jan. 1.
Begin Slideshow

»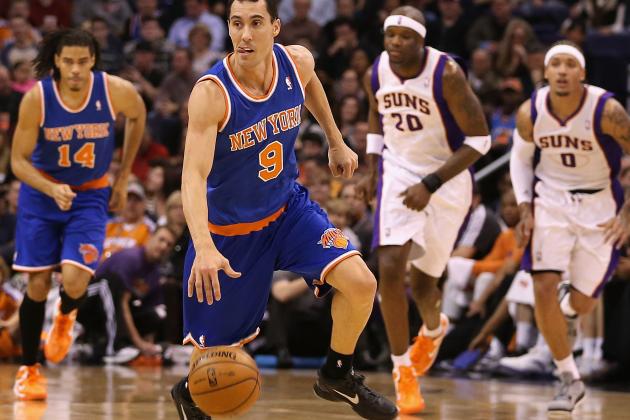 Christian Petersen/Getty Images
Prigioni's minutes are expected to increase over the next month.
With Jason Kidd being bumped up to the starting point-guard spot—he had been running at the 2-guard all season, previously—Pablo Prigioni will be logging significantly increased minutes at the point in Raymond Felton's absence.
The 35-year-old rookie has performed decently in 29 games this season. His per-36 stats normalize to nine points and seven assists on 44 percent shooting. He's only averaged about 13 minutes per contest, though.
With Mike Woodson vowing to increase Prigioni's burn to preserve Kidd for the stretch, expect the Argentinian import to produce more in the coming weeks.
In the three games this season that he's played at least 20 minutes, Prigioni has averaged 10 points and six assists on 71 percent (10-of-14) shooting, including a 63 percent clip from beyond the arc. The Knicks won all three games.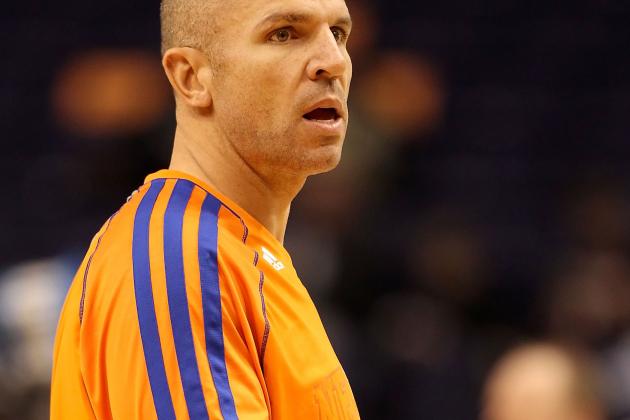 Christian Petersen/Getty Images
Kidd will be relied upon much more in the coming weeks.
Jason Kidd has possibly been the Knicks' most stable force on offense this season, but expecting him to sustain his sky-high production in his increased role would be wishful thinking.
The 39-year-old will now be running the show in Raymond Felton's absence. He'll be relied on now more than he has in any of the last 30 games. For Kidd, who has done most of his work off the ball this season, there may be an adjustment period given the new workload.
Kidd has produced better at shooting guard, where he's played most of his minutes. If head coach Mike Woodson handles Kidd's minutes properly—which entails utilizing Pablo Prigioni often enough to keep Kidd fresh—the adjustment may not be that harmful after all for Kidd and the Knicks.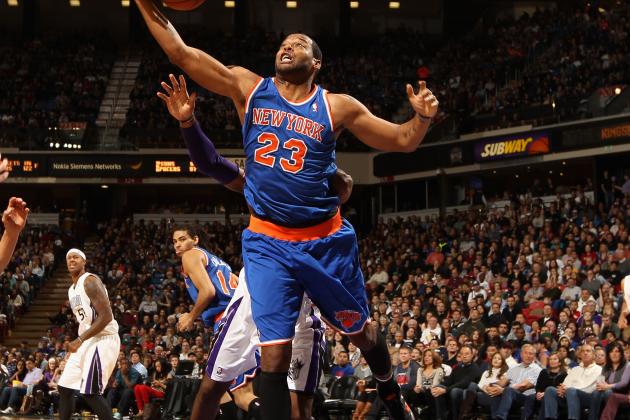 Ezra Shaw/Getty Images
Camby is now healthy and contributing regularly.
With Tyson Chandler ailing with an ankle issue and Rasheed Wallace day-to-day with a sore foot, Marcus Camby is returning to full health at just the right moment.
The 38-year-old center missed 21 of the team's first 30 games with calf and foot injuries but now appears to be healthy enough to log impact minutes for New York.
Even with Amar'e Stoudemire back for New York, Camby will be needed because STAT is a huge liability on the defensive end. The Knicks also lack in the rebounding area, and Camby has pulled down 13.8 boards in per-36 world this season.
Especially while Rasheed Wallace is missing from the Knicks lineup—'Sheed's return date isn't immediately clear—Camby could play a big part in the frontcourt.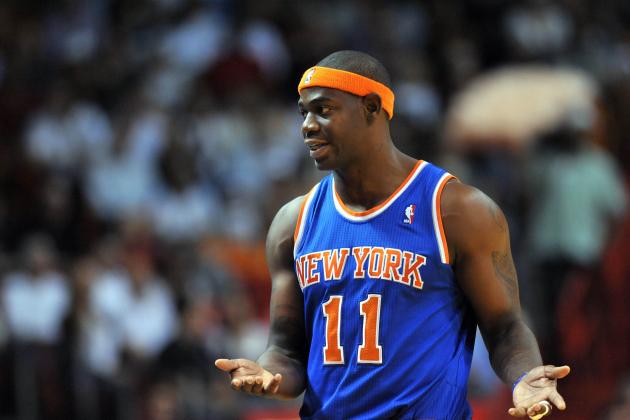 USA TODAY Sports
Brewer hasn't contributed much over the last few weeks.
Quite frankly, Ronnie Brewer's stock has been on the decline for the better part of the last month.
Brewer was brought in to provide defense to the Knicks' starting lineup until Iman Shumpert returns from his knee injury. He got off to a sizzling shooting start, sinking threes at a rate of 42 percent through his first 17 games.
In the 13 games since, Brewer has struggled. He's made just one three-pointer since Dec. 6 and is shooting 5.3 percent (yes, .053) from beyond the arc in those games. From the field, he's hitting his attempts at a 22 percent clip.
To make matters worse, it appears as if he's letting his shooting struggles seep into his defending. His individual defensive rating (an estimate of points allowed per 100 possessions) has inflated from 103 in the team's first 17 contests to 108 in the games since.
At this point, Brewer is an Iman Shumpert return away from being exiled to the end of the bench for good.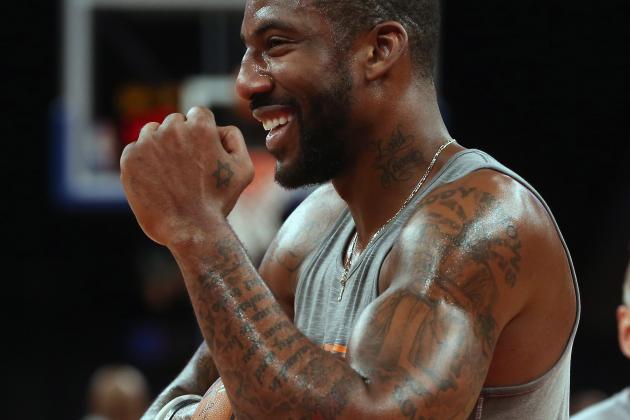 Bruce Bennett/Getty Images
Stoudemire is ready to return to his dominant self.
Amar'e Stoudemire is finally back to balling for the Knicks.
Although he was about as rusty as you'd expect after missing the season's first third, his Tuesday return was just the beginning of a process to catapult Stoudemire back to dominance.
STAT should run with Pablo Prigioni often to take advantage of a potential pick-and-roll nightmare for opponents. When Raymond Felton returns, Amar'e will only become more dangerous.
The complications that come about when he is paired with Carmelo Anthony shouldn't be immediately apparent since Stoudemire will ideally enter games as a reserve and play separately from Anthony.
In their one game together, however, STAT and 'Melo cooperated well. In the second half against the Portland Trail Blazers, a pick-and-roll between the two attracted enough attention to free up a J.R. Smith three-pointer.
It's only a matter of time (and health) until Stoudemire is re-familiarized with New York success.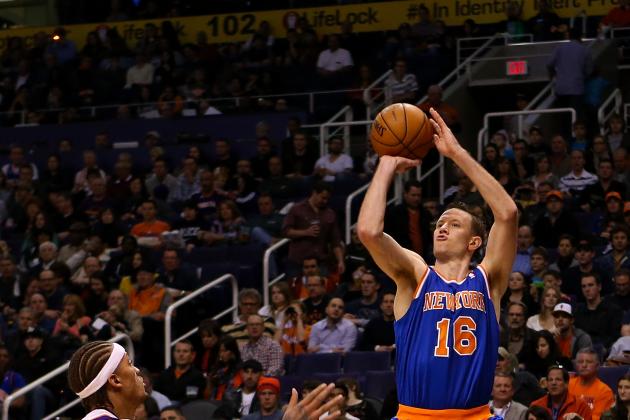 Christian Petersen/Getty Images
There won't be as many shots for Novak to take with Amar'e joining the reserves.
Last year's three-point king of the NBA isn't enjoying the same success he did just a season ago.
He's shooting 44 percent from downtown, which is good for ninth in the league (second on the Knicks behind Jason Kidd). However, it feels as if Novak is missing far more open looks than he did last season, and he's turning down too many shots for his own good.
Teams have seemingly decoded the secret to guarding Novak. He's facing nonstop pressure from defenders, and in his last 10 games, he's only fired off three three-point attempts per game on average. After entering the rotation last season, that number was a whopping 6.1—twice as many attempts.
With the addition of Amar'e Stoudemire to the second team, it's difficult to foresee a situation where Novak would see increased shot attempts. More shots will now be coming from the inside, leaving Novak out in the corner to dry.
In their time together last year, Novak was unable to match his usual production while running simultaneously with Stoudemire.