Seven Bold Predictions for the Golden State Warriors in 2013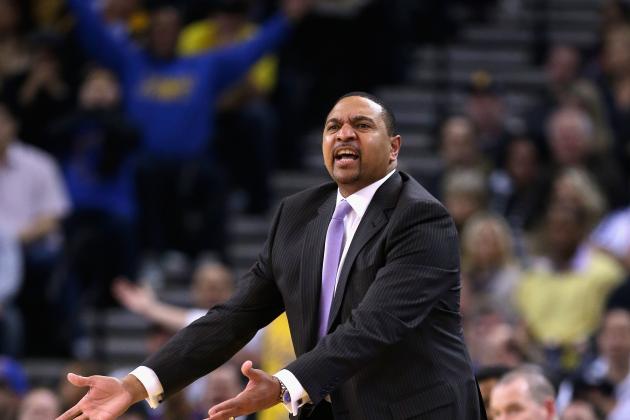 Ezra Shaw/Getty Images
Mark Jackson has had remarkable success with a very young team.
A brand new year for the Golden State Warriors comes with higher expectations than ever before, and justifiably so.
A sparkling 21-10 record without Andrew Bogut and Brandon Rush (out for season) is mostly attributed to the revamped defense of the Dubs. Starting two rookies and a second-year player has done nothing but spark the energy of the franchise instead of slow it down.
The year for the Dubs included Curry ankle injuries, Monta for Bogut trade, the Mullen retirement ceremony turned disaster, the blatant tanking, the announced move to San Francisco in 2017 and finally a turnaround unseen in the Bay Area in years.
By unearthing the trends of the short season so far, we can try and project what will happen in the upcoming year.
For the specificity of this piece, we narrow the predictions to the regular season and result. By delving into the Warriors through a prism of microlevel analysis, we can try and predict what will make the Dubs a success or failure in the upcoming year.
Begin Slideshow

»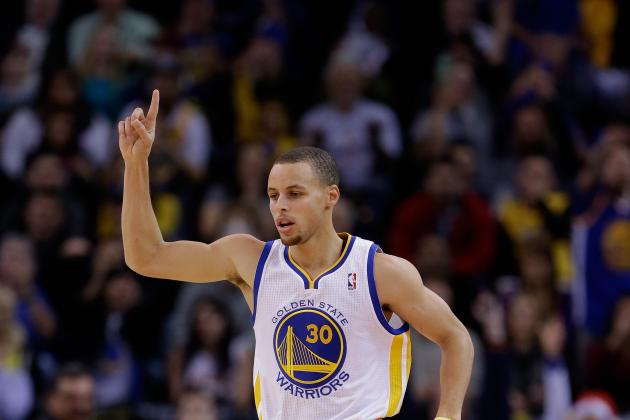 Ezra Shaw/Getty Images
So far, so good on Curry's fragile ankles.
Through 32 games so far, Curry has not had a single serious ankle sprain to speak of yet. The only time it has troubled him was the Dallas Mavericks game in late November when Curry scored 20 of the team's 31 points in the fourth quarter and overtime after spraining it falling out of bounds.
Granted, this doesn't mean that Curry's ankle injuries are behind him as a simple foot on another foot will assuredly send shockwaves through the Warriors fans and management, but it doesn't appear that simply running up and down the court will be a chore.
Curry is playing a career-high 37.9 minutes per game but there isn't any concrete evidence that this is significantly detrimental to his health.
It appears that his injury risks are the same as any other normal player.
Look for Curry to play 75+ games this regular season and become the first All-Star berth for the Warriors since Latrell Sprewell.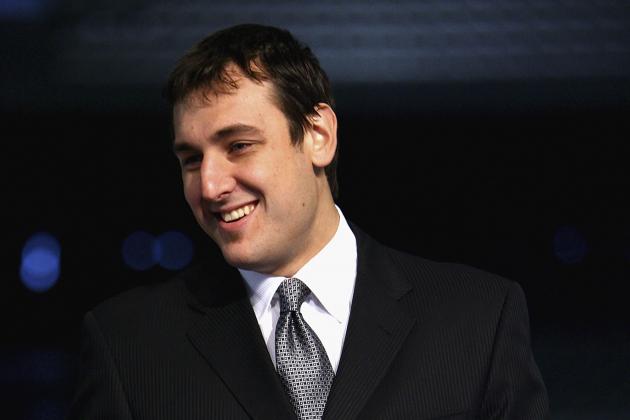 Robert Prezioso/Getty Images
No news on the Andrew Bogut injury front, which bodes well for a team that could use his defensive prowess.
By now, if you don't know all about Bogut's continued injury issues, you aren't paying enough attention as a Warriors fan. This would usually be good news in any other year but the Dubs go into 2013 in solid position for a playoff berth.
With no recent news on Andrew Bogut—which hopefully bodes well if there are no setbacks—there is optimism amongst Warriors fans that he will return this season.
Better yet, I believe he will be back by late January or early February to provide a spark unseen by Warriors fans since...never.
The defensive prowess and offensive passing by the seven foot big man will open up spacing on offense and clog passing lanes on defense.
The improvements on both sides of the ball should prevent any type of collapse or pending regression.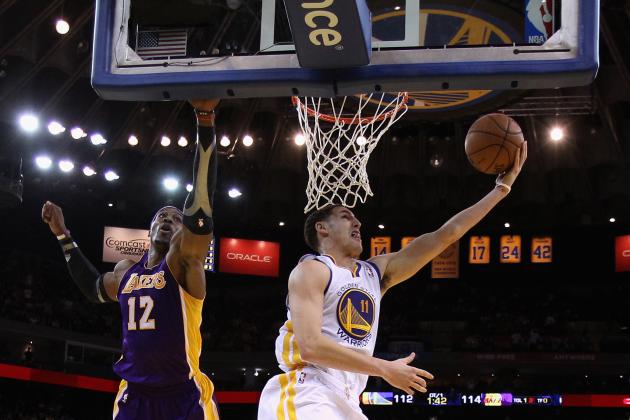 Ezra Shaw/Getty Images
Klay's aggressive shooting has been in question this season.
Even though Klay Thompson is known as one of the best pure shooters in the NBA and the breakout candidate according to the votes of NBA GMs, he only owns a PER of 12.99 and shooting less than 40 percent from the field.
While most pundits believe that Klay is ready to bounce back at any moment, this is becoming increasingly hard to believe because of his inability to find a middle ground between good, aggressive shots and reckless, bad ones.
While it isn't time to eliminate the pull-up three in transition or three off any and all offensive rebounds, it is a something to keep in mind to see how it affects the offensive flow of the team.
Now nearly halfway through the season, Klay has taken more to shooting threes while getting set up rather than creating for himself by driving to the bucket. That has gotten his numbers up a little more but it wouldn't be surprising if he does experience a slight sophomore slump and shoots closer to 40 percent from the field than the 44.3 he owned last season.
Since I already boldly predicted Bogut would be back in about a month or so, we may as well latch on to that and also project what happens when he does return.
While rookie Festus Ezeli has provided a bit of a spark in the starting lineup—playing solid defense and showing glimpses of Tyson Chandler-esque scoring ability (yeah, that's not true), he is woefully unprepared to play on the offensive end.
Unfortunately, Andris Biedrins is as well. But once Bogut is back, Jackson may feel more comfortable playing Biedrins, who has excelled in a limited role since appearing to find his confidence back.
Biedrins has averaged eight rebounds and endless amounts of energy when he has been on the court in the last three games. He still takes too many fouls but he won't be asked to play 30+ minutes a game like he used to.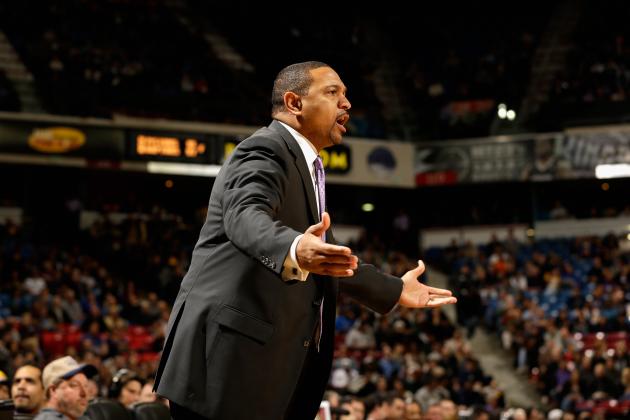 Ezra Shaw/Getty Images
Jackson has surprised as a head coach this season, pushing all the right buttons in rotations and development.
Of Mark Jackson's top nine five-man lineups, in minutes, six of them have had plus numbers, according to 82games.com.
Granted, eight of them have featured Curry and he is playing quite a bit of minutes and won't be asked to through an entire season, but it is Jackson's creativity with rookies and veterans that has steered this team forward.
Carl Landry and Jarrett Jack have been godsends off the bench and Jackson's sneaky play of David Lee and Landry in the frontcourt to take advantage of opposing defenses has been great to watch.
The development of Draymond Green and Harrison Barnes will play a key part in the distribution of minutes but we have every reason to believe that Jackson will keep playing the right players at the right time in sustaining their success.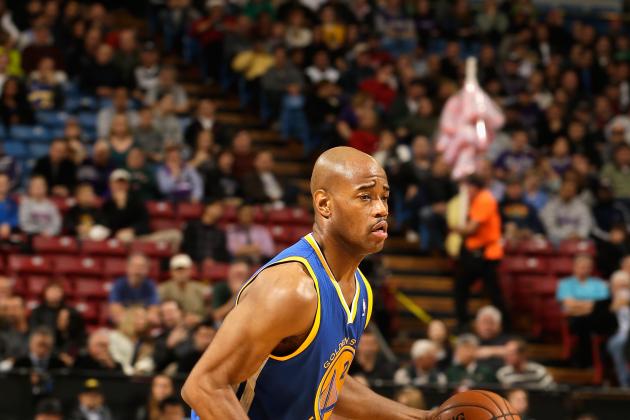 Ezra Shaw/Getty Images
Jack has been a revelation as leader of the Warriors.
Jarrett Jack has surpassed every expectation and his own career numbers in shooting 48.8 percent from the field, 43.9 percent from distance and a 17.89 PER to round it all out.
While he won't keep those numbers up, he should be able to maintain his veteran leadership and spur the Warriors to a winning season.
Most of the time, Jackson keeps Jack in during crunch time minutes and plays Curry off the ball and hands Jack the keys to the offense. So far, Jack has delivered and there is no reason for him not to sustain this despite his shooting dropping off later on.
His ability to pass and get into the lane will present problems for the defense all year. His lean-back short jumper in the lane is nearly unstoppable.
The crunch-time lineup of Jack-Curry-Thompson-Landry-Lee has been a team-high +47 all season.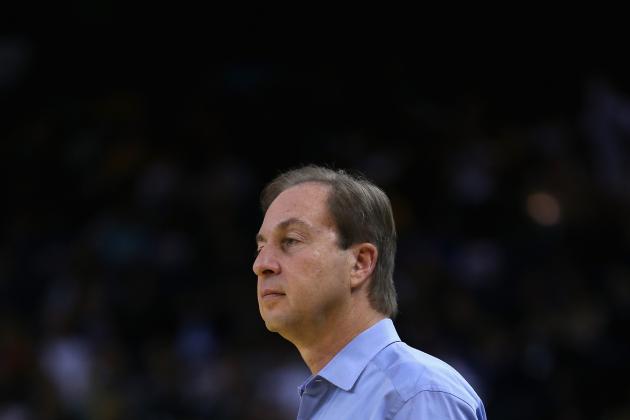 Ezra Shaw/Getty Images
Redemption for Joe Lacob, who was booed mercilessly last season.
For all the reasons named above, the Warriors will make the postseason for the first time since the "We Believe" year and 1993-94 in Don Nelson's first stint as Warriors head coach.
According to Basketball Reference, the Dubs have played the tenth toughest schedule and own the ninth and 11th best offensive and defensive ratings, respectively.
They've gotten a bit lucky as they have played teams with some injuries but they have had to fight through their own to win those games. Currently seeded fifth in the Western conference, it would be tough to believe they'd sustain that the whole season.
However, they are in the thick of the race for the 6-8 seeds with Minnesota, Houston, Denver, and...wait for it, the Los Angeles Lakers.
With upcoming games against the Clippers (twice), Memphis, Portland, Denver, Miami and San Antonio it will be interesting to see if the Warriors fall back down to Earth a bit.
However, with Jackson's continued coaching excellence, strong play from players like Curry, Lee and Bogut's return, the Warriors will make the playoffs as one of the most dangerous teams in all of basketball.