Power Ranking Adrian Peterson Amongst Greatest NFL RBs in League History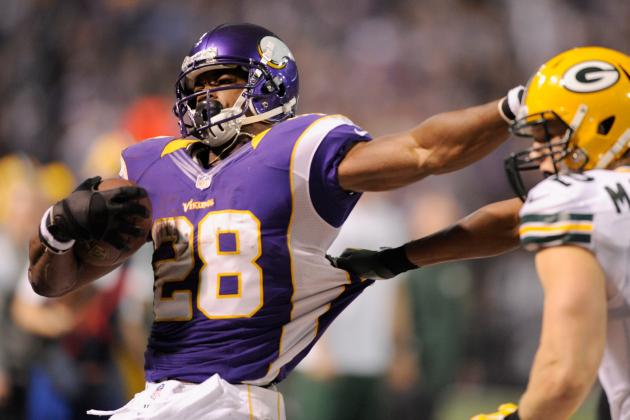 Hannah Foslien/Getty Images

Adrian Peterson's 2012 season was one of the best ever for a running back, as he finished just nine yards short of breaking Eric Dickerson's 28-year-old single-season rushing record.
Peterson's first six seasons already has him ranked 33rd all-time in rushing yards, and less than 10,000 yards away from chasing down Emmit Smith in all-time rushing yards.
But after those six years, where does Adrian Peterson rank amongst the greatest running backs in NFL history?
This list won't just be based off of yards produced (which is why you won't see names like Jerome Bettis and Marshall Faulk, who are ranked sixth and 10th all-time respectively), but also on the impact these backs had on their teams and the game itself.
Begin Slideshow

»
John Riggins is only ranked 16th all-time in yards with 11,352 yards in his 14 seasons split between the New York Jets and Washington Redskins, yet at least to me left a big imprint on the game.
He was a bruising fullback that could be used both in the running game and passing game and was also a great blocker. While with the Jets Riggins made his only Pro Bowl appearance in 1975, but it was with the Redskins where Riggins became an NFL legend both inside and outside of the capital.
His greatest season would come in 1983, which was a spectacular year overall for Riggins. He started off the year leading the Redskins to their first ever Super Bowl championship, practically winning the game for Washington with a then-Super Bowl record 43-yard touchdown run (the record would be broken the next year by Marcus Allen).
Then once the 1983 regular season started in September, Riggins went on an even bigger tear, running for 1,347 yards and an league leading 24 touchdowns on 375 attempts while only fumbling the ball five times.
For his career along with his 11,352 yards, one Super Bowl win and two Super Bowl appearances, Riggins also caught 250 passes for 2,090 yards and 12 touchdowns. For his career he finished with 104 touchdowns on the ground.
While his numbers aren't as prolific as the rest of the backs on this list, Riggins' was one of the most memorable players in the NFL during the late '70s and early '80s not just through his career on the field, but also for his personality off the field.
From 2002-2007, it was understood that the first pick in any fantasy draft would be LaDainian Tomlinson.
There's a great reason for that, as Tomlinson would end his career with 13,684 yards and 145 touchdowns on the ground while also catching 624 passes for 4,772 yards and 17 touchdowns.
He also was proficient as a passer when the play called for him to pass the ball, as Tomlinson would complete eight of his 12 pass attempts for 143 yards and seven touchdowns with no interceptions.
Tomlinson was the back of the '00s, and perhaps the best all-around player of that decade. After retiring prior to the 2012 season, it's almost assured that Tomlinson will be joining the legends in Canton in 2017 on his first year of eligibility.
Most of the time, running backs have a relatively short time of pure dominance.
Earl Campbell was a prime example of this, as he dominated in his first three years with the Houston Oilers as the NFL's premier power back.
Campbell led the league in rushing in each of his first three seasons, including an impressive 1,934 yard season in 1980. During that time the Oilers were a perennial playoff team in the AFC, often only falling short to their then-division rival Pittsburgh Steelers.
But as seen in the video, Campbell usually hurt the players attempting to bring them down more than they could hurt him. Tackling Campbell was always a challenging proposition, as not only could he power right through you, but also even take you for a ride for a couple of yards as well.
In the end his bruising style of play would also be his undoing, as he retired after eight seasons (seven with the Oilers, one and a half with the New Orleans Saints) with a career total of 9,407 yards and 74 touchdowns after the 1985 season.
Right now, Adrian Peterson is the seventh best running back in NFL history (according to me), but each year expect him to climb further up the ladder.
Peterson already has 8,849 yards and 76 touchdowns on the ground in just six seasons in the league. His comeback season of 2012 is one for the ages, as he not only managed to be ready for training camp just seven months after suffering a potentially career-ending knee injury, but also finished just nine yards short of breaking Eric Dickerson's single-season mark. Peterson finished with 2,097 yards for the year.
But at age 27, Peterson has nowhere to go but up with his legacy. Peterson is averaging 1,474.8 yards per year in his first six seasons in the league. If he can continue on that average in his career, it will only take him six more seasons to surpass Emmitt Smith as the all-time leader in rushing yards.
When a piece like this is written 10 years from now, expect Peterson to top the list, but for now, he's at number seven.
Eric Dickerson can breathe easy knowing that his single-season rushing mark will stay intact for at least another year.
But his place among the greatest running backs of all time will never be taken away from him after an impressive career lasting 10 seasons with the Los Angeles Rams, Indianapolis Colts, Los Angeles Raiders and Atlanta Falcons.
Dickerson led the league in rushing four times over the course of his career; his rookie season with the Rams (when he ran for 1,808 yards), his record-breaking second season in the league, his fourth season, and his first full season with the Colts.
His trade to Indianapolis during the 1987 strike-shortened year helped propel Indianapolis to their first division title since moving from Baltimore.
Dickerson's career would end with 13,259 yards and 90 touchdowns, with plenty of awe-inspiring runs.
Seven men in NFL history can claim a 2,000 yard rushing season.
Only one man can claim he did it during a 14-game season: O.J. Simpson.
Simpson's then-record breaking 1973 season where he ran for 2,003 yards still holds onto one record: the highest yards per game in NFL history at 143.1.
Simpson would finish his career with 11.236 yards and 61 touchdowns, and also inspires a decent what-if: what if in his first three seasons with the Bills from 1969-1971, Simpson was used as extensively as he was once Lou Saban took over as head coach of the Bills in 1972?
How eerie is it that Simpson's early situation in Buffalo (not getting enough carries when they were the best offensive player on a bad team) is so similar to the plight of C.J. Spiller?
Keep in mind O.J.'s breakout year with Buffalo came in the 1972 season, the year before he broke the single-season record. Spiller will be entering his fourth season in 2013.
When deciding between the two greatest running backs of the '90s, it usually went like this.
Barry Sanders gave you the highlight reel plays that made your jaw drop. Emmitt Smith on the other hand was the reliable horse in your stable that chewed up the field.
It's part of the reason why Smith's career lasted as long as it did (14 seasons with his first 12 coming with the Dallas Cowboys), and why he holds the NFL's all-time rushing yards mark at 18,355 yards.
Smith led the NFL in rushing in four of his 14 seasons. Three of those seasons where he led the league saw the Dallas Cowboys win the Super Bowl that same year. Smith was the MVP of Super Bowl XXVIII, when he led the Cowboys to a 30-13 victory over the Buffalo Bills behind 132 yards and two touchdowns.
Anytime Barry Sanders touched the ball had the potential for a home run.
In a way it's actually a shame he missed the NFL's Red Zone channel era; that channel was made for Sanders.
He would retire prematurely to some people, as he finished with 15,269 yards, just 1,457 yards short of what was then Walter Payton's all-time rushing record of 16,726.
With a career average of 1,526.9 yards per season in his 10 years in the league, Sanders was pretty much one season where he underachieved (according to his standards) away from breaking the mark.
Figuring out between Emmitt and Barry for who was the best running back of the '90s (and who was number three and four respectively on this list) was a difficult decision.
Figuring out between Jim Brown and Walter Payton as to who is the greatest running back of all time is even more difficult.
Most people would give the title to Jim Brown, and while I do disagree with them, I see exactly where they are coming from.
Brown retired after nine seasons as the all-time rushing leader with 12,312 yards and 106 touchdowns. Keep in mind that in his first four years in the NFL, they played a 12 game regular season, moving up to 14 games in his last five seasons.
His most impressive statistic is his 5.2 yards per carry, an average throughout a career that still jumps out at you.
Walter Payton only led the NFL in rushing once and never got close to approaching 2,000 yards in a season.
But in the end he is the second most prolific rusher of all time with 16,726 yards, and also has 110 touchdowns and a Super Bowl ring to polish off his resume.
So what makes Sweetness the greatest running back of all time?
The style, grace and class that he carried himself with as he ran the football. Payton at times looked like he could do anything on the football field, and his rushes looked more like a ballet dancer gracefully sliding across the stage than an NFL running back avoiding tackles throughout the gridiron.
His legacy in Chicago is unmatched, as to this day he's one of the city's most popular and beloved athletes. And the fact that he didn't get to score a touchdown in his lone Super Bowl appearance (which was a victory) is still a point of controversy even more than 25 years later.
Payton was the running back that you set your standards to. He's who running backs wanted to become.
That's why he's first on this list, but anyone else in the top four has a great argument.