Rose Bowl 2013: Wisconsin vs. Stanford Live Scores, Analysis and Results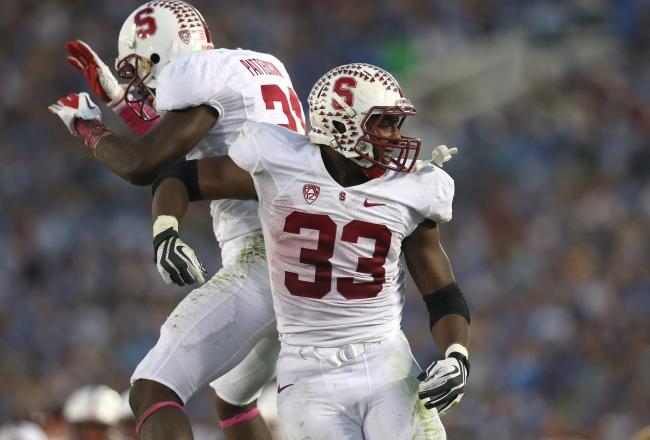 Stephen Dunn/Getty Images
Stanford 20, Wisconsin 14 -- Final
One year after losing one of the best quarterbacks in program history, the No. 6 Stanford Cardinal won the 2013 Rose Bowl, defeating the unranked Wisconsin Badgers 20-14.
Kevin Hogan completed 12 of 19 passes for 123 yards and the Cardinal rushed for 187 yards against the Badgers on the way to their first Rose Bowl victory since 1972.
Wisconsin battled under replacement-coach Barry Alvarez. The Badgers found themselves buried under a 14-0 first quarter deficit, but they clawed their way back into the game behind a stingy defense and the strong running of Montee Ball.
Wisconsin scored two touchdowns in the second quarter, making it a 17-14 game going into halftime. That's as close as it would get, though, as the Cardinal defense stiffened while pitching a second half shutout.
It was a bitter defeat for the Wisconsin, who lost their third consecutive Rose Bowl just weeks after former head coach Bret Bielema ditched the Badgers for Arkansas.
We provided live, in-game analysis throughout the evening: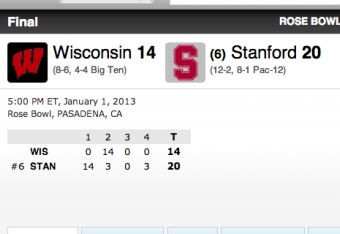 Quarter-by-quarter scoring breakdown, via ESPN.com.
Stats:
Stanford: 344 total yards (157 passing, 187 rushing)
Wisconsin: 301 total yards (83 passing, 218 rushing)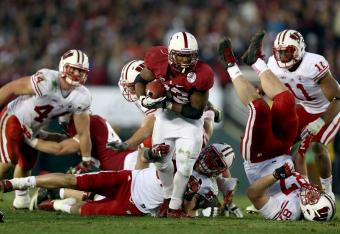 Stepfan Taylor rightfully earns offensive MVP honors after rushing for 88 yards and a touchdown on 20 carries.
Usua Amanam notched three tackles and an interception to earn defensive MVP honors.
Stanford coach David Shaw doesn't give even the smallest of craps about your interview, lady.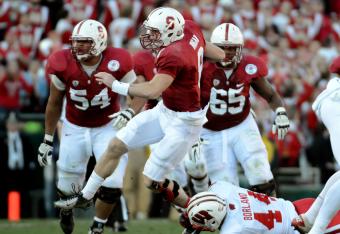 Stanford 20, Wisconsin 14
Stanford wins its first Rose Bowl since 1972, and Wisconsin drops its third Rose Bowl in as many years.
And that should do it. Stanford picks up the first down, and they are your 2013 Rose Bowl Champions.
Give Alvarez a break, he hasn't coached a game since 2005. So he forgot how to use timeouts effectively, we can forgive him at least that, right?
Curt Phillips commits the first turnover of the game, throwing an interception near midfield. This could be the ball game if Wisconsin doesn't make a stand.
Barry Alvarez looks down at his offensive playbook, and it's just a piece of paper that reads, "All the jet sweeps!" in red crayon.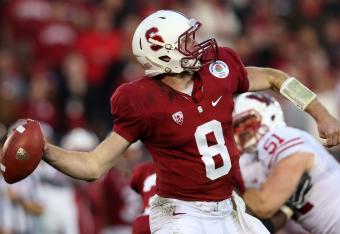 Stanford put Wisconsin's defense on rollerblades that last drive, but a huge misfire from Hogan ruined what likely would have been the game-clinching touchdown.
Now the Badgers have just over four minutes to get a touchdown and capture their first lead of the game.
Stanford 20, Wisconsin 14
Stanford chews up over six minutes on its 11-play, 51-yard drive that ended with a 22-yard Jordan Williamson field goal.
Wow! Huge miss by Kevin Hogan inside Wisconsin's 10-yard line. Could've put the game out of reach if he had connected with his tight end for the touchdown.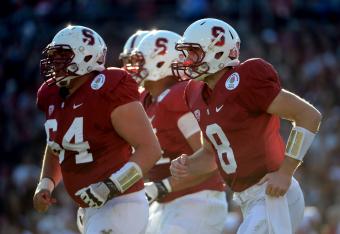 Uh oh. Stanford's offensive line is starting to take over and they're on the move.
Stanford mauls the Wisconsin punter and its a five-yard penalty. Wisconsin lightly grazes a Stanford punt returner and its a 15-yard penalty. Okay, Big East Refs.
Another three-and-out from the Wisconsin offense. Remember when these two teams were scoring points? Seems like a million years ago.
If this game goes to overtime, it may never end.
How even is this game? Stanford has 271 yards, Wisconsin 266. #WISvsSTAN

— Rittenberg/Bennett (@ESPN_BigTen) January 2, 2013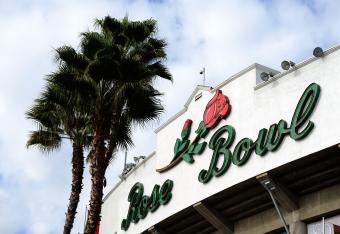 Why do we call the Rose Bowl the "Granddaddy of Them All?" Is it the grandpa of all the bowl games? Does it pinch the TaxSlayer.com Gator Bowl's cheeks too hard at the family Christmas party and give old office equipment to the grandkids as presents?
Stats through three quarters of play:
Stanford: 251 total yards (130 passing, 121 rushing)
Wisconsin: 266 total yards (78 passing, 188 rushing)
Stepfan Taylor: 12 rushes for 49 yards with one touchdown
Montee Ball: 21 rushes for 95 yards with one touchdown
That's the end of the third quarter, and Stanford still holds a 17-14 lead.
Is it just me, or does anyone else brace themselves for a horrendous knee injury every time Phillips leaves the pocket?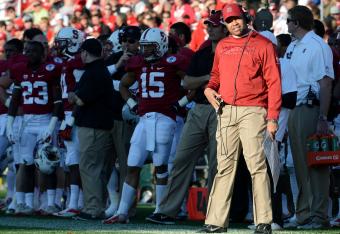 Brent Musburger trolling Stanford fans by saying Shaw could be a target for NFL head coaching vacancies. I don't see Shaw going anywhere.
Go somewhere else, people who like offense. We don't want your kind around here.
That Wisconsin drive of four plays, 16 yards = longest by either team this half. #StanfordRBG13 #gostanford

— Stanford Football (@StanfordFball) January 2, 2013
If that's not roughing the punter, I have no idea what is. Horrible call. That should have been a first down for Wisconsin.
Jordan Richards just knocked Chase Hammond back into 2012. #NewYear'sDayJokes
This article is
What is the duplicate article?
Why is this article offensive?
Where is this article plagiarized from?
Why is this article poorly edited?