Top 10 Ugliest Debuts in UFC History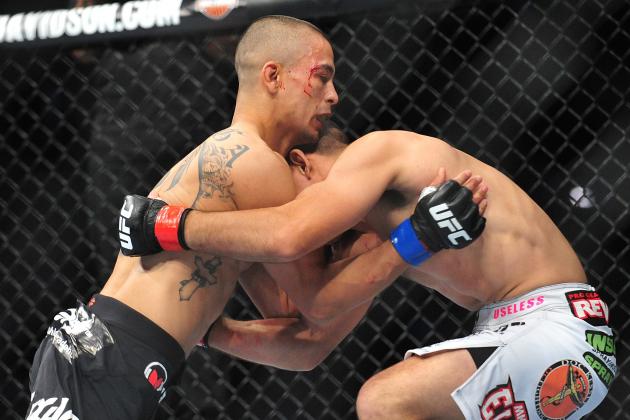 Gary A. Vasquez-USA TODAY Sports
Ulysses Gomez did not quite make the list, but his fight vs. John Moraga is one he'd certainly like back.
With fights like Todd Duffee vs. Tim Hague, Joe Lauzon vs. Jens Pulver and, more recently, John Moraga vs. Ulysses Gomez, it's easy to say "that guy is going to become a great fighter." Naturally, however, there is a flipside to this.
We have seen more than a few UFC debuts over the years that made us squirm, led us to think "what is this guy even doing here?" or even feel pity for the poor guy who just got his face punched off in front of a global audience.
Welcome, ladies and gentlemen, to the 10 Ugliest Debuts in UFC History.
Here, we take a look at some of the fighters that chose the wrong foot to put forward in their first appearance on "The Show." Some are names you'll remember for the better days in their career. Some you'll remember for how bad they were in these fights. Some, meanwhile, will just make you go "who?"
Either way, prepare to have your memories refreshed of these ugly, horrible fights that you probably wish never even happened in the first place!
Begin Slideshow

»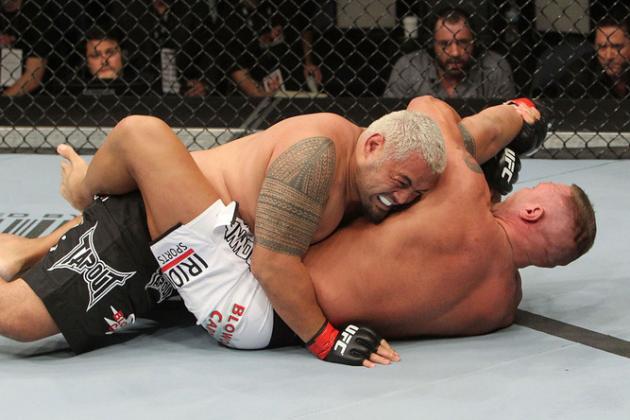 Mark Hunt tapped to a straight armbar in 63 seconds, adding to an already-lengthy losing streak. Photo c/o UFC.com.
The MMA career of Mark Hunt is one of the oddest in the sport.
After some solid success in K-1, Hunt exploded onto the Pride with some crazy knockouts sandwiching split-decision victories over two legendary fighters, Wanderlei Silva and Mirko Cro Cop. Then he lost to Josh Barnett.
Then Fedor Emelianenko. Then he joined Dream and lost to Alistair Overeem. Then Melvin Manhoef. Then Gegard Mousasi.
Riding a five-fight losing streak in Japan, Hunt was extended an offer to join the UFC for reasons that remain a mystery. His first opponent, then-undefeated Sean McCorkle, would make everyone slightly more confused as to how Hunt ended up in the UFC when he pulled him into his guard and took hold of a straight armbar that forced Hunt to tap after just over a minute.
Strangely, McCorkle would lose his next two UFC fights and get ejected from the promotion, while Hunt would completely rejuvenate his career by rattling off wins over Chris Tuchscherer, Ben Rothwell and Cheick Kongo. The MMA gods are fickle indeed.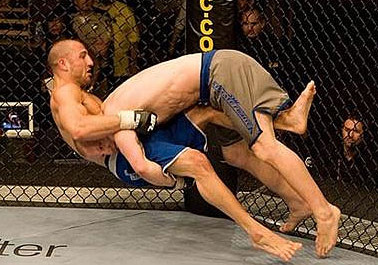 Here, you can see Gray Maynard's face about to plant squarely on the mat. Photo c/o CagePotato.com.
Double-KOs are among the silliest things seen in combat sports. Probably the most widely-known climax of this ilk came at the TUF 5 Finale fight between Gray "The Bully" Maynard and Rob Emerson.
Gray Maynard is one of the best grinders in the lightweight division, and he let the whole world know that in his official UFC debut. Throughout the first round, Maynard lived up to his nickname, pressing against Emerson, landing heavy leather and easily winning the round.
Early in the second, he muscled Emerson to the cage, lifted him into the air, and slammed him to the mat. Emerson immediately tapped from a rib injury. Maynard, though, ended up unintentionally slamming his face squarely on the cage floor, knocking himself unconscious. Maynard, courtesy of gravity alone, rolled off Emerson with his arms stiffened and eyes rolled back.
With Maynard unable to continue due to his self-inflicted knockout, and Emerson unable to continue due to his rib injury, the fight was declared a no contest.
Maynard would insist that he was totally fine, but the ref, Joe Rogan, Dana White and the replays would all disagree. It remains one of the silliest things seen in the UFC and was the first non-win in Maynard's career.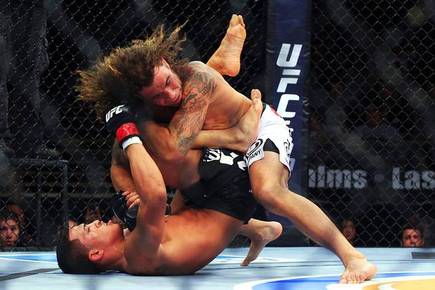 Anthony Pettis was supposed to fight for the belt, but found himself losing to Clay Guida by decision instead. Photo c/o LasVegasSun.com.
While not an actually bad showing by "Showtime," the UFC debut of the WEC's final lightweight champion, and the circumstances surrounding the fight, can only be described as "ugly."
As you probably remember, around the time of the WEC's final closure, Frankie Edgar and Gray Maynard had one of the greatest lightweight title fights of all time. The only problem, of course, was that the fight ended in a draw.
There was no indication at the time that Pettis would be looking at anything other than an immediate title shot upon entering the UFC, but when a threematch was announced, it became obvious that Pettis had found himself the odd man out on the lightweight title shot.
With that, Pettis had two options; wait almost indefinitely until months after the Edgar vs. Maynard III fight, or just throw caution to the wind and take another fight in the UFC.
He chose the latter, and found himself fighting Clay Guida in the main event of The Ultimate Fighter 13's Finale.
Guida would get back to his roots as a fighter, and used his quickness to wrestle Pettis down and rough him up. The result was a unanimous score of 30-27 for Guida, and a rough, title fight-free stretch for Anthony Pettis that continues to this day.
A truly unfortunate turn of events for one of the most exciting fighters in the UFC.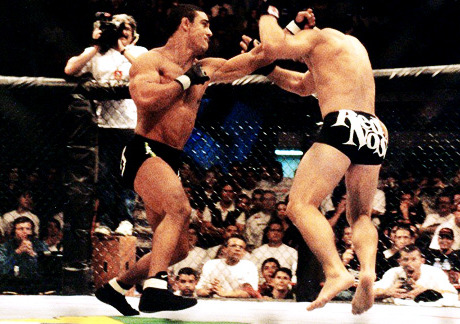 Wanderlei Silva was knocked out by Vitor Belfort when the two fought at UFC: Ultimate Brazil in 1998. Photo c/o the Dynasty Clothing Store Blog.
Many remember when "The Axe Murderer" joined the UFC after Pride's closure. Few, however, remember his real UFC debut. That came in 1998 at UFC: Ultimate Brazil, when Silva fought a 21-year-old Vitor Belfort.
Belfort has built his career on a barrage-based striking game, and Wanderlei Silva found himself as one of that blitz's many victims. After a brief feeling-out period, Vitor landed a hand on Wanderlei. Then he landed another. Then another. Then the ref was separating them.
We've seen many of these sorts of fights, where a UFC newcomer gets his block knocked off by a relative veteran. Obviously, this is a special case, given the fact that either party would go on to have a storied career in the sport.
Apologies, of course, to Wanderlei Silva. Obviously, this one fight is not representative of his MMA career. Still, it's definitely one of the worst UFC debuts we've seen.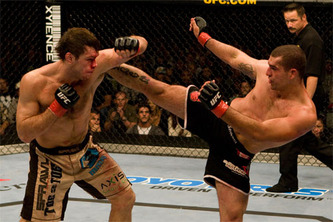 "Shogun" Rua gassed early in his fight with Forrest Griffin, disappointing the Pride faithful. Photo c/o CageInsider.com.
The hype surrounding Mauricio "Shogun" Rua's entering the Octagon matches any level of excitement felt by UFC fans to this point.
Unanimously regarded as one of the top two or three light heavyweights (and widely regarded as the best), many were expecting little resistance for the 2005 Pride Middleweight Grand Prix winner as he marched en route to a fight with current light heavyweight champ and fellow Pride veteran, Quinton "Rampage" Jackson.
The first step towards this end? Beating The Ultimate Fighter winner Forrest Griffin. That can't be too hard, right?
Well, it can be if you don't have a gas tank.
"Shogun" came out hard, but by no means at a feverish pace. By the middle of the second round, his punches were slowed dramatically, and he had no force behind his takedown attempts.
Griffin, the bigger fighter, would end up out-working Rua on the ground and, in the waning seconds of the third round, managed to secured the back, flattened him out, sunk in a rear-naked choke and forced a tap.
Rua would blame a knee injury that hampered his training. Regardless, while the fight itself was not a horrible endeavor, "Shogun" came up well short of any sort of expectations.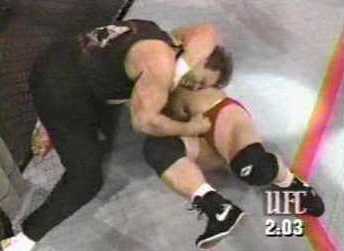 This moment defined Joe Son's entire career as a fighter.
I was pondering which fighter from pre-Zuffa dark ages of American MMA deserved a spot here. The UFC was home to all sorts of mismatches in 1990s, and saw plenty of ugly fights as a result.
The ugliest thing ever seen in the UFC's early days, though, was the fight between Joe Son and Keith Hackney.
Shortly into the first round, Son wrapped up Hackney's neck in a guillotine choke. There are many ways to defend yourself in this situation; turning the head, spearing the shoulder, pushing the elbow, et cetera, et cetera. Keith Hackney, though?
Keith Hackney decided the best way out of that would be to mercilessly punch Joe Son in the balls. Again and again and again. It was crude, but effective, and let Hackney sink in his own choke.
Son tapped and walked bow-legged to congratulate Hackney afterwards. The groin strikes were legal at the time, but it is still a day Son probably wishes he could forget.
Don't feel too bad for Son, though. He actually had it coming the whole time.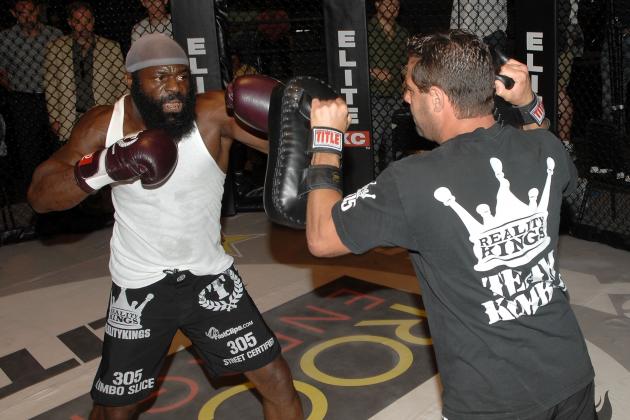 Stephen Shugerman/Getty Images
Kimbo Slice demonstrated a consistent, distinct lack of effort whenever a fight reached the ground.
The Ultimate Fighter season 10 was completely built around the presence of YouTube sensation Kevin Ferguson.
Known to the masses as Kimbo Slice, the heavy-handed brawler who built a reputation by beating up guys in parking lots and back yards already had some MMA experience when he entered the Octagon, famously fighting for one of the UFC's rival promotions, EliteXC.
Because of the all-Kimbo-all-the-time marketing plan of EliteXC, he found himself the brunt of many jokes from UFC president Dana White, who ripped him at every opportunity.
Still, Kimbo Slice is a huge personality. Huge personalities bring money. Dana White loves money, so when the opportunity came to add Slice to the fold, he jumped at the chance, and constructed an entire season of The Ultimate Fighter around him.
Kimbo would fight in the third episode of the season against former IFL heavyweight champion Roy Nelson. In that bout, Kimbo would show just how limited he was, both in terms of raw skill and spirit.
While Slice came out swinging, Nelson was able to easily bring him to the ground. Nelson quickly entered side control and, after a bit of hand-fighting, got into a mounted crucifix. With Nelson on top of him, Slice offered absolutely no resistance, literally laying there and taking it. He would be saved by the bell in the first round, but would not make it through the third.
Yes, I know I'm technically cheating. Especially considering I included Gray Maynard's official UFC debut with his double KO of Rob Emerson. This was not his official UFC debut (that honor goes to his wheeze-fest against Houston Alexander), but it was still the fight that demonstrated who Slice was as a mixed martial artist. He wasn't one.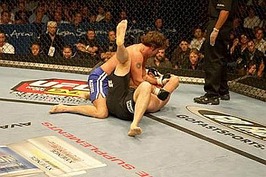 Sean Gannon had no business being in the Octagon, and it showed quickly. Photo c/o FightTimes.com.
The UFC's first shot at cashing in on Kimbo Slice wasn't when they actually brought in Kimbo Slice. It was when they brought aboard pudgy police officer and on-again-off-again fighter Sean "The Cannon" Gannon.
Gannon became famous by beating Kimbo in an unsanctioned fight, which drew fire from the local paper, The Boston Herald. Gannon would both dodge any punitive action, and would use his newfound fame to get a contract from the UFC, in spite of having no amateur grappling or legitimate MMA background.
In his first match, at UFC 55, he was pitted against Brandon Lee Hinkle. Hinkle, at that point 12-6 (1) in his MMA career and a proud owner of a national championship in NCAA Division II wrestling. He was an actual mixed martial artist. The difference between Hinkle and Gannon was apparent very quickly.
Hinkle beat Gannon. Badly. Very badly, actually.
Hinkle, for all the important parts of the fight, was steadily perched atop Gannon, raining down punches and elbows. After four minutes, the fight was waved to a close. Gannon was scraped up, and showed the world his thoroughly-rearranged face and, according to Dana White, was landed in the hospital for three weeks.
It was Gannon's last MMA fight, and was a lesson for the UFC in not booking fights based on viral Internet popularity. Well...it was for a little while, at least.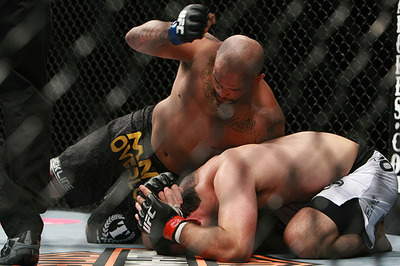 This was the scene again and again when Rolles Gracie flubbed his UFC debut against Joey Beltran. Photo c/o Sherdog.com.
We've seen lots of fighters over the years come in with really bad cardio and fizzle as the fight goes on. By far, the worst UFC debut in that niche is the much-hyped debut of Rolles Gracie.
As you probably guessed, Rolles Gracie is a member of the fabled Gracie family, known for pioneering and popularizing Brazilian Jiu-Jitsu. Rolles, son of Rolls and brother of Igor and Gregor, came into the UFC with the expectations that come with the Gracie name.
For precisely 173 seconds, it seemed like he would fulfill those expectations, climbing atop his first opponent, Joey Beltran, and finding his way to mount. Beltran would kick off the cage and achieve top position, and broke free shortly thereafter.
From there, Rolles Gracie was visibly tired, practically collapsing under his own weight with each swing, and flopping to the mat on each takedown attempt. At the end of Round 1, he literally could not muster up the energy to stand and laid under Beltran's sprawl, eating punches until the bell sounded.
Round 2 was no better. Time after time, Gracie telegraphed his takedowns and could barely be bothered to stand up after. Referee Herb Dean would mercifully call the fight off as Rolles laid on his stomach, not even bothering to contest Beltran's punches.
Cruelly, the UFC would rebroadcast the fight after the main event. Renzo Gracie would characterize the performance as "embarrassing" but was quick to make excuses for his bruised-up nephew.
Rolles, in spite of his name and in spite of being a genuinely talented heavyweight, would get booted from the promotion immediately afterward. While he has not lost since, this remains his career-defining fight to this point.
James Toney offered no resistance to Randy Couture's grappling attack. Photo c/o The Associated Press.
There are plenty of possible explanations for why James Toney's first, last and only UFC fight was such an ugly endeavor.
It might have been arrogance on Toney's part, believing his top-tier boxing chops would let him skate through UFC competition. It might have been plain-and-simple lack of effort, entering the Octagon purely with plans to cash in on one fight and run back to boxing. It might have been a focus on conditioning or cardio rather than actual wrestling.
Regardless, when the former middleweight, cruiserweight, light heavyweight, and heavyweight champion entered the cage, he had nothing for his opponent, UFC legend Randy Couture.
Couture shot for a takedown after just 12 seconds, securing Toney's ankle and literally crawling over his leg to take him down. He effortlessly entered mount position from there and Toney did nothing to resist Couture's punches. After three minutes, Couture would mercifully apply an arm triangle choke, and forced a tap out of Toney.
It remains one of the ugliest fights in UFC history and dispelled any argument claiming that the fight itself wasn't a Japan-style freak show. It deserves to be in this top spot, beyond question.