Ranking the Top 25 NBA Playmakers This Season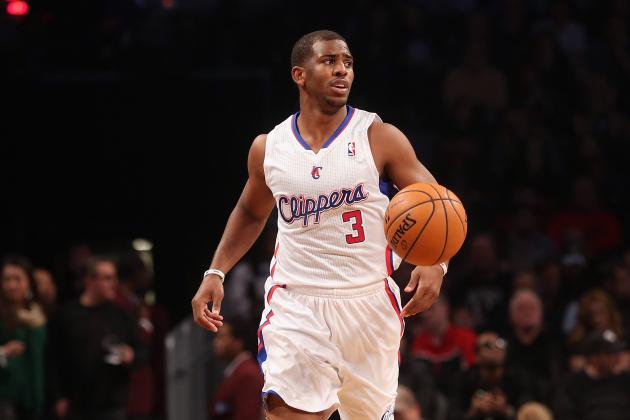 Bruce Bennett/Getty Images

At the end of the game, who is going to make a play? It is the end-all, be-all of questions for every NBA team.
While "hero ball" has come to dominate last-possession strategy and legacies are defined in the clutch, the more valuable players are often those who help you avoid those situations in the first place. The best players are those who have the ball in their hands all game long and consistently make the right decisions.
Having the ability to set up others or call their own number, no matter the situation, is what separates the league's best playmakers from those who just occasionally make plays.
(All statistics current as of January 1.)
Begin Slideshow

»
Bruce Bennett/Getty Images

Points Per 36 Minutes: 16.1 (65th in the NBA)
Assists Per 36 Minutes: 7.4 (12th in the NBA)
Assist Rate: 36.6 (8th in the NBA)
Deron Williams is on this list by default. He is too good a player not to be on it.
As inefficient as his scoring has been, he has made—just barely—enough nice plays to qualify.
Unfortunately for him, however, there aren't 25 slots on the Eastern Conference All-Star team. So if he hopes to not miss the mid-season exhibition for the first time since 2009, he will have to make a lot more plays than he has thus far.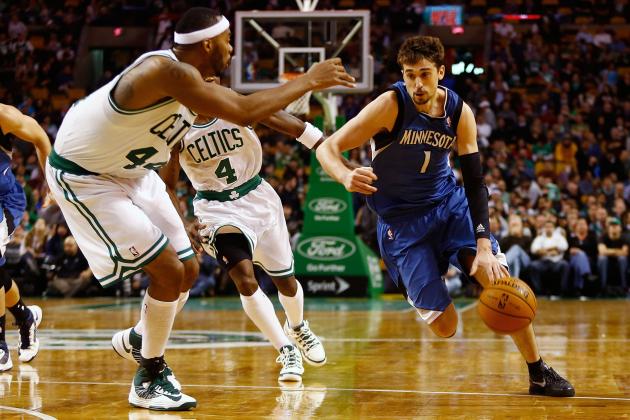 Jared Wickerham/Getty Images

Points Per 36 Minutes: 14.0 (113th)
Assists Per 36 Minutes: 6.0 (27th)
Assist Rate: 27.5 (29th)
What is your favorite Alexey Shved pass his season? This no-look, over-the-head kick-out to Kevin Love? This thread-the-needle assist to Nikola Pekovic? Or this lob to Andrei Kirilenko?
Highlights are just highlights, and every NBA player gets a few.
These plays, however, show much more than flash. Each illustrates the vision of a player who understands space and timing to a degree that few ever will.
Expect the rookie's playmaking to continue to improve as he gets more experience playing in the NBA and with teammates he met just a few months ago.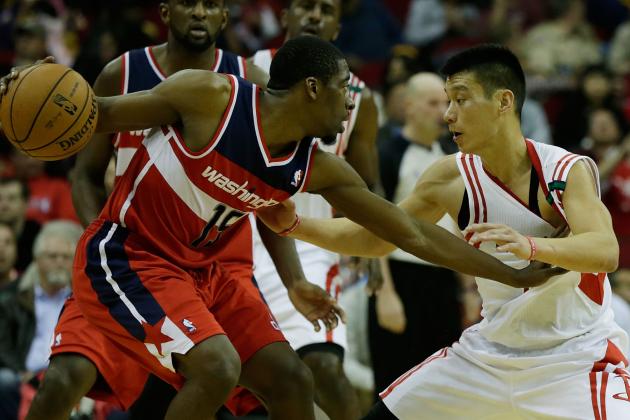 Scott Halleran/Getty Images

Points Per 36 Minutes: 19.2 (20th)
Assists Per 36 Minutes: 5.7 (31th)
Assist Rate: 31.9 (14th)
When you play for the worst team in the NBA and your coach continually asks you to make something happen, the statistical outcome won't be pretty. For evidence, see Jordan Crawford's shooting percentage (41.2).
His default setting is to chuck up a long shot. But when he isn't busy chipping the paint off the rim from deep, he has done an admirable job making something out of nothing. His 4.7 assists per game may not impress, but that number was 6.1 in December,even as he increased his scoring to 19.1 points per game during the month.
Add that to his assist rate, good for 14th best in the NBA, and Crawford is a player doing more than his share for a woeful offense.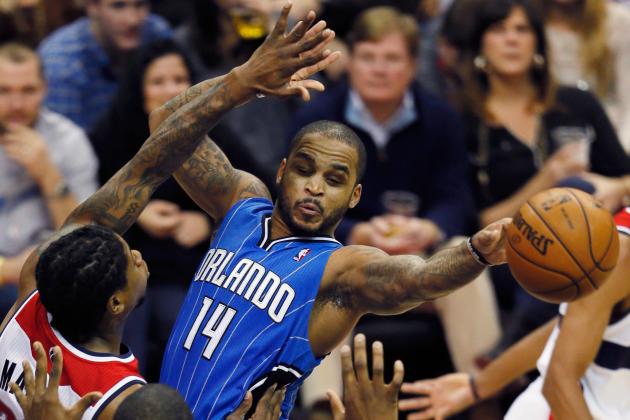 Rob Carr/Getty Images

Points Per 36 Minutes: 13.8 (116th)
Assists Per 36 Minutes: 7.2 (14th)
Assist Rate: 32.2 (12th)
Against all odds, the Orlando Magic have been a somewhat decent team this season. They struggle to score and can be hard to watch (looking at you, Glen Davis). But when they traded away Dwight Howard for little in return, it seemed unlikely that there would be five worse teams in the Eastern Conference.
Jameer Nelson's ability to set up teammates has been a large reason why they have exceeded expectations..
There have been few highlights, but Nelson just makes the right pass at the right time to the right person. Even without an adept low-post scorer, the Magic rank ninth in the league in points in the paint, according to NBA.com.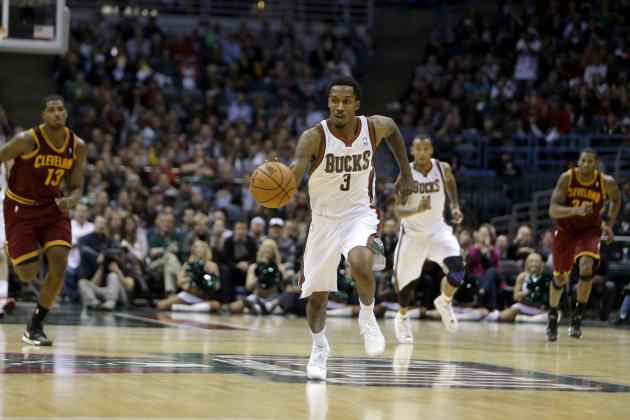 Mike McGinnis/Getty Images

Points Per 36 Minutes: 16.7 (57th)
Assists Per 36 Minutes: 5.5 (34th)
Assist Rate: 26.0 (35th)
Brandon Jennings started the season playing excellent basketball, but he has tailed off rapidly. The Milwaukee Bucks continue to win, but Jennings' numbers have fallen almost across the board, even as his minutes have increased.
Perhaps that is part of the problem.
Either way, it is just another confounding issue for a team that has beaten the Miami Heat, Brooklyn Nets and Boston Celtics in their past five games while losing to the Cleveland Cavaliers and Detroit Pistons.
Still, Jennings has made several tremendous plays this season, including countless lobs both in transition, like this one to Larry Sanders, and in the half court, like this one to Samuel Dalembert.
The game-winning shot Jennings hit against the Cleveland Cavaliers also can't be discounted.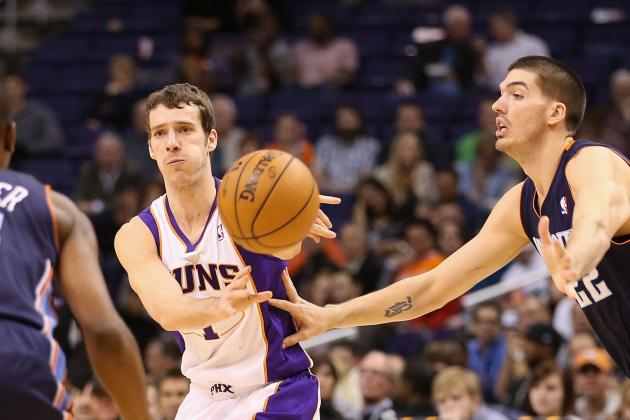 Christian Petersen/Getty Images

Points Per 36 Minutes: 16.0 (66th)
Assists Per 36 Minutes: 7.3 (13th)
Assist Rate: 32.0 (13th)
You have to feel bad for Goran Dragic. Playing for the Phoenix Suns has to be one of the worst jobs in the NBA, but he at least comes to work every day and gives the fans something to watch.
Whether it is running the pick-and-roll to get himself a crafty, game-winning layup or using the eyes in the back of his head to find a trailer on the break, he keeps it interesting.
Since he does all this while turning the ball over less frequently and getting to line more often than he did last season, the Suns have to be happy they decided to bring back Dragic, a player they traded away less than two years ago.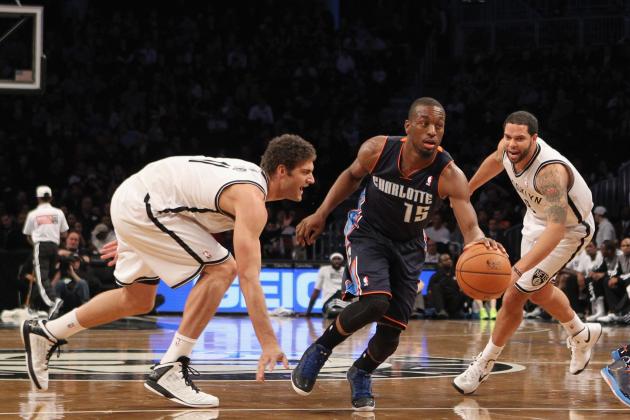 Bruce Bennett/Getty Images

Points Per 36 Minutes: 18.1 (34th)
Assists Per 36 Minutes: 6.0 (28th)
Assist Rate: 31.3 (18th)
Whether it's setting up teammates or drilling game-winners himself in isolation, Kemba Walker has made good things happen this season.
Among qualified leaders, he is 18th in the NBA in assist ratio, recording an assist on nearly one out of every three shots his teammates make. Who thought that would happen when he was making his name by drilling pull-up jumpers in the Big East?
And don't look now, but the Charlotte Bobcats—on the strength of Walker's 18 points, eight rebounds, six assists, four steals and two blocks—just got a win, beating the Chicago Bulls on New Year's Eve.
Walker has been at the center of most of his team's best plays this season. If not for him, there is no way Charlotte would have entered 2013 on a winning streak.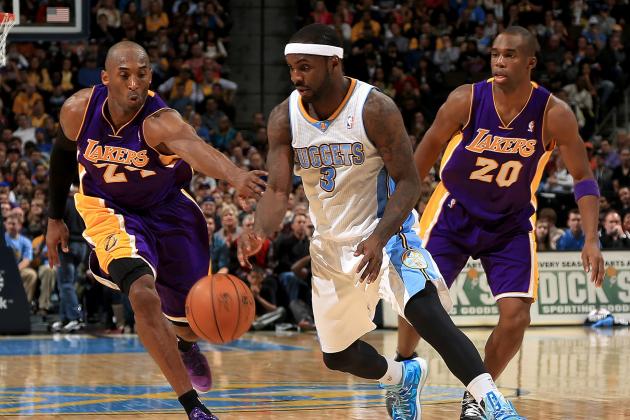 Doug Pensinger/Getty Images

Points Per 36 Minutes: 14.0 (110th)
Assists Per 36 Minutes: 7.1 (15th)
Assist Rate: 29.6 (25th)
In general, Ty Lawson's play this season has been terrible. He isn't scoring and he can't shoot. This isn't what a Denver Nuggets team that has faced a rough schedule needed from its on-court leader.
Not at all.
He has still been adequate at setting up others, however.
He is crafty and mobile, and Lawson uses that ability to create lanes in the defense. He pushes the ball in transition to make buckets when no easy opportunities seem to exist, and he consistently finds open players in a crowded paint.
Make no mistake, Lawson needs to step up his play.
But he is a good enough point guard that, even when he's struggling to put the ball in the hoop, he still makes other players better.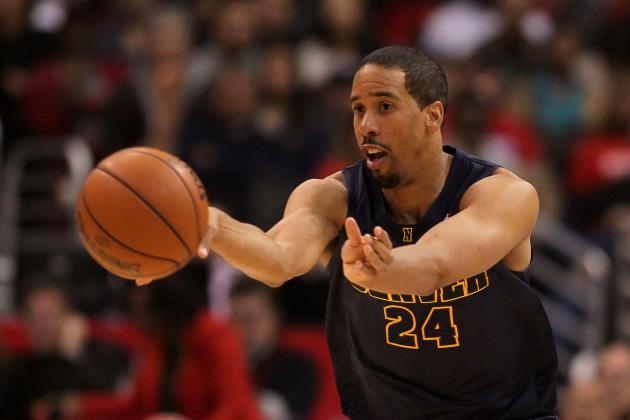 Victor Decolongon/Getty Images

Points Per 36 Minutes: 12.5 (136th)
Assists Per 36 Minutes: 7.8 (8th)
Assist Rate: 31.4 (13th)
It must be even harder to make plays when you can barely move.
Andre Miller looks like an Uncle Drew commercial that came to life—minus anything resembling explosiveness of movement. He lumbers around the court and appears as though he is trying to save his energy for the few times a game he truly goes to work.
When he does, however, it is still wonderful.
Miller sees the angles that players half his age and with twice his speed never will.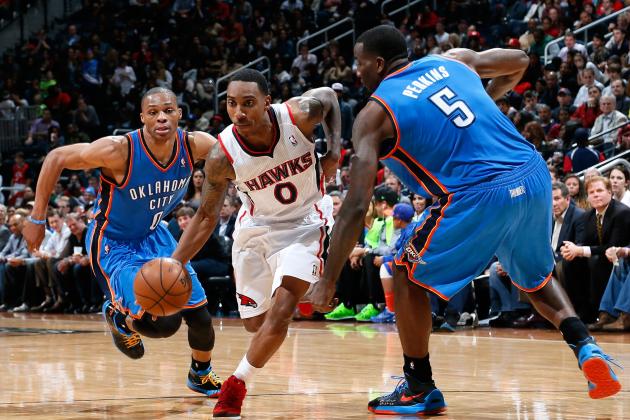 Kevin C. Cox/Getty Images

Points Per 36 Minutes: 15.2 (86th)
Assists Per 36 Minutes: 7.5 (10th)
Assist Rate: 34.4 (11th)
The Atlanta Hawks are one of the NBA's best teams, and a big reason is that they "downgraded" from Joe Johnson to Jeff Teague. They play different positions—and adding Lou Williams has been a big help—but Teague has taken over the role of primary ball-handler from Johnson.
In that role he is thriving.
A good example of his playmaking ability came last week in a win over the Indiana Pacers. As the Hawks tried to seal the win, Teague was at the center of their final three plays.
On the first, he drove to the rim. On the second, he expertly ran a pick-and-roll with Al Horford and found the big man in space for an easy jumper. Then, to ice the game, he got to the rim again and finished easily.
This was just one big stretch for a player who has made similar plays all season.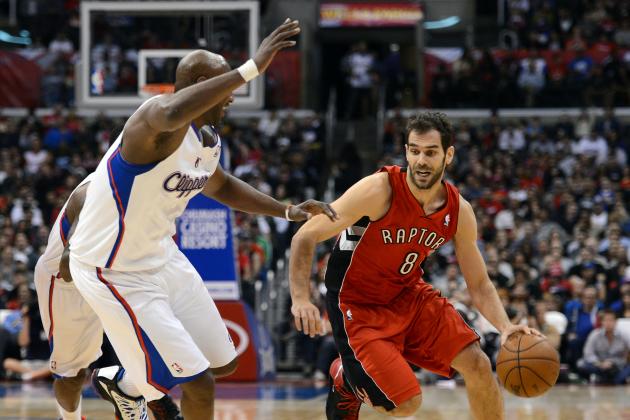 Harry How/Getty Images

Points Per 36 Minutes: 13.0 (128th)
Assists Per 36 Minutes: 9.6 (3rd)
Assist Rate: 44.4 (4th)
Jose Calderon will forever be a point guard who puts up tremendous numbers without impressing anyone. His physical tools and flash-less game simply fly under the radar.
Calderon is a less heralded—and less talented, no doubt—version of Andre Miller.
But he, more than anyone else on the Raptors, brings order to an often chaotic offense. The plays he makes may not make many highlight reels, but they have usually been the right plays this year.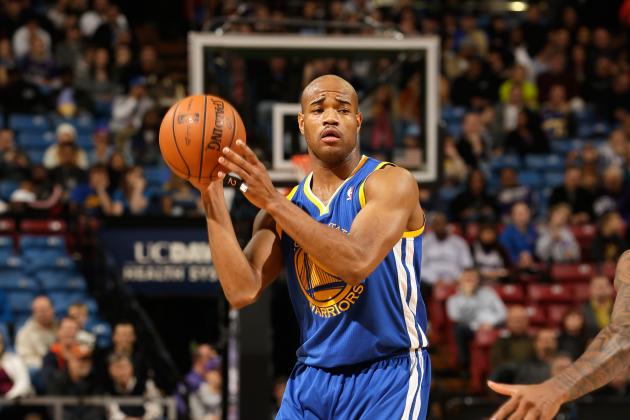 Ezra Shaw/Getty Images

Points Per 36 Minutes: 16.0 (68th)
Assists Per 36 Minutes: 6.6 (21st)
Assist Rate: 29.9 (22nd)
Why is Golden State Warriors backup point guard Jarrett Jack on this list? Just ask the Miami Heat.
More than just that one game-winning assist, however, Jack is here because he is a leading candidate for Sixth Man of the Year due to his stellar play all season.
His clutch play against the Los Angeles Lakers on December 22, albeit in an overtime loss, also highlighted what a wonderful season he is having as a key contributor to the NBA's biggest surprise.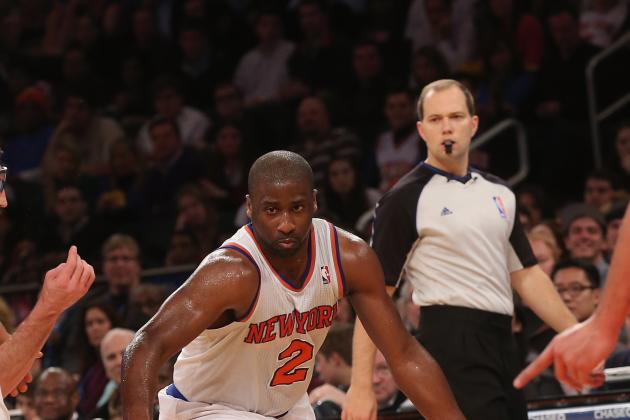 Bruce Bennett/Getty Images

Points Per 36 Minutes: 16.9 (54th)
Assists Per 36 Minutes: 6.7 (20th)
Assist Rate: 31.8 (15th)
It is often hard to tell whether Raymond Felton is shooting a floater or throwing a lob to Tyson Chandler. Sometimes, Felton might not even know when he releases the ball.
No matter.
Chandler ranks second in the NBA with 80 dunks this season, according to CBS' "Dunk-o-Meter," That is more than half of his 148 made field goals this season and a large reason why Chandler is—by far—the league leader in field goal percentage at 68.5 percent.
Another big reason is Felton, who has delivered assists on 54 of those 148 buckets.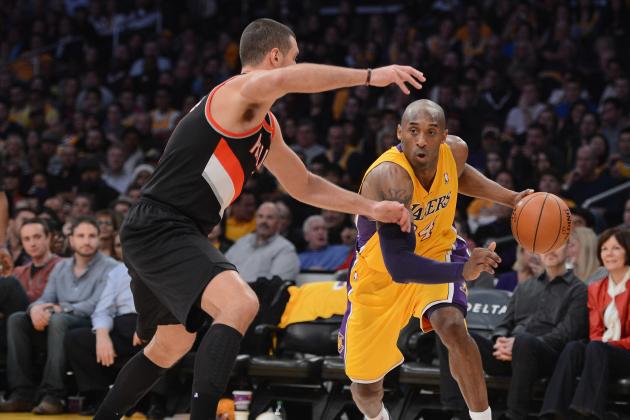 Harry How/Getty Images

Points Per 36 Minutes: 28.0 (2nd)
Assists Per 36 Minutes: 4.6 (45th)
Assist Rate: 25.5 (37th)
With Steve Nash and Steve Blake hurt for most of this season, Kobe Bryant has been tasked with running the offense and creating for his teammates. Amid the sideshow that this 2012-13 Los Angeles Lakers season has been, he has delivered.
Most impressively, Bryant hasn't had to curtail his scoring to do so.
He has just shot a little less and passed off a little more, setting up his teammates for buckets despite his instincts to attack on his own. There is a reason that the Lakers score 109.2 points per 100 possessions when he is on the court compared to an embarrassing 95.8 points per 100 when he is on the bench, according to NBA.com.
And it isn't only because he scores a lot.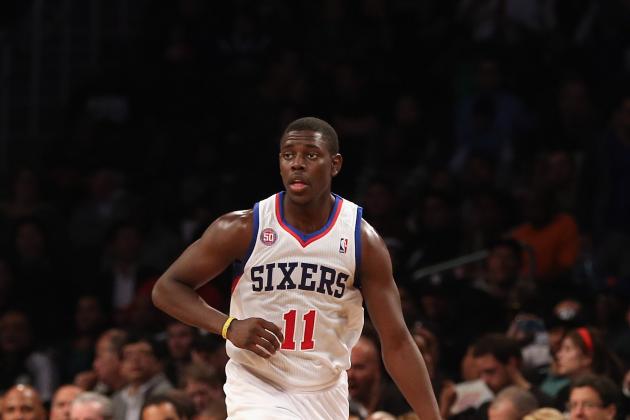 Bruce Bennett/Getty Images

Points Per 36 Minutes: 17.4 (45th)
Assists Per 36 Minutes: 8.3 (6th)
Assist Rate: 40.7 (6th)
Jrue Holiday should be on his way to Houston as an All-Star in less than two months. In a disappointing season for the Philadelphia 76ers, he has been a beacon of light.
No point guard in the NBA this year averages a 20/10. Except for Russell Westbrook, Holiday is the closest. But even more so than Westbrook this season, he has shown a great understanding of when to score and when to set up his teammates.
Tuesday night, he saw an opening in the porous Los Angeles Lakers defense late and drove for a dunk to ice the game. Other times, he has made the dish.
It is this nuanced understanding of when to push the pedal and when to let off the gas that has transformed Holiday into one of the league's premier point guards.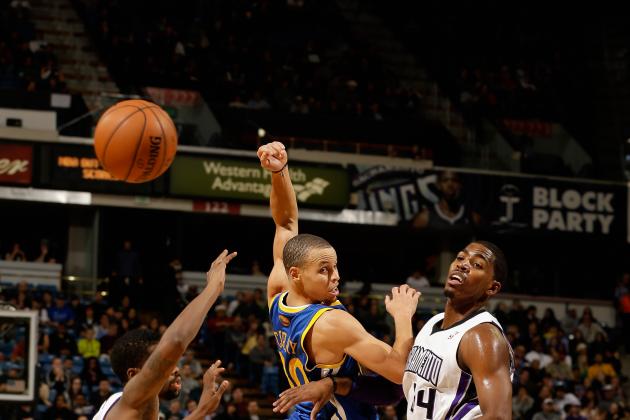 Ezra Shaw/Getty Images

Points Per 36 Minutes: 19.0 (24th)
Assists Per 36 Minutes: 6.2 (24th)
Assist Rate: 28.4 (28th)
Stephen Curry is seen as more scorer than point guard. With his deadly jump shot, and considering he is second in the NBA in three-pointers made, that isn't a surprise.
He has always been a capable playmaker as well, however, and this season he has been a particularly adept distributor.
The Golden State Warriors are the NBA's ninth-best offense and fifth-best three-point shooting team. With Curry making passes like this alley-oop to Harrison Barnes, this one-handed dish to a rolling David Lee and this delivery to a cutting Barnes, it should no longer be considered a fluke.
This is a good team with great chemistry led by a devastating playmaker.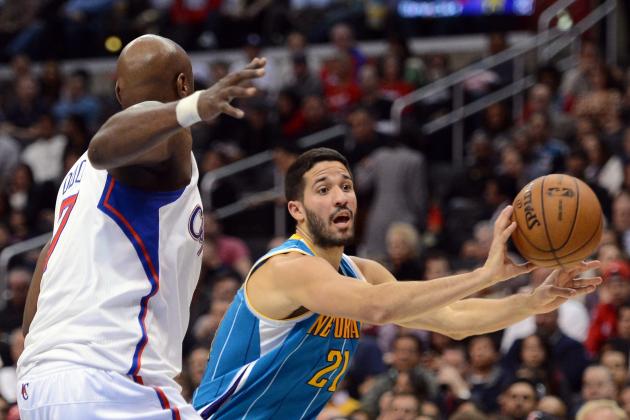 Harry How/Getty Images

Points Per 36 Minutes: 14.2 (108th)
Assists Per 36 Minutes: 9.3 (3rd)
Assist Rate: 45.0 (2nd)
Greivis Vasquez has made Robin Lopez look good. That alone merits a standing ovation.
Yes, the New Orleans Hornets only have seven wins, but that may actually be an accomplishment considering Anthony Davis and Eric Gordon have missed a combined 42 games.
After Ryan Anderson, who leads the NBA in three-pointers made, Vasquez has been the team's biggest reason to cheer.
He played well last season, but he has largely come out of nowhere to vault his way onto the league's statistical leader board. Only Rajon Rondo and Chris Paul have dished out more assists this season.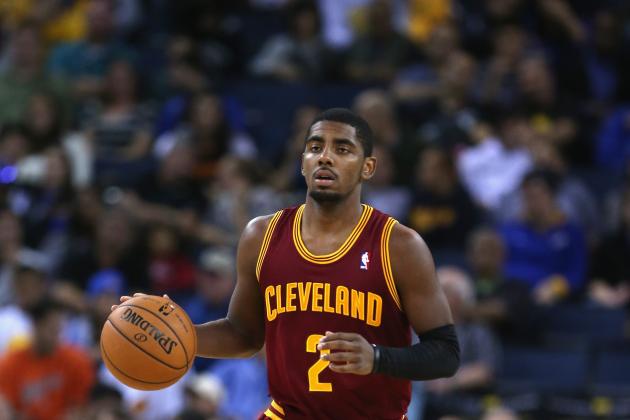 Ezra Shaw/Getty Images

Points Per 36 Minutes: 23.0 (not qualified)
Assists Per 36 Minutes: 31.7 (n/q)
Assist Rate: 5.6 (n/q)
Because Kyrie Irving missed 11 games this season, he doesn't qualify for the list of league leaders in the relevant statistical categories. What success the Cleveland Cavaliers have enjoyed, however, has come almost entirely during the games for which he was healthy.
In the 798 minutes he has not been on the court this season, the Cavs have scored just 93.2 points per 100 possession, according to NBA.com. To put that in context, the Washington Wizards have the worst offense in the NBA at 93.0 points per 100.
Simply put, Irving changes the game, and the ball always goes through him. What plays do get made on this team are almost always made by him.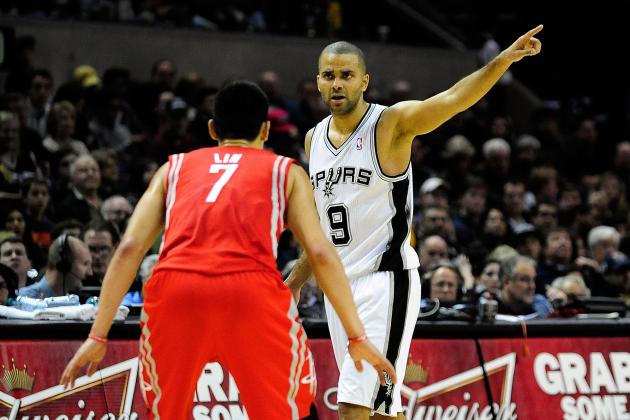 Stacy Revere/Getty Images

Points Per 36 Minutes: 21.4 (7th)
Assists Per 36 Minutes: 8.1 (7th)
Assist Rate: 38.1 (7th)
Looking at the numbers above, it is hard not to rank Tony Parker seventh.
He does everything well, and when it comes to making plays, he is the lighter, slicker version of Russell Westbrook. He is the small, sporty European coupe that can hairpin turn through an Alpine Pass compared to the balls-to-the-wall muscle and exhaust of classic Detroit muscle.
His first career triple-double, against the Houston Rockets on December 10, showed his full arsenal. He hit pull-ups, tear-drops and driving layups at full speed. He found cutters, set up shooters and delivered crafty passes that were only possible because he moved the defense.
Somehow, he remains one of the league's most underrated playmakers, but everyone in San Antonio knows just how much he does for the offense every night.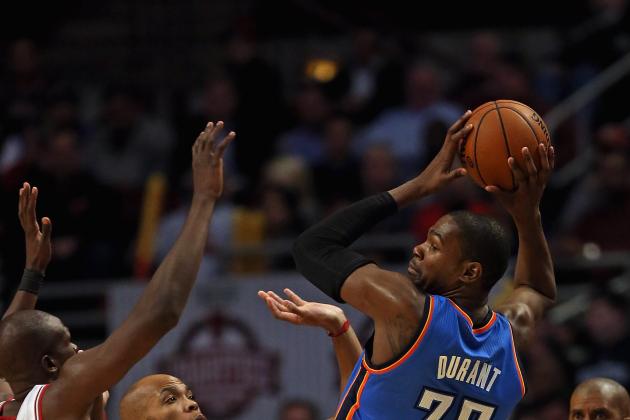 Jonathan Daniel/Getty Images

Points Per 36 Minutes: 25.8 (3rd)
Assists Per 36 Minutes: 3.7 (62nd)
Assist Rate: 18.9 (54th)
Kevin Durant is a scorer. More than that, he is a shooter. But Durant is also a playmaker, and he has never tried as hard to be one as he has this season.
Without James Harden to take some of the ball-handling load off Russell Westbrook, Durant has stepped up. Whether that is ultimately the best thing for the team is still a question mark.
Durant the facilitator has been impressive, however.
His usage rate is down and his assist rate is up. He knows the offense and his teammates so well that he is more than able to put them in position to succeed.
Any strategy that leads to Durant taking fewer shots seems foolish. But he is having his most efficient scoring season ever, and he is improving a dimension of his game that will likely make him all the more unstoppable come playoff time.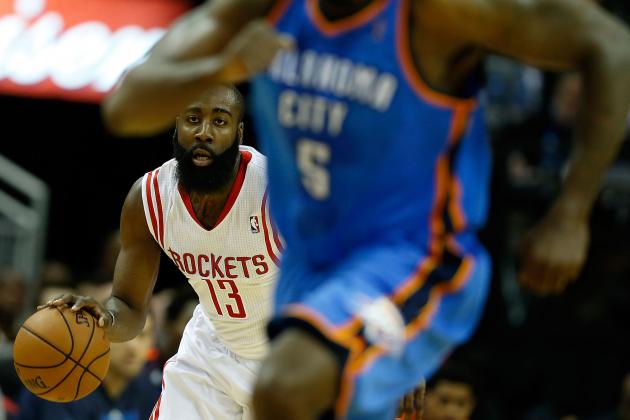 Scott Halleran/Getty Images

Points Per 36 Minutes: 24.6 (5th)
Assists Per 36 Minutes: 4.9 (44th)
Assist Rate: 23.5 (42nd)
The James Harden era in Houston is off to a tremendous start. Not since Gilbert Arenas in his prime have we seen a player who looks as hungry to make plays as Harden does in a Houston Rockets uniform.
We got a great taste of what this—him having his own team—would be like when Harden ran the second unit in Oklahoma City. But we are now getting the full-course meal, and it is delicious.
Marvel at the passes he makes, and move to the edge of your seat when he knifes through the lane. He's been a combination of the best of "Hibachi'' and Manu Ginobli in his prime.
It has been must-see TV.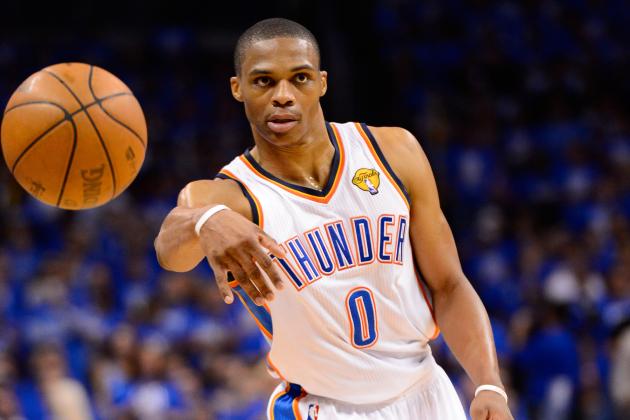 Ronald Martinez/Getty Images

Points Per 36 Minutes: 21.4 (8th)
Assists Per 36 Minutes: 8.6 (5th)
Assist Rate: 42.0 (5th)
It remains unfair that the Oklahoma City Thunder employ two of the best playmakers on the planet. The rest of the league can at least take solace in knowing that they traded away James Harden. But that does little to prevent other teams from being destroyed nightly by Russell Westbrook.
He is the most explosive guard in the NBA, and his combination of fast-twitch devastation off the dribble and ability to find the open man is just impossible to stop. The defense's only hope is to react quickly enough to prevent him from driving to the hoop while not helping so quickly that he is able to easily dish off to an open shooter.
Pick your poison.
Either way, you die.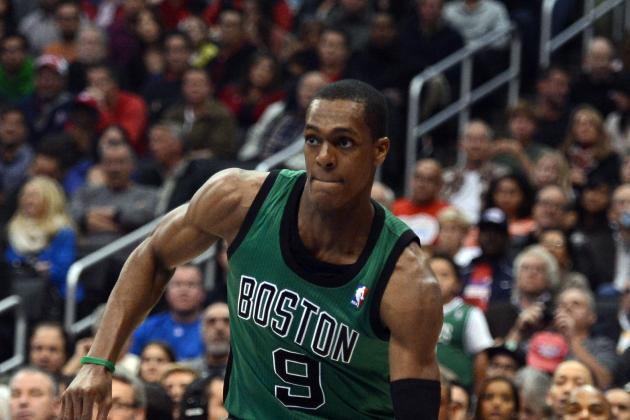 Harry How/Getty Images

Points Per 36 Minutes: 12.5 (135th)
Assists Per 36 Minutes: 11.1 (1st)
Assist Rate: 51.2 (1st)
Imagine the Boston Celtics without Rajon Rondo. Even with his playmaking, they have a stagnant offense, which is the 22nd-most productive in the NBA.
There are, of course, obvious things to criticize about Rondo's offense.
First, he is too reluctant to score. He has never poured in many buckets, and his average of 12.5 points per 36 minutes this season is the third-lowest of his career. With this roster, that should be something Doc Rivers forces to change. And soon.
Still, the passes he makes are divine, and his ability to race to a spot to set up an open teammate is unmatched now that Steve Nash has lost a step.
Nobody in the league has his combination of quickness, deceptiveness and vision. He needs to find ways to make sure this skill set gets his team better shots in end-of-game scenarios—during which Boston has struggled this year—but this is a small complaint about a world-class playmaker.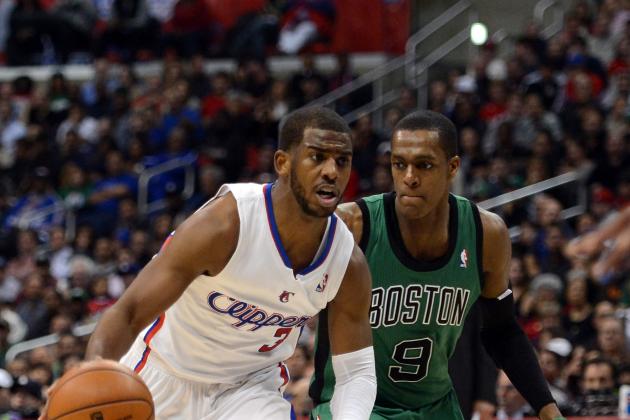 Harry How/Getty Images

Points Per 36 Minutes: 17.8 (36th)
Assists Per 36 Minutes: 10.3 (2nd)
Assist Rate: 45.0 (3rd)
There isn't another player in the NBA any coach would rather have running his offense. It's that simple.
Chris Paul's play in New Orleans was historically elite, and his first season in Los Angeles was brilliant. But what he is doing this year, in terms of leading a team, is on another level.
The explosiveness may not be the same as it was in 2006, but Paul simply creates so many passing angles and puts so much fear into the defense with every hesitation dribble that he is in a class of his own.
Who else can force the defense to react simply by moving his head?
As he runs the half-court set, he sees all the holes—those that exist and those that are about to—and exploits every vulnerability in the defense. He knows where all nine other players are on the court at all times, and he is the one player in the NBA who comes closest to assuring, with complete certainty, that his team will get a good shot on any given possession.
He doesn't so much make plays as manufacture them. He runs an assembly line of fantastic possessions with Henry Ford-like efficiency.
Scott Halleran/Getty Images

Points Per 36 Minutes: 24.7 (4th)
Assists Per 36 Minutes: 6.6 (22nd)
Assist Rate: 34.4 (10th)
Arguments can be made that somebody else deserves this top spot. Given the Los Angeles Clippers just-ended winning streak, it isn't unreasonable to think Chris Paul should be No. 1.
While their overall statistics and on-court brillance in setting up their teammates are similar, consider this: LeBron James is second in the NBA in clutch assists and fourth in clutch points.
When it has come time to win this season, nobody has made more plays—both for others and himself—than James.
Oh yeah. He is also the league's best player, not to mention one of its most willing passers, for the first 43 minutes of the game as well.
(NBA.com, which provides these clutch stats, considers "clutch" as the final five minutes of a game when the score is within five points.)