Grading Every Saints Starter's 2012 Regular Season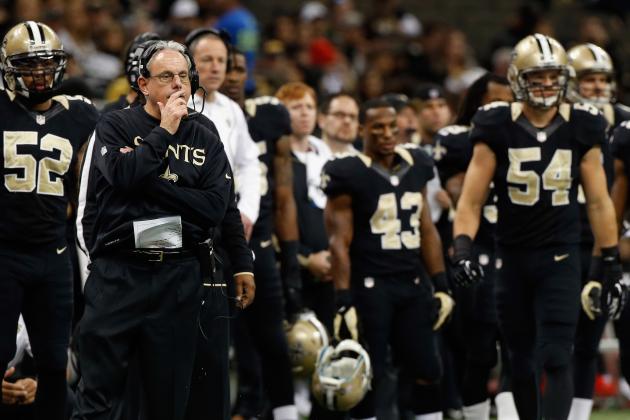 Chris Graythen/Getty Images

The New Orleans Saints disappointingly finished the 2012 NFL season 7-9 and in third place in the NFC South division. Many of the Saints' best players struggled for prolonged periods of the 2012 regular season. Some players were outstanding all season long.
No matter who we're talking about, though, grades for each Saints starter (and regular) are in line.
As usual, pay less attention to the letter grade and more to the comment on each individual player.
Begin Slideshow

»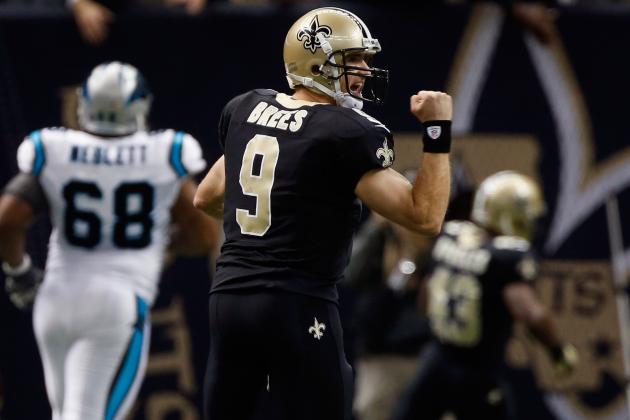 Chris Graythen/Getty Images

It's hard to argue with becoming the first player ever to record three 5,000-plus yard seasons, 15,000-plus yards over the course of three years, the all-time mark for consecutive games with a touchdown pass at 54 and continuing his incredible streak of consecutive games with 20-plus completions.
Still, the franchise quarterback pressed at times this season and simply made too many mistakes. Few of those mistakes were the sort that could be reasoned away by calling them the mistake of another. They were exclusively the fault of No. 9 himself.
Put simply, Brees must be better in 2013, especially in the turnover department.
After writing up the offensive line and receivers, it became evident, however, that Brees was the recipient of some very poor luck and production around him. Drops, and at times, horrific pass protection, made life nearly impossible for Brees.
That Brees was able to put up the amazing numbers that he did this season is a testament to his greatness.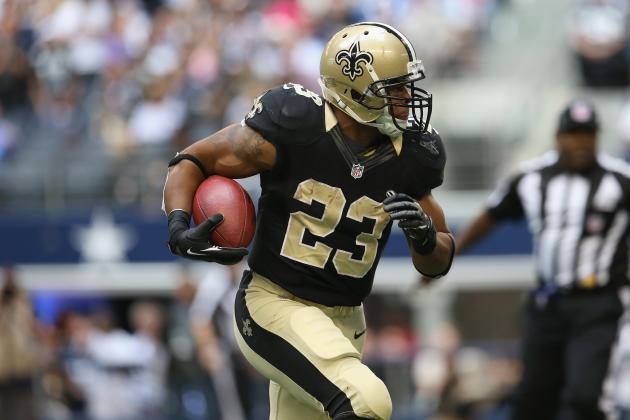 Ronald Martinez/Getty Images

Pierre Thomas: A-
Pierre Thomas may not have led the Saints in any notable statistic. But his impact on football games can never be measured by the use of statistics.
Thomas is an old-school kind of player whose impact is obvious when he is on the field. The offense gains an energy and passion that no other player, shy of Drew Brees, gives this offense.
His work in the screen game and between the tackles continued to light the path to success for the Saints' running game and offense as a whole in 2012.
Darren Sproles: A-
When Darren Sproles was healthy, and used properly, he was one of the most exciting players in the entire league. He and Drew Brees perfected the whip route on the goal line in 2012.
And Sproles' work on the toss sweep provided many big plays as well.
Mark Ingram: B
Mark Ingram didn't prove many naysayers wrong this season with his paltry 3.8 yards per carry average, lack of production as a pass receiver, and at times, a shoddy effort in pass protection.
Yet, Ingram improved in all three phases of the game as year went on. His production as a runner improved as the team employed more spread sets. His work as a receiver improved simply by utilizing him in that realm more often.
And he had some nice pickups in protection as the season progressed. Plus, he played 16 games in 2012, after playing in just 10 as a rookie. There's little doubt that Ingram will improve in year three when Sean Payton returns.
Chris Ivory: B-
Chris Ivory couldn't get on the field for much of 2012. As easy as it would be to blame the coaches for that factor, it would be unfair. Ivory has long struggled with fumbling and injuries. Though the former was not an issue in 2012, the injury bug hit once again.
When healthy, Ivory was a heck of a runner for the Saints, though.
Travaris Cadet: C
The undrafted Travaris Cadet had some nice moments for the Saints in 2012, especially when filling in for Darren Sproles as the teams' "flex back." He was employed mostly as a receiver and made a few big plays.
His efforts in the return game were commendable, but he does not appear to be the answer at that spot.
Chris Graythen/Getty Images

Marques Colston: A-
Marques Colston had one of his best statistical seasons, in a career of many great statistical seasons. With 83 catches and 1,154 yards to go along with 10 touchdowns, Colston continued to be the rock of the Saints' passing game.
Unfortunately, he had too many drops and fumbles this season. Really, the missed opportunities are the lone piece of troubling data to be used against Colston for his ever-elusive Pro Bowl bid.
Lance Moore: B+
Lance Moore made some of the more amazing catches of any receiver in the entire league in 2012. He was used more frequently as a deep threat than in years prior and excelled. As such, he murdered his previous career high in yards per reception (16.0 in 2012 compared to previous best 12.1 a year ago).
Joseph Morgan: B
Joseph Morgan reminded us of a young Robert Meachem, in that he was inconsistent with his hands early in the year but was a prominent deep threat and a guy regularly used in obvious run formations due to sufficient effort as a blocker.
Similar to Moore, the second-year phenom made some of the finest catches we saw all season. He only had 10 catches but made the most of each one. He gained 379 yards and scored three touchdowns on the limited amount of attempts. Morgan appears to have big things in his future for the Saints.
Devery Henderson: C-
It isn't that Devery Henderson was awful in 2012. In fact, it may have been his most consistent season in a maddeningly inconsistent career. But he didn't make a ton of plays down the field as he had in previous seasons.
It seems likely that Henderson will move on, as he is an unrestricted free agent in 2013.
Courtney Roby: B
Courtney Roby was mostly used as a "gunner" on special teams. But he was used more as a receiver early in the year than he had been in past seasons.
The result was mostly effective blocking in the run game, with minimal reward as a receiver. But, his work on special teams made him a valuable part of the team. Whether he remains a New Orleans Saint in 2013 is questionable.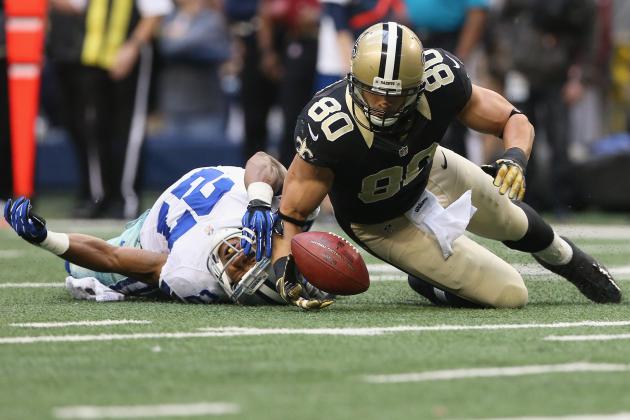 Ronald Martinez/Getty Images

Jimmy Graham: B+
Jimmy Graham led the world in drops in 2012. But after finding out late in the season, he had a major hand injury, some grace can be showered upon him, no?
Graham was still an elite playmaker who caught 85 receptions for 982 yards and nine touchdowns. And early in the season, Graham showed something as a blocker.
If he can continue in that direction, Graham could become the finest tight end to ever play the game.
David Thomas: B
David Thomas had some fine moments when he was the featured tight end. In the win at Tampa Bay, Thomas had a number of big catches and displayed an ability, like Graham to make plays down the field.
His blocking actually seemed to regress in 2012, which means finding a third tight end who specializes in blocking is an imminent possibility.
Mike Ehrmann/Getty Images

Jermon Bushrod: C+
Jermon Bushrod is expected to command a high salary this offseason. The reason? No one really knows.
He has ridden the coattails of Drew Brees and the Saints' brilliant offensive system to a Pro Bowl bid and likely eight digit, multi-year contract with some poor team.
His abilities do include: getting bull-rushed, getting speed-rushed and being a weakness in the running game. That said, his best fit is in the Saints' system. He better hope the Saints want him, because he would be an absolute bust anywhere else.
Zach Strief: D+
In the 16 games I live-graded this season, Strief came away with one "A" grade. The rest were miserable. Strief is a tremendous backup and excelled when he was used in past seasons as a sixth lineman. He would do well to return to that role in 2013 and beyond.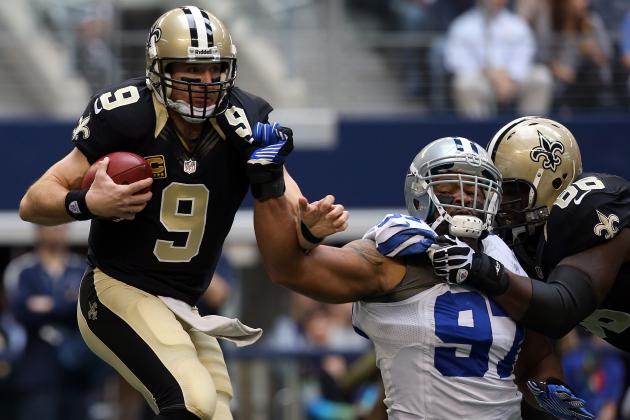 Tom Pennington/Getty Images

Ben Grubbs: B+
Ben Grubbs quietly had a great first season in New Orleans. He was not perfect, but he was clearly the best player on the Saints' offensive line in 2012.
His work in the running game was unmeasured. And his work in pass protection improved as he gained continuity with his linemates and continued to better understand the blocking schemes employed by Aaron Kromer and the Saints' staff.
Jahri Evans: B
Jahri Evans wasn't bad in 2012, but he proved to no longer be the best guard and lineman on the roster. His work in pass pro is more than acceptable, but he was regularly called for holding and other types of penalties.
His work in the running game, though, has been underrated for years. He needs to continue that pattern and get back to the dominant pass protector he was in previous seasons.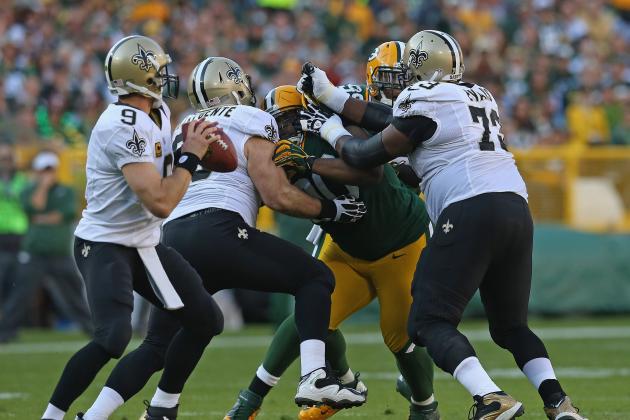 Jonathan Daniel/Getty Images

Brian De La Puente was yet another player who regressed in 2012. He was never a truly dominant player in 2011, but was a revelation to a team treading on thin ice at the position. He was better than average.
This season, he was slightly below average. The result was a consistent barrage of inside pressure from opposing defenses, which meant more hands in the face of Drew Brees as he tried to step into his throws.
The result, of course, was 19 interceptions and the worst completion percentage for Brees since his initial Pro Bowl season with the Chargers in 2004. Some of that is on Brees, but a large portion of the blame extends to the offensive line, while, of course, some lands on the grease-slick hands of his receivers.
The second-year starter at center also did little to help the running game. By personal opinion, De La Puente was the worst-rated run-blocker on the team.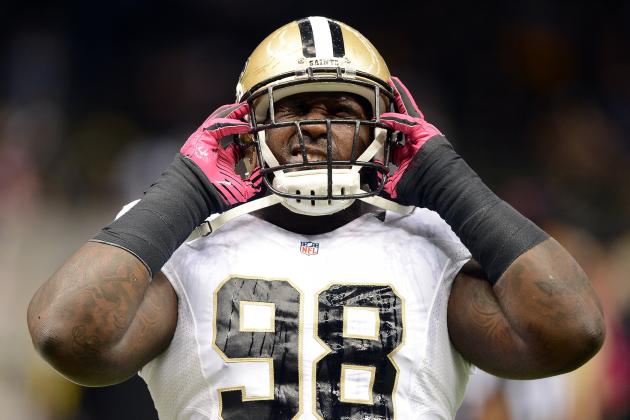 Harry How/Getty Images

Tom Johnson: B+
Tom Johnson was the most consistent presence along the interior of the Saints' defensive line. He constantly created penetration and shot gaps in the running game. And as the year went on, he improved in his abilities to get to the passer.
Akiem Hicks: B
For a rookie, Hicks was remarkably consistent. That is the best label one can have placed upon them when playing the defensive tackle spot. His presence and consistent play made Sedrick Ellis remarkably expendable, to the point that most are simply asking for him to leave as soon as possible. Look for Hicks to take the starting job in 2013.
Brodrick Bunkley: B-
Brodrick Bunkley began his inaugural season in black and gold in less-than-remarkable fashion. It seemed to take him longer than any other player to adjust to Steve Spagnuolo's complicated defensive scheme, which was especially odd given that the two had worked together before.
But as the season went on, Bunkley's play improved mightily. By the end of the season, he was a key cog in the middle against the run (minus the Carolina game of course) and even showed glimpses of ability as a pass-rusher, which he hadn't even shown in previous seasons in Denver or Philadelphia.
Sed Ellis: D+
Fellow Saints' Featured Columnist, and The NOLA Rundown co-host, Jason Bernos and I had a running joke this season: "Oh, there's Ellis getting pushed four yards off the ball again".
Though a joke, it truly embodied the state of Ellis' play in 2012. Little more can be said. In a contract year, Ellis had one or two good games all season.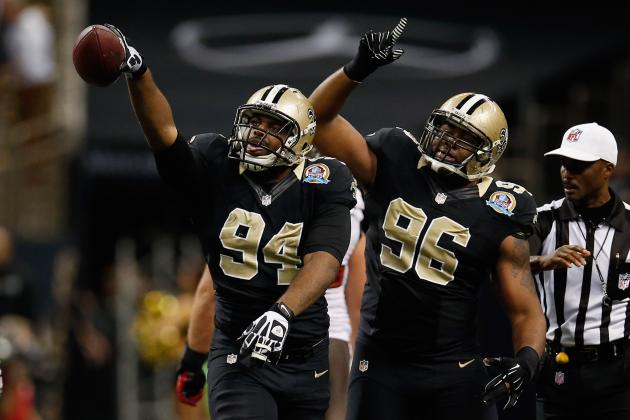 Chris Graythen/Getty Images

Cameron Jordan: A
Few players showed the improvement from 2011 to 2012 that Cameron Jordan did, and I'm talking in the entire NFL. Jordan was an underrated run defender in his rookie campaign.
But his ability in 2012 to create almost constant pressure on the quarterback in 2012 made him the Saints' defensive MVP in the opinion of yours truly.
If Jordan can continue with the upward trend, it would be impossible for him not to earn a Pro Bowl nod in 2013.
Will Smith: B+
Many looked on Will Smith's enormous contract and viewed him as a bust this season. The truth is a far cry from the common opinion, though. Smith was again excellent in run defense, as he has been for the better part of the past five seasons.
And, though he didn't put up astounding sack numbers, he was a consistent thorn in the brow of opposing quarterbacks.
Junior Galette: B
Galette missed a lot of time in 2012 due to injury and could never truly break out the way many hoped when Steve Spagnuolo was given the keys to the Saints defense. Still, Galette was an effective sub-package edge rusher in nickel situations. At times, he was even dominant when paired Martez Wilson.
Martez Wilson: B
Martez Wilson didn't quite make the jump in 2012 that fellow second-year defensive end Cam Jordan did, but Wilson impressed nonetheless.
Much like Galette, there were moments in 2012 when Wilson was dominant. The Chargers game (the Saints' first win of the year) comes to mind as a time in which Wilson almost literally took over the game by himself at the end of the contest.
If Wilson can gain consistency and improve as a point of attack guy in the run game, Wilson could start opposite Jordan in 2013 and give the Saints one of the league's most potent pass rushes.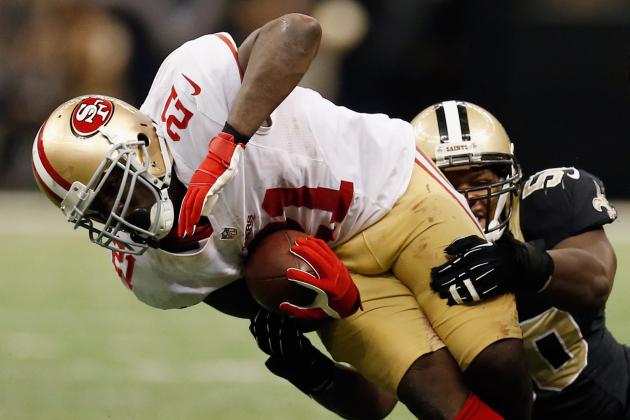 Chris Graythen/Getty Images

Curtis Lofton: B
Though the epidemic spread throughout the entire defensive roster, the primary unit it affected was the linebacker unit, and perhaps, no player more than the freshly imported Curtis Lofton. The epidemic in discussion of course is that nasty word "tackling."
That said, Lofton was the Saints' most consistent linebacker. He found himself in position for so many tackles that he still led the team with 123 on the campaign.
By no means was Lofton a disappointment in his first season as the Saints' defensive captain. But he needs to focus this offseason on breaking down more often and lead by example in that department.
David Hawthorne: B
Unfortunately, David Hawthorne's season seemed like a blur due to a nagging injury in the season that cost him five full games and parts of others. When he was in the game, and healthy, he appeared to be a very solid player who will only get better in his second year in Spagnuolo's defensive scheme and alongside his current teammates.
Jon Vilma: B-
Jon Vilma returned to action in Week 7 against Tampa Bay and shined just as brightly as the Florida sun. In fact, he seemed like a natural for the right outside linebacker (for the most part the Saints do not flip their linebackers based on the strength of the offensive formation).
But then, the season progressed. The missed tackle epidemic hit Vilma just as it had the rest of the defensive squad. And his age and lack of ability to shed blocks hurt him as much as it had when he was asked to play inside in a 3-4 defense.
Vilma wasn't horrible but showed his better days are behind him.
Jonathan Casillas: B-
Casillas has long been another Saints project who was expected to develop into a key contributor, if not a star. Until this season, the only thing Casillas was doing was rotating from the injury list and Gregg Williams' doghouse.
This year, Casillas has flourished in a modified role in which he is asked to mostly just play in passing situations. That role has allowed Casillas to do what he does best—play in space and cover people. He was also a key contributor on special teams.
Unfortunately, opposing offenses started figuring this out and decided to run the ball more in nickel situations to take advantage of Casillas' weakness as a run defender.
Scott Shanle: C-
It only took seven years, but it appears the Saints have finally come to peace that Scott Shanle will not be a starting linebacker on their team. It was quite a run for the girlfriend the team just couldn't rid itself of.
Shanle was finally exposed for weak coverage skills and even weaker ability to make a tackle in space.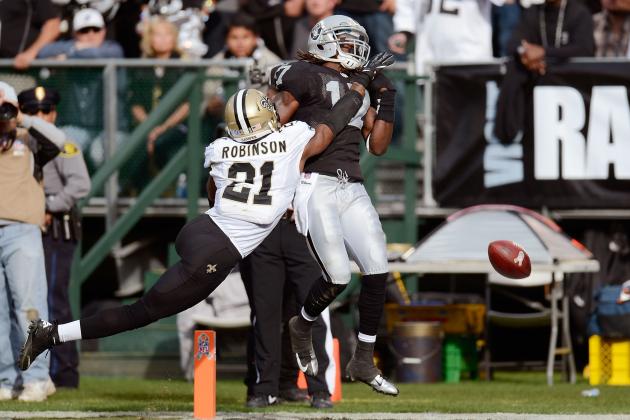 Thearon W. Henderson/Getty Images

Patrick Robinson: B-
Patrick Robinson is Dr. Jekyll and Mr. Hyde reincarnated as a starting NFL cornerback. At times, Robinson is a top-five type corner with great ball skills. Other times, he is being burnt crisper than toast left on the sidewalk in July heat.
Robinson was pegged the No. 1 corner this season when it became obvious that Jabari Greer was no longer an elite player due to injury and age. Robinson truly was decent at times. But there were several other moments burned in the memories of countless Saints fan which they'd love to forget.
Robinson can and likely will improve. He is going to have to, as he is now the Saints' best corner.
Corey White: C+
For a rookie no one had ever heard of going into the 2012 NFL draft, Corey White had a strong rookie campaign. Sure, he was burned many times over early on in the season, but he showed improvement with each game.
By the time he left the lineup with a knee injury, his improvement and value to the secondary became obvious. Upon inserting Johnny Patrick into the lineup as a rotation corner, the Saints' secondary suffered mightily. White was a consistent cover guy who came up to hit guys when given the opportunity.
Luckily, White will be back in 2013. And he should start opposite Robinson.
Jabari Greer: C
When fully healthy, Jabari Greer was solid in 2012. But he was beaten by average receivers with regularity, unlike at any time in his New Orleans' career.
Greer did have a few beautiful interceptions which helped the teams' case as a solid defense (don't buy into the lie of giving up yardage makes a unit awful) at the end of the year.
Going forward, Greer would help the squad by taking a demotion to nickel corner. In such an adjustment, White would move to the nickel spot, and Greer would continue to play outside, at least most of the time.
Elbert Mack: B-
Elbert Mack must have been cut and re-signed five times by the New Orleans Saints in 2012. Yet, in the second half of the season, he was the teams' most consistent corner. Though he was beat on occasion, Mack showed great ball skills and overall coverage skills.
Mack should return to New Orleans to give the team a solid four-man unit at corner (though one player from the safety quadrant could be added to it, in my opinion).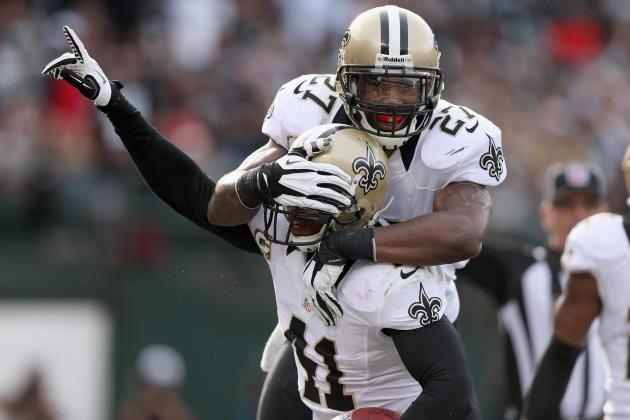 Ezra Shaw/Getty Images

Rafael Bush: B+
Rafael Bush's sample size is significantly less than any of the three players listed below him, but in any of the snaps that he took, it was clear the young safety could play. His man-to-man and zone coverage skills were obvious.
And he made it clear, both on special teams and defense, that he is a playmaker. It matters little whether the Saints aim to employ him as a safety or corner next season. Of preeminent importance is simply getting Bush on the field as much as humanly possible.
Roman Harper: B
Roman Harper should send out a highlight tape to the rest of the league on how to cover tight ends in man-to-man coverage—and not because it was awful. Much to the contrary, Harper proved himself to be among the best coverage safeties in the entire league this season.
But his versatility also had him playing a linebacker type position when the Saints played the nickel. It is that versatile skill set that makes Harper one of the best safeties in all of football. Of course, he is a great cleanup tackler, which is what earned him his money initially. The overall improvement from him is amazing.
Isa Abdul-Quddus: B
Quddus didn't match the number of snaps of Harper or Malcolm Jenkins, but he was on the field a ton in 2012. And he was quite a productive player. He proved to be a more natural cover safety than Jenkins and possesses the best ball skills of anyone at the position not named Bush.
Quddus earned more time in 2013.
Malcolm Jenkins: B-
Malcolm Jenkins goes to the same church that I do. He seems like a great guy and had his moments of brilliance in 2012. But too often, he was caught out of position and in poor position in coverage.
Tackling plagued him, as it did so many Saints defenders. And he simply did not make enough plays to justify the label that I and many others had placed on him as the next great safety.
At this point, it's hard to say where Jenkins fits best. It seemed he was destined to be a hybrid-type player along the lines of Charles Woodson. But Roman Harper took that possibility away from him this season.
And Jenkins' poor coverage skills will prevent him from returning the corner position at which he was drafted.
Steve Spagnuolo is a master X's and O's guy, so he will figure something out.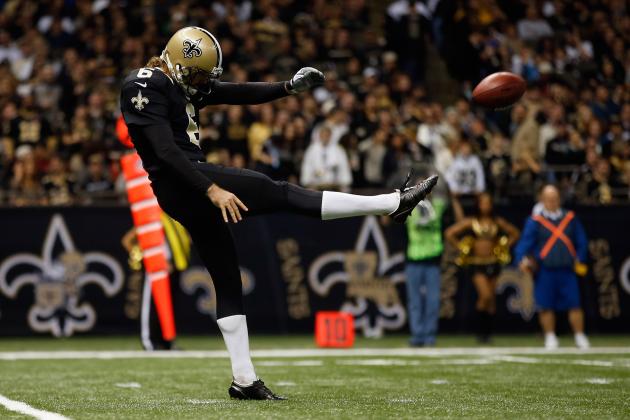 Chris Graythen/Getty Images

P Thomas Morstead: A-
Thomas Morstead nearly set the NFL record for net punting average in a season. He is the NFC's representative at punter in the upcoming Pro Bowl.
He regularly recorded touchbacks on kickoffs. And his directional punting combined with tremendous hang time made punting one of the most enjoyable plays to watch for the Saints this season.
Only one poor game against the Giants caused Morstead a measly "A-". If not for his poor kickoffs in that contest, he would have been the lone player to earn a straight "A" for the entire season.
K Garrett Hartley: B
It's easy to view Hartley as a man "living on a prayer" or the kick. In some ways, it is true. But the truth is, Hartley was one of the most consistent kickers in the NFL in 2012.
He was 18-of-22 on the campaign, including three of four from 50-plus yards. His trouble spot was the 30- to 39-yard range, where he was 4-of-6.
Still, Hartley was effective. With more opportunities, it would be reasonable to assume Hartley would have stayed relatively consistent with his percentage. Thus, he would be viewed in a more positive manner.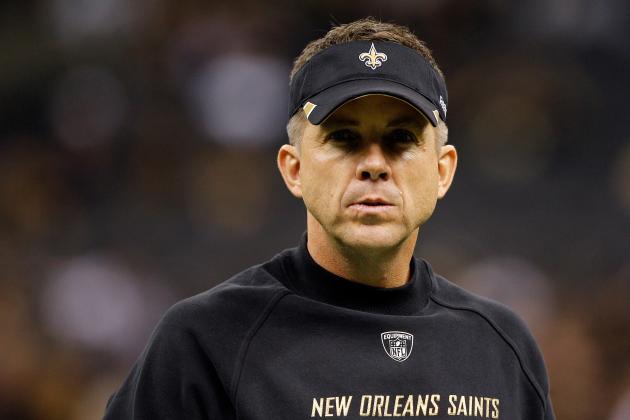 Chris Graythen/Getty Images

Individually, many members of this Saints team played well at times in 2012. At other times, many members of this Saints squad played awful.
The team finished 7-9, despite having a win-loss expectancy of 8.1-7.9, according to Pro-Football-Reference.com. In other words, the team should have finished 8-8, not 7-9.
That means some of the team's issues were coaching. Some were psychological in nature. And some were just bad luck.
None of those are excuses. All are facts. But all are reversible. And in February, Mr. No-nonsense himself, Sean Payton, will walk back through the doors on Airline Drive and take back the reigns of one of the league's most successful franchises since he first took over in 2006.
Undoubtedly, there will be some changes. But the biggest change needed is to regain the confidence, swagger and winning attitude the team displayed from 2009 to 2011, which was by far the teams' greatest three-year run as a franchise.
That is Payton's charge. And if we know anything about Payton, it's this: He's more than up to the task.