NIU vs. Florida State: How Jordan Lynch Matches Up with Other Top QBs This Year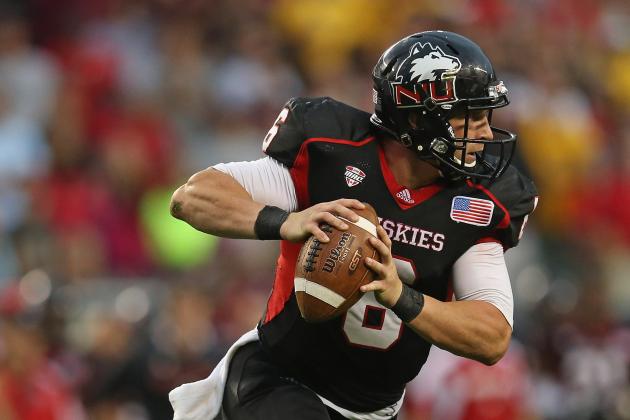 Jonathan Daniel/Getty Images

Jordan Lynch put together one of the best seasons for any quarterback this year, finishing No. 3 in the country in total offense per game. Lynch put together more big games than any other signal-caller this season.
On paper, Lynch matches up well against the rest of the country, but there are questions about the level of competition that he has achieved his greatness against. The MAC is not the ACC, so this will be a big test for the junior quarterback.
Lynch is attempting to continue his success New Year's Day against Florida State in the Discover Orange Bowl at 8:30 p.m. ET on ESPN.
How he will fare is anyone's guess leading into the game, but before it kicks off, here is a look at Lynch and how he matches up against the top five quarterbacks in the country.
**Stats provided by CFBStats.com
Begin Slideshow

»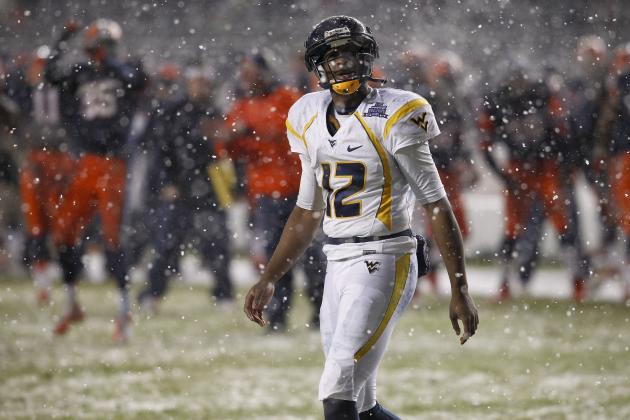 Jeff Zelevansky/Getty Images

Geno Smith has put together one of the best single seasons of any quarterback in college football history this year. Smith threw for 4,201 yards, 71.2 percent completions and 42 touchdowns.
Smith only tossed six interceptions, and his first didn't come until the seventh game of the season.
There was a point in the season that Smith was the leader in the Heisman discussion, but when his West Virginia team crumbled in the back half of the season, his stock dropped quickly.
As a quarterback, Smith is still one of the best in the game and likely to be the first guy taken at quarterback in the 2013 NFL draft.
His game is based off of the pass, where Lynch is a spread-option type guy. Both are keys to their team's success, but without Jordan Lynch, the NIU Huskies are not playing in the Orange Bowl.
We can't say the same for West Virginia. Smith is good, but there is so much talent in that offensive system that seven wins is likely attainable by even a mediocre player.
Geno Smith has the edge because of the level of competition that he faced this year on a regular basis, but Lynch could thrive in West Virginia just as Smith has.
Breakdown: Smith—No. 8 in total offense, No. 6 in passing offense; 7-6 final record
Lynch—No. 3 in total offense, No. 51 in passing offense; 12-1 record
Edge: Geno Smith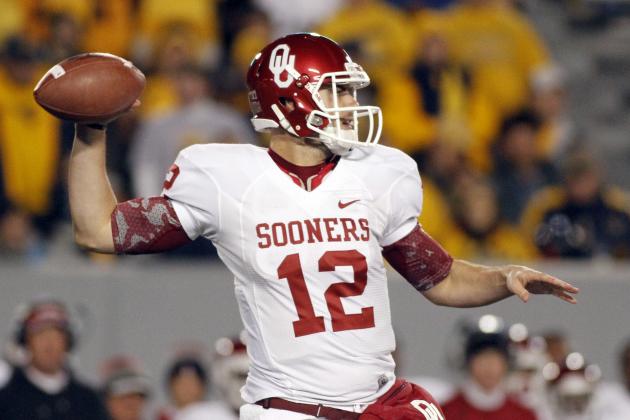 Justin K. Aller/Getty Images

Landry Jones has been one of the underachieving highly-rated quarterbacks of the new decade. Ever since he began at Oklahoma, he was expected to be a star, but he has always been just good enough, failing to take the Sooners to the next level.
This season was no different for the pass-first quarterback, as he took Oklahoma to a 10-win season and a Cotton Bowl berth. The team had higher expectations, but an early loss to Kansas State crushed any hopes of holding the crystal football at season's end.
Jones was a consistent performer, but his yardage output was the third-best of his four-year career. Only his freshman season produced less yardage. Jones finished with 3,989 yards passing, 29 touchdowns and 10 interceptions.
He completed 65.5 percent of his throws, but he failed to produce touchdowns in big-game situations.
He was rarely sacked at Oklahoma and is not a dual threat, but the ability that he possesses to pick a part a defense is tough to match.
Lynch would match up well against Jones in a head-to-head because he could control the clock better than Jones. That would matter late.
I like the ability for a player to bring a diverse skill set, and looking at his total yards per game output, Lynch is a tough match for Jones. Because of Jones' seeming inability to win the big game, Lynch takes the edge in this matchup.
Breakdown: Jones—No. 3 in passing offense, No. 11 in total offense, 10-2 record
Lynch—No. 51 in passing offense, No. 3 in total offense, No. 18 in yards from scrimmage (only QB in Top 25)
Edge: Lynch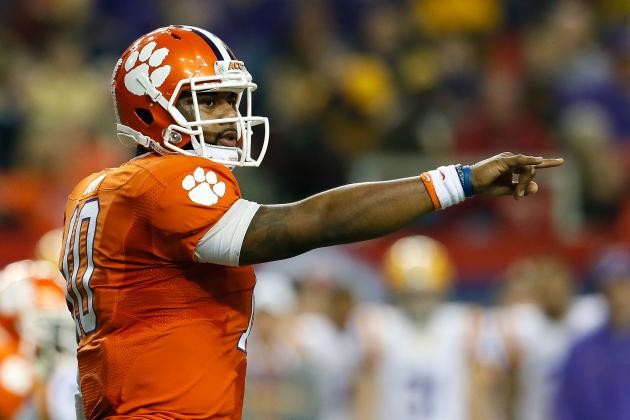 Kevin C. Cox/Getty Images

Tajh Boyd has been a fence-line type quarterback for a while, but his New Year's Eve performance put him on another level.
He helped lead Clemson to its first bowl win since the 2009 season, running the football over 20 times against one of the toughest defenses in the country.
He was also able to throw for over 300 yards against the LSU defense and helped guide a game-winning final drive in the last seconds of the game. Boyd can become a top 10 selection in the NFL draft this April if he leaves early.
Boyd is in a system that favors a quarterback with the ability to run, but it is not a primary part of Boyd's game for Clemson. He is a pass-first type guy that is surrounded by a ton of weapons that make his game easier.
He has gained positive yards on the ground in every game this fall and has one game with over 100 yards rushing.
Over the past few seasons, Boyd has produced consistently, and he now has a big win under his belt. He has defeated a top-level defense and has risen his draft stock to new levels.
Jordan Lynch is the same class as Boyd—junior—but he doesn't have the star power right now. It is for good reason. Boyd plays in a much tougher conference and has faced a schedule that would be much more difficult that the one the Huskies dealt with this fall.
Lynch and Boyd bring similar abilities to the game, but Boyd is able to rely on his surrounding cast more than Lynch. Lynch also has the chance to beat Florida State—something that Boyd couldn't do this season.
Overall, I would go with Boyd in this matchup. He has the better talent, but also the tougher schedule and has proven more with time.
Breakdown: Boyd—No. 14 in passing offense, No. 7 in total offense, 11-2 final record
Lynch—No. 51 in passing offense, No. 3 in total offense, No. 27 in all-purpose yards
Edge: Boyd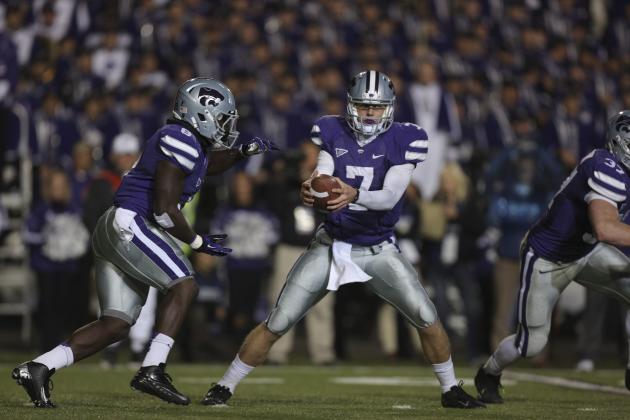 Ed Zurga/Getty Images

Collin Klein was one of the three Heisman finalists this season after guiding his Kansas State Wildcats to an 11-win season and BCS bowl berth. Because of his status at season's end, he has the immediate edge over Lynch, but looking at them head-to-head, they have a lot of similarities.
Klein is a quarterback that is not afraid to duck his head and push into traffic with the football. He is a big-bodied player standing at 6'5", 226 pounds and has used that frame to push for 890 rushing yards this fall.
Klein finished the year as the Wildcats' second-leading rusher. He passed for 2,490 yards and 15 touchdowns with seven interceptions. He also rushed for 22 additional scores.
By the end of the year, Klein had guided his team to a Big 12 title and a BCS berth under the guidance of legendary coach Bill Snyder.
The status of Klein as a Heisman candidate was as much for his on-field leadership as his stat line. When looking at Lynch, it is almost not comparable. Lynch has the obvious edge.
Lynch passed for 2,962 yards, 24 touchdowns and only five interceptions. He also rushed for 1,771 yards and 19 touchdowns. Granted, he did it against lesser competition, but it is still and impressive comparison that favors Lynch.
Could Lynch have Klein type success at Kansas State?
I think he could, which is why the I would take Lynch in this situation. His 2012 season was more impressive than Klein, and nothing indicates that he couldn't handle the Big 12 with the same surrounding talent as well as Klein did this fall.
Breakdown: Klein—No. 70 in passing offense, No. 78 in rushing offense, No. 30 in total offense
Lynch—No. 51 in passing offense, No. 4 in rushing offense, No. 3 in total offense
Edge: Lynch
Scott Halleran/Getty Images

Johnny Manziel was the most electric player in college football this season, resulting in his freshman campaign landing him the Heisman Trophy.
Manziel was able to line up against the best defenses in the country in the SEC West and outperform them on an every-Saturday basis. It was a treat to watch Manziel play no matter who you pulled for—he is that good.
By the end of the season, it was apparent that Manziel was in a league of his own, and he walked away with virtually every major award given to a quarterback.
The way that Manziel was able to make plays beyond the breakdown point was what was so impressive about his play. He is a very good improviser, always finding holes in the defense long after coverage has broken down.
Manziel was able to finish the year with 3,419 yards passing, 1,181 yards rushing and 43 total touchdowns. If not for a few miscues against LSU, he could have led his team to an SEC West title.
Lynch and Manziel are very similar in style of play, but Manziel is in a league of his own. Manziel takes the edge in this matchup easily.
Breakdown: Manziel—No. 20 in passing offense, No. 32 in rushing offense, No. 1 in total offense, No. 16 in scoring offense
Lynch: No. 51 in passing offense, No. 4 in rushing offense, No. 3 in total offense, No. 26 in scoring offense
Edge: Manziel