Rose Bowl 2013: Things We're Destined to See at This Year's Game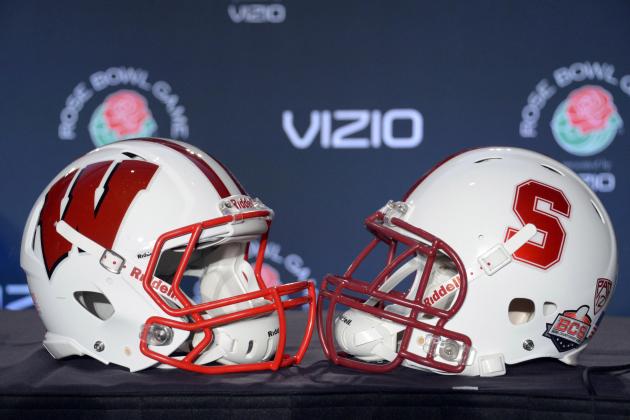 USA TODAY Sports

This isn't the sexiest Rose Bowl matchup in history, but there will be more than a few compelling storylines and events played out on New Year's Day at 5 p.m. ET.
The Wisconsin Badgers will be looking to prove that they deserve to represent the Big Ten. In a year without NCAA sanctions running rampant in the conference, the Big Ten might otherwise be represented by Ohio State or even Penn State.
The Stanford Cardinal will want to finish strong in a season that could have seen them playing for national championship with a few more breaks.
Stanford is deservedly the five-point favorite, per OddsShark.com, but the Badgers' dominating performance in the Big Ten championship game against Nebraska has created some doubt.
While we can't be certain of all the details surrounding this year's game, which will be nationally televised on ESPN, there are some things we're destined to see when the Badgers and Cardinal clash...
Begin Slideshow

»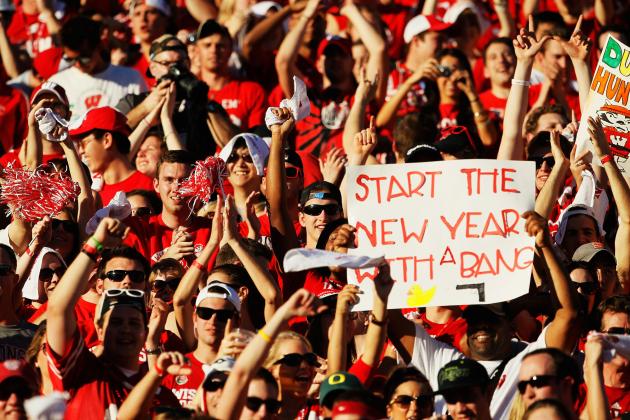 Jeff Gross/Getty Images

Even though BCS bowl attendance has been slipping over the past seven years, the Rose Bowl has remained consistent.
Why?
As Brett McMurphy of CBS Sports pointed out, the game has stuck to the traditional Pac-12 vs. Big Ten format, for the most part. Keeping to tradition has worked out from an attendance standpoint. The Rose Bowl's capacity is listed as 92,542, per RoseBowlStadium.com.
Despite not having Ohio State, USC or Oregon in action in this game, the fans of the Badgers and the Cardinal will still turn out.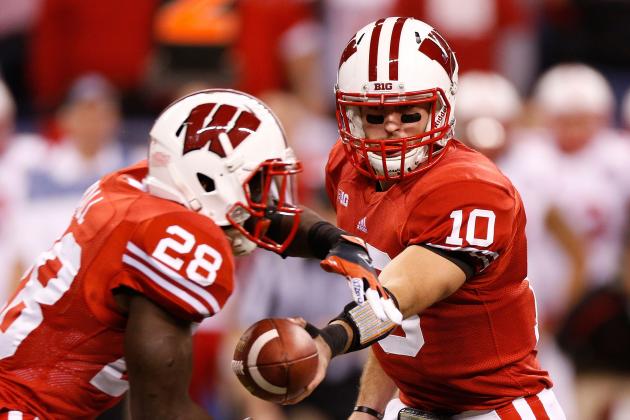 Gregory Shamus/Getty Images

This a matchup of two of the more run-dominated offenses in the country. Curt Phillips threw eight passes in Wisconsin's 70-31 beatdown of Nebraska. His season-high in pass attempts is 25.
Stanford's Kevin Hogan has only thrown the ball 30 times once this season. Prepare to see these quarterbacks in the position pictured above a lot.
This doesn't mean that a big pass play can't or won't play a major role in the outcome of the game. It just means these two teams know their strength, and they don't deviate from it often.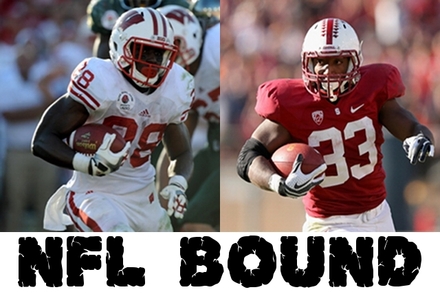 Two Getty Images combined (Harry How on Ball image & Ezra Shaw on Taylor image) with text added
Both Montee Ball and Stepfan Taylor are among the best running backs that will be available in the 2013 NFL Draft.
Ball was a Heisman trophy finalist as a junior, and he's rebounded from a slow start and a vicious assault near the Badgers' campus (ESPN) to have another great season.
He has rushed for 1,730 yards and 21 touchdowns in his senior campaign. For his career he has rushed for 5,040 yards and a whopping 76 touchdowns. The 5'11" 215-pound senior is currently listed as the fourth-best RB in the draft class by CBS Sports.
Taylor is the better prospect of the two.
Despite becoming the school's all-time leading rusher with 4,212 yards, he doesn't get the credit or attention he has earned at Stanford.
In 2011 he was overshadowed by Andrew Luck, this season the Cardinal's defense gets the majority of the program's publicity. Meanwhile, Taylor is having another awesome year.
He's run for 1,442 yards and 12 touchdowns. He's also caught 38 passes for 270 yards and two scores. He's listed at 5'11" but he looks a little shorter than that. He has stocky legs and he runs low to the ground.
Taylor is currently listed as the seventh-best running back in the draft class by CBS Sports. His great motor and inside running ability will make him one of the 2013 NFL Draft's biggest steals.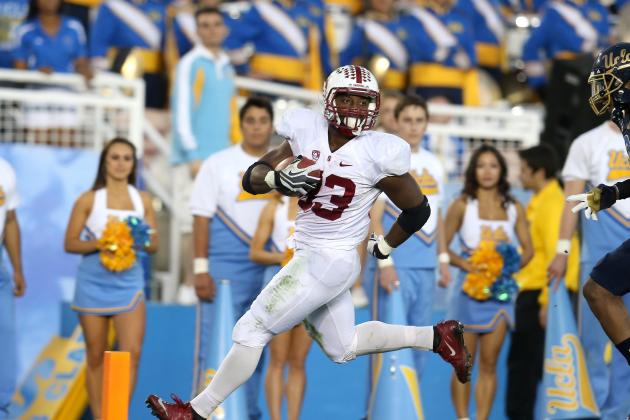 Stephen Dunn/Getty Images

In my admiration of Taylor in the previous slide, I didn't mention his career rushing touchdown total. He currently sits on 39, but I'd say he's a safe bet to get his 40th in the Rose Bowl.
The Badgers have allowed at least one rushing touchdown in their last three games. Taylor has only failed to find the end zone on the ground in three games this season, and he's found pay dirt three times in the last two games.
No. 33 should grab his 40th in the first half.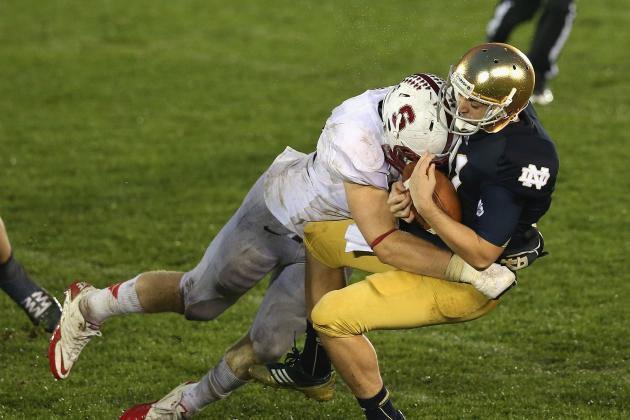 Jonathan Daniel/Getty Images

The Cardinal's defense has had at least three sacks in every game this season. Against Washington State on October 27, they had 10, the following week they had seven against Colorado.
In paying respect to the Badgers' O-line, I'll set the minimum at two, but the even they will have a tough time keeping Curt Phillips clean.
The senior will be facing the best defense he's seen all season.
Trent Murphy leads the Cardinals in sacks with 10, and he will surely be introducing himself to Phillips as the evening progresses.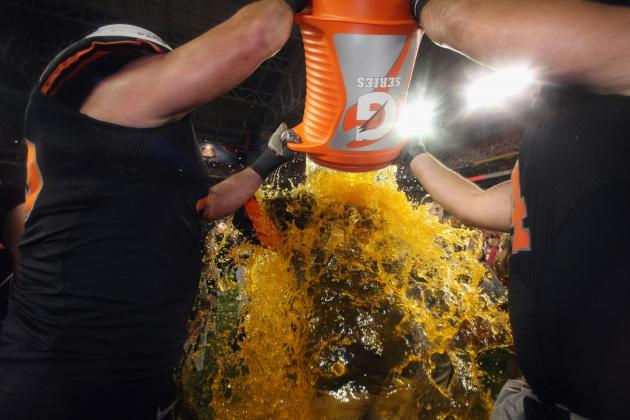 Donald Miralle/Getty Images

Stanford head coach David Shaw will be receiving the ceremonious Gatorade shower after this one is over. The Cardinal are simply a better overall team.
Defensively, they have the pass-rush to make the Badgers even more of a one-dimensional team than they already are.
This front seven helped lead the Cardinal to the third stingiest rushing yards against average in the nation. Suffice it to say it is much better than the run defense the Badgers embarrassed in the Big Ten championship game against Nebraska.
Stanford will win, and my score prediction is 24-10.