10 of the Most Memorable Football GIFs of 2012 (or Luis Suarez' Best Fall)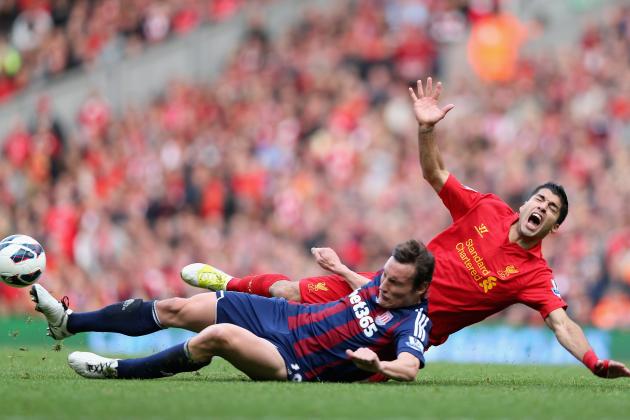 Clive Brunskill/Getty Images

You could say 2012 was the year of the GIF. A footballer couldn't take a bolero-esque tumble, or a manager make something of a goofy gaffe without GIFs captured and posted minutes after the incident occurred.
With Euro 2012, the Champions League, and the usual seasonal matches, the social media sphere had plenty to chuckle or gasp over throughout the year.
Courtesy: Fox Soccer/Huffington Post
Luis Suarez celebrating a goal all by himself (the brief look of shock when no teammates flocked to him is almost heartbreaking) failed to make the list, so you can be sure the rest of the GIFs posted will be high in quality, if not quantity.
Undoubtedly, some excellent GIF-captured moments have missed this list, so please post them in the comments section so we can enjoy the glory, the farce, and the inexplicable all over again.
Begin Slideshow

»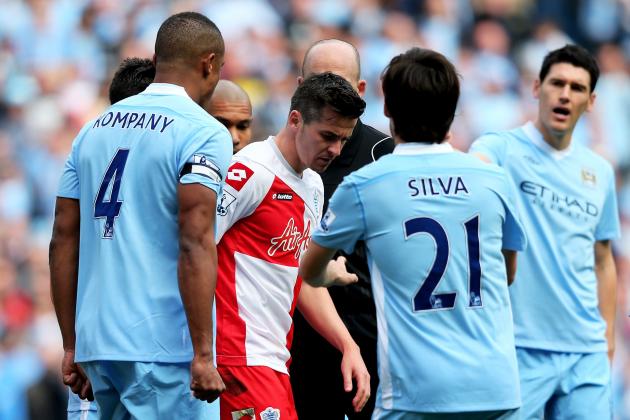 Alex Livesey/Getty Images

Courtesy: Sky Sports/Twitter
May 2012: The day Manchester United lost the title, QPR defender Joey Barton lost his head against Manchester City.
After an incident with Carlos Tevez, Barton was shown a red card and immediately decided to go after as many people on the pitch as possible. The result? A 12-match ban, which he went on to serve during his season-long loan spell with Marseille.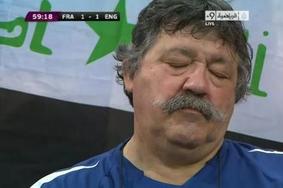 Courtesy: ITV Sport/Deadspin
June 2012: Who could blame this fan for falling asleep during France's turgid opening match against England at Euro 2012? The camera tilt from the man's very stretched France kit to his peaceful face adorned with a well-kept mustache makes this a classic football GIF.
The match ended in a one-all draw that clearly failed to inspire this fan's sense of patriotism or consciousness.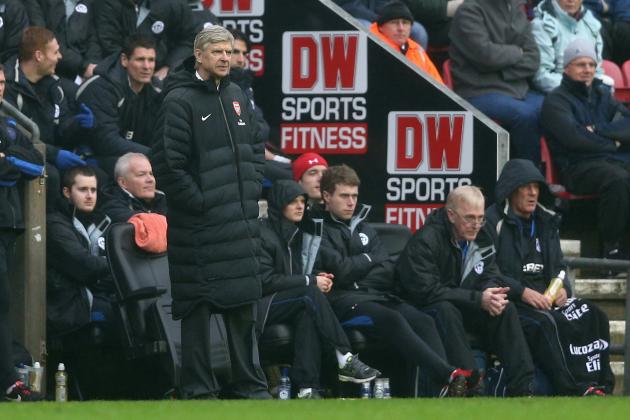 Clive Brunskill/Getty Images

Courtesy: ESPN/Twitter
December 2012: Television cameras captured minutes of an epic struggle between Arsenal manager Arsene Wenger and the zipper on his extremely long puffer coat, much to the delight of Twitter comedians and the worry of Arsenal staff, who tried to ignore the stoic French manager frantically fumbling with the zipper on his coat at the beginning of a match against Newcastle United.
The zipper foible seems to be an appropriate metaphor for Arsenal's season thus far—just when a match seems all zipped up, it completely and utterly falls apart, and Wenger is forced to just zip it back up half-way and smooth over the rest with a straight face.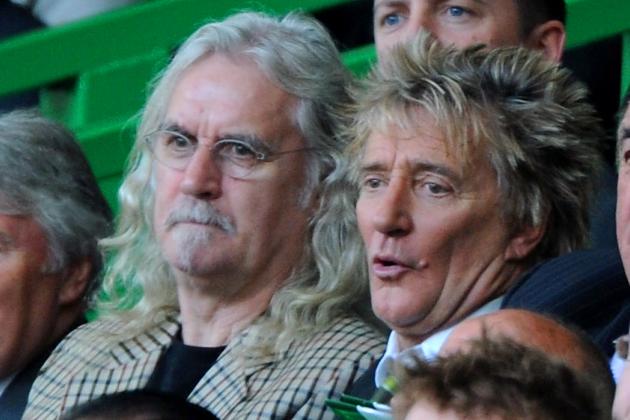 Jeff J Mitchell/Getty Images

Courtesy: Sky Sports/whoateallthepies.tv
November 2012: You'd think that Celtic won the Champions League trophy by the tide of emotion flowing from Rod Stewart concerning Celtic's win over Barcelona in a Champions League group stage match.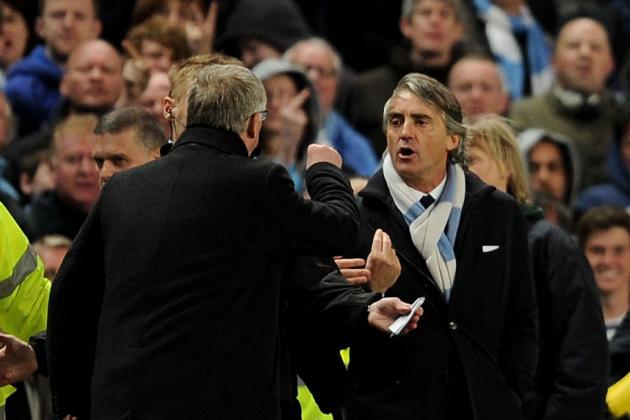 Michael Regan/Getty Images

Courtesy: ESPN/whoateallthepies.tv
April 2012: It's the battle of the men of Manchester, and United's Sir Alex Ferguson and City's Roberto Mancini didn't disappoint with a hand flapping, finger pinching, spittle spewing argument on the touchline at Etihad Stadium.
The Manchester derby usually brings out a range of emotions in the city, but rarely do the two managers show such open emotion toward each other.
In the end, City and Mancini were the winners with a 1-0 finish.
Clive Brunskill/Getty Images

Courtesy: @feintzebra/101greatgoals.com
October 2012: At some point during his time with Liverpool, Luis Suarez picked up a reputation with opposing fans for being a bit of a diver.
This slide isn't to bash Suarez as a player, it's to celebrate and observe the force with which he throws himself to the ground in this GIF following a delayed reaction to possible contact.
Suarez' fall was one of the few highlights of the nil-nil draw between Liverpool and Stoke in October.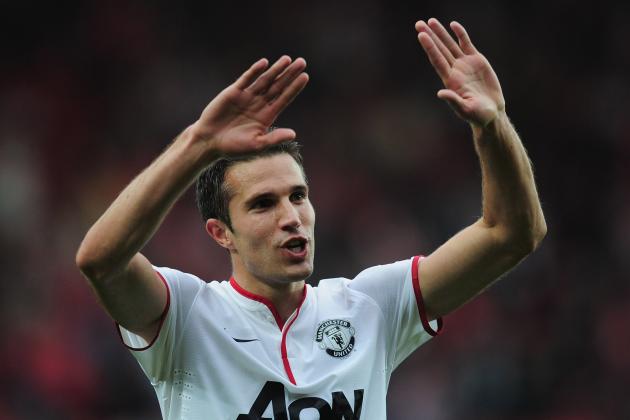 Jamie McDonald/Getty Images

Courtesy: True2/whoateallthepies.tv
September 2012: It was still early days for Robin van Persie following his summer move from wearing the captain's armband at Arsenal to being among Sir Alex Ferguson's paddock of talented players at Manchester United.
RVP undoubtedly planned to prove himself with a clever and cool penalty during this match against Premier League newcomers Southampton, but it all went horribly wrong.
Don't cry for van Persie, he got his own back by scoring two goals to give United the 3-2 win over Southampton.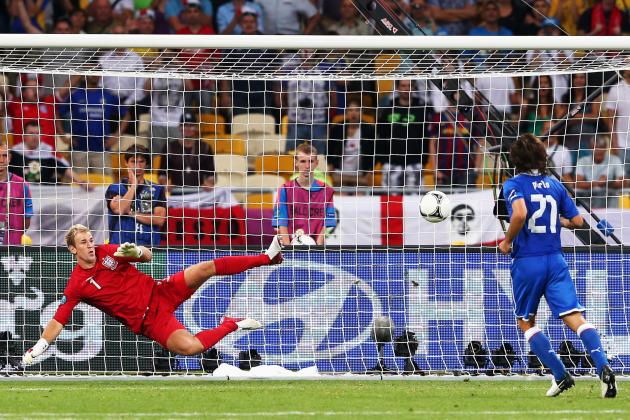 Alex Livesey/Getty Images

Courtesy: 101greatgoals.com
As embarrassing as Robin van Persie's failed Panenka Penalty was against Southampton, Andrea Pirlo showed how to get it done with the match on the line during Euro 2012. Italy faced England, and after the match remained scoreless, it inevitably came down to penalties.
Joe Hart waggled his tongue and waved his arms in goal while Andrea Pirlo fixed him with a steely gaze, and proceeded to chip over the English keeper then walk away, cool as you like.
England were eliminated from yet another major tournament in the quarterfinals by way of penalties as Italy sauntered away with the 4-2 win.
(Note: Care to see the original Panenka? Watch it here.)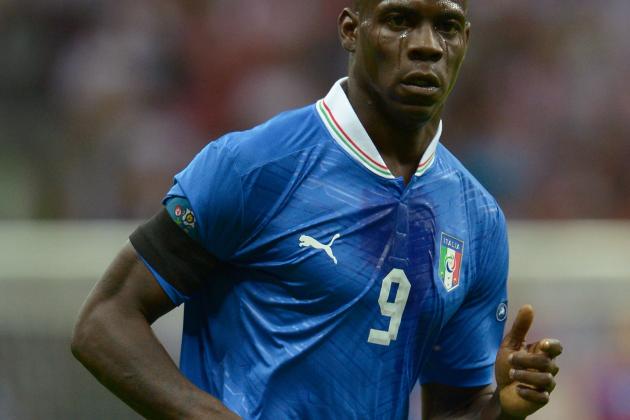 Claudio Villa/Getty Images

Courtesy: ESPN/FIFA/gifulmination.com
If there was ever a one-man GIF creation inspiration it is the oft-explosive Mario Balotelli.
The above GIF shows an extremely masculine celebration after scoring against Germany in Euro 2012 which became the subject of many spoofs, including the predictable photoshopped image of Balotelli as Nintendo's most famous plumber, Super Mario.
Not that he hadn't earned the right for a bit of celebration; Balotelli scored both of Italy's goals in their 2-1 win over Germany.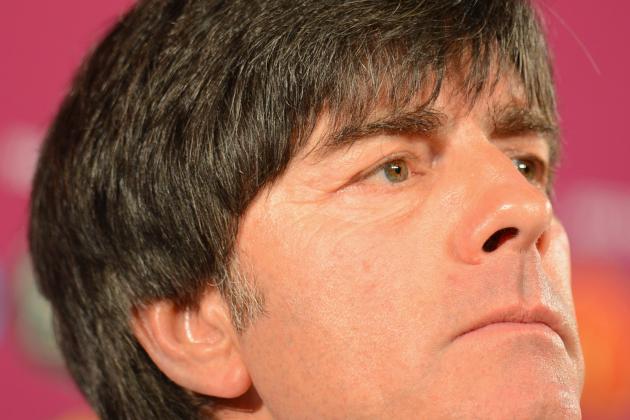 Handout/Getty Images

Courtesy: ESPN/FIFA/gifulmination.com
"Warum Trainer? Warum?"*- completely imagined internal monologue from ball boy
When the normally very serious Joachim Löw made the decision to playfully knock the ball out of the ball boy's hand, I wonder what was going through his mind at the time. The look of absolute betrayal on the kid's face must have taken any mirth out of the grown man's gesture as he realized he was actually trolling a teenager on an international stage.
In the end, Löw had the last laugh once again as his German side beat Holland 1-2.