Heart of Dallas Bowl 2013: Purdue vs. Oklahoma State Live Scores and Analysis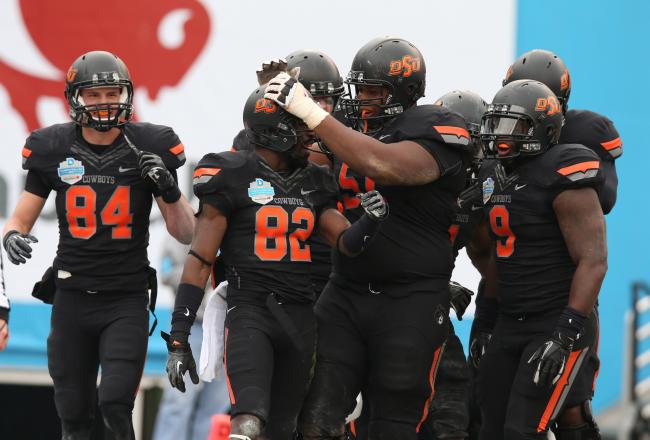 USA TODAY Sports
Oklahoma State 58, Purdue 14; Final
Oklahoma State dominated the 2013 Heart of Dallas Bowl, knocking Purdue to the mat early and keeping the Boilermakers from every getting into the game.
Purdue gave up the most points in a bowl game in the program's history, and the Boilers finish the season with a 6-7 record. Oklahoma State improved to 8-5.
Make sure to stay with Bleacher Report for all the college football bowl coverage you could ever want!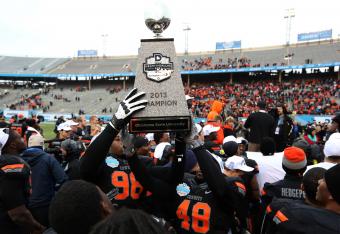 There's not much to say about this game other than it was completely dominated by the Oklahoma State Cowboys.
Purdue needed to do two things to stay competitive in the Heart of Dallas Bowl: limit Oklahoma State's big plays on offense and don't turn the ball over. In both areas, Purdue failed. Miserably.
Oklahoma State built an early lead thanks to some great play from starting quarterback Clint Chelf, and the Cowboys never looked back. The Boilermakers were never really in the game, and the 525 offensive yards surrendered by Purdue is only one example of where Oklahoma State ran up big numbers.
Oklahoma State had 311 passing yards and 214 rushing yards as Purdue was unable to stop any aspect of the Cowboys' attack today in Dallas. Chelf was 17-of-22 for 197 yards and three touchdowns while four other Cowboys completed at least one pass for a combined 114 yards. J.W. Walsh added the other two passing touchdowns for the Pokes.
The lone bright spot for Purdue was Akeem Shavers. He totaled 93 yards on 14 carries, and also added 54 yards on four receptions to lead the Boilers in both rushing and receiving yards. Quarterback Robert Marve was thoroughly unimpressive despite finishing with decent yardage. Marve was 21-of-34 for 212 yards and two touchdowns, but he also threw two interceptions.
The 58 points surrendered by Purdue was the most in a bowl game in the program's history.
That wraps up our live blog coverage of the 2013 Heart of Dallas Bowl. Thanks for joining us, and check back with Bleacher Report for coverage of every 2013 bowl game!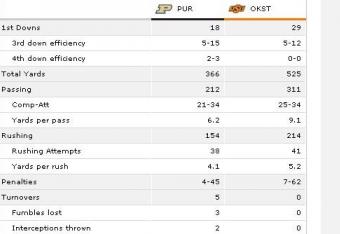 Here's a final box score for your amusement (or embarrassment, depending on which team you were cheering for today).
That's the end of the game, and Oklahoma State walks away with a dominating win over Purdue, 58-14.
Stay tuned for some final thoughts...
A minute to go...
When the game goes final, keep it right here for some final thoughts, stats, and wrap-up.
Okay. Oklahoma State is now running the ball exclusively.
And having just as much success.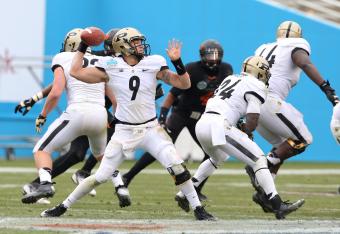 Touchdown, Purdue!
Tommy Thomas on the 16-yard reception from Robert Marve, and the Boilers cut into the Oklahoma State lead a bit, 58-14 with 2:52 left.
Another fake punt for Purdue is successful.
If you want to argue that 6-6 teams don't belong in a bowl game, make sure you keep a copy of today's box score handy.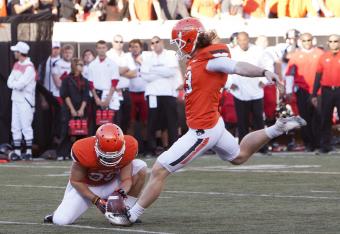 Quinn Sharp with another field goal, and Oklahoma State leads 58-7 with 6:27 remaining.
Why is Oklahoma State throwing the ball???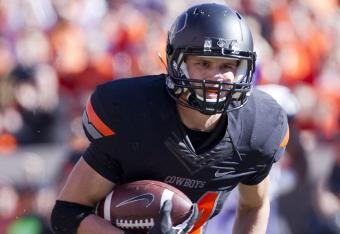 Wes Lunt makes an appearance in the game—the third OSU quarterback to play today.
Another turnover for Purdue.
Interception by Andre May.
At what point do deep passes to the end zone become insulting?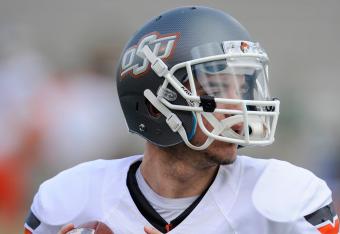 J.W. Walsh to Blake Webb, and it's another Oklahoma State touchdown.
55-7, Oklahoma State.
Okay, Mr. Gundy. You can stop throwing the football now.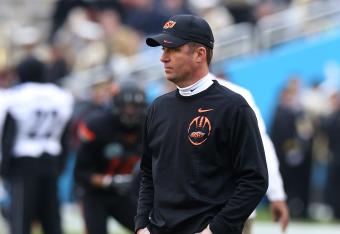 Oklahoma State emptying out the depth chart in the fourth quarter, and we're going to see some of the future Cowboys making an appearance.
Shavers with another big reception, but coughs it up at the end of the play.
He also needed assistance to get off the field.
Another Purdue turnover, and Oklahoma State comes up with the fumble recovery.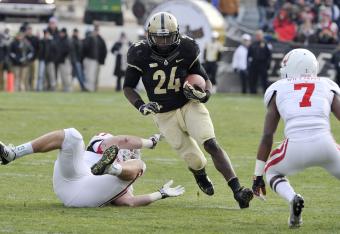 There haven't been many bright spots for Purdue today, but Akeem Shavers has been one.
Shavers has 13 carries for 87 yards and three receptions for 35 yards today.
Purdue takes over again, trying to put together another successful drive.
It's all about pride now. The Boilers are just trying to make the score a little more respectable as there's no hope of a comeback.
Oklahoma State adds another field goal, and extends the lead.
48-7 with 11:21 remaining.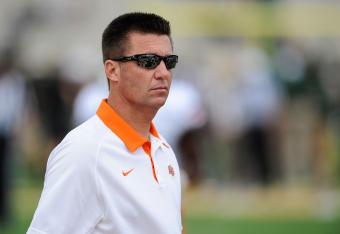 Mike Gundy still looking for points with trick plays in the fourth quarter while leading 45-7.
Oklahoma State is five for five in red zone trips today.
Can the Cowboys make it six for six?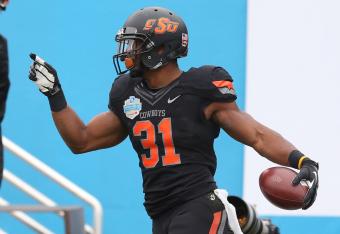 Jeremy Smith and the Pokes still taking it to the Boilers' defense.
Purdue is just utterly incapable of even slowing down Oklahoma State.
Were there any Purdue fans still watching this game to see that last touchdown?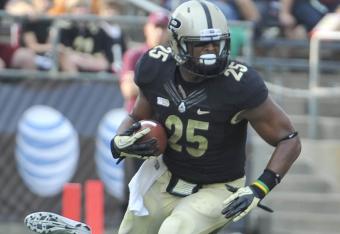 Marve to Brandon Cottom for 32 yards and a touchdown is also the longest play of the day for the Boilermakers.
This article is
What is the duplicate article?
Why is this article offensive?
Where is this article plagiarized from?
Why is this article poorly edited?